Still thinking if you should pay $10 to visit this year's Christmas Wonderland at Gardens By The Bay? We tell you why you should.
If you're a sucker for Instagrammable Christmas decor, you would've definitely heard of Christmas Wonderland at Gardens By The Bay. Even COVID-19 can't prevent Singapore's biggest annual yuletide fair from pulling out all the stops. Christmas Wonderland 2021 marks its eighth year with not just its signature luminarie light installations, but a double-storey carousel in which you can actually ride on.
Expect to see a total of 1,215,600 LED bulbs across nine installations (no kidding!) such as the Enchanted Bridge and Walk of Stars.
The route will take around 20 to 30 minutes to complete, which includes eight other stunning light installations in brand new designs such as the Tinsel Castle, Golden Gift and more.
Until 2 January 2022, Christmas Wonderland 2021 will be opened daily from 6.30pm to 11pm. Can't decide if you should fork out $10 for a ticket? We tell you why you should.
Impressive light installations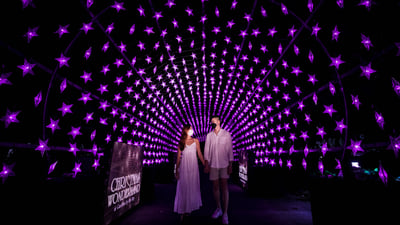 Walk of Stars by Grabpay
Enjoy a quiet and intimate stroll with your soulmate through this animated trail of illuminous stars. Each star exudes a somber violet purple glow, and when they coalesce with the ambience, it results in a starry canvas that encapsulates the beauty of young love.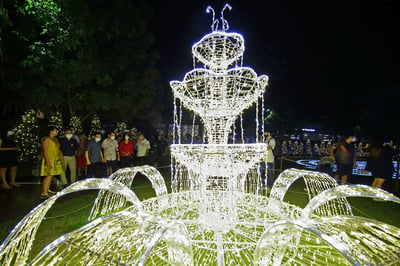 The Spalliera
Get into the Christmas spirit under The Spalliera, a stunning 21-metre tall structure inspired by Europe's gothic cathedrals and grandiose castles.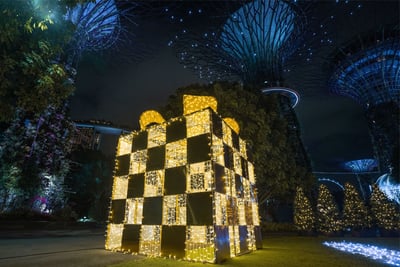 Golden Gift
Take gifting to a whole new level with this newly-introduced light installation. The Golden Gift, while enchanting, is empty inside. This may be an attempt by the designer to emulate what may be the true gift of the festival — our family and loved ones.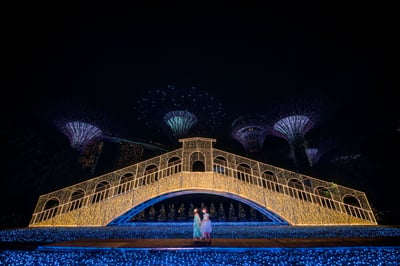 Enchanted Bridge by Grabpay
Bring out your inner Disney prince and princess at this 30-metre long bridge illuminated by 100,000 LED bulbs.
---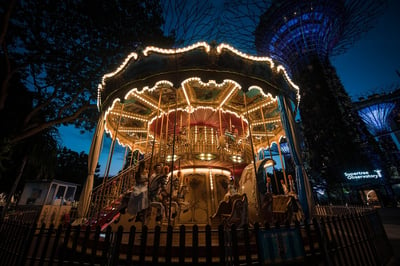 The Venetian double-storey carousel
For $10, you can take a ride on the only double-storey Venetian horse carousel in Singapore, which was hand-painted by artists and crafted by skilled craftsmen in Europe. As limited ride slots are available daily, do remember to book in advance! Click here to purchase your tickets.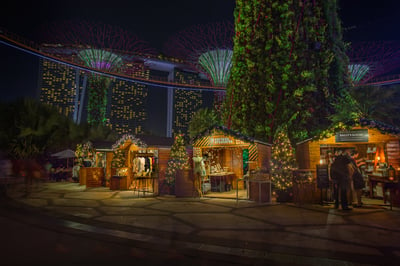 Mistletoe Alley Market
Stop by the Mistletoe Alley and browse the wide range of Christmas products to accentuate the jolliness of the season. What is Christmas without a little bit of indulgent shopping? While here, keep a look out for a limited edition Christmas Wonderland plush bear hidden within the many fluffy plushies.

Before completing your Christmas shopping spree, capture your moments here in pictures at Dollops Photobooths.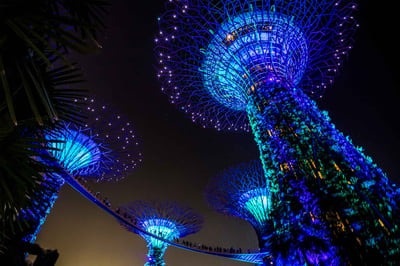 Golden Rhapsody light and sound show
If you are looking for a huge festive spectacle here, you will definitely not be disappointed. This epic fusion of evocative light and sound turns this giant plant metropolis into a majestically illuminous Christmas castle.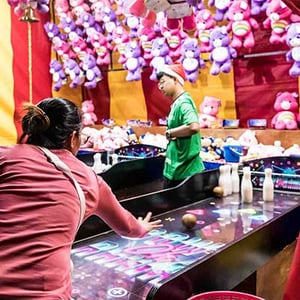 Carnival games galore for all ages
There is a rich array of carnival games that awaits you here, with traditional favourites such as bowling, darts and Fishy Fishy. And, of course, there are prizes to win as well!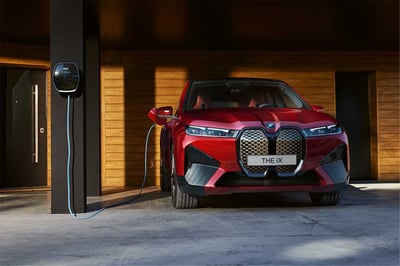 Behold the new BMW iX and iX3
Car enthusiasts can head down to the BMW Joy Electrified display to have a first look at BMW's newest series. Bid farewell to the past as you witness the future of automobiles.
Santa Claus is finally in town
Pay a visit to good ole Santa Claus before he goes off to deliver presents to the good and the naughty. Whether it is to discuss the affairs of the North Pole or your gifting desires, you should not miss this one time opportunity to pay homage to this legendary figure.

Do not forget to bring Santa's favourite milk and cookies!
---
Read these next:
Things To Do In Singapore That Get You The Most Bang For Your Buck (December 2021)
Best Christmas Dining Deals That Come With Your Credit Cards
The Best Christmas Log Cake Promotions in Singapore This 2020
Christmas Turkeys In Singapore For Under $120
Fresh Christmas Trees And Where To Find Them In Singapore