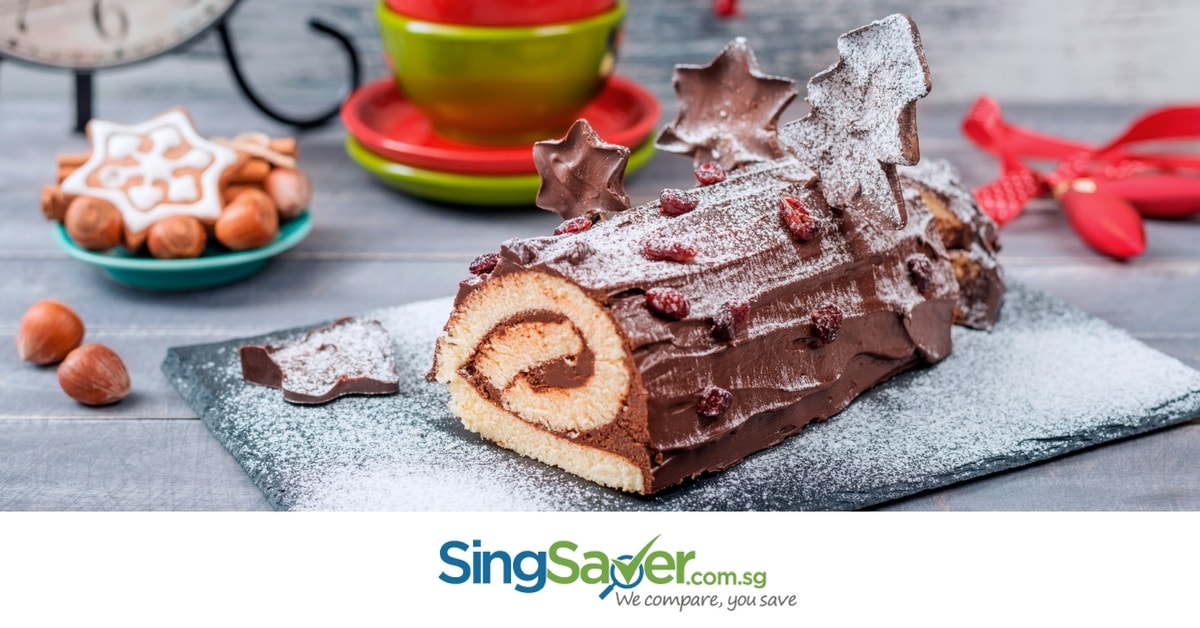 If you think a good yule cake isn't worth splurging on, these Christmas log cake promotions in Singapore might change your mind.
Last updated on 9 December 2016.
You might have ordered your Christmas turkey and Christmas ham in advance, but have you given any thought to dessert? The dinner spread won't be quite as festive without a Christmas log cake to top off your feast. And while a decadent yule cake is certainly worth spending on, there are equally delicious log cakes you can buy for less.
In true Singsaver.com.sg fashion, we set out to find the best Christmas log cake promotions in Singapore this 2016. We'll be updating this article with new promotions as they come, so subscribe to our newsletter to be the first to know!

Intercontinental Hotel Early Bird Promotion
This year's Christmas goodies from the Intercontinental Hotel look almost too good to eat – but you'll have a tough time resisting them once you know what they're made of.
The Bûche de Noël (S$68) is a wintry take on the classic yule log; inside the snowy cheese frosting is a moist red velvet sponge cake covered with layers of lemon curd. Another fruity flavour, Pink Snow (S$68), has orange sponge cake with layers of Wild Strawberry Gelee, Vanilla Bavarois, and homemade orange marmalade.
Pictured above is the Framboise of the Wild Forest (S$68), the most decadent-looking of the bunch and the most guilt-free choice. Wrapped in layers of chocolate mousse and chocolate ganache is a raspberry confit centre resting on a crunchy chocolate biscuit base. It's also sugar-free, but do make sure your diabetic guests don't help themselves to too many slices!
The Log Cake Promotion
From now until 10 December 2016, get 20% off the Intercontinental Hotel's takeaway log cakes and Christmas goodies. Note that this promotion doesn't apply for the Classic and Luxe Christmas hampers.

The Fullerton Hotel Log Cakes at 15% Off with UOB Cards
This year, The Fullerton Cake Boutique is bringing back their beloved Traditional Black Forest Yule Log Cake, and came up with a new classic, the Paradise Chocolate Yule Log Cake. But if you're looking for unusual flavours to end your meal, you'll love the new Tropicana Asia Yule Log Cake and the Clifford Pier Kaya Yule Log Cake.
All log cakes are 1kg and priced at S$69.
The Log Cake Promotion
From 1 November to 25 December 2016, UOB cardmembers get 15% off log cakes and other festive goodies from The Fullerton Cake Boutique. The discount won't be valid for hampers and takeaway.

Address: 1 Fullerton Square, Singapore 049178
Tel:  (65) 6877 8943/8178
Rive Gauche Log Cakes at 10% Off with OCBC Cards
French-Japanese bakeshop Rive Gauche Patisserie is famous for their indulgent chocolate royaltine cakes, but did you know that they also make a divine log cake for the holidays? Their signature Christmas dessert is the Fete de Noel (S$60 for 1kg), a raspberry dark ganache log cake rolled with almond dacquoise biscuit and chocolate cocoa roulade. The smaller Petite Fete de Noel (S$12 for 33g) makes a thoughtful gift for colleagues and family with a sweet tooth.
The Log Cake Promotion
Use your OCBC credit card or debit card to pay for your purchases, and get 10% off log cakes at Rive Gauche. Offer is valid at all outlets, from 14 November to 25 December 2016.
Visit their website for the full list of outlets.

Swensen's Ice Cream Log Cake Early Bird Special
This year, Swensen's Christmas catalogue has five ice cream log cakes that taste just as indulgent as they look. Cookies Ripple, a festive take on cookies and cream, is bound to please both kids and adults, as will the signature Sticky Chewy Chocolate log cake.
If you have guests with more adventurous palates, finish off the meal with the more exotic variants. The Mystical Tiramisu log cake comes with a Tiramisu ice cream base, lightly flavoured with winter spices and topped with macarons. There's also the rich, creamy Rocher Nirvana, a log cake with creamy Rocher hazelnut ice cream topped with chocolate truffles, macarons, and crushed almonds. For a lighter finish, consider the All Manuka, All Boost log cake made from their popular Manuka Honey ice cream.
Each log cake is retailing for S$58, but you can get it for less with the early bird special.
The Log Cake Promotion
Order an ice cream log cake before 11 December 2016 and get 15% off if you pay using a credit card from Citibank, OCBC, Standard Chartered, UOB Bank of China, or Maybank. Swensen's members get up to 20% off if you use these credit cards.
After 11 December 2016, Swensen's members get 15% off and cardmembers get 10% off.
Delivery Costs and Other Details
Delivery is available at S$24 net per location, between 9am – 12pm, and 2pm – 5pm. Available between 1 – 25 December 2016.
Website: www.swensens.com.sg
Tel: 67 888 128
Email: swensens@abr.com.sg

Délifrance Christmas Log Cakes at 15% Off
It's easy to see why Délifrance's log cakes are a time-honoured favourite – there's something that suits everyone's tastes.
Their signature log cake, the Joy of Délifrance (S$60), is famous for its velvety chocolate sponge cake and the 100% Valrhona French chocolate that coats each layer. The Red Velvet Log Cake (S$52) is another seasonal favourite and balances the perfect texture of light sponge cake with rich cream cheese. Now, if you're one of those rare individuals who are not fond of chocolate, there's the White Chocolate Raspberry Log Cake (S$52), which combines soft white chocolate sponge with tangy raspberry coulis.
The Log Cake Promotion
Currently, the log cakes are going for 15% off at the Délifrance website. While there's no indication of when the promotion will end, you probably shouldn't wait too long before placing your order.
Delivery Costs and Other Details
Expect to pay S$35 per order per location, as free shipping is only available for Christmas purchases over S$500. You can save money and self-collect, but only from the same outlet where you placed the order.
Delivery and collection begins on 15 November 2016 and ends on 8 January 2017. Last day to order for the Christmas rush is 21 December 2016 at 3pm.
Website: www.delifrance.com
Tel: 6324 4333
Email: catering@delifrance.com.sg

Baker's 13 Chocolate Log Cakes at 10% Off
The pastry chefs at Baker's 13 believe that "a meal without dessert is like a play without an ending." And to conclude your Christmas feast with Baker's 13 famous chocolate log cakes is to end on a sweet and satisfying note.
This year, they're bringing back their signature Chili Chocolate Log Cake, made from a rich dark chocolate base infused with the subtle heat of red chili. A non-chili Chocolate Log Cake is also available in limited quantities. Both variants are available for S$50 each.
The Log Cake Promotion
Save 10% on your bill if you buy your log cakes before 10 December 2016. Since each log cake is made fresh, place your orders at least 3 days before you need it.
Delivery Costs and Other Details
Delivery will cost around S$25, but you can always self-collect at Baker's 13 shop in 116 Changi Road. Both delivery and self-collection are available after 12pm daily.
Website: www.bakers13.com.sg
Tel: (65) 6440 6003
Email: sgbakers13@gmail.com

Goodwood Park Hotel Log Cakes at Up to 20% Off
The Deli at Goodwood Park Hotel has an exciting array of Christmas treats that are as decorative as they are delectable. In addition to the Traditional Chocolate Christmas Log Cake (S$65 for 1kg) and the popular D24 Durian Christmas Log Cake (S$69 for 1kg), their two new flavours are bound to be the talk of the party.
This year's must-try is the new Summer Berries Mouse & Passion Cream with Chocolate Brownie (S$76), a festive pastry with a walnut brownie base and an almond sponge centre covered with a tangy berry mousse. Fans of the D24 Durian Log Cake will adore the new Mao Shan Wang Durian Christmas log cake (S$62 for 500g). Its soft vanilla sponge base is filled to bursting with creamy Mao Shan Wang durian, a fine treat that will delight all durian enthusiasts.
Log Cake Early Bird Promotion
Use your DBS, POSB, Citibank, UOB, or OCBC credit card when you buy takeaway log cake from The Deli. You get 20% off if you order between 1 – 13 December 2016, and 15% off from 14 – 26 December 2016.
Meanwhile, Goodwood Park Hotel Gourmet Cardmembers get 20% off between 1 – 26 December 2016. Whatever card you use, you get an additional 5% discount if you pay for your orders in full by 6 December 2016.
Note that these discounts aren't available for the Goodwood Mao Shan Wang Durian Christmas log cake.
Address: 22 Scotts Road, Singapore 228221
Tel: +65 6737 7411
Up to 25% Off BreadTalk Log Cakes with UOB Cards
It's a good thing BreadTalk is a fixture at every mall in Singapore. Where else can we grab last-minute sweet treats as we make our way to our various holiday gatherings? This year's mouthwatering collection of Christmas goodies does not disappoint, and comes with three log cake flavours to choose from.
Traditionalists will love the look and taste of Chocolog of Blessings, a chocolate log cheesecake layered with velvety-smooth cream and crunchy chocolate pearls. For a modern take on this Christmas favourite, try the O Hazel Night, a chocolate ganache chiffon log cake filled with paillete fuilletine rolled in light hazelnut cream. If you're up for something different, try Let It Snow, a snow-glazed log cheesecake with diced pistachios, berries, and white chocolate pearls.
Each log cake retails for S$49.80.
The Log Cake Promotion
BreadTalk's Early Bird Special lets you save big on their yule cakes! Make sure to order your log cake before 13 December 2016 to get 20% off. And if you own a UOB credit card, use it to get 25% off all Christmas log cakes!
Up to 35% Off Cafe Noel Log Cakes with OCBC Cards
The Fairmont Singapore's Cafe Noel brings even more joy to your Christmas festivities with their selection of holiday treats. Their log cakes are anything but ordinary, and their Christmas offerings will delight anyone with a sweet tooth or unconventional palette. Log cake flavours include Chestnut and Green Tea and Caramel Chocolate Chip, both priced at S$84 for 1kg, and S$43 for 500g.
The Log Cake Promotion
The Far Card members and OCBC credit cardmembers get 15% off with every log cake order, 25% off for 2 log cakes, 30% off for 3 log cakes, and 35% off for 4 or more log cakes.
Delivery Costs and Other Details
Delivery will cost S$50 per location, so if you really want to save money, you can collect it yourself at The Fairmont Singapore. Make sure to place your order 5 days in advance.
Address: 80 Bras Basah Road Singapore 189560
Website: www.celebrationscentral.com.sg
Tel: +65 6338 8785
Email: cafenoel@fairmont.com
Don't own a credit card yet? You can find the best credit card for you at SingSaver.com.sg.
Read This Next:
Citibank Buffet Promotions You Shouldn't Miss
Christmas Buffets You Should Book in 2016

---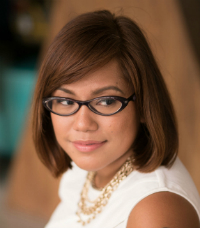 By Lauren Dado
Lauren has been a content strategist and digital marketer since 2007. As SingSaver.com.sg's Content Manager, Lauren edits and publishes personal finance stories to help Singaporeans save money. Her work has appeared in publications like Her World, Asia One, and Women's Weekly.
---