Does she love a bold, red lip? Perfectly groomed brows? Or, perhaps, that gorgeous K-drama glow? When it comes to make-up, most people have their favourite looks (grunge, dewy, no-make-up make-up), which is why these make-up and skincare gift sets are the ideal holiday present.
We all know 2021 hasn't been the greatest, but you and your friends can still put your best faces forward and gear up for a gorgeous 2022. This Christmas, pretty up with these affordable under-S$100 make-up and skincare gift sets for yourself or someone who deserves it!
Last updated on 3 December 2021. Prices for deals listed in this article are subject to change without prior notice.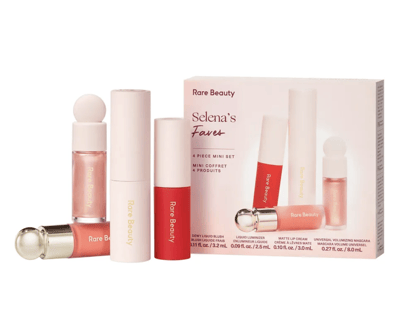 This is a good set if have friends who want to try out the Rare Beauty line before committing to full size products. This set features four of singer Selena Gomez's absolute must-haves for cheeks, lips, and eyes.
Set includes:
Mini Soft Pinch Liquid Blush In Joy
Mini Positive Light Liquid Luminizer In Mesmerize
Mini Lip Souffle Matte Lip Cream In Inspire
Mini Perfect Strokes Universal Volumizing Mascara In Black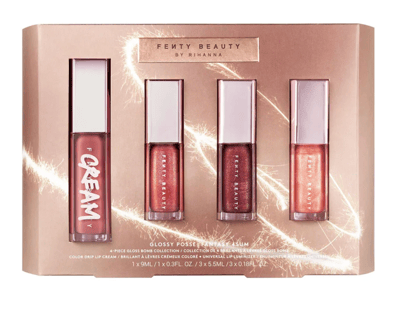 If giving glossy kisses under the mistletoe sounds like something you want this Christmas, look no further. Pucker up with these limited-edition collection of three mini Gloss Bomb Universal Lip Luminizers, plus a full-size Gloss Bomb Cream by Fenty Beauty.
Set includes:
Gloss Bomb Cream: Candy Milk
Mini Gloss Bomb: Fenty Glow Fantasy
Mini Gloss Bomb: Hot Chocolit Fantasy
Mini Gloss Bomb: Champ Stamp Fantasy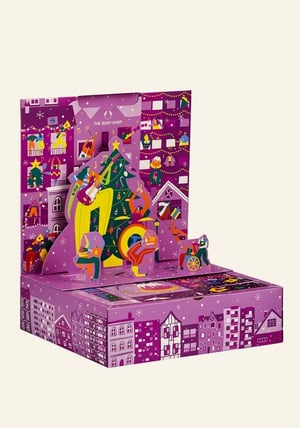 Count down to Christmas Eve with the 24 little treats hiding inside The Body Shop's Share the Joy Advent Calendar.
Not only does this new beauty advent calendar have an amazing pop-up construction that transports you to a joyful Christmas world, it's also packed with lots of little head-to-toe treats for keeping you and that beautiful body pampered all season.
Set includes:
Strawberry Hand Cream, 30ml
British Rose Shower Gel, 60ml
Pink Grapefruit Bath Bubble, 28g
Mini Ramie Bath Lily
Mango Body Butter, 50ml
Banana Shampoo, 60ml
Watermelon Lip Butter, 10ml
Pink Grapefruit Shower Gel, 60ml
Almond Milk & Honey Hand Cream, 30ml
Coconut Shower Cream, 60ml
Tea Tree Face Wash, 60ml
Vitamin C Sheet Mask, 18ml
Coconut Bath Bubble, 28g
Coconut Soap 100g,
Strawberry Shower Gel, 60ml
Banana Conditioner, 60ml
Moringa Bath Bubble, 28g
Hair Slides
British Rose Body Scrub, 50ml
Pink Grapefruit Hand Cream, 30ml
Almond Milk & Honey Shower Cream, 60ml
Vitamin E Sheet Mask, 18ml
Mango Shower Gel, 60ml
Shea Body Butter, 50ml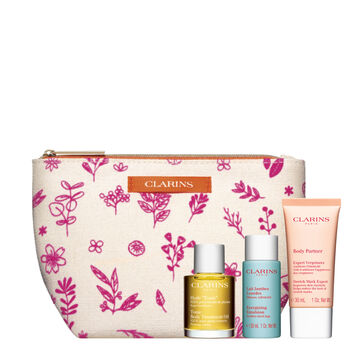 Who doesn't want to look young? Visibly firm and smooth the look of wrinkles with Clarins' age-defying essentials which includes an Extra-Firming Day Cream, Extra Firming Mask and Hydrating Gentle Foaming Cleanser.
Set includes:
Extra-Firming Day Cream, 15ml
Extra Firming Mask, 15ml
Hydrating Gentle Foaming Cleanser, 30ml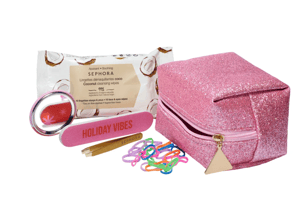 A travel makeup bag with five mini beauty essentials, to give as a gift or to keep for yourself, so you'll be ready for a beauty emergency at anytime, anywhere.
Set includes:
10 pieces of coconut cleansing wipes
A mini nail file
A pocket mirror
A pair of mini tweezers
A set of 100 mini rubber bands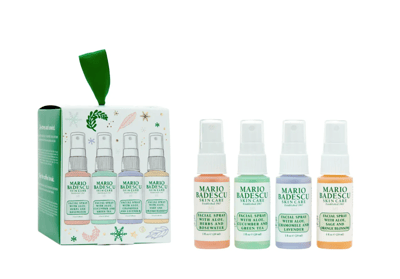 Good make-up starts with good skin. This MARIO BADESCU travel-friendly trio facial spray is a must-have for any jet-setting glow-getter, and makes the perfect gift for friends who are going overseas soon.
Set includes: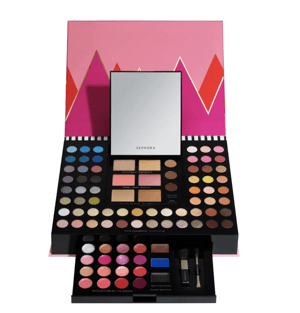 A full makeup palette with 88 shades and two brushes to let your creativity run wild and create looks as unique as you are.
For easy daytime looks to dramatic evening makeup, this all-in-one full makeup palette is an ideal starter makeup palette and is sure to delight any beauty fan.
Set includes:
88 shades of eye, lip, face makeup
A face brush
A dual-ended eye brush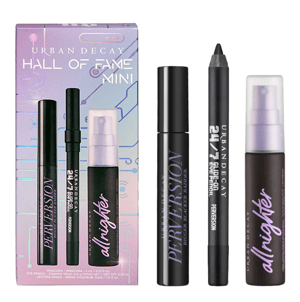 This holiday set of award-winning products by Urban Decay includes travel-sizes of Perversion Mascara, Perversion 24/7 Glide-On Eye Pencil And All-Nighter Makeup Setting Spray.
The Perversion Mascara glides on and provides length and volume in one stroke. Pair the mascara with the Perversion 24/7 Glide-On Eye Pencil, which offers intense, up-all-night colour with creamy and dreamy application. Lastly, finish up with the All-Nighter Makeup Setting Spray to stop makeup meltdown.
Set includes:
Perversion Mascara, 12ml
Perversion 24/7 Glide-On Eye Pencil, 0.6g
All-Nighter Makeup Setting Spray, 30ml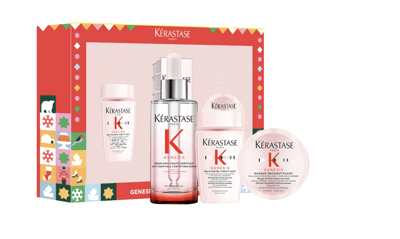 This haircare set that fights hair fall and breakage will be a Christmas miracle for those who are suffering from weak tresses.
This set from KÉRASTASE will help improve hair resistance to minimise hair-fall and maximise beautiful hair. The serum helps to re-anchor hair follicles more solidly into the scalp while building the optimal environment for future growth. Its rich formula removes dirt and excess of oil while providing intense nourishment for dry hair.​ Lastly, apply the mask to provide replenishment to the hair by strengthening damaged fibres.
Set includes:
Genesis Anti Hairfall Scalp Serum
Genesis Shampoo
Genesis Mask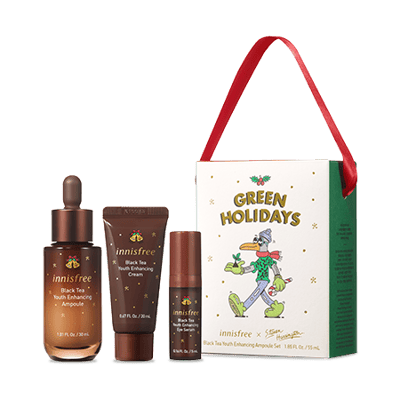 Black Tea Youth Enhancing Ampoule Special Set provides intensive anti-aging care that relieves signs of skin fatigue after a long, tiring day and boosts the skin's vitality and radiance as if you'd had a good night's sleep.
Set includes:
Black Tea Youth Enhancing Ampoule
Black Tea Youth Enhancing Cream
Black Tea Youth Enhancing Eye Serum
---
You can save more on your next gift shopping trip when you have the right credit card. Use our simple comparison tool to find one that suits your lifestyle and even get rewarded with cash* or Apple AirPods* when you successfully apply for selected credit cards through SingSaver today!
---
Read these next:
Things To Do In Singapore That Get You The Most Bang For Your Buck (December 2021)
Christmas Buffet Dining Deals For 2021
The Best Christmas Log Cake Promotions in Singapore This 2021
Christmas Turkeys In Singapore For Under $120
Reasons You Should Pay $5 To Visit Christmas Wonderland 2021