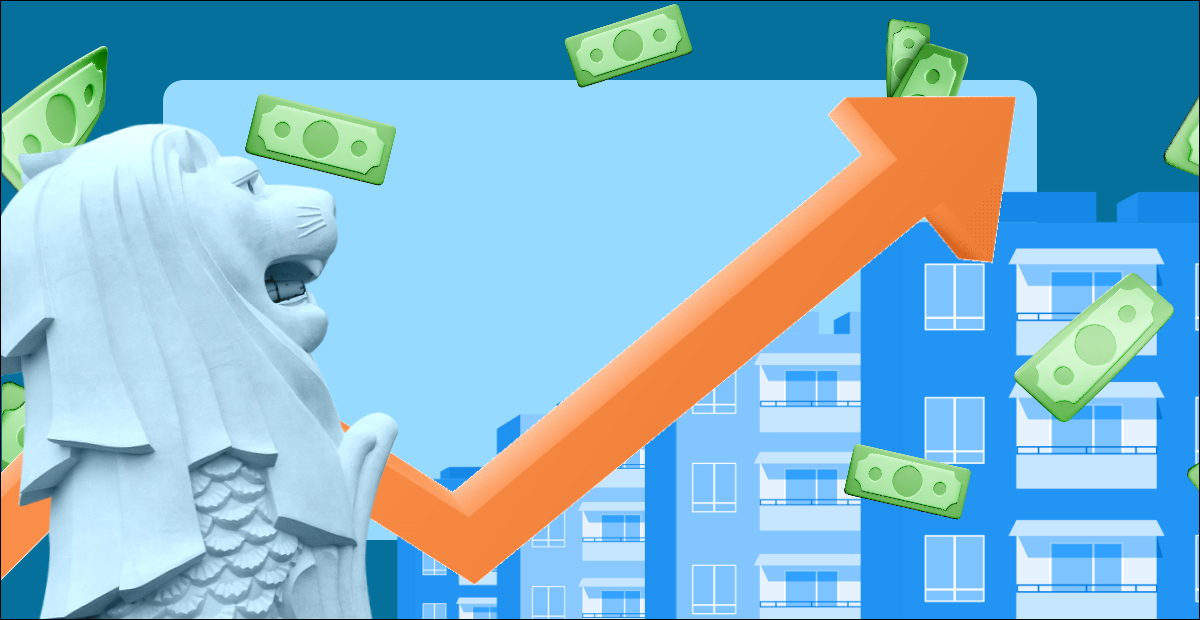 Singapore's year-on-year core inflation rate continues to trend upwards, rising from 3.3% in April to 5.1% in August. So what exactly does this all-time high core inflation mean for us?
After officially reaching mid-2022, core inflation has since hit multiple all-time highs in a decade since 2012. As a compounded consequence of the COVID-19 pandemic and the Russian-Ukraine War, economies are under immense stress as governments attempt to cope with soaring prices.
In Singapore's case, core inflation has further spiked from the previous 14-year high of 3.3% in April, 3.6% in May, 4.4% in June, 4.8% in July and now 5.1% in August on a year-on-year basis — exceeding Reuters' initial prediction of a 5% increase.
The only other time Singapore reported a higher year-on-year growth was in November 2008 when core inflation hit 5.5%.
Meanwhile, the headline consumer price index, or overall inflation, continues to persist at a year-on-year high of 7.5% this year. This also exceeded Reuters' initial prediction of 7.2%.
This greatly surpasses the Monetary Authority of Singapore (MAS) and the Ministry of Trade and Industry's (MTI) forecast of consumer price inflation to hover around 4.5 to 5.5% in 2022.
At this juncture, the challenges of tackling inflation are indeed daunting. Even Prime Minister Lee Hsien Loong commented that "drastic measures" are needed to curb high inflation and "prevent inflationary expectations from taking root".
A failure to control these pressures may risk a recession.
So amid all this economic pandemonium, how will current inflation trends affect you?
Table of contents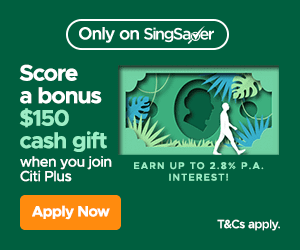 ---
SingSaver Exclusive Offer:
Receive S$150 Cash when you apply for a Citi Plus account through Singsaver, deposit S$15K within 2 months from the month of account opening, and maintain the funds for 4 months after funding in. Fulfilment will be done within 3 months from the end of the fund maintenance period. Valid till 31 October 2022. T&Cs apply.
---
Disclaimer: Information is updated as of 24 August 2022.
Core inflation vs. Overall inflation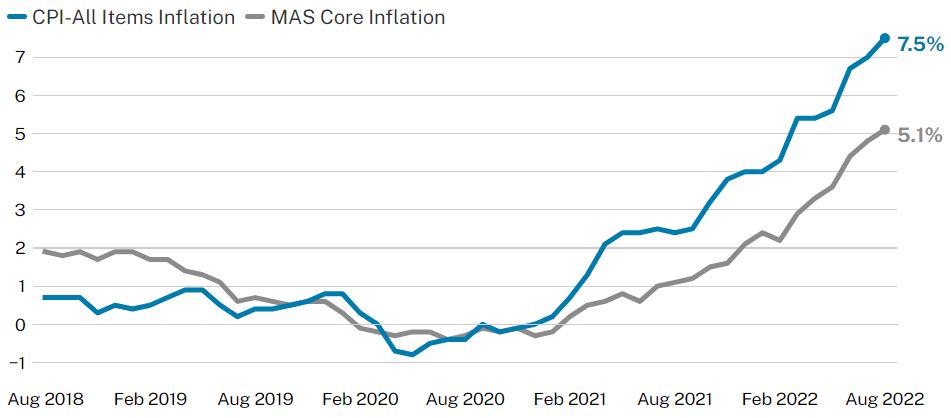 Before delving further, let's distinguish between core and overall inflation.
Typically in most countries, core inflation is an index that excludes the prices of volatile goods and items like food and energy.
However, in MAS' definition, core inflation in Singapore pertains to retail, food and energy (electricity and gas) costs. Only accommodation and private transport costs are excluded due to their volatility and influence from supply-side administrative policies.
On the other hand, overall inflation in Singapore is measured by the headline consumer price index (CPI). This measures the cost of a fixed basket of goods and services used by resident households daily.
The composition and categorical weightage of goods and services in this index is determined once every five years through average household consumption patterns.
Considering these differences, the 5.1% year-on-year core inflation has undoubtedly led to significant impacts on Singapore's cost of living.
---
Related to this topic:
Can Cashback Credit Cards Help Curb Inflation in Singapore?
8 Sneaky Signs That Lifestyle Inflation is Delaying Your Financial Freedom
9 Ways to Hedge Against Inflation With Investing
Effects of rising inflation across sectors
| | | |
| --- | --- | --- |
| | August 2022 | July 2022 |
| Services | 3.8 | 3.5 |
| Food | 6.4 | 6.1 |
| Electricity and gas | 23.9 | 24.0 |
| Retail and other goods | 2.9 | 2.8 |
| Private road transport | 24.1 | 22.2 |
| Accommodation | 4.7 | 4.6 |
Source: MAS, MTI
Much of the marked core inflation increase is attributed to a corresponding surge in retail, food, electricity and gas prices, among other commodities, explained MAS and MTI in a joint press release.
A greater trickle-down effect of increased business costs transferred to consumer prices is also likely to happen with increased demand.
So what's the inflation breakdown across these sectors?
Food
The change: Food inflation has increased drastically since April. Starting from 4.1% in April, to 4.5% in May, 5.4% in June, 6.1% in July and 6.4% in August 2022. It's risen a whole 2.3% in four months.
Naturally, this was caused by an exponential increase in the prices of non-cooked and food services.
How this affects you: Unfortunately, you might have to revise your grocery and necessity shopping budget again. According to MTI, the average price of a carton of 10 eggs rose from S$2.40 to S$2.60 between December 2021 to 2022 — an 8% increase.
Coincidentally, CNA also conducted a price comparison of essential goods between 2021 and 2022. In February, they found that a pack of 30 Pasar fresh eggs rose from S$4.75 to $6.15 at NTUC Fairprice. Similarly, a 30-egg carton from Sheng Siong also increased from S$4.65 to S$6.15.
Since eggs are considered a food commodity for many recipes, it's understandable why it's been hit one of the hardest. Notwithstanding that, Malaysia will also impose bans on the monthly 3.6 million chicken exports starting 1 June — sighting supply shortages compounded by rising chicken prices.
As a result, expect chicken and egg prices to soar a little more. However, this is not a sign to panic buy and stockpile food unnecessarily.
Not to mention, the Russian-Ukraine War has left an indelible mark on food prices since both countries contribute to the global supply of commodities like wheat (around one-quarter worldwide), barley, corn, livestock feed (e.g. grain) and sunflower seed oil.
What you can do: Download the Price Kaki app to compare prices of groceries, household items and hawker prices islandwide.

Source: Price Kaki
Through this app, you can filter and sort listings by price, distance, supermarket, and more. It's arguably the fastest way to get price updates for all your essential goods shopping.
Pro-tip: Look out for NTUC Fairprice's 5% 'Stretch Your Dollar' discount on 100 key essential items every Friday. Valid till 31 December 2022.

Save up to 20% on "Must Buy" items and an extra 25% on "Purchase with Purchase" products (min. S$25 spend).
Simultaneously, maximise your grocery haul during your next trip by using a grocery credit card at checkout. Some cards like Citi Cash Back Card reward you with 8% cashback on groceries whereas others like BOC Sheng Siong Card specifically give you 6% cashback at all Sheng Siong outlets.
---
Related to this topic:
Supermarket Promos And Discounts For Senior Citizens in Singapore (2022)
14 Cheaper Things to Buy in JB Besides Food, Groceries and Petrol
Latest NTUC Fairprice Promo Codes in Singapore (May 2022)
Retail
The change: Retail and other miscellaneous goods inflation increased from 1.6% in April, 1.8% in May, 3.1% in June, 2.8% in July, and 2.9% in August. This slower pace of inflation is attributed to telecommunication equipment, medicines, and health products all declining. The cost of personal effects has simultaneously fallen too.
How this affects you: Ultra-fast fashion platforms like Shein have been one of the main culprits of overconsumption. From January to April alone, 315,000 new styles have been added to Shein's online catalogue. Within the same timeframe, H&M and ZARA only added 4,414 new styles to their US websites.
As demand for fast fashion exponentially rises, so will supply – and thereafter, inflicting greater stress on the environment and factory workers' rights. If supply can't keep up with demand amid all these pressing concerns, naturally, the prices of your garments will increase.
What you can do: According to a 2021 survey conducted by FleishmanHillard, 60% of Gen Zs have been great ambassadors for slower and more sustainable fashion. For example, thrift stores like Loop Garms, Function Five, STAKEOUT, and others are shopping havens for affordable yet trendy pre-loved clothes.
Also, instead of shopping directly on popular blog shops (e.g. Lovet, Super Gurl, Young, Hungry & Free), join their secondhand Telegram channels where shoppers sell off their past items at a fraction of original prices.
In the long run, purchasing pre-owned clothes proves to be cheaper, longer-lasting and thus, more value-for-money.
Where applicable, use a cashback credit card to score some decent rebates during your shopping spree. Make thrift shopping sustainable for both your wardrobe and wallet!
Electricity and gas
The change: With regards to electricity and gas, they've seen one of the worst increases in the lot. Its inflation number has risen from 19.7% in April, 19.9% in May, 20% in June, 24% in July, with a slight decline to 23.9% in August. This stark 4% increase is explained by the significant increase in electricity and gas tariffs.
How this affects you: Tariffs are calculated in three components: network costs, market support services fee, and market administration and power system operation fee.
For the most part, sharp price upturns in European gas futures, Russian oil embargoes and self-sanctions by major oil enterprises are to blame for the staggering figures of electricity tariffs.
It is predicted that the average increase of electricity tariffs will be 8.1% or 2.21 Singapore cents per kilowatt-hour (kWh) between 1 July to 30 September.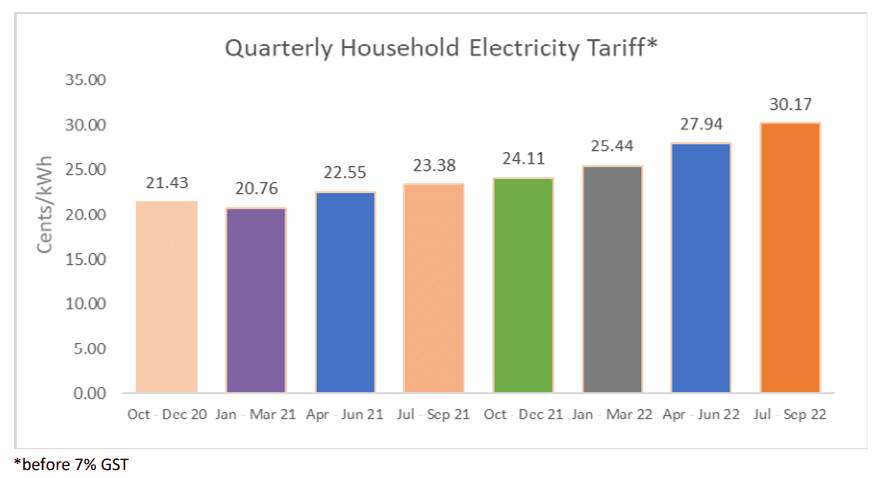 Households will bear the brunt of these tariffs through electricity costs increasing from 27.94 cents per kWh to 30.17 cents per kWh (before GST). It is thus predicted that the average monthly electricity bill for the regular 4-room HDB household to increase by S$8.25 (before GST) or S$8.83 (after GST).
---
The rise in household electricity and gas bills can be terrifying at first, but there are measures to counter these tariffs. By using the right credit card, it can help shave off some costs.
The UOB One card offers cardholders 5% cashback on all spend (including recurring telco and electricity bills) plus an extra 1% on SP bills. Thus, you'll receive a maximum of 6% cashback on your pesky electricity bills! Rebates are issued out quarterly, with the maximum rebate requiring min. S$2,000 monthly spend.
Meanwhile, the OCBC 365 card is another popular choice, offering 3% cashback (capped at S$80) on recurring telco and electricity bills with a min. S$800 monthly spend.
| | |
| --- | --- |
| SingSaver Exclusive Offer: Receive S$30 Cash when you apply and get approved for a UOB Credit Card. Be the first 100 new-to-UOB cardmembers to receive S$150 cash credit when you make a minimum spend of S$1,500 within 30 days from card approval date. Valid till 31 August 2022. T&Cs apply. | SingSaver promotion: Enjoy 5.6% cashback when you apply for the OCBC 365 credit card and make a min. monthly spend of S$800 within the first month following card approval. Promotion is for new OCBC cardmembers only. Valid till 31 August 2021. T&Cs apply. |
Related to this topic:
Open Electricity Market (OEM) Singapore: Complete 2022 Guide
Cheapest Electricity Retailers in Singapore 2022
8 Ways to Lower Your Electricity Bill in Singapore
Private transport and services
The change: Between March and April this year, private transport inflation fell from 21.5 to 18.3% – a welcome relief for many. It only rose slightly to 18.5% in May after the Certificate of Entitlement (COE) premiums hiked up in February.
But currently, private transport inflation has since experienced a spike again. It jumped to 21.9% in June, 22.2% in July, and now 24.1% due to car prices and petrol becoming costlier.
Services inflation has also increased from 2.6% in May, 3.4% in June, 3.5% in July, and now 3.8% in August, citing the relaxation of travel borders, greater holiday expenditure and more engagement with point-to-point transport services.
How this affects you: Private car ownership and maintenance in Singapore have inevitably risen. Petrol prices have hit yet another high despite crude oil prices being 15% cheaper now.
According to the Straits Times,
1-litre of diesel = S$3 to S$3.05
1-litre of 92-octane petrol = S$3.13 to S$3.20
1-litre of 95-octane petrol = S$3.16 to S$3.25
1-litre of 98-grade petrol = S$3.77 to S$3.96
Prior to savings and discounts, SPC and Sinopec generally offer the cheapest fuel rates.
What you can do: Download the Fuel Kaki app to compare the best prices of petrol and diesel before refuelling your vehicle.

Source: Fuel Kaki
At the same time, motorists are highly encouraged to sign up for a petrol credit card to save on fuel expenses depending on preference.
With everyone deep set on revenge travelling and being predisposed to spend more overseas, costs incurred from travel comprise a significant portion of our income now.
If we're not careful or discrete with our spending habits, we can easily overspend and spell disaster for ourselves — especially with talks of a recession ahead.
It's time to be frugal even while jet-setting across the globe, so save on those expensive air tickets with some mileage credit cards.
Miles earned (Local)
Miles earned (Overseas)
Benefits

Citi PremierMiles
S$1 = 1.2 miles
S$1 = 2 miles
Citi miles never expire. Can be exchanged for flyer miles, cash rebates, and other travel rewards.
2 free airport lounge visits annually (over 1,300 Priority Pass lounges to choose from)
Up to S$1 million travel insurance

UOB Prvi Miles
S$1 = 1.4 miles
S$1 = 2.4 miles
6 miles per S$1 spent on major hotel and airline bookings on Expedia, UOB Travel, Agoda
Up to S$500,000 travel insurance
Headline inflation has spiked too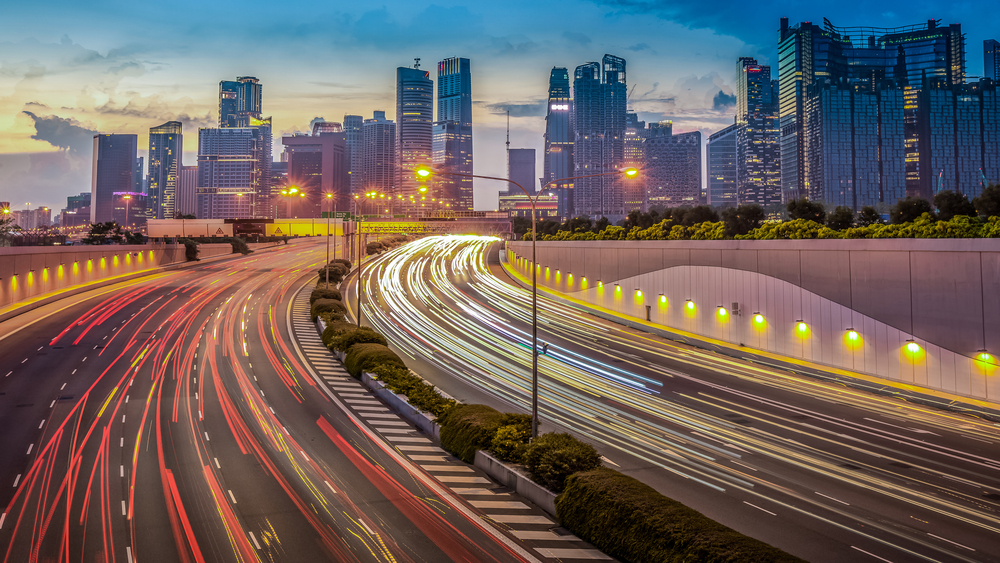 While previously maintained at 5.4%, headline inflation has now hit 7.5%.
Originally, surges in electricity, gas, food and retail prices were offset by a moderation in private transport inflation. This allowed headline inflation to remain consistent for a while.
Simultaneously, other sectors of the economy keep experiencing the ramifications of the pandemic and geopolitical instability.
Until frictions in global transportation, supply chains, and supply-demand mismatches are resolved, the trajectory for Singapore's year-on-year overall inflation is subject to change.
Employment-wise, Singapore's labour market is expected to "remain tight" and facilitate a "firm pace of wage increase" in the coming months, said MAS and MTI.
Critiques and suggestions for other potential fiscal measures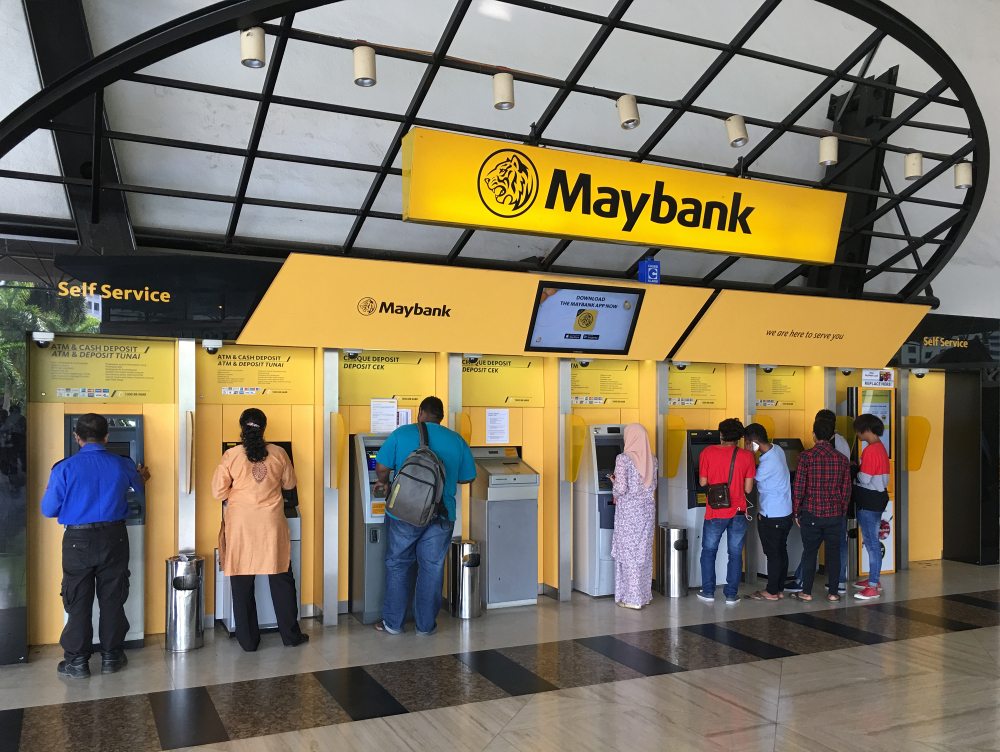 While the recent policy tightening in April has diffused price tensions a little, it might not be enough. Maybank expressed doubts over the current measures' efficacy to mitigate external inflationary pressures and alleviate labour market tightness.
They also recommend implementing a supplementary budget to assist lower-income individuals with basic necessities and utility costs.
To further that, Maybank also suggests stricter foreign labour policies, delaying the introduction of the local qualifying salary benchmark and expanding the progressive wage model to Singapore's retail sector.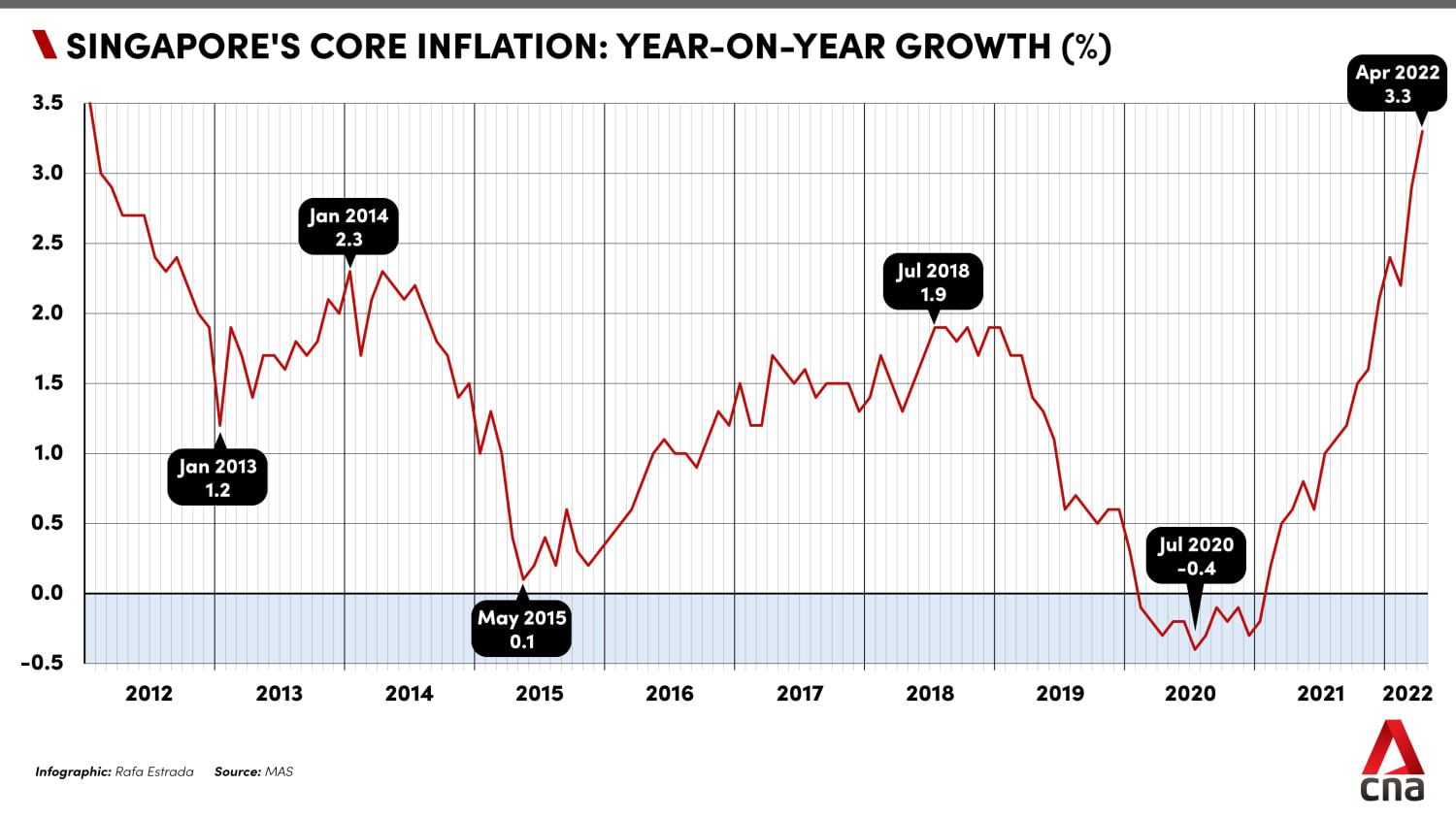 But not all hope is lost; MAS and MTI reassured us that core inflation is not predicted to rise endlessly in the foreseeable future. External inflationary pressures are expected to recede, allowing core inflation figures to moderate by year-end.
However, speculations of core inflation potentially overtaking overall inflation are still at large.
---
Related to this topic:
A Recession Is On Its Way — Here's How You Can Protect Your Investments
Money Confessions: My Wallet Is Not Looking Forward To Post-COVID-19 Life (Especially Going Back To Office)
5 Tips To Better Plan Your Budget in a Post-COVID World
Anything we can do to personally curb inflation?
Bottom line is, storing money idly in a low-interest bank account won't help much. Moreover, with passive income being all the rage now, many Singaporeans are getting nifty with their saving and investment habits for a healthier financial future.
Here are some tips to get you started:
Essentially, a currency's buying power usually depreciates during inflation. Thus, the worth of idle money will only plunge if the rates of return earned aren't sufficient to compensate for a currency's diminishing value.
Earlier in June, Deputy Prime Minister Lawrence Wong also announced a S$1.5 billion Support Package to aid the lower-income and more vulnerable strata of society in coping with the daunting challenges of inflation.
Read more: Robo Advisors Singapore: A Complete 2022 Guide
---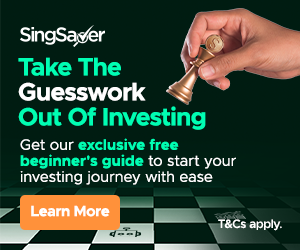 Start managing and saving money like a pro with SingSaver's weekly financial roundups! We dole out easy-to-follow money-saving tips, the latest financial trends and the hottest promotions every week, right into your inbox. This is one mailer you don't want to miss.
Sign up today to receive our exclusive free investing guide for beginners!
---
Read these next:
7 Money Moves Singaporeans Can Make To Manage Inflation
8 Lifestyle Changes You Can Make to Better Cope With Inflation in Singapore 2022
1990s vs 2020s: Inflation and Price Changes in Singapore
9 Ways to Hedge Against Inflation with Investing
---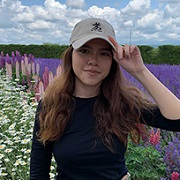 By Emma Lam
With a minor problem of 'itchy fingers' for flash deals and sales, Emma is on a lifelong journey to understand what being financially independent in adulthood means. That said, her inner child is still very much alive… with animals and gaming being her weaknesses.
---