What is the SP electricity tariff rate in Singapore? Why is my electricity bill so high? How to calculate my electricity bill? Find out all the answers now.
According to the Monetary Authority of Singapore, electricity tariffs, and food and gas prices are poised to continue rising in Singapore, much to the dismay of consumers like you and me. On the back of rising inflation, it is only logical that we start tracking how efficiently we're using our resources and money.
Similarly, it's high time that we start trying to reduce our electricity bills by conserving energy at home.
Here, we've gathered questions regarding electricity tariffs in Singapore so that you may take appropriate actions to lower your electricity consumption at home.
What is the SP electricity tariff rate in Singapore?
The current SP Services electricity tariff in Singapore is 29.90¢/kWh, inclusive of GST. This electricity tariff applies from 1 April to 30 June 2022.
For the uninitiated, the SP Services electricity tariff is reviewed every quarter.
What is the average electricity bill in Singapore?
According to statistics released by SP Services, these are the average utility bill amounts for households with SP gas services.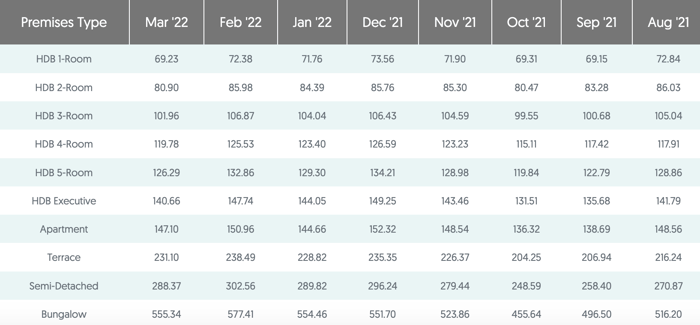 That being said, keep in mind these figures exclude electricity charges for Pay-As-You-Use (PAYU) customers and customers who aren't purchasing electricity at the regulated tariff.
How to calculate electricity bill in Singapore?
You will need to know the following numbers in order to calculate your electricity bill:
Electricity tariff (¢/kWh)
Electricity consumption (kWh)
Take for instance your average household electricity consumption is 350kWh and the prevailing SP electricity rate is 29.90¢/kWh.
Your electricity bill will be = 29.90¢/kWh x 350kWh = S$104.65
Simply multiply your electricity consumption (kWh) by the tariff rate (¢/kWh).
Why is my electricity bill so high in Singapore?
Electricity prices in Singapore have been increasing steadily since July 2021. This is due to climbing global energy prices as well as suppressed supply conditions, further worsened by the Russia-Ukraine conflict.
At 29.90¢/kWh, the regulated electricity tariff set by SP Group for 1 April to 30 June 2022 has, in fact, risen for the fifth consecutive quarter.
Even for households and businesses that have made the switch to Open Electricity Market (OEM) providers aren't spared. Some OEM retailers have quit and exited the competition while the surviving ones have been scrambling to adjust their prices upwards.
How to save electricity and save on electricity bill
#1 Use credit cards to combat rising electricity tariffs in Singapore
Aim to be more savvy going forward? Pay your electricity bills with the right credit card.
While you might assume that all credit cards exclude such transactions from chalking up rewards, a select few cashback credit cards actually help consumers save on their electricity bills and more.
Here are our top cashback credit card picks for paying electricity bills. You're welcome!
#2 Consider switching to Open Electricity Market (OEM) retailers
While the electricity price plans offered by OEM retailers aren't that much cheaper than SP Services' regulated electricity tariff these days, there are still savings to be had from the slightly cheaper rates offered.
To encourage households to make the switch, OEM retailers offer bill rebates for referrals as well as for setting up recurring credit card bill payments.
Like it or not, these bill rebates can help to shave your electricity bills. You won't enjoy rebates if you'd stuck to the default energy provider in Singapore.
Related to this topic:
Open Electricity Market (OEM) Singapore: Complete Guide For 2022
Best Credit Cards for Paying Utility Bills in Singapore
#3 Use U-Save utility rebates vouchers
Did you know that U-Save GST vouchers can help defray the cost of your electricity bills? If your household is eligible to receive the U-Save GST vouchers, rest assured the rebates will be credited into your household's utilities account which SP Services manages.
For those who have switched to an OEM retailer and are being billed separately by the OEM retailer, take note that the U-Save rebates will first be used to offset gas, water, and refuse collection. Any remaining credits can then be used to offset your electricity bill from the OEM retailer!
When will you receive your 2022 U-Save GST vouchers? The rebates will be paid out in tranches in April, July, and October 2022, and in January 2023.
Related to this topic:
Singapore Budget 2022: 6 Ways It Will Impact You
#4 Opt for energy-efficient appliances
This is a no-brainer: the more energy-efficient your electrical appliances are, the better. Check the labels for energy-efficient ticks before you purchase new home appliances. Even though they might cost more from the get-go, your savings could outweigh the initial cost over the lifetime of your appliances.
#5 Use LED light bulbs
In general, LED light bulbs consume the least amount of electricity to achieve the same level of brightness compared to other types of light bulbs. Savings aside, they tend to have a longer lifespan, too — a win-win situation that helps lower costs on both fronts.
#6 Set your air-conditioner temperature at 25˚C
It is understandable that most of us need air-conditioning to work and sleep more comfortably. After all, Singapore is sweltering almost all year round.
However, for the comfort of your wallet, it is recommended that you try setting the air-conditioner temperature at 25˚C. This is especially true if you tend to keep your air-conditioner running for extended periods.
#7 Use fans instead of air-conditioners
Did you know that fans consume less than 1/10th of the electricity compared to air-conditioners when switched on for the same duration of time? Now that you're aware, definitely consider using the fan more often.
It also wouldn't hurt if you tried keeping cool by opening up the windows and letting some breeze into your home!
If relying on fans just doesn't make the cut, consider setting the air-conditioner timer to let it run for a few hours instead of the entire night.
#8 Switch off plugs when not in use
Appliances left on standby can unknowingly consume copious amounts of power — in fact, they can account for up to 10% of our electricity bill!
Common appliances that you should pay attention to include TVs, TV set-top boxes, microwave ovens, water heaters and speakers.
Switch them off at the power source when not in use to save money and lower your electricity bill, pronto.
What appliances use the most electricity in a household in Singapore?
Surprise, surprise. The top three common energy-guzzling home appliances are air-conditioners, water heaters and fridges.
Which is the cheapest electricity supplier in singapore?
At the time of writing, Senoko Energy and Genco are the cheapest electricity suppliers in Singapore. Their 24-month fixed price plans are priced at 28.80¢/kWh, including GST.
To stay on top of these electricity plans' price changes, definitely bookmark and check back on our OEM guide that's updated monthly. Back to top
Read these next:
6 Credit Cards That Give Free Access To Airport Lounges
Top Credit Card Promotions And Deals On SingSaver