Nothing beats the kind of savings you get from pumping petrol across the causeway. But having these credit cards at hand should come close to the feeling.\
Owning a car in Singapore is already expensive. Your bank balance will thank you if you can keep the maintenance down, with petrol being one of the biggest culprits.
Depending on how often you ply the roads, your monthly spend on petrol would look anywhere between S$150 and S$200, given the average mileage clocked by Singaporeans and the average petrol price per litre. Of course, we'd be looking at a much higher range if you are a private hire driver.
Following Putin's invasion of Ukraine, many harsh sanctions have been imposed, and further potential embargoes are also in the works.
In response, Brent benchmarks have risen substantially from US$98 per barrel last week (17 Mar) to US$117 per barrel this week (23 Mar). As a result, this impacted recent oil and petrol prices to surge above S$3 for the first time this year.
With Russia as one of the biggest global producers and exporters of oil, this conflict has undoubtedly seeded as much economic uncertainty in the fuel industry as it did in political unrest.
Nevertheless, it's important that we continue to save wherever we can on petrol expenses. Thus, we've gathered Singapore's best petrol credit cards to enjoy great fuel discounts and save money for other joys in life.
---
Compare Petrol Prices in Singapore
Before we show you the best petrol credit cards available, here is a general idea of how much you'd be paying per litre of fuel.
As you can probably tell, SPC offers the most affordable petrol per litre for Grade 92, 95, 98 and Diesel. Whereas, Sinopec offers the most reasonably priced Premium-grade fuel.
Last updated as of 6 November 2023. The volatility of petrol prices apply and the validity of credit card promotions is subject to change at the bank's discretion without prior notice.
---
Overview: Best Petrol Credit Cards in Singapore 2023
---
---
Best petrol credit card for Caltex: OCBC 365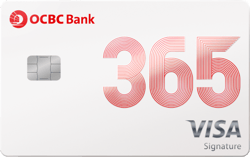 The OCBC 365 credit card packs a punch when it comes to being an everyday cashback card, rewarding you attractively per category spend.
Cardholders earn a modest 6% cashback on fuel spend at all petrol service stations locally. Yet, the biggest draw is fuel savings of up to 22.92% at Caltex, comprising an instant 18% off on fuel and 6% cashback, depending on how much you spend. Besides Caltex, you also enjoy up to 21.04% fuel savings at Esso stations.
OCBC 365 is also known for its 5% cashback on dining (that includes online food delivery), so drive out to your favourite foodie pitstops and make full use of it. You also earn 3% cash rebate on grocery shopping.
The qualifying monthly spend is S$800 with a cashback cap of S$80 per month across all categories combined. If you tend to spend more than S$800, hitting a S$1,600 minimum spend will unlock a S$160 cashback!
OCBC 365 Card Summary
Min. monthly spend: S$800 or S$1,600
Cashback capped at S$80 or S$160 monthly
6% cashback on fuel spend
Up to 22.92% fuel savings at Caltex (including 18% instant discount for all fuel)
Up to 21.04% fuel savings at Esso
5% cashback on dining
3% cashback on physical and online groceries
3% cashback on Electric Vehicle Charging
Read our review of the OCBC 365 card here.
Loyalty Programme: CaltexGO
Download the CaltexGO app to simultaneously earn loyalty points and seamlessly pay for your petrol without needing your wallet.
MEMBER PROMOTION: Those who are new to both OCBC debit/credit cards and CaltexGO are entitled to 25% off their first CaltexGO payment using an OCBC credit card, with no minimal spending required.
---
Best petrol credit card for Esso: DBS Esso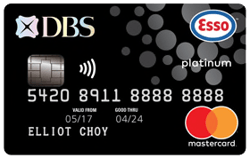 If you're looking for a no-frills card with the highest cashback rate for petrol at Esso, look no further than the DBS Esso Card.
The card offers 18% instant fuel discount and additional savings depending on the seasonal promotion. You could be looking at a total of 21.6% in fuel savings and that excludes the earned Smiles points (2.4%), which you can redeem to offset the fuel purchase.
When you sign up for the card and use it, you'll automatically be enrolled into the Esso loyalty program. Drivers, you'll surely be smiling ear to ear when you know that it gets you 0% interest-free motor insurance and road tax instalment plans — those are just a couple of the benefits.
The downside? The card is really only for drivers who pump exclusively at Esso. Otherwise, it really is a one-trick pony.
DBS ESSO Card Summary
Up to 21.6% fuel savings + 2.4% Smiles savings
0% interest-free motor insurance + road tax instalment plans
Up to S$120 NETT fuel savings for new DBS Esso cardholders
Up to S$10 on instant fuel redemption using Smiles Points
Loyalty Programme: Esso Smiles Driver Rewards
As part of the Esso Smiles Driver Rewards programme, drivers can earn one Smile Point for every litre of Synergy fuel purchased at an Esso station. Additionally, they can instantly redeem S$10 on fuel with as low as 300 Smiles Points and S$30 on fuel with as low as 750 Smiles Points earned.
---
Best petrol credit card for Shell: UOB One Card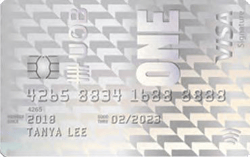 The UOB One Card would be best for topping up petrol at Shell. With petrol being one of the main expenses for those who drive, you could potentially enjoy up to 21.15% savings each time you make a trip to Shell.
This 21.15% fuel savings comprise a 17% instant discount and up to 5% cashback.
The latter 17% upfront discount consists of a 5% Shell station discount, 5% Shell Escape discount and 7% UOB One Card instant discount (from the CVP change).
But take note of a few terms and conditions and minimum spend tiers. To get the full 5% rebate (S$300), UOB One cardholders must spend at least S$2,000 per month (min. five purchases) for three months straight in a yearly quarter.
This means that you can't spend a bomb on one single transaction but five separate payments instead! If you only spend between S$1,000 and S$1,999, it drops to S$100, and S$50 if you spend between S$500 to S$999.
UOB One Card Summary
Highest possible cashback:

15%
Minimum monthly spend on 5 purchases or more:

Min. S$2,000 spend

for three consecutive months: Additional 6.67% cashback + Enhanced 5% cashback
Min. S$500 or S$1,000 spend

for three consecutive months: Additional 5% cashback + Enhanced 6.67% cashback
Up to 21.15% fuel savings

at Shell kiosks
Up to 22.66% fuel savings

at SPC kiosks
Up to 4.33% cashback

on Singapore Power utilities bill

Maximum cashback earned:
Base 3.33% + (Additional & Enhanced) 11.67% =

Up to 15% cashback total
Read our review of the UOB One card here.
Loyalty Programme: Shell Escape
Pick up a Shell Escape Card and register to become a member in order to earn up to 100 points online. The more you refuel, the more points accumulate. You can then redeem these points for rewards like S$10 NEX vouchers and S$20 TANGS gift cards.
---
Best petrol credit card for SPC: POSB Everyday Card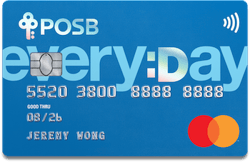 If you're looking for an all-in-one card to save money on your car's fuel maintenance and double as a daily essentials spender, POSB Everyday credit card is the card to have 365 days a year.
You'll enjoy up to 20.1% fuel savings at SPC with no minimum spend, which is made up of 10% SPC&U member discount, 5% DBS/POSB discount and a 6% POSB Everyday card exclusive cash rebate (charged on final amount). On top of all that, you can still get an extra 2% cash rebate (capped at S$15) when you spend a minimum of S$800 monthly.
This additional rebate brings the total savings tally up to 21.8%. All these extraordinary fuel savings are valid till 30 November 2023, so don't miss out on this stellar promo!
Speaking of cash rebates, the savings party continues with 5% on Sheng Siong groceries, 10% on online food delivery, and 3% on utilities and phone bills.
See what we mean when we say it doubles as your daily essentials card?
Loyalty Programme: SPC & U Programme
Sign up for an SPC & U card to enjoy an instant member discount of 10% whenever you fill your tank at any SPC service station. Membership is complimentary - simply approach the cashier at any service station to your obtain your card. Registration can then be done online.
Other benefits include members' treats, participation in attractive programmes, participation in members' only events and e-coupons.
---
Best petrol credit card for Sinopec: OCBC 365 or OCBC Frank
Once again, the OCBC credit cards shine brightest at Sinopec in general with amazing fuel savings of up to 27%. Although Sinopec only offers three kiosks in Singapore currently, they're constantly running limited-timed promotions, tacked on with further discounts for OCBC cardholders.
For starters, all OCBC credit cards already enjoy a standard petrol discount of 23% discount (at Bukit Timah) and 20% (at Yishun and Woodlands). Moreover, OCBC 365 receives an additional 5% cashback on NETT fuel spend (min. S$800 monthly spend), whereas OCBC Frank receives an additional 6% cashback on contactless payment (using a smartphone or watch with min. S$600 monthly spend).
Note: The extra 5% cashback on NETT fuel spend is after discount. Thus, before discount, this 5% is equivalent to 3.8% or 4% savings. Cashback capped at S$80 per month.
Loyalty Programme: Sinopec X Rewards
Sign up for Sinopec's loyalty programme, X Rewards, at any kiosk to gain access to their Sinopec X Card. Use it to pump petrol at Sinopec to earn 1.5 X points per litre of Sino X Power petrol, and 1 X points per litre of other petrol.
Accumulating a total of 90 X points rewards members with a S$3 discount, which is around 1.3% fuel savings, subject to Sino Power 95 petrol price fluctuations.
No doubt, these X Rewards can be stacked on top of your OCBC credit card discounts to really maximise your fuel savings. It'll be remiss of you not to take advantage of these (essentially) discounted petrol life hacks.
---
Honourable mentions
Caltex - OCBC Voyage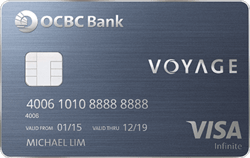 Enjoy a 19% instant discount on all Techron® fuels with an OCBC Voyage card.
Meanwhile, let your spending work towards luxurious travel perks as you also earn 1.3 VOYAGE Miles (1.3 KrisFlyer Mile) for every local dollar spent.
---
Caltex - Standard Chartered Simply Cash Credit Card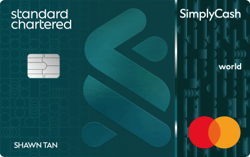 Enjoy up to 23.7% effective savings comprising a 17% upfront discount for all fuels and a 1.5% cashback. On top of that, cardholders will also receive a S$3 rebate for every S$100 spent and a S$4 Caltex fuel voucher with min. spend of S$60
Keen to earn all these rewards with your Standard Chartered Simply Cash Credit card? Be sure to be an existing CaltexGO member too, and you'll be all set.
---
Esso & Shell - Citi Cash Back Card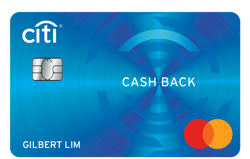 Want to earn up to 20.88% fuel savings at Esso and Shell? Compared to the mere 14% savings on other Citi credit cards, flash your Citi Cash Back Card card at the kiosk cashier counters and enjoy:
5% Esso or Shell station discount
5% Esso Smiles or Shell Escape discount
4% Citi Card discount*
8% cashback (after discounts)
The 8% post-discount cashback does not apply to regular holders of Citi credit cards, only for Citi Cash Back Card.
With these whopping savings stacked one after another across Esso and Shell, it's not hard to see why the Citi Cash Back Card is a great card for drivers who patronise both these kiosk brands.
*The 4% Citi Card discount will not be reflected automatically for payments made using mobile or e-wallets.
---
SPC - AMEX True Cashback Card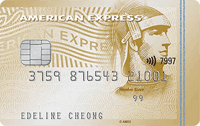 Don't restrict yourself to the luxuries in life with the American Exchange True Cashback Card's simple philosophy for cash rebates. With no category specifications, no minimum spend, no earn cap tagged on their cashback, you can spend away to your heart's content.
Apart from the 5% card discount, you can also stack on a 10% SPC&U discount and a 7.1% card rebate on NETT petrol spending. This puts your total effective discount at 21% fuel savings at SPC!
Moreover, AMEX is currently running a welcome bonus for new cardholders to enjoy 3% cashback for the first six months, up to S$5,000 min. spend. Following that, continue to benefit from a decent 1.5% immediate cashback across all eligible purchases.
---
Sinopec - Maybank World Mastercard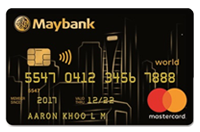 If you're a miles chaser, you'd know that you could use any credit card specialised for contactless payments to earn 4 miles per dollar at petrol stations.
However, the Maybank World Mastercard takes this one step further by granting both 4 miles per dollar and discounts on petrol.
Regarding the petrol discounts, you stand to receive up to 19.1% off via the Maybank World Mastercard's complimentary Corporate Fuel Card. Tack that on to the 20+% instant discount promotions that Sinopec frequently runs across its three petrol stations, and you have yourself a winner.
Apart from petrol, earn 4 miles per dollar when you dine at Paradise Group, Imperial Treasure, Les Amis Group, and Resorts World Sentosa merchants or for retail, Club21 merchants and all The Shilla Duty-Free stores at Changi Airport welcome you too.
---
Which petrol credit card is best for you?
The credit card that'll work best for you depends on your preferred grade of petrol and the availability of petrol kiosks. For instance, if you commute daily to and fro work, knowing which petrol kiosk is en route to work is beneficial for efficient refuelling whenever needed.