So you want to go on a graduation trip with your besties, huh? Save this checklist for when the grad trip finally makes it out of the group chat. 🙌🏼
Group trips and graduations trips are like a double-edged sword – they can either make or break a holiday together. Such trips can either bring friend groups closer or unearth underlying problems and destroy the dynamic.
If you've heard too many horror stories of friendship breakups over holidays and feel paranoid, don't worry, us too. 😬
While there's no guarantee to preserve friendships on trips, there are actions you can take to minimise and/or prevent disagreements along the way. Read on to find out what our 10 best group travel tips for keeping the friendship alive are for your upcoming homie holiday!


Table of contents
SingSaver's Best Price Travel Campaign: All successful applicants of participating Travel Insurance products will receive 1x draw chance to enter our weekly lucky draw where 1 lucky winner will stand to have their flight ticket reimbursed (up to a maximum of $2,000). Valid till 31 July 2023. T&Cs apply.
Travel Insurance
Premium for Individual Cover
Covid-19 Coverage
Promotion
Allianz Travel Insurance





from S$34.10 (for 1 week in Asean)

Yes

Use promo code AzSSV to get a 45% discount (Exclusive to SingSaver) and up to $60 via PayNow.

Valid till 30 May 2023. T&Cs apply

MSIG Travel Easy




from S$34.10 (for 1 week in Asean)

Yes

Score an

Airalo eSIM with 1GB data

and receive it within 4 working days when you apply now! Valid till 12 June 2023.

T&Cs apply.

Enjoy 40% off your Single Trip premium and 20% off your Annual Trip premium. Plus, receive up to S$38 via PayNow when you apply.

Valid till 31 July 2023. T&Cs apply.

Etiqa (TIQ) Travel Insurance




from S$39 (for 1 week in Asean)

Yes

Single Trip:

Use promo code TIQSINGSAVER to enjoy 40% off when you apply.

Annual Trip: Use the promo code TIQSINGSAVER to enjoy a 60% discount and S$20 cashback on your COVID-19 add-on.

Valid till 18 June 2023. T&Cs apply.

Starr TraveLead Travel Insurance





from S$11.05 (for 1 week in Asean)

Yes

Use the promo code SSVTL35 to enjoy up to S$48 via PayNow, a 35% discount, plus an exclusive Agoda promo code.

Valid till 30 June 2023. T&Cs apply.

FWD Travel Insurance




from S$22.50 (for 1 week in Asean)

Yes

Use the promo code TRAVEL25 to get 25% off on Single Trip and Annual Trip plans.



Valid till 29 May 2023. T&Cs apply.

AIG Travel Guard® Direct




from S$30 (for 1 week in Asean)

Yes

Score an

Airalo eSIM with 1GB dat

a and receive it within 4 working days when you apply now! Valid till 16 June 2023.

T&Cs apply

.

Single Trip: Use promo code SSFLASHSALE to get 10% off and up to $50 Dairy Farm eVoucher (fulfillment by AIG).
---
#1 Discuss trip expectations among members
While there are many ground rules to lay prior to a group trip, I believe that there are two main expectations to cover:
What type of holiday-goer are you?
What's your expected budget threshold for the trip and its duration?
There are two types of holiday-goers: some are vacationers, while others are travellers.
Vacationers are those that enjoy taking things slow like lounging by the beach with a pina colada, spamming spa and massage sessions, and shopping at popular tourist spots.
Meanwhile, the travellers are the more adventurous counterparts that love chasing after an adrenaline rush. Skydiving, bungee jumping, whitewater rafting, paragliding, rock climbing, hiking up a volcano, you name it – they'll be down to do it.
Thus, it's not uncommon to see these two archetypes butt heads with each other when their preferred activities aren't being considered. At times like these, compromise is really the key to resolving itinerary conflicts for the benefit of a smooth-sailing trip.
Another essential trip expectation to discuss is budgeting!
As a group, it's important for everyone to be on the same page with regard to how much you're willing to spend – including flights and accommodation. Someone might be willing to spend S$1,200 for a 5-day trip as opposed to someone who might only be willing to spend S$700.
Mismatches in expenditure expectations can often lead to conflicts and cause one party to be left out of activities for the sake of saving money.
However, that's not to say that trip members with different budgets can't travel together. As long as these boundaries have been communicated beforehand, each member can compromise accordingly and still enjoy a fruitful holiday together.
See also: Cheapest Flights to Popular Destinations – Thailand, Japan, Taiwan, and More


---
#2 Set up a shared fund
Speaking of budgeting, another good way to manage group finances is to pool together a shared fund for the trip.
This fund will serve as a general sum of money used to pay for shared expenses such as meals, transport, and group activities. For instance, if each person on a 5-member trip contributes S$100 to this fund, you'll have S$500 collectively to use as how you all see fit.
This also removes the extra hassle of having to track every single group transaction made and having to chase after repayment thereafter.


---
#3 Assign roles for each member
As with any well-oiled machine, assigning roles for each member will definitely be helpful.
In general, there should be these designated roles on each trip:
Driver
Navigator
Treasurer
Timekeeper
Planners
Driver 🚗
If you happen to have a driver's licence, congrats! You'll most likely be the designated driver of the group if you guys intend to rent a car. Otherwise, if multiple people have their licences, then feel free to rotate the driving responsibility amongst yourselves. Taking turns to drive is especially important for road trips because the last thing we want is a fatigued driver falling asleep at the wheel!
Read more:
Does Travel Insurance Cover Overseas Car Rental?
Best Travel Insurance Plans For Road Trips, Water Sports, and Extreme Sports

Navigator 🗺️
For the directionally challenged, this role is not it. But if you are a natural map reader, the role of navigator should come naturally to you. You're bound to get lost from time to time in a foreign country. But as long as you have a navigator, you'll be right back on track in no time.


Treasurer 💰
If pooling together a shared fund isn't up your alley, you can nominate one person to act as the treasurer for the trip. This person can either be in charge of tracking all expenses or pay for all group activities upfront first.
With money being a sensitive topic, this person has to be meticulous in handling group finances. After all, we wouldn't want any money problems to arise during and after the trip!


Timekeeper ⌚
Don't underestimate the importance of a good timekeeper. During group activities, it's easy to lose track of time especially when you're having fun. Thus, the timekeeper will be in charge of holding everyone accountable to the itinerary schedule and ensuring that dilly-dallying is reduced to a minimum.


Planners 📝
Last but not least, the planners can be anyone (or everyone) in the group. In fact, it's important to have everyone involved and contribute to the itinerary. Unless you're truly carefree and go with the flow, chances are, you'd have certain itinerary preferences.
Being present during the trip's planning stage ensures that the majority of activity preferences are accounted for. And if compromises are needed, at least everyone will be aware and be on the same page together.


---
#4 Use an Excel spreadsheet or Notion page for planning
Behind every successful group trip, is a good Excel spreadsheet or Notion page. ✅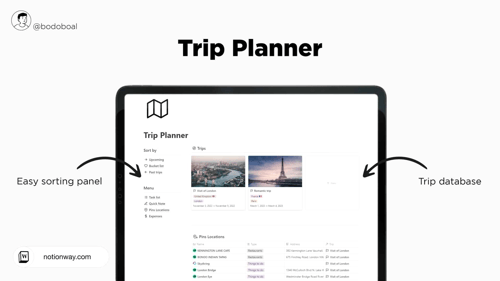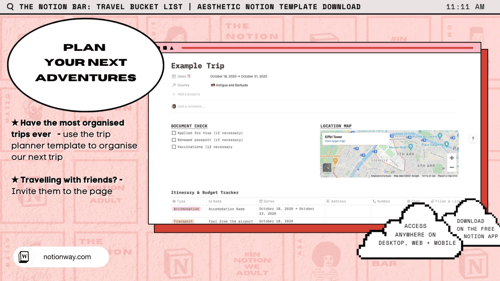 Example of Notion's travel planner templates
Source: Notion
This is pretty self-explanatory because you'd want a comprehensive shared document to consolidate your itinerary, budgeting, flight tickets, accommodation, travel insurance, and other miscellaneous expenses all in one place.
See also: 7 Best Credit Cards For Booking Flights and Hotels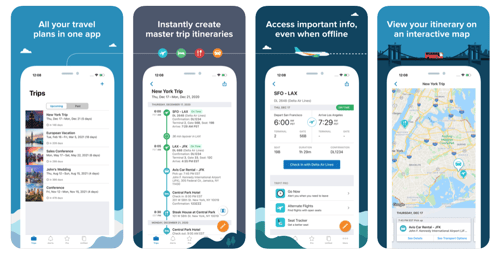 Source: Wanderlog
Source: TripIt
Other alternative travel planner apps to try include Wanderlog and TripIt. While I personally haven't tried them out, they seem to consolidate all your important travel details – flight tickets, accommodation, itinerary, fastest routes, places of interest, food recommendations, budgeting and expenses tracker, and more – into single conducive platforms!
Best of all, you and your friends can perform real-time updates to travel plans.
But if you're planning the majority of your trip details on an Excel spreadsheet or Notion page already, I recommend using an expense app like Expensify to solely track budgeting and expenses made on the trip.
Its key feature is that it automates the expense split among members. So you won't have to worry about noting down all transactions, only to calculate tediously and split costs after that.


---
#5 Have a flexible itinerary
Contrary to popular belief, your travel itinerary doesn't need to be set in stone. As a group, your itinerary should serve as more of a rough guide or suggestion; it should be flexible and open to changes where appropriate.
For our Virgos or Type A's out there, we understand – following a fixed checklist or schedule allows for organised fun on the trip as per planned activities. That said, you also have to understand that depending on the personality types on the trip, not everyone will enjoy being confined to a strict plan.
Moreover, you can't predict unexpected events or mishaps that might occur along the way. For example, someone might get injured during a jungle buggy experience or the whitewater rafting excursion might be cancelled due to wet weather.
See also: Best Travel Insurance Plans For Road Trips, Water Sports, and Extreme Sports
Whatever the case is, there are two things to be cognizant of here:
Firstly, plans are always susceptible to external factors beyond our control and force us to fall back on contingency plans.
And secondly, ensure that you and your gang are sufficiently insured!
See also: The Top 10 Destinations to Travel Between June to August 2023


---
#6 Allocate a day or two to free-and-easy plans
Everyone has different travel styles and preferences. Depending on how tight the schedule is, having free-and-easy days might not always be feasible. But where possible, allocating a day or two for individual plans is definitely healthy for group travels.
There's nothing wrong with letting everyone gallivant off on their own to do whatever they want for a couple of hours. In fact, it's probably the best way to satisfy everyone's preferences without too much compromise.
A little solo travel never hurt anybody anyway – hearsay, it's even good for the soul and character development. 😛
See also: 10 Overseas Accommodation Safety Tips For Solo Travellers


---
#7 Other must-have apps for travel: Translation, map navigation
Depending on which country you travel to, you might need translation and native map apps to get around.
Unless you're visiting an Anglophone country, you'll most likely need a reliable translation app like Google Translate or the Papago app. They usually come with voice recognition and camera translator functions which make it easier to communicate with locals on the go.
For navigation, research what the most popular map apps are in your destination country. For example, Korea inhibits the export of aerial photos of their land, so Google Maps doesn't work well there. Rather, they rely on their own native map database through apps like NAVER Map and KakaoMap. These apps are well-updated and support English, making them incredibly tourist-friendly.
💡 Pro-tip: Check that you've downloaded other essential apps for immigration clearance before landing!
See also: 8 Best Travel Tips For 2023 – Budgeting, Safety, Hacks


---
#8 Be mindful of shower time
This tip might seem random, but shower time can easily become a point of contention and escalate quickly on trips. What do we mean by this? Try to be considerate of other people's shower time.
A nice, refreshing shower is what we all need after a long day of fun and activities outside. See how it's not a "nice, long shower"? Oftentimes, many accommodations only have one toilet to share among all members. You're not in the comfort of your own home.
This means that you should limit yourself to around 10 to 20 minutes of shower time, or however long is agreed upon. Discussing this prior is important because you never know, some people might end up hogging the toilet for 30 minutes or longer which is unfair to the rest.
This applies to early morning days too with a packed itinerary ahead of you.


---
#9 Take note of one another's social battery & energy levels
Whether you're an extrovert, ambivert, or introvert, we should all be respectful of one another's social battery and energy thresholds. You might have the energy and enthusiasm to go all out from dawn to dusk but your friend might be exhausted from just a few hours outside itself.
Again, compromise and communication are the big keywords here: outgoing members should strive to be tactful to their quieter members' energies while shy members should make an effort to voice out their lethargy or discomfort.
Once made known, plans can be arranged for the extroverts to continue on their merry way and party all night long while the introverts can retreat back to the accomms for a relaxing night in.
It's a win-win situation for both sides.


---
#10 Estimate enough luggage space
Don't be that one person that has to hog other people's luggage for space unnecessarily.
Be prudent in your packing before departure and account for enough luggage space for the trip back. Remember: there's a 99.99% chance you'll be buying back items and souvenirs for both yourself and other friends and family back home.
You wouldn't want to be that friend that inconveniences others by making them accommodate their precious baggage for your luggage overflow. Of course, it's not a crime to politely ask to share if you underestimated and really need more luggage space – just be courteous about it.
Otherwise, buying extra check-in baggage space ahead of time can prevent/resolve this issue easily.


---
Don't fuss over the little things
At the end of the day, we cannot emphasize this enough: Don't sweat the small stuff.
As cliche as it sounds, group and graduation trips are all about the journey, not the destination. Thorough planning and fair communication with one another will help you strike a balance between fun and compromise.
Prioritise making memories that will last a lifetime, beyond your friendships. 🙌🏻

Read these next:
Best Travel Insurance Plans and Promotions in Singapore (2023)

Long Weekend Getaways From Singapore in 2023 For Budget-Friendly Travel

7 Family Holiday Ideas Less Than 7 Hours From Singapore

Revenge Travel: Get Even With These 16 Travel Tips