So, you've gotten engaged and you're planning for your wedding. Congratulations! If you've yet to settle on a makeup artist (MUA), here is a list of nine MUAs in Singapore for brides across all budgets.
Planning your wedding can be super hectic. Besides trying to find the perfect photographer, venue and wedding dress, you're also looking for a makeup artist to help you look your best on your special day.
Estimated costs of bridal make-up and hair styling
Entrusting your makeup to a stranger can often be nerve-wracking and cost quite a pretty penny, especially if you're changing up dresses and looks for the night. It will cost you even more if you need makeup and hairstyling services for your bridesmaid and family.
From the get-go, you can expect to fork out around S$350 (for one look) to S$758 (three looks) for actual-day wedding makeup and hairstyling, according to local makeup artist Yuki Lim. If you want to doll up your female family members as well, it will cost around an additional S$150 per person.
But here's a hack on how to cut your costs: Just get a MUA for yourself and your partner. The rest can do their own makeup. It's your special day after all. If you're on a tight budget, just DIY.
That being said, how you look on your wedding day can make all the difference in the world. With so many makeup artists in Singapore, you might find it hard to narrow down your choices, especially if you're not exactly sure what look you're planning to go for. To help you out, we've curated a list of MUAs across all budgets for brides-to-be.
Last updated on 24 August 2021. Availability and rates of MUAs subject to change.
Wedding day makeup artists: S$300 and below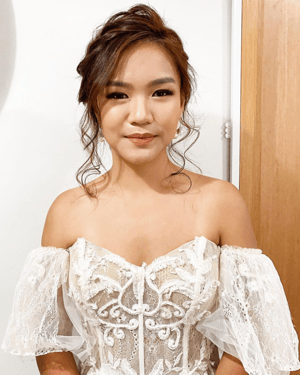 Price: S$250 for a two-hour session of fresh bridal makeup and hairstyle
For an affordable price of S$250, all bridal makeovers include a skin booster, basic skin care and preparation, eyebrow trim, premium handmade faux eyelashes, loan of silver hair accessories or free preserved flowers for hair, loan of hair extension and transportation for the MUA. It's a pretty good deal for brides on a budget!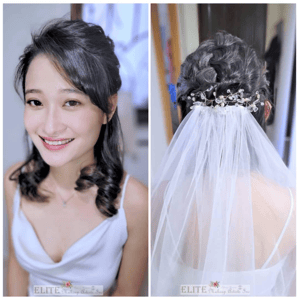 Price: S$268 for lunch and S$280 for dinner for one session of fresh bridal makeup and hairstyle
Coming in at a slightly higher price but still remaining affordable is Elite Make-up Artists Inc. This package entitles brides to one session of actual day makeup and hairdo, including loan of hair accessories/veil as well as serum, faux lash, eyebrow trimming and transportation fee for the MUA.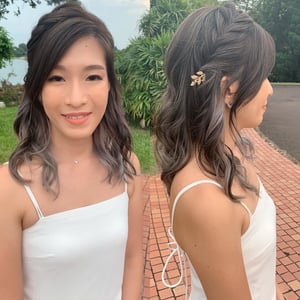 Price: S$300 for one session of fresh bridal makeup and hairstyling on weekdays
Based on stellar reviews on Google, Gaby Tan is highly recommended by numerous local brides for her refined skill set and use of high-quality tools. Each session includes skin preparation, basic skincare, eyebrow shaping and trimming, faux lashes, double eyelid adjustments (if required), loan of bridal hair accessories as well as MUA's transportation.
Do note that weekday sessions are only applicable from Mondays to Thursdays from 10am to 10pm, excluding public holidays and eve of public holidays.
Wedding day makeup artists: S$301 to S$450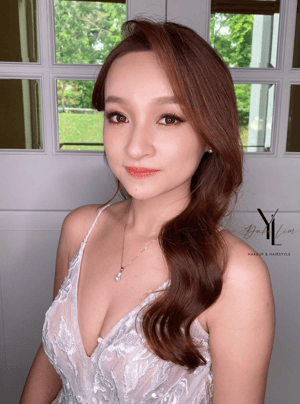 Price: S$350 for one session of fresh bridal make-up and hairstyling
Yuki Lim's S$350 actual day makeup and hairstyling package not only includes the bride, but also simple makeup for the groom. Just like the other MUAs, this package also comes with ampoules for skin care, fake eyelashes, eyebrow trimming and transportation for the MUA.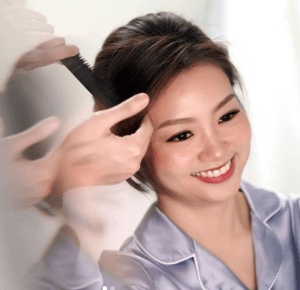 Price: From S$380 for one session of fresh bridal makeup and hairstyling on weekdays
What we love about Makeup Maestro is that they are completely transparent with their prices. Everything is listed on their website, and all charges are nett with no other surcharge. Do note that the S$380 package is only applicable from Mondays to Thursdays from 10am to 10pm, excluding public holidays and eve of public holidays.
If your wedding falls on any other day, the charges will be S$460 for artist and S$660 for principal artist.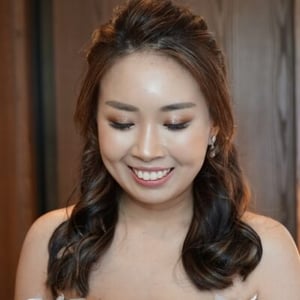 Price: From S$430 for one session of bridal hair and makeup
Regardless of lunch or dinner, Tracy.Im's bridal package costs the same. This is inclusive of skin preparations, fake eyelashes and transport. As she changes her prices from time to time, do remember to contact her in advance!
Wedding day makeup artists: Above S$450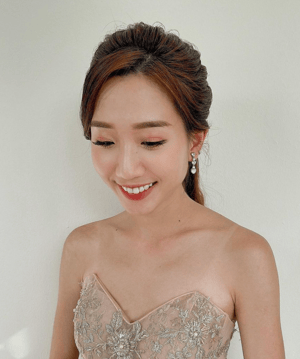 Price: From S$500 for one session of bridal hair, makeup and trial session
From S$500, brides get a session of fresh makeup and hairstyling as well as a trial session, bridal hair accessories and MUA's transport. If you request for their principal artist, you'll have to top up S$100.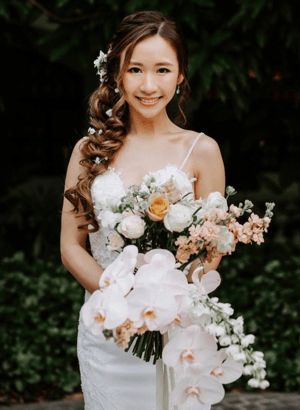 Price: From S$980 for two looks and a trial session
Zihan's prices may be steeper, but you get what you pay for. For S$980, brides will be entitled to one bridal day makeup and hairstyling session, and one bridal night makeup and hairstyling session. On top of that, you'll also get two ampoules, fake eyelashes, complimentary groom touch up, loan of hair extensions and accessories as well as a session of trial makeup with hairdo.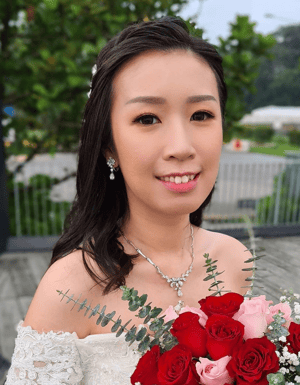 Price: From S$480 for one bridal look and trial session
When you purchase a single session from Karis Chu, you'll get one bridal look and one trial session. Top up S$150 more for the half-day package, where you'll get an additional touch-up.
How to find the perfect wedding makeup artist
Ask if they're available first
When dropping them a DM or text, one of the first things to ask besides their rate is their availability. It doesn't matter if you absolutely love this MUA or have all the money to spend — if they're not free on your wedding day, there's nothing you can do.
Book a trial
We can't emphasise this enough. We know it can cost a few hundred dollars more, but a trial with your potential wedding day MUA is essential to know what you'd look like on the day itself and if you like their makeup style.
Ask around
Have friends who are married or planning a wedding? Ask them for referrals. They've gone through it and can give you an honest review of the MUA they have engaged.
Have an idea of what you'd want to look like on your big day
Gather photos from social media and discuss it with your MUA. It's okay even if you don't know exactly what you're looking for — showing your MUA pictures of what you'd like gives them a direction to work in.
Your wedding is probably going to be the biggest and priciest party you ever host. Don't spend your money without getting something in return! If you're signing up for a package, ask the banquet manager about credit card promos — who knows, they might be able to recommend the card(s) to use for maximum rewards.
If you're new to a bank, sign up with Singsaver to get various perks like cashback, a staycation at Andaz and the latest gadgets, including a free Dyson AM07 tower fan, Apple Watch Series 3 and AirPods Pro.
Click here for the Top Credit Card Promotions And Deals On SingSaver.
Read these next:
Planning A Wedding? Here's How To Earn The Most Miles Possible
How to Be Budget Smart When Planning Your Wedding
Cost Guide To Wedding Photography In Singapore
Ang Bao Rates For Singapore Weddings 2021
5 Unique Wedding Banquet Venues In Singapore