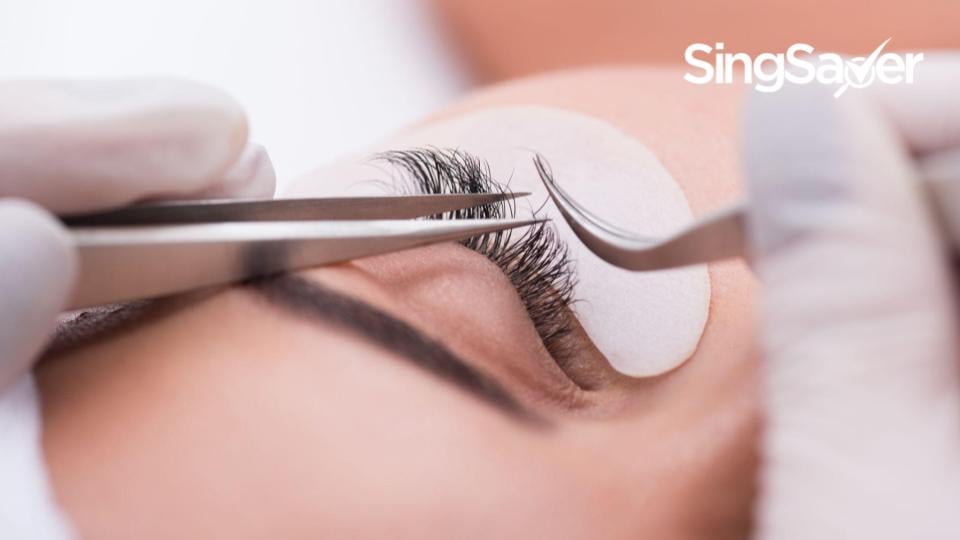 There are tonnes of studios in Singapore where you can get long, thick and beautiful lashes without emptying your wallet. Here are the spots we recommend for eyelash extensions under S$50.
Applying false eyelashes can often turn into a sticky, disastrous mess and not everyone is able to master the art. Thanks to eyelash extensions, messing around with falsies can now be a thing of the past.
The temporary enhancement, often lasting a month or two, is amazing for two reasons:
1) You get fuller, darker and voluminous lashes instantly every day
2) It's a great option for busy girls who don't have time or who can't be bothered to apply and remove mascara on the regular.
If you have female friends, you would probably have noticed that lash extensions are extremely popular among Singaporean women these days. However, lash extensions usually don't come cheap — they can cost anywhere from S$80 (basic) up to hundreds of dollars if you want those dramatic Kim K lashes.
Being a beauty addict and a bargain hunter, I'm letting you in on some of my favourite eyelash studios that won't break the bank. Every salon featured below offers eyelash extensions for under S$50, perfect for first-timers or eyelash junkies trying to cut down on their expenses.
Last updated on 28 October 2021, prices and availability are subject to change without prior notice.
8 places for cheap and good eyelash extensions below S$50
T.lashes, from S$20 for 1D Classic (lash model)
Conveniently located at Orchard Plaza, T.lashes is the place to go for good quality and affordable lashes. What we like about the salon is that they're transparent with their prices, and there is no hard-selling involved.
The only way you are able to get lash extensions at such a good price is only when they're looking for lash models for their new lash techs to practice on. However, this doesn't mean that you'll be getting a totally fresh lash tech — it just means that they're new joiners to the company, but with many years of experience under their belt.
Here are the prices when you go in as a lash model:
S$20 for 1D classic Japanese design
S$30 for 2D angel, 3D volume to 5D volume
To get in on the deals, you'll need to follow them on Instagram and keep a lookout for such promotions as they pop up randomly.
Celash, from S$48 for classic lash set
All lash services at this humble, home-based salon include a lash bath, primer application, a hydrogel eye patch as well as a mascara wand for you to take home. They also provide unlimited lashes, so you don't have to worry about not getting a full set unlike other unscrupulous salons that have a limit of 150 strands.
Allure Rebel, from S$35 for natural 1D lashes
Allure Rebel keeps it affordable, with lash sets starting from only S$35 for natural 1D lashes and S$45 for slight volume 3D lashes.
However, due to personal reasons, the salon is temporarily closed. The owner says that she plans to reopen again next year, so do keep a lookout as she tends to have promotions during holidays such as Chinese New Year.
Besides being a certified lash artiste, the owner of Teeny Weeny Lash, Rosmini Zainal, is also a brow tech — which makes Teeny Weeny Lash a great option for ladies who want to do both lashes and brows in one place! As this home-based salon is located in Jurong, it's super convenient for westies to get their beauty fix.
Lushes, from S$40 for 1D classic lashes
Lushes provides truly affordable service, with various promotions running at the same time. First-time customers at the home-based salon located in Pioneer enjoy 10% off all lash sets, while customers who refer friends and family get S$5 off the next service. For the cherry on top, customers who visit Lushes on their birthday month get S$5 off their next service as well!
Lashes on Venus, from S$45 for full classic natural mascara look
Easties, this one's for you. For only S$45 for a full classic natural mascara look and S$48 for flat lashes, it's a steal. If you have a slightly bigger budget, you can take advantage of the salon's current promotion for their new DeBlash lashes, which can be customised for a softer natural look or dramatic dark look.
From handmade fans to unlimited strands, Lash Nail Bar by Kelly has it all. This home-based salon located in Simei offers lash services starting from S$48 for the 1D Japanese classic lash set, and 3D/4D lashes at S$48. In addition, first-time customers get 10% off their last set.
For ladies looking for an all-day pampering session, you'll be glad to know that besides lashes, you're also able to get teeth whitening, facials, mani-pedis as well as your brows done here.
Lady Lash Studio, from S$48 for 1D/2D natural lashes
Located in Bugis, Lady Lash Studio offers a couple of services including eyelash extensions and facials. They are currently having a promotion for their 1D/2D natural lash set, at only S$48 a pop.
Eyelash extension FAQs
Can I shower/go swimming with my eyelash extensions?
You can, but it is highly recommended that you refrain from letting your new extensions come into contact with water at least 24 to 48 hours after your appointment.
The reason: Eyelash adhesives take time to dry, and they may all fall off if you hop into water too soon.
The solution: Get a cheap pair of goggles and wear them when you shower. Not only are you preserving your lashes, you're also preserving your wallet. If you take care of your lashes, you don't need top-ups as often.
Can you put mascara on eyelash extensions?
This is not recommended, as removing the mascara with make-up remover afterwards may cause your lashes to break due to the oil that may break down the lash glue. Besides, the whole point of getting your lashes done is so you can dispense with applying mascara, so why would you continue to do that?
How can I take good care of eyelash extensions?
Brush it gently daily with a clean spoolie brush, avoid rubbing your eyes and resist the urge to pluck them.
What to know before your eyelash extension appointment in Singapore
When you book your appointment, make sure you do not have any water activities lined up in the next few days. If your skin is sensitive, remember to contact your salon first to ask about the products they'll be using.
Your appointment may last anywhere from one hour to three hours, so make sure you schedule in enough time for that.
Read these next:
4 Don Don Donki Secret Hacks You Probably Didn't Know Exist + Top 10 Products That Are Worth Your Money
Not Ju$t You: An S$11 Menstrual Cup Changed My Life, And Here's Why You Should Get One ASAP (+ All Misconceptions Debunked)
20 Things You Should Get From Daiso (And Things You Shouldn't + Alternate Recommendations)
7 Best Onsens In Singapore To Melt Away All Your Stress
13 Best Discount Stores In Singapore 2021 — From 10 Cent Items To S$2 Shops That Aren't Daiso