Let's dissect the rebates you'll be getting and compare with other mobile wallets and credit cards – is it worth making the dash for?
While there's a seemingly endless selection of mobile wallets to choose from in Singapore, very few of them offer rewards programs.
At last count, only GrabPay (GrabRewards), Samsung Pay (Samsung Rewards) and FavePay (cashback) offered anything of note, and with margins on mobile payment transactions being as small as they are, it's no wonder.

The good news is we can now welcome a new kid to the block, in the form of Singtel Dash and its Dash Rewards program. For the uninitiated, Singtel Dash is a mobile wallet that allows you to pay via QR code or virtual credit card (valid for online and contactless transactions), anywhere Visa payWave or QR payments are accepted. Despite the name, it's not just for Singtel customers – anyone can sign up for an account.
What is Dash Rewards?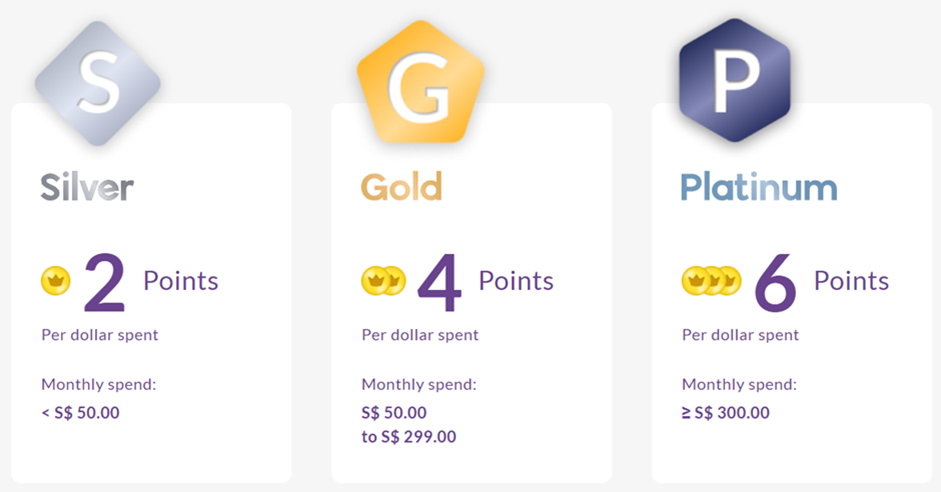 Dash Rewards was launched in August 2020, with three different membership tiers running from Silver to Platinum.
| | | |
| --- | --- | --- |
| Tier | Qualifying Spend (per month) | Points per S$1 |
| Silver | Less than $50 | 2 |
| Gold | $50 - $299 | 4 |
| Platinum | $300 or more | 6 |
All members start at the Silver level, earning 2 points per $1. Spending at least $50 but less than $300 in a month gets you upgraded to Gold (4 points per $1), and spending $300 or more gets you upgraded to Platinum (6 points per $1).
Once earned, Dash Rewards status is valid for six months. You will only be downgraded a tier if you fail to meet the qualifying spending per month for six consecutive months. Each time the qualifying spending is met, you receive a fresh six months of validity.
All Dash rewards points are valid for one year from date of issuance, and you will earn them on all transactions except:
Singtel bill payments
Donations to charity
Dash account top-ups
Payments to another Dash account (i.e P2P payments)
Any insurance payment, e.g Etiqa Insurance, Great Eastern Insurance
Cash outs
Refunded transactions
Overseas remittances earn a fixed reward of 100 points.
The full T&C of the Dash Rewards program can be found here.
What can I do with Dash Rewards points?
The Dash Rewards catalogue can be browsed from the Dash app, and feature vouchers from Grab, Cold Storage, Food Panda, Subway, ZALORA, TANGS, and many more. You'll generally find that Dash adopts a fixed valuation of 1 point = 0.2 cents, although there are exceptions.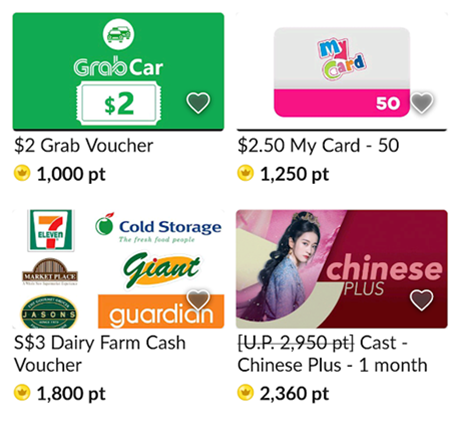 Redeemed rewards are credited to your account instantly, and can be found under the 'Active Rewards' page.
How does Dash Rewards compare to other payment methods?
Given a valuation of 0.2 cents per Dash rewards point, your effective rebate when spending with Dash is 0.4 - 1.2%, depending on tier:
Silver: 0.4%
Gold: 0.8%
Platinum: 1.2%
That's extremely miserly compared to what you could earn with your credit card. If you used the Maybank FC Barcelona or Citi Cash Back+ Card, for example, you'd earn a flat 1.6% rebate. If you used a miles card like the DBS Altitude or Citi PremierMiles, you'd earn 1.2 miles per dollar (roughly a 2%+ rebate, depending on how much you value a mile).
But it may be unfair to compare Dash to credit cards, given the difference in merchant fees and rewards scope.
How does Dash compare to other mobile payment loyalty programs, then?
Well, GrabRewards users earn between 2 and 4 GrabRewards points per $1 spent, which works out to an effective rebate of roughly 0.4 - 0.8% (I've assumed you redeem your GrabRewards points for Grab vouchers at a rate of 2,500 points = $5).
It's probably no coincidence that Dash Rewards has been calibrated to offer an equal rebate to GrabRewards at the entry tier, before becoming more generous at the higher tiers.
However, it remains to be seen as to whether this is sustainable in the long run. There's a reason why Grab Rewards did its massive devaluation earlier this year – the margins for offering rebates on mobile payments are thin as it is.
Conclusion
For those who already use Singtel Dash, the Dash Rewards program is a way to earn a little extra rebate on your spending. That said, it's not a compelling reason to switch away from your credit card, unless you're paying a merchant for which credit card rewards are excluded (i.e. education bills, government transactions or utilities bills). In that case, it's obviously better to take a small rebate than none at all.
Given the current earn and burn rates, Dash Rewards is best thought of as the icing on the cake, rather than a reason to favour one payment method over another. That's obviously not the intention of a loyalty program, so it remains to be seen if further tweaks are in order.
Read these next:
Online Banking: Easy Tips To Prevent Cyber Attacks And Safeguard Your Money
Ultimate Guide To Year-End Online Shopping Events 2020 (10.10, 11.11, Black Friday, Cyber Monday, 12.12 & Boxing Day)
Mobile Wallets In Singapore: Complete 2020 Guide
Qoo10 Promo Codes And Coupons 2020
Your Ultimate Guide To Shopping On Taobao In Singapore