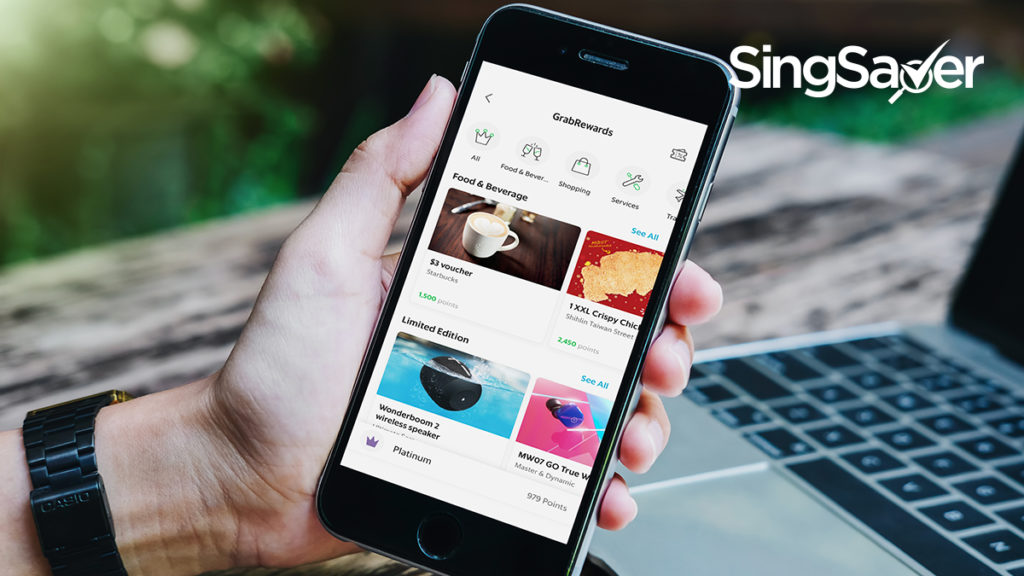 Well, Grab's gone and done it.
At the stroke of midnight on 2 March 2020, Grab took the sword to the GrabRewards loyalty program, cutting down earning rates by up to 60% while increasing the cost of Grab vouchers by almost 40%. The maximum effective rebate through the program was cut to an almost negligible 0.4-0.8%.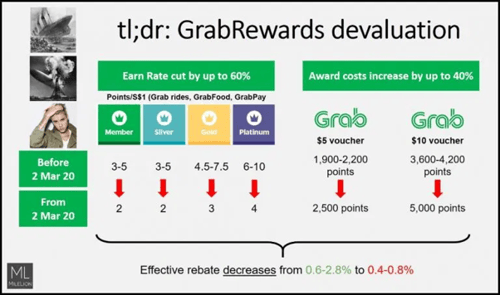 To add insult to injury, Grab also devalued the conversion rate for KrisFlyer miles, removing the preferential 1,400/1,500 points: 160 miles rate and leaving the inferior 10 points: 1 mile options.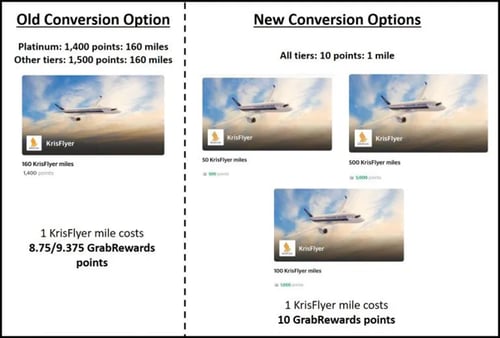 As far as devaluations go, this is one of the most unfortunate in recent memory.
And yet, if you're making mobile payments, ordering food online or taking rides, GrabRewards is pretty much the only game in town. Few of Grab's competitors offer loyalty programs, and the ones that do are nowhere near the scale of GrabRewards.
So, how do you really make the best of a bad situation?
What's the GrabRewards landscape now?
Grab has adopted a flat rewards structure across all its services. Base and Silver members earn 2 points per $1, Gold members earn 3 points per $1, and Platinum members earn 4 points per $1.

Reward costs have also been raised and standardised across tiers — there are no more preferential redemption rates for elite members. You will get a value of about 0.2 cents per GrabRewards point when redeeming points for GrabFood or Grab ride vouchers.
| | | | |
| --- | --- | --- | --- |
| | $1 voucher | $5 voucher | $10 voucher |
| Points Required | 550 | 2,500 | 5,000 |
This is a far cry from the start of this year, where Platinum members could earn up to 10 points per $1 and redeem a $10 voucher with just 3,600 points!
Does it still make sense to use my GrabPay Mastercard?
It's true that you now earn far fewer GrabRewards points per transaction. However, there are now many more merchants you can use your GrabPay balance at, thanks to the GrabPay Mastercard.
Grab launched the card in December last year, which increased GrabPay acceptance from 15,000 merchants to more than 53 million. Frankly, I think it's the reason why Grab felt they could get away with the devaluation.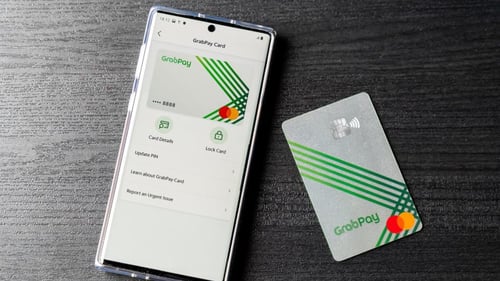 At the moment, there's no reason why you shouldn't continue using your GrabPay Mastercard. Certain credit cards can still earn points for GrabPay top-ups, allowing you to double dip.
For example, I could use my Citi PremierMiles Visa to directly pay for a $100 purchase, thereby earning 120 miles. However, I could just as well use my Citi PremierMiles Visa to top up $100 to my GrabPay balance, and then spend the GrabPay balance instead. This way, I earn 120 miles on the top-up, and a further 400 GrabRewards points (assuming I'm a Platinum member) when I spend.
For an even bigger bonus, consider using the Citi Rewards Visa to top-up your GrabPay account. It offers you 4 miles per dollar on the first $1,000 each statement month, one of the few cards left on the market to offer a bonus for this.
In that sense, any rewards Grab gives, even though they may be minimal, are simply the icing on the cake.
What happens when the rewards for top-ups stop?
We're seeing more and more banks close the loop on rewards for GrabPay top-ups, so the days of double-dipping may be numbered. American Express discontinued rewards on top-ups from 1 March 2020, and the UOB ONE will follow suit on 16 March 2020.
Moreover, it's no longer possible to earn points on top-ups with any Mastercard or AMEX card, as the GrabPay MCC has been changed to 6540 (indicating a prepaid account — not eligible for rewards with almost every bank).
In my opinion, it's only a matter of time before rewards for GrabPay top-ups are terminated altogether. After all, banks collect valuable transaction data when you spend using their cards — they know how much you spend on dining, on shopping, on overseas travel, and can target promotions accordingly. However, when you use your card to top-up your GrabPay account, all the bank knows is you really like GrabPay!
There's little reason why they should incentivise that, especially when Grab is looking to wrestle into their space as a banking entity.
If using your GrabPay balance means not being able to use your credit card, then you'll want to compare the rewards offered on each.
| | | |
| --- | --- | --- |
| | General Spending Credit Card | GrabPay Mastercard |
| Equivalent miles per $1 | 1.1-1.6 | 0.2-0.4 |
As the table above shows the math does not favour GrabPay. The double whammy of the GrabRewards and KrisFlyer transfer devaluation means you earn a paltry 0.2-0.4 mpd, which is no match for general spending cards that offer 1.1-1.6 mpd.
What about using my GrabPay Mastercard as an overseas spending card?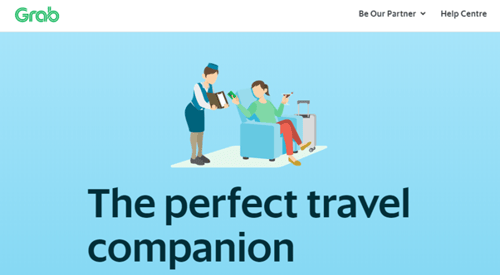 This goes to show that the earning rates on the GrabPay Mastercard aren't fantastic. But can I use it as an overseas spending card? The GrabPay Mastercard boasts lower foreign currency transaction fees (2%) than any bank on the market, as well as lounge benefits.
However, it's still no match for dedicated multi-currency cards like YouTrip and Revolut. These cards offer interbank exchange rates and zero foreign currency transaction fees, making them much better options for someone who just wants to minimise the cost of foreign currency transactions.
Moreover, the lounge access provided by the GrabPay card only applies if your flight is delayed. You're much better off looking at these credit cards if free lounge access is your goal.
What about redeeming other rewards?
Although Grab vouchers and KrisFlyer miles rewards have been devalued, one carrot dangled by Grab was the prospect of more frequent 'flash sales', where users could redeem discounted partner rewards. The first sale saw deals like a $3 Starbucks voucher for 500 points (0.6 cents/point), and a $5 Burger King voucher for 950 points (0.5 cents/point), over and above the usual 0.2 cents/point value.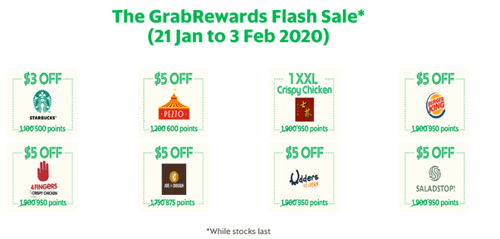 It's hard to say whether this makes GrabRewards worth sticking around for because you have no idea how regular, or how big the deals will be. My stance is that there's nothing wrong with holding on to a small balance of GrabRewards points in anticipation of the next flash sale, but you should follow the general rule of regular earning and burning.
Remember that you can also spend your GrabRewards points at merchants, which have GrabPay QR codes. You'll enjoy a rate of 0.2 cents per GrabRewards point, identical to the value for redeeming vouchers.
Conclusion
You won't be getting outsized value from GrabRewards anymore, and that means you should be a lot more price-sensitive when using its services. For example, if Gojek and Grab price around the same, there's no real reason to stay loyal to Grab. The same goes if a restaurant is on both Foodpanda and GrabFood.
Although it's painful to see how GrabRewards has been massively devalued, I suppose it was always on the cards. As Grab looks to move towards profitability, it needs to cut costs wherever it can — and a company with such a huge market share arguably engenders loyalty by virtue of its size alone.
Read these next:
Grab To Slash Rewards For Rides, Food Delivery And Shopping
How Does GrabPay Mastercard Compare To Other Credit And Debit Cards?
Food Delivery Promo Codes 2020: GrabFood, Deliveroo, Foodpanda, WhyQ
Mobile Wallets In Singapore: Complete 2020 Guide
EZ-Link vs EZ-Reload vs SimplyGo: Best Option to Pay for Public Transport
---
---