Opinions expressed reflect the view of the writer (this is his story), and not those of SingSaver.
A fundamental question to ask yourself before getting into the miles game is "how do I value a mile?"
It may seem like a simple question, but the way you play the miles game pivots on this one number. How you value miles will affect the price you're willing to acquire them (implicitly or otherwise), and what you're willing to redeem them for (your air miles redemption strategy).
To put it another way: if a merchant wants to levy a 3% surcharge for using your card, is it worth paying? If your bank charges a 2.5% foreign transaction fee, is it worth using your card overseas? If you get 10,000 miles when paying a $200 annual fee, is it a good deal?
You can't answer these questions unless you know how to value a mile, and that's what we're going to explore here. For this article, we'll be referring to the value of KrisFlyer miles. Miles from different frequent flyer programs may be valued differently.
Sit tight: it may get a bit technical, but knowing this concept will make your miles journey much easier.
Theoretical value
Let's start by talking about the "theoretical value" of a mile, because this how a lot of first-timers think about valuation:
The theoretical value of a mile is the implicit rate at which the airline is willing to substitute miles for cash
Here's an example of how this is calculated, based on a round trip ticket to Paris on Singapore Airlines: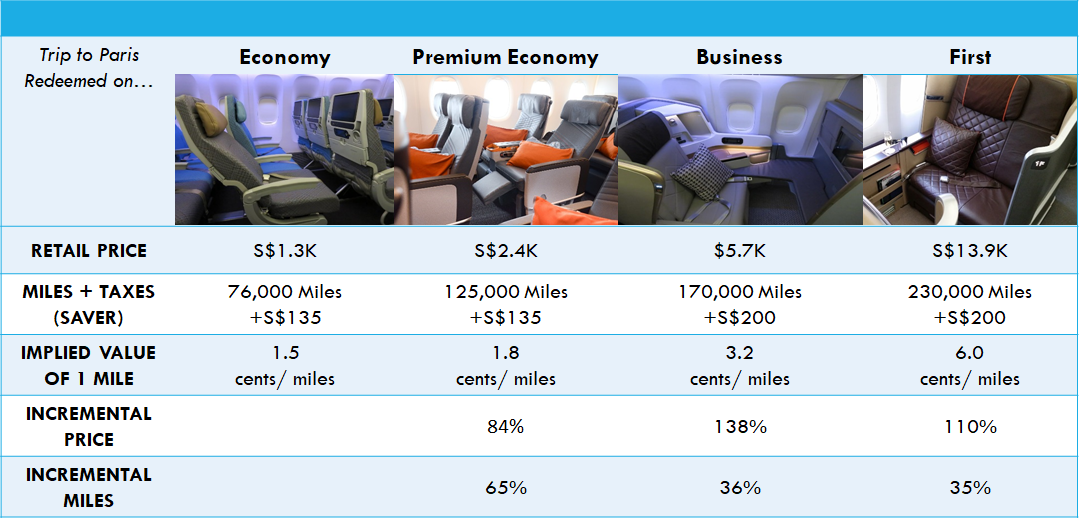 From the table above, we derive the value of a mile with the simple formula:
(Retail Price - Taxes)/ Number of miles required
You'll notice the value of a mile increases as you move up the cabin classes. This is simple math: the numerator (price) is increasing at a faster rate than the denominator (miles).
Business Class cost 138% more money than Premium Economy but only 36% more miles.
First Class costs 110% more money than Business Class but only 35% more miles.
Based on this, we can formulate a general rule that miles are worth the most when you redeem for First Class and the least when you redeem for Economy
Indeed, this general rule forms the mantra of many a miles collector: if you're going to redeem your miles for economy class travel, you may be better off with a cashback card.
Actual value
The theoretical value is a good starting point for our valuation of a mile, but it cannot be the end.
Does anyone notice any problems with the calculations in the theoretical value section? Although the formula is mathematically sound, I've made some assumptions that don't always hold true.
Saver awards may not always be available

Singapore Airlines has two types of awards: Saver and Advantage. Saver awards cost less, but have less space available. Advantage awards cost more on average, but have more space available.
In my theoretical valuation, I've used Saver award pricing when considering how many miles are required. But Saver awards are not always available, especially during peak periods and when you're trying to redeem multiple tickets. On popular routes like Singapore-London or Singapore-New York, only Advantage awards may be available.
Here's how that table looks like if I take Advantage prices:

Note: Premium Economy only has Saver awards
That's a pretty hefty cut in valuation! With Saver awards, our miles are valued anywhere between 1.5-6 cents each. With Advantage, our miles are valued between 0.8-3.3 cents each.
Revenue tickets earn miles, which offset some of their cost
Award tickets do not earn miles, but revenue tickets do. When I redeem an award ticket, I'm forgoing the opportunity to accumulate miles. That's something we need to factor into our calculations:

For example, our Business Class ticket to Paris may cost S$5,700 on paper, but it also earns about 16,600 miles, after cabin bonuses are taken into account. Those miles are worth something, so technically our formula should look more like:
(Retail price - Value of miles earned on revenue ticket - Taxes)/ Number of miles required
For simplicity's sake, we ignore that value in our calculations, but it's still worth noting as it reduces your valuation of a mile.
Award tickets are flexible, which increases their value
Award tickets are generally flexible. You can change the date on a KrisFlyer Saver ticket for US$25, or cancel and get a full refund of your miles for US$75.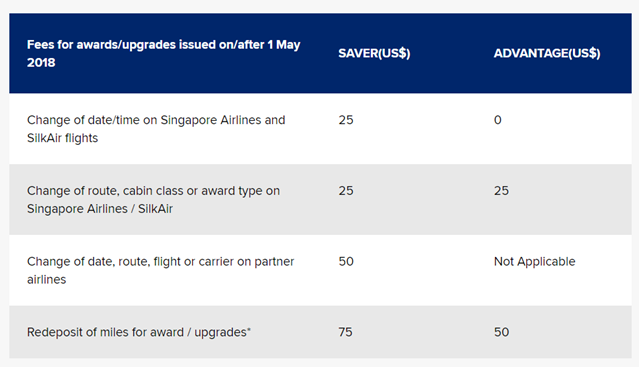 Revenue tickets, on the other hand, may or may not allow you to make changes and cancellations. If you purchase the cheapest fare bucket, known as "Lite" tickets, and can't travel for whatever reason, you're out of luck (better buy travel insurance!).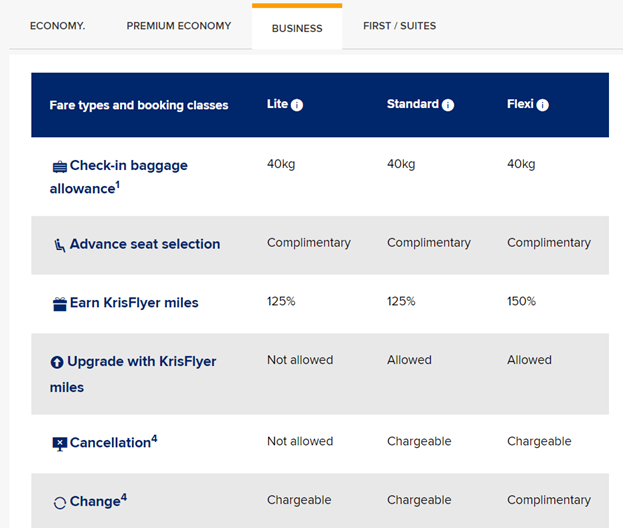 On the other hand, if you book an award ticket but can't travel, you can cancel your award ticket for a small fee. This flexibility increases the value of an award ticket, and therefore your miles. How much does it increase? It depends on how much you value flexibility.
Valuations based on retail price assume I'm willing to pay those prices
Here's the kicker for me: our theoretical valuation has taken the value of a mile based on the retail price of a ticket. Conceptually speaking, that's not the right way of looking at value unless I'm willing to pay that out of pocket.
When I first started playing the miles game, I'd tell people very proudly "I just saved $10,000 by redeeming my miles for a First Class ticket" and allow them to bask in my warm, enlightened glow (mind you, this is how a lot of bloggers pitch stories to journalists because "YOU WON'T BELIEVE HOW THIS MAN GOT $20,000 OF AIR TICKETS FOR FREE" is a heck of a lot more attention-grabbing than "Man meticulously plans vacation through intelligent use of frequent flyer programs").
But there's an implicit assumption behind what I'm saying. I'm saying that I've saved $10,000 by using miles, which is incorrect unless I'd have been willing to pay $10,000 of my own money.
So our theoretical valuation definitely overvalues miles. A more sound way to look at valuation is to ask yourself: if you weren't able to snag an award redemption, what would your next best alternative be?
Putting it all together
That's a lot to think about, but I hope it shows how the valuation of a mile is more art than science. How much do I value flexibility? What would my next best alternative be? What about the opportunity cost involved in earning miles (e.g. forgoing cashback, dining discounts or bonus interest with certain saver accounts)?
I personally value miles at 2 cents each, but how you value miles is inherently linked to the kind of traveler you are.
People who believe in saving money above everything else will value them lower, because miles are "free" (assuming you don't pay explicitly for them). That's why they're willing to redeem economy class tickets.
People who believe in accessing experiences they couldn't otherwise have afforded will value miles slightly higher, because they'll invariably redeem them for business or first. And people who buy First and Business Class as a matter of practice anyway will value them the highest, because to them it's simply a replacement mode of payment.
So that's my take on the valuation of a mile!
What to read next:
'Why I Prefer Miles Over Cashback Cards, All Day, Every Day'
Travel Hacking Singapore Blog Teaches Anyone How to Fly on Business Class
Epic Trip Inspires Singapore Blogger to Share Travel Hacking Secrets
6 Credit Cards Which Give Free Access to Airport Lounges
Cashback or Rewards Credit Card: Which is Better?
---

By Aaron Wong
Aaron started The Milelion to help people travel better for less and impress "chiobu". He was 50% successful. This is his story.
---