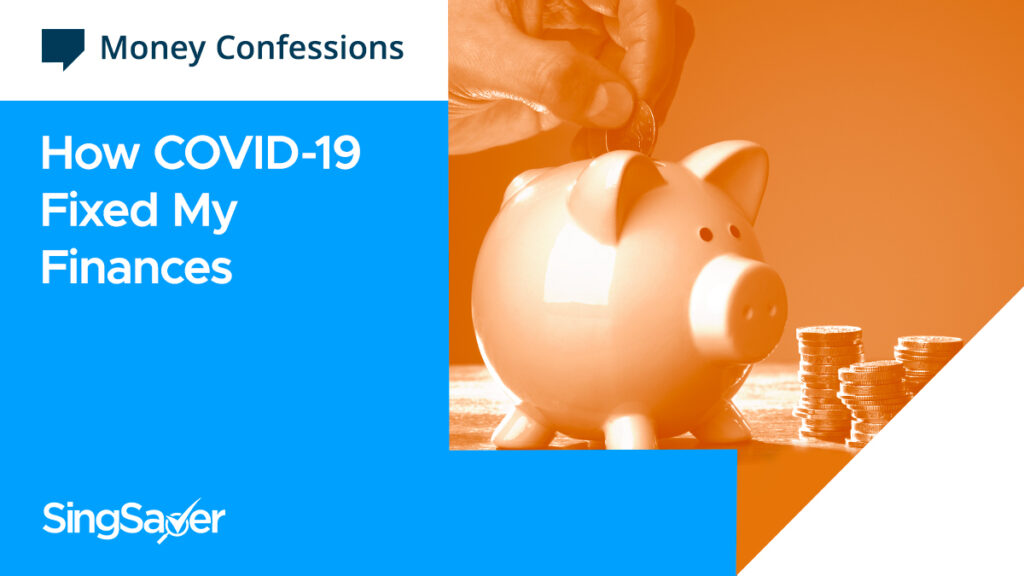 ---
Real stories about money from real people. Money Confessions, a SingSaver series, will excite you, inspire you, and leave you wishing to get financially woke.
---
It took a global pandemic to make me reevaluate my finances, but I believe I'm in a better place now.
I was one of those people who were 'never good with money'. For most of my life, my finances were handled by other people — parents and financial consultants. I was blithely unaware of the state of my finances and it never occurred to me that it could be better off.
It wasn't until 2019, when I decided to take a break from full-time work to try my hand at freelancing, that I realised just how little savings I had. In the few years as a financially independent adult, after paying off my university debt to my father (who had used his CPF savings to fund my higher education), I had allowed myself to splurge on frivolous things like S$20 cafe meals, S$150 salon trips, and S$2,000 facial packages (paid in instalments). No surprise that I had an embarrassing amount of savings left.
When COVID-19 ravaged the global economy in 2020, I started getting worried about my financial state. And since freelance clients sometimes delayed payment or took a long while to approve a project, I didn't get paid according to my expected timeline. I found myself starting to tap into my emergency savings for basic survival needs like food and other essentials.
This could not go on.
So in mid- to late-2020, just after COVID-19 had taken over our lives, I decided to do a whole financial overhaul at last.
Unlocking my money
It first started when my aunt, an insurance agent, noticed that I had three endowment plans. I had bought those at separate intervals of my working life, with the one I bought in 2016 (after paying off my university debt) about to mature the soonest in 2026. The other two were 15-year plans that I bought in 2019 and there's still a long way to go before they reach maturity.
While my initial intention in purchasing those plans was to force my ill-disciplined self to save, I had gone overboard and locked up a good portion of my money in these plans. Add insurance premiums, living expenses, bills, instalments and more to that, and it's little wonder that my savings were shrinking year by year. Until my aunt had pointed out my abnormal number of endowment plans, I hadn't even realised that was not the norm. Most people would take that money to invest instead, or at least purchase just one plan. Chalk all that up to poor financial literacy and planning, I suppose.
But, after that whole saga, which saw me losing S$10k in closing the two plans I bought in 2019, I decided to wise up and take charge of my finances. No more excuses. People my age were already on their way to saving S$100k by 30, and here I was still making rookie mistakes and flushing my money down the drain!
Developing financial literacy
I started following personal finance blogs like SingSaver, The Financial Diet and The Millennial Money Woman, and read up on the basics — how to keep track of my money, how to clean up my expenses, how to decide on my retirement sum and work my way towards that goal, how to make every dollar count and, finally, how to make my money work harder. I consulted friends who had gone for personal finance seminars and who were willing to exchange notes with me.
Taking concrete action
After I was armed with some knowledge, I decided it was time to put them to action. At the end of 2020, I transferred my savings to a high-yield savings account (DBS Multiplier) and went back to full-time employment to start shoring up my savings and earn a more stable income. My goal for the next six months or so was to build up a strong enough emergency fund.
When I finally had six months worth of living expenses, I started looking at robo-advisors and perusing the various portfolios available, comparing them using SingSaver's comprehensive guide, before scheduling a call with a financial advisor to discuss the best portfolio and understand the risks more thoroughly. I finally made my first deposit in a portfolio a month ago, and I intend to schedule regular deposits moving forward.
Conclusion
I wouldn't say that my finances are in tip-top condition yet (I'm still trying to recoup that S$10k loss!), but at least I'm not letting my money erode in the bank anymore. I'm cleaning up the expenses that are not worthwhile, optimising every dollar as much as possible, and I am trying to be more mindful of where my money is going from now on.
It took a global pandemic for me to decide to be cost-savvier, but at least I'm getting started now, better late than never.
As told to Joyce Chua
Inspired to clean up your finances and stop making money mistakes? Read our handy investment guide and reference the money mistakes others have made so you don't do the same!
Read these next:
Regular Savings Plan (RSP): What They Are And The Best Ones To Invest In
How To Build The Best Passive Income Portfolio For Your Future Self
Investing In Exchange Traded Funds (ETFs): A Newbie's Guide To Getting Started
DBS, OCBC or UOB: Which Bank Gives You The Greatest Dividend Yield?
How Much of My Salary Should I Invest?