Finding maternity wear in Singapore that looks good and is nursing-friendly at the same time need not be a chore. Here are seven online retailers with maternity wear collections that are stylish, functional and budget-friendly.
Being pregnant is a joy, but your growing baby bump will soon necessitate a change of wardrobe. The good news is, having a baby doesn't mean having to turn into a homely mum-to-be, at least in the fashion department.
Maternity wear these days is as fashionable as regular wear, so there's no excuse you can't continue to serve looks that slay, or look good for the 'gram.
As an added bonus, many pieces also come with strategically placed and cleverly hidden zippers so you can easily nurse your newborn whenever the need arises. Talk about the ultimate marriage of form and function!
If you're currently pregnant and despairing of soon not having anything nice to wear, these seven online maternity wear retailers may just renew your wardrobe and your hopes.
7 popular maternity wear retailers to look your best during and after pregnancy
Retailer
What's on offer
Price
ASOS Maternity Collection
Jumper dresses, mini smocks, pencil midi dresses, t-shirts, crewnecks, jeans, track suits, printed dresses, nursing wear
From S$20

Delivery: From S$12.01, free for orders above S$64.99
Mothers en Vogue
Maternity and nursing dresses, tops and bottoms, nursing ponchos, intimates and sleepwear
From S$25

Delivery: S$5.90, free for orders above S$100
Jump Eat Cry
Dresses, jumpsuits, tops, bottoms, matching sets
From S$40

Delivery: S$3, free for orders above S$65
Dear Collective
Nursing and maternity dresses, maternity tops and shorts, baby wear, childrens' toys
From S$45

Delivery: S$3, free for orders above S$60
Love Baby Bump
Dress shirts, wrap dresses, shift dresses, one-piece dresses
From S$45

Delivery: S$3.50, free for orders above S$75
Mama Muse
Dresses, jumpsuits, shirt dresses, tank tops and tees, joggers
From S$50

Delivery: AU$45, free for orders AU$300 and above
Stillen Maternity
Dresses, jumpsuits and rompers, kimonos and loungewear, nursing intimates
From S$59

Delivery: S$4.20, free for orders above S$100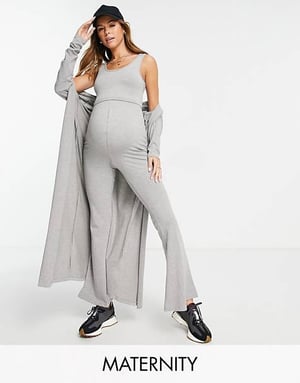 ASOS Maternity Collection - From S$20
Everyone's favourite online shop for affordable fast fashion hasn't forgotten about pregnant mums like you.
Browse ASOS' maternity range and you'll find abundant choices to express your style, baby bump or no. From sleek and smart, to glitzy and glamorous, sporty, casual or just plain fun, there's a look for every type of mama out there.
Take advantage of the year-end sale now on - enter GLITTER at checkout and save 25% off your new maternity clothes.
Also, free shipping is easily within reach. Just spend at least S$65 to qualify.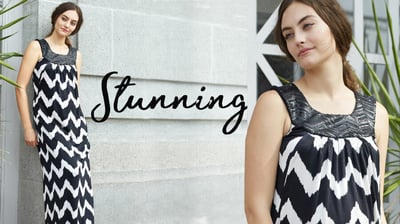 Mothers en Vogue - From S$25
Mothers en Vogue pride themselves on their all-natural maternity and nursing wear, made from textiles such as cotton, bamboo, linen and naturally derived yarns.
Sensible and stylish, the label's maternity and nursing wear comes in a variety of designs, prints and colours - the better to help you look good and feel great throughout your pregnancy and beyond.
With an inventory carefully curated throughout the company's 17-year history, there's a lot to choose from here. Besides maternity and nursing wear, you can also find useful accessories such as nursing ponchos and covers, intimates and sleepwear.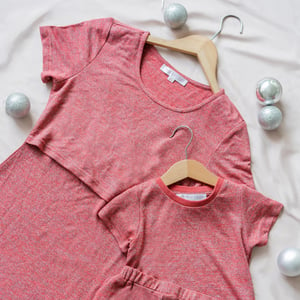 Jump Eat Cry - From S$40
Local retailer Jump Eat Cry - so-named for the common experiences that unites all mothers - focuses on maternity wear that is elegant, comfortable and functional, fulfilling the wish lists of many mothers-to-be.
Its maternity wear collection is headlined by classics such as dresses and jumpsuits, in a variety of styles ranging from the light and flowy, to more sophisticated looks suitable for the office and other professional settings.
Meanwhile, in the loungewear and casual department, you can find a variety of tops and bottoms suitable for weekend jaunts around the city.
Jump Eat Cry also has a lineup dedicated to Mummy-and-me matching sets, ideal for all those oh-so-cute weekend Instagrams.
Dear Collective - From S$45
Website
Whatsapp: 9499 7932
Address: Harbourfront Centre, 1 Maritime Square #03-12A Singapore 099253
Homegrown mum-and-baby label Dear Collective is the place to go for soft, flowy dresses in gentle colours, perfect for adding some levity to your maternity wardrobe.
Through clever tailoring, they have transformed the classic simple dress into nursing-friendly maternity wear in four different styles of nursing access to suit a wide range of preferences. The retailer also offers maternity shorts, stretchy tops and other casualwear.
And while you're here, nip into the Mini Me section for the cutest Mummy-and-me matching sets, in case your firstborn is feeling left out.
Besides its online store, Dear Collective also has a brick-and-mortar boutique located in Harbourfront Centre, in case you want to try on the wares before you buy.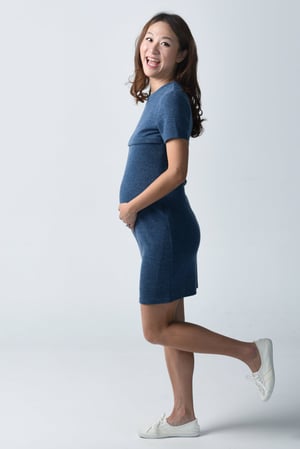 Love Baby Bump - From S$45
Started by full-time Wealth Advisory Director Yvonne, Love Baby Bump is created to cater to the needs of the modern day working mum.
Its maternity collection consists of pieces designed for wear both in and out of the office, with styles ranging from smart monotone one-piece dresses, to more colourful options like printed wrap dresses. Apparel offered are, of course, nursing friendly.
Another thing to love about Love Baby Bump are its budget-friendly prices. Most dresses sell for around S$50, so you know there's some great value to be found here.
For the ultimate bargain, opt for the mystery bag, which will nab you three maternity dresses and a tote bag - all for just S$75.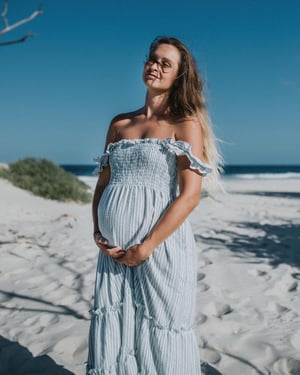 Mama Muse - From S$50
Don't know what to wear with your baby bump getting bigger by the day? Let Australian maternity wear specialist Mama Muse inspire you with its collection of timeless maternity wear.
Unlike other retailers, Mama Muse lets you have your cake and eat it too, offering pregnancy-friendly versions of your favourite apparel. Think jumpsuits, shirt dresses, babydoll twinsets, wrap hems, sundresses and more.
And if you're an on-the-go mum, you'll want to check out the collection of tees, tops, joggers and leggings. The nursing compression cami, especially, makes for a great choice, its layered construction blending style and function.
Mama Muse ships from Down Under. Spend over AU$300 to qualify for free international shipping.
Stillen Maternity - From S$59
Banishing the stereotype of the frumpy housebound soon-to-be mum is easy to do - just put on one of these chic maternity pieces from Stillen Maternity.
Born from a dream to dress working mums and mums-to-be with trendy professional wear that is also nursing friendly, helping modern women everywhere balance the duties of both motherhood and breadwinner with style and ease.
Take your pick of jumpsuits and rompers, dresses, kimonos, PJs and other loungewear, as well as nursing intimates - there're plenty of options whether for the office, the streets, or kicking back at home after a hardwon day.
Shop online now with the promo code 10@Stillen to get 10% off your first order!
Charge your purchases to the right cashback card and stand to earn attractive rewards. Terms and conditions apply.
Find Out About Travel Insurance Providers Here: