Switching to a capsule wardrobe not only helps you get rid of unwanted pieces, it will also save you money while preserving your unique style!
"To truly cherish the things that are important to you, you must first discard those that have outlived their purpose. And if you no longer need them, then that is neither wasteful nor shameful. Can you truthfully say that you treasure something buried so deeply in a cupboard or drawer that you have forgotten its existence?" – Marie Kondo
In our modern digital life, we are constantly bombarded by information, data, things – you name it. Maybe it's time we take a moment's pause and think about how we can declutter, so that we can make full use of what we already have instead of buying even more.
One place to start is your wardrobe.
Here's the irony: In order to make the most of your closet, you have to first reduce the pieces you own. Which means, remove everything you no longer wear. This way, you can give attention not only to key pieces you have decided to keep, but also to those you will be giving away to someone who actually needs them more. May we introduce you to the idea of a "capsule wardrobe". Basically, it means owning a small collection of just a few essential items of clothing that is timeless — to you.
The recommended number of pieces for a capsule wardrobe is 37, including footwear, clothing and outerwear. It does not include underwear, workout and lounge wear, accessories, or special occasion/cocktail attire. The key is to exercise your creativity, and mix and match the essential pieces which may be paired numerous times into various outfit ensembles and looks.
There is no hard and fast rule. What this will eventually do is help you save money in the long run, that's a given. By adopting the "capsule wardrobe" philosophy, you will also become more mindful in your approach to shopping, when you actually need to shop for new pieces.
Here are some ways to get started.

Step 1: Declutter Your Wardrobe
It's only worth keeping a particular article of clothing in your wardrobe if you've worn the item at least three times since the time you've bought it. If this isn't the case, chances are that you will never wear "one day". So, rather than have these pieces take up unnecessary space, you may consider donate them or giving them away to friends. Since the point of this exercise is to stick to a limited budget, bear in mind that you will not be shopping for new clothes for a while after this declutter. You will thus do well to work with a colour palette or certain silhouettes in order to streamline your wardrobe effectively and without compromising your style.
Step 2: Set the Proportion of Each Clothing Category
After decluttering, you will be down to a leaner wardrobe. Depending on how many pieces of clothing you have left, the budget you have set for yourself, and your style preference, the proportion of each clothing category may look something like this:
4 pairs of shoes

7 bottoms

20 tops

3 dresses

3 jackets
We stress: This is entirely up to you to make it work. Everyone is different. If you're more of a shoe person, by all means up the number of footwear and reduce elsewhere.

Step 3: Do Nothing
This might sound strange, but it's really that simple. Do nothing; don't stop and just enjoy your lean, mean "new" wardrobe! Give yourself at least three months (or however long you choose) to embrace your new wardrobe. Then reap the rewards – from a happier bank balance, reduced stress, and even extra time in the morning. Isn't that nice?
Step 4: Purchase Key Items (as Needed) With the Right Credit Card
Should you notice that certain items are missing from your wardrobe, shop from your existing wardrobe first, then give yourself some time to think about those pieces rather than rushing out to purchase something. Better yet, try to "justify" the need for something new. For instance, can it can be matched with existing items to form at least three new outfits?
If you must buy, then at least buy it with the right credit card that can help you save some:
HSBC credit cards get you S$25 off storewide with minimum spend of S$120 on

Zalora

. Use promo code HSBC25. Valid till 30 April 2018. More details

here

.
Citi credit cards give you up to 5% cashback and S$10 cashback bonus for new Shopback Citi cardmembers on

Cotton On

. Valid till 31 December 2018. More details

here

.
DBS cardmembers get 15% off regular priced items at DOT. Promotion is only valid in retail stores till 31 May 2018. More details

here

.
Mastercard exclusive. Get 6% off on

Reebonz

. Use promo code MCSG6. Valid till 31 December 2018.
Not sure which card to get? We recommend the Citi Rewards Visa Card, which gives you 10x rewards points when you purchase clothes, bags and shoes, online or at brick-and-mortar stores.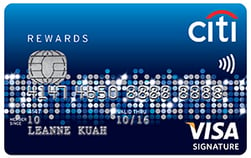 Read This Next:
5 Immediate Ways That Budget 2018 Will Affect You
Money Saving Advice to Avoid While on Vacation
---

By Alexa Fang
Alexa is a pop-culture vulture. She lives to read, write and travel, and decided long ago that life is stranger than fiction. When she's having croissant, she thinks in French. "31 Rue Cambon" is her favourite address, and she believes that money one enjoyed spending is never money wasted.
---