Touted as the first serious competitor to Tesla, Chinese electric vehicle maker Nio Inc. has had an impressive year. Here's what you need to know about NIO share prices, and whether you should park this stock in your portfolio.
Chinese electrical vehicle maker Nio Inc. is touted to be the first serious competitor to the US's Tesla, which is no small claim.
Focusing on luxury coupes, SUVs and sedans, Nio's differentiator is its battery-as-a-service approach, which utilises battery-swapping to meet power needs, in contrast with Tesla's model of fast-charging power stations.
The company's achievements are plentiful, including being awarded an Autonomous Vehicle Testing Permit by the California DMV in Oct 2016.
In Sep 2018, the company filed for a US$1.8 billion initial public offering on the New York Stock Exchange. It trades under the ticker symbol NIO.
More recently, in 2020, Nio Inc. announced US$1 billion in new funding from Chinese investors. This year, the company announced it would begin supplying its electric vehicles to Norway.
No doubt, Nio Inc. has found its way to many investors' watchlists. But does it deserve a place in your stock portfolio too? To help you find out, here's what we'll be covering in this article.
Nio Inc. share prices in the past five years
| | |
| --- | --- |
| Nio Inc. (NIO) | Share price |
| Sep 10 2018 | US$9.90 |
| Dec 16 2021 | US$30.07 |
| Profit | 203% |
Source:
Yahoo Finance
If you had invested in NIO five years ago, you'd be sitting on a profit of around 200% today, at a share price of around US$30. Not too shabby a result.
However, the real fireworks actually happened at the beginning of the year. On 18 Jan 2021, the stock price hit a dizzying US$61.95.
Compared to that all-time high, the share price has fallen roughly 50% today. That may be a concerning sign, as NIO has not yet proved that it can surpass its previous record and reach new heights, which is important for long-term confidence.
However, it's important to remember that all these happened within the span of a year, so there's still room for the stock to show its mettle.
Reasons behind the share's past performance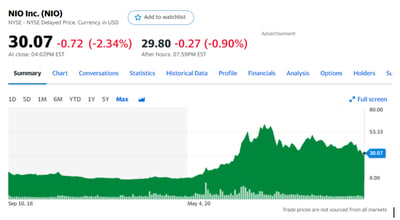 Holders of NIO would have started feeling hopeful from Jul 2020 - that was the point the stock embarked on a rally that lasted well into the first quarter of 2021.
The all-time high in Jan 2021 came on the back of significantly stronger than expected results reported for Q4 2020.
News of a 121% year-on-year increase in deliveries for Dec 2020 sparked off a 10% share price increase, pushing NIO to its peak.
As we went into Q2 2021, however, the stock began to make several drops that ultimately cut prices in half, where it has remained till today.
Perhaps this was a combination of a natural correction as the market realised the stock was overheated, and the influence of several macroeconomic concerns (which will be discussed later).
What investing approach should I use for Nio Inc.?
NIO certainly has a place in a portfolio focussing on emerging tech stocks, which are favoured for their high growth potential.
Such stocks often have a higher degree of volatility, so they may not be suitable for those with lesser appetite for risk.
However, those who are willing to ride along with the stormy price movements could find themselves rewarded with attractive gains.
In order to best capitalise on such movements, having a sound profit-taking strategy in place is important.
What risks do I face?
There is no doubt that NIO is promising, given that the company is finding success in a sector that will only grow in prominence in time.
However, there are some risks that could alter the trajectory of the company for the worse.
One of the most immediate concerns (at the time of writing) is the debt crisis brewing in China's real estate sector, with Evergrande, Sinic, Fantasia, KAISA and several other leading real estate developers announcing defaults amounting to hundreds of billions of dollars.
The fear is that such a large debt default will have knock-on effects (paywall) in the Chinese economy, which could echo outwards and drag down other industries.
NIO, being a Chinese company headquartered in Shanghai, may find it difficult to grapple with the contagion if the real estate crisis is not contained.
Another risk stems from the current geopolitical backdrop, which has seen increasingly strident lines drawn between China and the US and its allies, as the two superpowers compete for global influence. There is even talk of war over Taiwan.
Depending on how things unfold, the Chinese side may be seen as an aggressor invading its smaller, peace-loving neighbour. This could create a backlash - economically and socially - against Chinese companies and products that could depress NIO's share prices.
What does the future hold for Nio Inc.?
While there are some dark clouds on the horizon, the outlook for the short term remains bright.
One key bullish development is the company's intention to list on the Hong Kong stock exchange, which could happen as soon as 2022.
This additional listing - the company is already listed on the NYSE - would expand the company's investor base, helping NIO gain access to further capital to fuel its cash-intensive operations.
More importantly, it could also lessen the deleterious effect of a US regulatory clampdown on US-listed Chinese companies.
Another reason to be optimistic is the fact that NIO is a major player in one of five sectors that is poised for hyper growth come 2022 and beyond. In fact, by some estimates, NIO is expected to deliver as high as 150% of upside next year.
---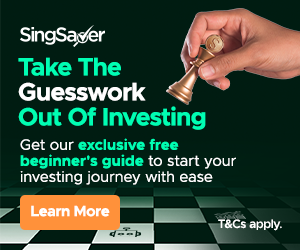 Start managing and saving money like a pro with SingSaver's weekly financial roundups! We dole out easy-to-follow money-saving tips, the latest financial trends and the hottest promotions every week, right into your inbox. This is one mailer you don't want to miss.
Sign up today to receive our exclusive free investing guide for beginners!
---