If you are an animal lover, the Friends of Wildlife Membership is for you! We round up membership deals and promotions being offered by the Singapore Zoo.
The Singapore Zoo is a world-class zoo home to more than 300 species of animals. It's one of the most popular attractions in the country, attracting over 2 million visitors annually. It's a habitat for over 4,000 wild animals, including the largest captive breeding colony globally of orangutans.
Besides visiting the zoo, guests can also support Wildlife Reserves Singapore (WRS) by becoming members and securing membership benefits. Here are the need-to-knows for any zoo visit, highlights that you should look out for, and how you can sign up as a member.
Opening hours
The Singapore Zoo is open 365 days a year. Its opening time is at 8.30am, and the closing time is at 6pm. School holiday weeks, public holidays, and weekends are the busiest times. Zoo tickets and visitation slots have to be booked beforehand per entry.
Ticket prices
The Singapore Zoo offers a variety of promotions and discounts throughout the year. The ticket prices vary depending on the visitor's age, WildPass membership or external merchant discounts.
For residents, the admission ticket for a child (3-12 years old) costs S$31 for non-members and S$27.90 for members. On the other hand, the admission ticket for an adult costs S$44 for members and S$39.60 for non-members.
The Singapore Zoo ticket price for non-residents is the same as that of residents.
The Singapore Zoo is a must-see for any animal lover; to guarantee entry, book your tickets (by timeslot) in advance and enter the zoo within 45 minutes from the given arrival time.
Feeding time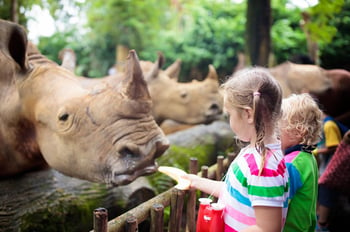 One of the best times to visit the Singapore Zoo is feeding time. You can even opt to help feed the animals and learn more about their diets and habits.
The Singapore Zoo offers a range of animal feeding experiences to enjoy closer encounters with these fascinating creatures. It should come as no surprise now but you'll need to buy your tickets online in advance too.
The Singapore Zoo has several scheduled feeding times for different animals:
Feeding the white rhino is at 1.15pm at Wild Africa. The feeding tickets go for S$5.
Feeding the elephants at the Elephants of Asia is at 9.30am and 4.30pm, and the tickets cost S$5.
Feeding the giraffes, also at Wild Africa, is at 10.45am, 1.50pm, and 3.45pm. The cost of the tickets is S$5.
Goat feeding at Rainforest KidzWorld is at 11.30am and 3.30pm. The price of the tickets is S$5.
Giant tortoise feeding at Reptile Garden is at 1.15pm. The tickets cost S$5.
Animal Shows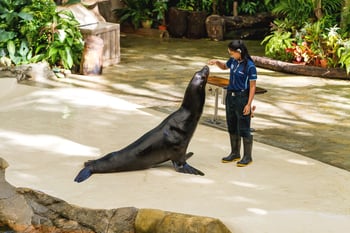 Don't miss out on these theatrical displays from the animals and their keepers:
| | | | | |
| --- | --- | --- | --- | --- |
| Type of show | Morning show | Afternoon show | Location | Duration (approx.) |
| Splash Safari | 10.30am | 5pm | The Shaw Foundation Amphitheatre | 20 minutes |
| Rainforest Fights Back | 12pm | 2.30pm | The Shaw Foundation Amphitheatre | 20 minutes |
| Animal Friends | 1.30pm | 4pm | Rainforest Kidz World Amphitheatre | 20 minutes |
| Elephant Presentation | Temporarily suspended | Temporarily suspended | Elephants of Asia | 20 minutes |
Breakfast With Orangutans
Dining with orangutans is definitely an experience unique to the Singapore Zoo. A family meal is always fun, and at the Ah Meng Restaurant, you can take your pick from many different photo opportunities with orangutans while you feast next to them.
They appear from 9am to 10.30am every day, so be sure not to miss out on this dining experience. However, advanced reservations are required. Tickets go for S$35 per adult and S$25 per child of 6 to 12 years of age.
Those with Friends of the Zoo membership also get a discount of 20%. However, this experience is temporarily on-hold because of COVID-19 social distancing measures.
Dining and food options
The zoo's food options include the Inuka Cafe and Ah Meng eateries (named after the Singapore Zoo's famous polar bear and orangutan respectively), where you can tuck into local dishes, and fast food outlets such as KFC.
If you decide to bring food to the park to eat, be wary of wild macaques; they aren't part of the Singapore Zoo collection. Should these monkeys approach you, keep your food quickly, remain calm and walk away.
Friends of Wildlife membership
WRS is a non-profit organisation founded in 2000. Its mission is to promote the natural environment and wildlife conservation through educational activities, research, and fieldwork. It also helps develop awareness about sustainable development and environmental protection both locally and internationally.
WRS manages four parks, including the Singapore Zoo, which offer Friends of Wildlife membership.
The main categories of membership are:
Friends of SG Zoo
Friends of Wildlife
Friends of Wildlife Plus
1. Friends of SG Zoo
With its staggering number and variety of animals, a single visit to the Singapore Zoo is never enough. You can enjoy an annual pass and exclusive Singapore Zoo Friend benefits for S$115 (adults), S$75 (children aged 3-12 years), and starting from S$235 for a family package.
Other membership benefits include 20% off on shopping, dining, wildlife tours, rental items and many more.
2. Friends of Wildlife
This membership gives you access to all four wildlife parks managed by WRS, for a year. Besides the Singapore Zoo, you will also be able to visit the Bird Park, Night Safari and River Wonders.
This membership costs S$155 per adult and S$115 per child, and starts at S$315 for a family package.
You won't have any trouble getting into your selected park because this pass guarantees regular access, except for those blackout dates like Labour Day, Hari Raya Puasa and on day two of the Chinese New Year.
3. Friends of Wildlife Plus
This premium programme not only provides annual membership to its four wildlife parks, but it engages and rewards members through enhanced benefits such as:
Complimentary rides and parking
Birthday gifts
Admission to all four wildlife parks annually without blackout days and much more.
Prices are S$205 for adults and S$165 for children and start from S$395 for a family package.
Promotions
There are many ways to enjoy discounts at the zoo as a local resident. If you are a WildPass holder, which is a free digital discount programme, you can get access to deals such as up to 30% off ticket prices, 10% off at selected F&B outlets, and 10% off retail outlets.
On the other hand, non-residents can still get up to 10% off when they purchase their tickets online. You may save money by purchasing Park Hopper passes and Park Combos via websites like Klook or through the WRS website.
WRS has a two-park admission promo, which presents an excellent opportunity to visit both River Wonders and the Singapore Zoo at just S$50 for adults and S$40 for children.
There is also currently a 50% discount available for POSB Everyday Card holders, and 1-for-1 admission for HSBC cardholders.
---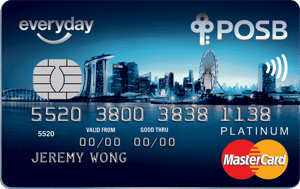 SingSaver's Exclusive Offer: Enjoy 2x chances to win your share of up to S$200,000 in prizes in our epic 101! Milestone Giveaway, including S$5,000 bonus cash each week on top of ongoing promotions. Valid till 20 December 2023. T&Cs apply. Click here to check out our past Lucky Draw winners!
Receive a Samsonite ZELTUS 69cm Spinner Exp with built-in scale (worth S$680) or S$150 cashback when you spend at least S$1,000 by the end of the following calendar month after the card account opening date and provide marketing consent when you apply. Valid till 31 Dec 2023. T&Cs apply.
Our Best Deal Guarantee promises you the best deal only with SingSaver. If you find a better offer elsewhere, submit a claim, and we'll reward you with double the difference. Valid till 7 January 2024. T&Cs apply. Applicable to HSBC TravelOne and HSBC Revolution Credit Cards only.
Conclusion
There are plenty of great promotions and activities available at the Singapore Zoo, so be sure to take advantage of them!
Whether you're looking to enjoy breakfast with orangutans, feed some magnificent animals, or purchase a membership for multiple trips, there's something for everyone.
The holidays are a great time for zoo trips, or a family vacation overseas – especially with more and more countries being added to the VTL. If you're thinking of travelling anytime soon, remember to compare the best travel insurance beforehand so you can enjoy your holiday with peace of mind!
Read these next:
8 Best Kid-Friendly Family Staycations In Singapore
Singapore Hotel Staycation Promotions During Phase 3
Affordable Chalet Staycations From $120 A Night
Best Travel Insurance Plans With COVID-19 Coverage
Best Travel Insurance In Singapore (2022)