Read more:
Best COVID-19 Travel Insurance Plans (2023)
Best Travel Insurance in Singapore (2023)
Best Travel Insurance Plans and Promotions in Singapore (2023)
Top 3 Things Travel Insurance Should Cover (And How Much is Enough)
Best travel insurance with high coverage for stolen or lost laptop
Travel insurance

Coverage for lost/stolen laptop

Other coverages

Premium

AIG Travel Guard




S$1,000

COVID-19 coverage

Up to S$15,000 trip cancellation

Up to S$2,500,000 overseas medical expenses

Up to S$10,000 baggage loss

From S$38

Allianz Travel Insurance




Up to S$2,000 (max benefit for all high-value items)

COVID-19 coverage

Up to S$1,000,000 overseas medical expenses

Up to S$15,000 trip cancellation

Up to S$7,000 baggage loss

From S$39

Ergo Travel Insurance




Up to S$1,500 per article

Up to S$1,000,000 overseas medical expenses

Up to S$15,000 trip cancellation and curtailment

Up to S$8,000 baggage loss

From S$25

TIQ Travel Insurance




Up to S$1,000 per article

COVID-19 rider available

Up to S$1,000,000 overseas medical expenses

Up to S$10,000 trip cancellation

Up to S$3,000 baggage loss

From S$31

FWD Travel Insurance




S$1,000 per article

COVID-19 rider available

Up to S$1,000,000 overseas medical expenses

Up to S$15,000 trip cancellation

Up to S$7,500 baggage loss

From S$25.20

HLAS COVIDSafe Travel Protect360




Up to S$500 per article

COVID-19 coverage for Enhanced plan and above

Up to S$750,000 overseas medical expenses

Up to S$15,000 trip cancellation

Up to S$8,000 baggage loss

From S$50

MSIG TravelEasy




S$1,000 per article

COVID-19 coverage

Uo to S$1,000,000 overseas medical expenses

Up to S$15,000 trip cancellation

Up to S$7,500 baggage loss

From S$49

Singlife Travel Insurance




Up to S$700 per article

COVID-19 coverage

Up to unlimited overseas medical expenses

Up to S$20,000 trip cancellation

Up to S$8,000 baggage loss

From S$34.12

Sompo Travel Insurance




Up to S$800 per article

COVID-19 coverage

Up to S$100,000 overseas medical expenses

Up to S$10,000 trip cancellation and postponement

S$1,000 baggage loss

From S$49

Starr TraveLead Travel Insurance




S$1,400 per article

COVID-19 coverage

Up to S$1,000,000 overseas medical expenses

Up to S$15,000 trip cancellation

Up to S$7,500 baggage loss

From S$27

Tokio Marine™ Xplora Plus




S$1,000 per article

COVID-19 coverage

Up to S$500,000 overseas medical expenses

Up to S$10,000 trip cancellation

Up to S$7,500 baggage loss

From S$62
Premium plans are based on single travel insurance for a five-day trip to Thailand (ASEAN Region). The coverage also differs according to different tiered plans.
Which travel insurance policy is the best for laptop coverage?
Most value-for-money: Starr Travelead Travel Insurance
Nothing beats Starr Travelead Travel Insurance in terms of its value-for-money aspect. Not only is it one of the cheaper plans, but it offers a very decent coverage of S1,400 for stolen or lost laptops across all plans — that's essentially the price of a brand new Macbook Air!
The personal baggage coverage is up to S$7,500 for the Gold plan but the sub limit for laptops are S$1,400 for all plans. For mobile phones and related accessories, the sub limit is $400 while cameras are S$1,000 respectively.
The other coverages are also very decent. For a very affordable price of S$46 (for a 5-day trip to Thailand) for the most comprehensive Gold-tier plan, you're covered up to S$500,000 for accidental death and disablement, up to S$1,000,000 medical expenses, up to S$65,000 for overseas COVID-19 medical expenses and up to S$15,000 for trip cancellation.
The best part about this plan is that you can customise your coverage according to your needs. For example, if you don't need trip coverage, you can always remove it from your plan to make it more affordable.
They also offer add-on coverages like Golf Protection, Cruise Vacation, Scuba Diving and Snow Sports.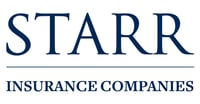 Highest coverage: Allianz Travel Insurance
If you want the highest coverage for your laptop, look no further than Allianz Travel Insurance as they offer up to S$2,000 for all high-value items that are lost or stolen for the Platinum plan. The coverage for all high-value items for the Bronze and SIlver plans are S$1,000 and S$1,500 respectively.
With such a high limit, the policy comes at a slightlt steeper price, starting from S$39, for a single trip Bronze plan for a 5-day trip to Thailand.
For the most comprehensive Platinum plan, you'll get up to S$1,000,000 overseas emergency medical and dental coverage, up to S$200,000 travel accident coverage resulting in death or disability, up to S$15,000 trip cancellation, up to S$2,000 travel delay, up to S$7,000 lost or stolen baggage, and up to S$1,400 baggage delay.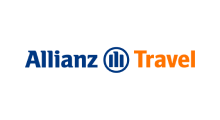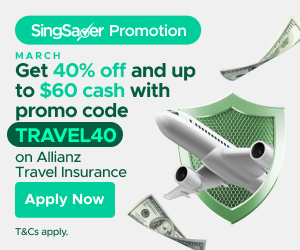 Allianz Travel Insurance Promotion: Use the promo code TRAVEL40 to get a 40% discount and up to S$60 via PayNow when you apply (min. premium of S$60). Valid till 31 March 2023. T&Cs apply.
Allianz Travel Insurance includes coverage for both COVID-19 and Cruises to Nowhere.
Honorable mention: FWD Travel Insurance
FWD travel insurance also stands out from the rest because of its high coverage for laptops, at S$1,000 across all plans. Not only is the coverage pretty decent, but it also offers very affordable premiums.
Other coverages include up to S$1,000,000 for overseas medical expenses, up to S$15,000 for travel cancellation and up to S$1,000 for travel delay.
If you wish to have COVID-19 coverage, you'll need to opt for the COVID-19 rider that covers up to S$5,000 for trip cancellation, up to S$200,000 for COVID-19 medical expenses during or after your trip, and S$100 a day for up to 14 days if hospitalised due to COVID-19.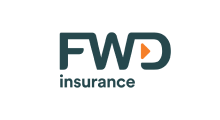 FWD Travel Insurance Promotion: Use the promo code TRAVEL25 for Single or Annual Trip to get a 25% discount on your plan! Valid till 31 March 2023. T&Cs apply.
What to do if you lose your camera and equipment overseas?
#1 Contact your travel insurer to inform & ask about the claims process
The chances of locating your devices if stolen are unfortunately relatively slim. Regardless of it, you should contact your travel insurance agency to file a claim. Depending on how many things are stolen and the travel insurance plan coverage, you can sometimes get a decent claim amount to fully cover the cost of your electronics.
This is where you'll need the police report as proof that your items have been stolen. Without a police report, the compensation may either be delayed or rejected. Always reach out to your travel insurance agency if you need help filing a claim or need help understanding the fine print.
#2 Report to the local authorities
Whether or not you've managed to locate your laptop, it's best to report it to the local authorities immediately so they can take action. However, given that certain countries always have theft cases, you shouldn't have high hopes of recovering your device. Nevertheless, there's no harm in filing a report — you'll also need it for your travel insurance claim.
If there's a language barrier between you and the local police, there's always Google translate to save the day. Alternatively, you can also bring along or request help from a local who can speak your language to help with translation. The Singapore embassy may also be able to help!
Be sure to take several copies of the police statement for your own keepsake and your travel insurance agent.
#3 Visit the Singapore embassy
Losing your precious devices like your laptop in a foreign country can be extremely daunting and scary, especially if it has important work-related documents on it. It helps if you visit the Singapore embassy to request assistance.
They will be able to advise you on your next steps, including referring you to a list of local lawyers for your reference if you would like to engage a lawyer for your case.
Read these next:
Where to Buy Travel Insurance 2022 (With COVID-19 Coverage): Insurers, Credit Card Rewards, or Airlines
Travel Insurance Plans For Stolen/Lost Phones: Claim Up to S$2,000
10 Tips on Buying the Right Travel Insurance in Singapore
Travel Insurance Add-ons: Which Ones are Worth Your Money?