Read more:
Best Travel Insurance Plans And Promotions In Singapore
Travel Insurance Guide: Five Things All Travellers Must Know
Travel Insurance Policies that Cover up to S$2,000 For Laptops
Best Travel Insurance Singapore for Adventure Seekers
Travel Insurance Add-ons: Which Ones Are Worth Your Money?
#1 Getting travel insurance as a top-up on your air ticket
More often than not, you might be tempted to top up a travel insurance policy when you purchase your air ticket because of its very low price. However, these policies usually have very minimal coverage with low claim limits and may even exclude certain coverages from the plan.
Though you might think you have copped a good deal by paying a low premium for your travel insurance and skipping the hassle of finding one for yourself separately, you might not be getting sufficient coverage that you need.
When the unexpected happens, you may realise that the travel insurance you bought doesn't cover for it, and end up having to bear the cost of it yourself. So before you commit to the policy, make sure you read through the coverage and policy documents.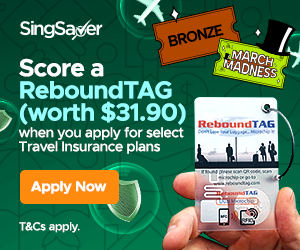 SingSaver Exclusive Promotion: Enjoy 40% off Single Trip plans and 20% off Annual Plans. In addition, receive up to S$38 via PayNow when you apply. Valid till 31 March 2023. T&Cs apply.
Plus, score a ReboundTAG (worth S$31.90) + a BRONZE ticket (1x chance) in our March Madness Grand Lucky Draw when you apply, for a chance to win your share of over S$20,000 worth of prizes! Valid till 2 April 2023. T&Cs apply.
#2 Buying travel insurance last minute
Though the saying "better late than never" also applies to buying travel insurance, getting a plan while you're heading to the airport or once you land may not be able to offer the full coverage you're paying for.
Coverages like trip cancellation, baggage delay, natural disasters and agent insolvency will not be applicable because of your last-minute purchase. Imagine cancelling your trip because of COVID-19 or experiencing a flight delay when you're at the airport. If you don't have a travel insurance policy in place, you won't be able to claim anything if you meet with any inconveniences.
#3 Not reading through the policy documents
Researching the policy coverages and checking the premiums might be a tedious task as it is, but there's just one more step you need to take before you commit to the policy — and that is reading through the policy document.
Taking a look at the brief coverage at a glance might think you're covered under the umbrella category, but there are certain things that the insurer might exclude that are not stated in the product brochure.
For example, you might think that a policy covers you up to S$5,000 for personal baggage that is lost or stolen. But most policies come with a sub-limit for each article or the item you're claiming for, meaning there's a chance you might not be able to claim the full S$5,000 for your belongings. There are also some plans also don't cover mobile phones.
In other instances, certain policies also don't cover COVID-19, and might require you to opt for a COVID-19 rider, like FWD's travel insurance.
The bottom line is to make sure you read the policy document once you've narrowed down your options for the travel insurance policy that you want, so you know exactly what you're covered for and what you're not.
FWD Travel Insurance Promotion: Use the promo code TRAVEL25 for Single or Annual Trip to get a 25% discount on your plan! Valid till 31 March 2023. T&Cs apply.
See also: FWD Travel Insurance Review
#4 Buying the cheapest travel insurance
You might think getting the cheapest travel insurance policy out there would be sufficient because at least you're covered right?
But it might be cheap for a reason. Perhaps the baggage loss coverage isn't enough for your fancy Rimowa luggage or the latest Macbook Pro. Or maybe the plan itself doesn't come with any COVID-19 coverage to cover you for any trip cancellations or COVID-19 medical expenses incurred.
The low price may entice you, but it's important to find a travel insurance policy that suits your needs.
SingSaver Exclusive Promotion:

Single Trip: Use promo code TIQSINGSAVER to enjoy 40% off when you apply. Valid till 31 March 2023. T&Cs apply.

Annual Trip: Use the promo code TIQSINGSAVER to enjoy a 60% discount on your COVID-19 add-on. Valid till 31 March 2023. T&Cs apply.
Key in the promo code under the coupon code section on the next page after selecting your destination and dates. The prices shown are before discounts.

Receive coverage for trip cancellations, medical expenses, and more when you purchase the COVID-19 Rider. T&Cs apply.

#5 Always getting the most basic plan
I bet many of you are guilty of this because I used to do this too — always gravitating towards the most basic plan and calling it a day.
Have you read through the coverages and exclusions? Have you compared it to the next plan tier? Maybe that extra top-up is worth it because it offers much higher coverage. And there are some things that the most basic tier plan doesn't cover that you might overlook.
For example, Singlife has this unique clause whereby you can cancel your trip for any reason and they'll let you make a claim. However, this coverage only applies to the Travel Plus and Travel Prestige plans, not the basic Travel Lite plan.
If you perhaps are going for a longer trip or are participating in adventurous sports overseas, you might want to consider a better plan with more coverage. But do look out for the fine print and make sure what you want to be covered for is being covered.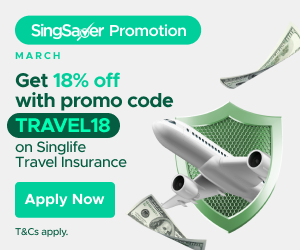 SingSaver Exclusive Promotion: Enjoy an 18% discount when you use the promo code TRAVEL18 for single-trip travel insurance plans only. Valid till 31 March 2023. T&Cs apply.
See also: Singlife Travel Insurance Review: Well-Rounded Coverage
#6 Buying multiple single plan policies
Single travel insurance plans are relatively affordable, especially for shorter trips to nearby countries which can only cost about S$20+ for each plan. However, these plans add up in the long run, and you might realise that getting an annual plan in the first place might have been much more affordable for you.
If you have already planned multiple trips throughout the year, you can calculate how much it would cost you to purchase multiple single-trip policies. If an annual plan is cheaper, get that instead! It might help you shave off some travel expenses yet reduce the hassle of buying a travel insurance plan each time you fly.
Check out Starr Travelead Travel Insurance now!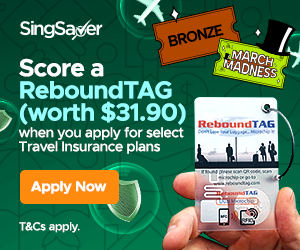 SingSaver Exclusive Promotion: Get up to S$48 via PayNow, a 35% discount PLUS an exclusive Agoda promo code when you apply using the promo code SSVTL35. Valid till 31 March 2023. T&Cs apply.
Plus, score a ReboundTAG (worth S$31.90) + a BRONZE ticket (1x chance) in our March Madness Grand Lucky Draw when you apply, for a chance to win your share of over S$20,000 worth of prizes! Valid till 2 April 2023. T&Cs apply.
Enjoy additional coverage by adding Trip or Baggage coverage for an absolute peace of mind. Increase COVID-19 medical expenses coverage and protection against trip cancellations due to COVID-19 when you select either the Gold or Silver plans. T&Cs apply.
#7 Not purchasing travel insurance for short trips
A 3D2N trip to Genting Highlands. Or a 2D1N trip to Batam. Do you need travel insurance for this? Absolutely yes! There's no way you can be certain that you won't meet with any travel inconveniences when you're abroad, no matter how short your trip is.
What if you want to cancel your trip because of COVID-19? Or fall sick during the trip and require medical assistance? You won't be able to claim anything if you don't have any travel insurance. And if for any reason you're really ill and require hospitalisation, the medical bills can be really hefty and cost you way more than if you decided to purchase a travel insurance plan.
Though the chances of it happening are pretty low, it's always better to be safe than sorry.
Read more:
These Travel Insurances Offer Up to S$1,000 For Your Camera Equipment
Travel Insurance Plans For Stolen/Lost Phones: Claim Up To S$2,000
Is Travel Insurance With COVID-19 Coverage Still Necessary?
Where to Buy Travel Insurance (with COVID-19 Coverage) 2023
Here Are the Best Family Travel Insurance Plans in 2023