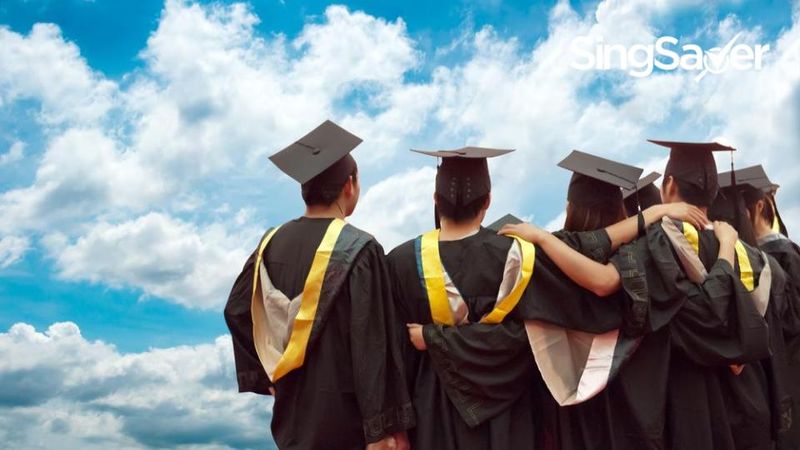 A good university education, whether in Singapore or overseas, pays dividends in the long term. But in the short term, the investment does not come cheap. If your parents can afford it, that's all well and good. For those who consider it a luxury, they'll have to look towards other solutions.
First things first, soon-to-be local university undergraduates can check if they qualify for the CPF Education Scheme or MOE Tuition Fee Loan. Otherwise, an education loan from a bank can be a lifesaver. In Singapore, most education loans have an interest rate of between 4% and 6% per annum.
Most education loans have a 5-year loan tenure, and a further processing fee of up to 3% of the loan amount. Here's a summary list of the best education loans in Singapore.
Best Education Loan In Singapore 2020

Best For
Education Loan
Benefits
Cheapest loan for local/overseas studies
OCBC FRANK Education Loan
4.5% interest per annum.
Highest loan amount
Maybank Monthly Rest Education Loan
Maximum loan of S$200,000.

Flexible repayment
POSB Further Study Assist
No early repayment fees, low late penalty fee.
Low processing fee
CIMB Education Loan
Relatively low processing fee at 2% of loan amount.
Best For Highest Loan Amount: Maybank Monthly Rest Education Loan
If you need a high loan amount to study abroad at a prestigious university, or a Masters, Maybank's Monthly Rest Education Loan has got you covered.
It offers a maximum loan amount of up to S$200,000, or 8 times the borrower's monthly income, making it a great choice for those that require a large study loan. Most education loans come with a limit of S$80,000 to S$150,000. Processing fee payable is 2% of loan amount and part-time students who are earning at least S$18,000 annually are eligible to apply as principal. Maybank also offers several flexible payment schemes to choose from: Standard Repayment, Partial Repayment, Interest Servicing.
Maybank's education loan comes with a tenure of between 1 and 8 years. It charges 4.78% and 4.88% interest per annum for local and overseas studies respectively.
Best for Low Interest Rate: OCBC FRANK Education Loan
If you want to study with the assurance that you won't be burdened with exorbitant interest rates, then OCBC FRANK Education Loan should garner your interest.
It offers the lowest interest rate at 4.5% per annum for both local and overseas studies, below the market average of between 4.83% and 4.87%. The loan also offers three flexible payment options: standard repayment (pay monthly installments of principal plus interest as soon as your loan is disbursed), graduated repayment (pay only interest while studying with the rest after graduation) and Graduated Plus (pay only the interest over the course of your studies until 1 year after graduation).
Those looking to pursue an education overseas or further studies at local private institutions can check out the full list of eligible schools here.
The OCBC FRANK Education Loan has a slightly higher-than-average processing fee at 2.5%. The maximum loan amount is capped at S$150,000, for loan tenures between 1 and 8 years.
Best For Low Penalty Fees: POSB Further Study Assist
If you are expecting to settle your loan in full earlier, POSB Further Study Assist offers the lowest penalty fee.
It does not charge a penalty fee for early repayment of the loan, when other banks may charge about 1% on the prepay amount. This is great for those who don't fancy being locked in to the entire loan tenure. For example, if you managed to land a high paying job upon graduation, you could rid yourself of debt early to avoid further interest expense.
Students opting to study at institutions on the 'preferred list' are charged an interest rate of 4.60%. The interest rates offered by POSB's education loan works on a diminishing balance rate basis instead of a flat rate. This means the interest rate is calculated every month based on the outstanding loan amount.
POSB Further Study Assist comes with a maximum loan limit of S$80,000 and interest rate of 5.88% per annum. For studies at non-referred institutions, the length of loan tenure is limited to a maximum of 5 years.
Best for Low Processing Fees: CIMB Education Loan
Students looking to enrol in 'higher end' courses and maximise their education would do well to consider the CIMB Education Loan. Aside from a high loan quantum of S$200,000, it has one of the lowest processing fees at 2% of the loan amount – all without hidden costs and fees.
CIMB's education loan is also versatile in that students can choose between standard and interest servicing schemes; the latter only requires students to pay just the interest during the course of study, with the principal amount (with interest) payable after graduation.
The maximum loan tenure is 10 years, which is slightly higher than its peers in the education loans market. Weigh your options carefully as you may end up forking out a lot more in interest for longer tenures.
Read these next:
When to Use a Personal Loan for Education
4 Student Credit Cards That Also Earn You Miles and Cashback
'Why I'm Not Saving Up For My Kids' University Fund'
Shopee Promo Codes (April 2020)
Food Delivery Promo Codes 2020: GrabFood, Deliveroo, Foodpanda, WhyQ