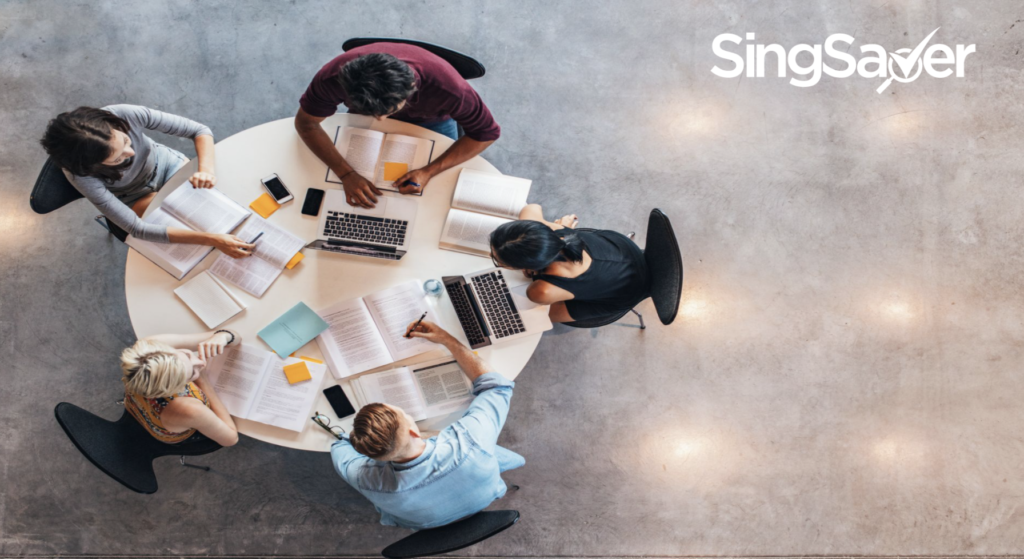 Wondering if you'll be able to put your children through university? You'll be relieved to know tertiary education remains affordable for the vast majority of Singaporeans, thanks to the various tuition grants and bursaries available. Here's a look at how these schemes work.
One of the wonderful things about living in Singapore (and there are many) is that the government subsidises up to 90% of the cost of education for Singaporeans.
And this benefit can be enjoyed throughout your life as a citizen, thanks to various schemes and grants that start as early as pre-school, and extend all the way to young adulthood where you qualify for diploma and undergraduate courses.
While it's comforting to know that the government has been subsiding education for Singaporeans all along, it's a downright relief when it comes to tertiary education.
That's because higher education like undergraduate courses and diplomas are actually quite expensive. But we suppose that's par for the course (no pun intended) for world-class tertiary education in a highly developed nation like ours.
But thanks to the MOE's efforts, most Singaporeans feel just a tiny pinch, instead of the sledgehammer blow that putting your children through tertiary education can inflict on your bank account (you'll see what we mean later).
What tuition grants and subsidies are available for tertiary education in Singapore?
When it comes to tertiary education, there are primarily two schemes that undergrads and polytechnic attendees can benefit from: the MOE Tuition Grant and the Higher Education Bursaries scheme.
Here's a summary of their main features.
Features
MOE Tuition Grant
Higher Education Bursaries
Eligibility
Full-time students taking up undergraduate or diploma courses in Singapore.
Singapore citizens automatically receive the grant upon commencement of study.
Permanent Residents and foreign students have to apply for the scheme.
Full- or part-time undergraduates or diploma students.
Open to citizens only,
Subsidy amount
Up to 90% of tuition fees, depending on course of study and nationality.
Citizens receive the highest amount of subsidy, followed by PRs, then foreign students.

Full-time undergraduates: Up to S$6,200 per annum
Full-time diploma students: Up to S$2,750 per annum
Part-time undergraduates: Up to S$2,500 per annum
Part-time diploma students: Up to S$800 per annum
Amount depends on household income levels
MOE Tuition Grant - how does it work?
As explained in the table above, the MOE Tuition Grant covers as much as 90% of your undergraduate or diploma course. However, the actual amount depends on the course you are taking, as well as your nationality.
Singapore citizens receive the maximum subsidy, and are automatically given the grant upon commencement of study.
In contrast, both PRs and foreign students have to apply for the MOE Tuition Grant if they wish to benefit from the scheme.
Permanent Residents (PRs) receive slightly less in subsidies than citizens. Foreign students, meanwhile, receive just a portion of subsidies; they'll end up having to pay about two-thirds of the full fees.
In addition, foreign applicants will have to sign an agreement, under which they are contractually obliged to work in a Singapore entity for three years upon graduation.
How much subsidy will I receive under the MOE Tuition Grant?
To illustrate how much potential subsidy you can receive under the MOE Tuition Grant, here's a look at the schedule of course fees for undergraduate courses at National University of Singapore (NUS).
As tuition fees differ across tertiary institutions, you should refer to your chosen undergraduate or polytechnic course for the most accurate and updated figures.
Can I use the MOE Tuition Grant for all higher learning institutes in Singapore?
According to the MOE website, here are the currently eligible institutes of higher learning which are covered by the MOE Tuition Grant.
Autonomous Universities
National University of Singapore
Nanyang Technological University
Singapore Management University
Singapore University of Technology and Design
Singapore Institute of Technology
Singapore University of Social Sciences
Polytechnics
Singapore Polytechnic
Ngee Ann Polytechnic
Temasek Polytechnic
Nanyang Polytechnic
Republic Polytechnic
Arts Institutions (Citizens and PRs, studying approved courses only)
Nanyang Academy of Fine Arts
LASALLE College of the Arts
Others (Citizens studying Technical Diploma courses only)
Institute of Technical Education
Source: MOE
What other fees and charges do I have to pay?
Do note that the Tuition Grant only applies to tuition fees and terms fees (if any). Other charges such as admin fees, registration fees, supplies, materials and textbooks, etc, are not covered under this scheme.
If you require additional financial help to cover these expenses, try applying for Higher Education Bursaries, covered in the following section.
Higher Education Bursaries - how do they work?
Higher Education Bursaries provide an additional source of funds to help you secure a tertiary education in Singapore.
This scheme is open to Singapore citizens only, and the bursaries are awarded annually. Both full- and part-time students taking undergraduate or polytechnic courses may apply.
How much subsidy will I receive under the Higher Education Bursaries?
The actual amount of bursaries awarded depends on your household income levels. See the following table for a detailed explanation.
Type of Bursary
Gross monthly household income
Diploma students
Undergraduates
Higher Education Community Bursary
Below S$2,750/mth or S$690/capita
S$2,750
S$6,200
S$2,751 - S$4,000/mth orS$691 - S$1,000/capita
S$2,400
S$5,000
Higher Education Bursary (Full-time students)
S$4,001 - S$6,900 orS$1,001 - S$1,725/capita
S$1,900
S$3,200
S$6,901 - S$9,000 orS$1,726 - S$2,250/capita
S$850
S$1,350
Higher Education Bursary (Part-time students)
Less than or equals S$4,000/mth orS$1,000/capita
S$800
S$2,500
S$4,001 - S$6,900/mth orS$1,001 - S$1,725/capita
S$660
S$1,600
S$6,901 - S$9,000.mth orS$1,726 - S$2,250/capita
S$300
S$1,600
Source: gov.sg
Read these next:
A Cost Guide To School Fees In Singapore: Primary, Secondary, Post-Secondary and Tertiary
The Real Cost: How Much Does Higher Education Really Cost in Singapore?
Is It Worth Furthering Your Education?
Are You Saving Enough For Your Child's Education?
What Are The Best Credit Cards For Paying Education Expenses?
---