Fluffy basmati rice redolent with the fragrance of spices and saffron, flavourful meat so tender it falls off the bone.
Add to it crispy fried shallots, crunchy, tangy and spicy achar (pickle), topped off with a crisp papadum — there's very little that a good plate of briyani can't set right.
We share our pick of the 8 best biryani restaurants in Singapore, so get ready to dig in when you're there or order in.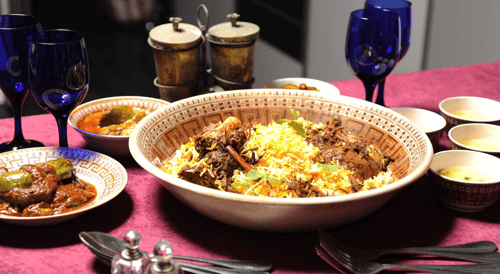 1. Islamic Restaurant
Kicking off with the grand-daddy of the list — we ain't being cheeky, this venerable establishment is nearly 100 years old! — Islamic Restaurant is a shoo-in on the lists of biryani lovers all over Singapore.
In its heyday during the '70s, the nasi briyani served at this quaint shophouse restaurant was said to be a hit with dignitaries, ministers and businessmen alike. Today, a generation later, its age-old recipes still stand the test of time. In fact, so popular is the biryani here that there's even a dedicated hotline!
Address: 745 North Bridge Road Singapore 198713
Tel: 6298 7563
Dial-a-Biryani: 6296 1161
Website: http://islamic.sg/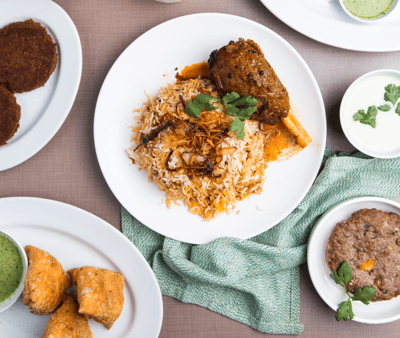 2. Bismillah Briyani
You may be aware that the biryani we commonly encounter in Singapore is actually a somewhat localised version of the dish, served rather wet with copious amounts of curry (hey, nothing wrong with putting our own spin on what we love, as long as it's yummy).
Biryani, as it is prepared in most other parts of the world, like Pakistan, is a little different though. For one, Pakistani-style biryani is almost always served dry, with curry or gravy served strictly separately. Also, the marinated meat is cooked together with the rice — spiced up with saffron and chopped cashew nuts — traditionally in a large pot with dough sealing the lid. The result is an intensely flavoursome dish that will get you hooked.
This style of biryani that cooks meat and rice together is also known as the dum biryani, and one of the best versions you can find this is at Bismillah Briyani. Thanks to its authentic Pakistani recipe, the franchise is a four-time winner of the Michelin Bib Gourmand.
Locations:
48/50 Dunlop Street Singapore 209379 (Tel: 6935 1326)
NEXUS @ ONE-NORTH 1 Fusionopolis Link #01-03 Singapore 138542 (Tel: 6352 2177)
76 Shenton Way #01-04/05 Singapore 079119 (Tel: 9622 0492)
10E Sixth Avenue (JW Brothers Coffeeshop)
Website: http://www.bismillahbiryani.com/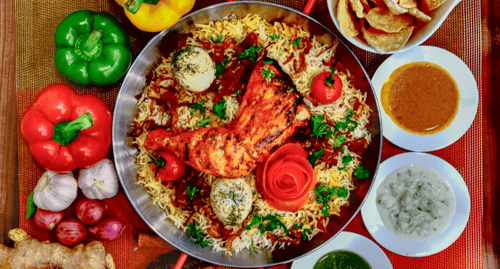 3. Mr Briyani
Another popular briyani outlet that sticks to the dum style, Mr Briyani serves up a recipe all the way from Hyderabad, kept authentic with spices and chillies imported from India itself. The Hyderabadi style includes yoghurt as a key marinade ingredient, resulting in tender and fragrant chicken, lamb and fish.
Vegetarians will be particularly delighted to know their famous biryani also comes in non-meat versions. Besides vegetable and brinjal biryani, there's also paneer biryani. And if you're craving meat but must abstain, the jackfruit biryani should do you nicely.
Address: 32 Norris Road, Singapore 208274
Tel: 8661 4271
Website: http://www.mrbiryanisg.com/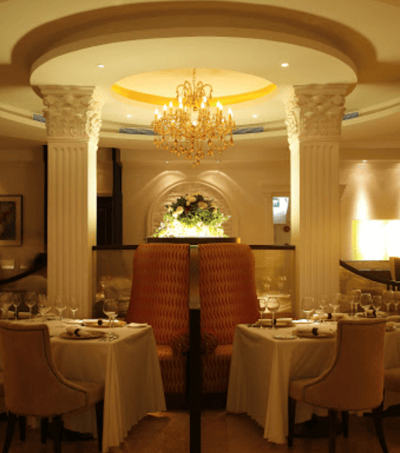 4. The Song of India
For a more elevated version of the ubiquitous biryani, try The Song of India. The One Michelin Star restaurant is known for its modern and inventive interpretations of Indian cuisine, but opts for tradition with its biryani dishes.
You'll find on the menu a delicious mutton biryani prepared Lucknow-style with a lighter touch on the spices. The other option presented is one with tiger prawns — a wonderfully fresh and fruity take on the dish.
Address: 33 Scotts Road Singapore 228226
Tel: 6836 005
Website: http://thesongofindia.com/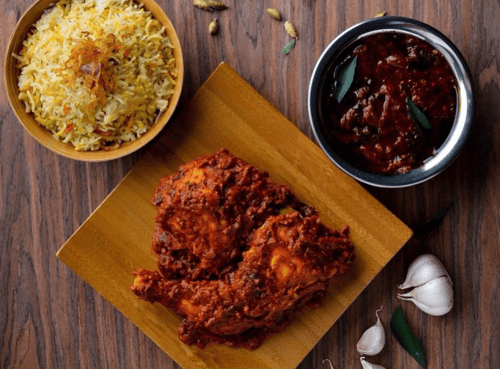 5. The Banana Leaf Apollo
You may know it for its fiery fish head curry, but Banana Leaf also serves up a mean biryani that you shouldn't forego.
Go for the biryani set meal if that's what you fancy. But opting for the biryani rice with vegetables, then adding on from the restaurant's extensive menu of classic Indian dishes is an equally delicious option. Think chicken masala, mutton mysore, palak paneer, aloo gobi… you get the gist.
Address: 48 Serangoon Road, #01-32 Little India Arcade, Singapore 217959
Tel: 6333 6111
Website: https://www.thebananaleafapolo.com/

6. Singapore Zam Zam
Late-night clubbers and supper hunters know and love them for their venison murtabak (a godsend after one too many drinks), but Singapore Zam Zam is more than just a one-trick pony. Turns out this Bugis mainstay also serves up a great nasi briyani.
Their rendition of the classic dish is good enough to keep customers coming back for more throughout their century-old history, so I guess we can say Singapore Zam Zam has stood the test of time. Choose from chicken, mutton or beef. Bon appetit.
Address: 697 to 699 North Bridge Road, Singapore 198675
Tel: 6298 6320
Website: https://zamzamsingapore.com/
7. Geylang Briyani Stall (aka Hamid's Briyani)
This one comes hotly recommended by none other than Singapore's very own doctor/local food blogger himself, Dr Leslie Tay of ieatishootipost. After going back thrice in a week, the good doctor states unequivocally that this is the best, the most satisfying plate of food you'll ever try in Singapore for the price you pay.
Hamid's Briyani offers fork-tender mutton, fluffy and perfectly-cooked basmati rice, and a chicken masala gravy that, when drizzled over the biryani rice, makes for the ultimate killer mouthful.
Address: Geylang Serai Market #02-146, 1 Geylang Serai, Singapore 402001
Tel: 9831 0574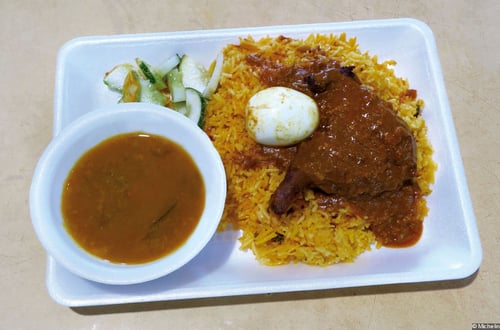 8. Allauddin's Briyani
Situated in the beloved Tekka Market, Allauddin's Briyani is where you want to go when you're looking for a large breakfast to start the day. The biryani cooked with good quality basmati rice and cashews comes in what can only be described as a small mountain, served together with juicy, tender mutton.
To help you conquer this royal meal, look to the side of pickled cucumber, which provides a much welcome acidity and crunch to balance out the hearty, meaty flavours.
Address: Tekka Centre #01-232, 665 Buffalo Rd, Singapore 210665
Tel: 6296 6786
Read these next:
High Tea Promotions In Singapore
1-for-1 Buffet Dining Promotions in Singapore
10 Dim Sum Promotions And Deals
Cheap Gym Memberships In Singapore Under $100 Per Month
9 Cheapest Halal Buffets From $7 In Singapore