Yearning to treat yourself to something other than home-cooked or hawker food, yet feeling the pinch? Not a problem with these affordable restaurants with delectable dishes.
Singapore is undeniably one of the most expensive cities in the world to live in, but this doesn't mean that you can't find good food at a reasonable price. We recommend restaurants that are among the best cheap and good food options in Singapore. No matter your craving, there's something for everybody on this list.
Syohaci Wagyu Hamburg
This place's claim to fame is being Singapore's first casual farm-to-table restaurant specialising in Japanese A5 Wagyu beef hamburgs that are affordably priced. It serves up Waygu beef in a variety of ways that include beef dons, hamburg steaks and hamburgers. Considering the premium quality of the beef, imported from the award-winning Hidakami Ranch in Japan, the pricing of its offerings – a Wagyu beef burger is S$18 – is very reasonable. Its location in the middle of the CBD means that you'll be able to conveniently indulge in some glorious meat without your wallet crying.
Address: 1 Raffles Place, #01-01, Singapore 048616
Phone Number: 6223 0755
Zam Zam Singapore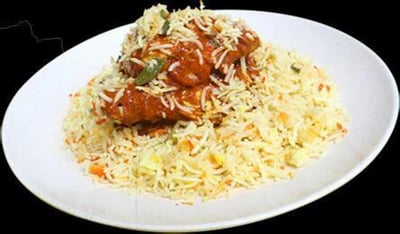 Should you be after a cheap yet tasty Indian meal, Zam Zam is the place to go. This restaurant offers a variety of briyani and pratas all priced under S$13.
If you're in the mood for fluffy rice mixed with spices and served with a generous side of meat, check out Zam Zam's seven types of briyani. Its priciest option comes with deer and at S$12, is still a steal. If that's a tad bit too adventurous for you, go for the fish, beef or chicken at S$6.50.
Meanwhile, Zam Zam also offers roti prata sets that go for around S$6–S$8. These sets usually include a side of meat or curry, so you can be assured of a filling meal even at the low price.
Address: 697–699 North Bridge Rd, Singapore 198676
Phone Number: 6298 6320
Tenya
If you love Japanese food, your tastebuds will be in for a treat. Tenya's premium tempura tendon consists of deep-fried seafood and vegetable tempura on top of a bed of rice, glazed with sauce. This delicious meal costs just S$11.90! (If you ask for less rice, there'll also be a S$0.50 discount.) Besides the premium bowl, you can choose from several other varieties of tempura tendons if you prefer more or less of certain types of ingredients. Wash down the satisfying meal with the accompanying miso soup. There's also Hokkaido soft serve on the dessert menu for S$3 should you feel like something sweet.
Address:
181 Orchard Road, #B1-01, Orchard Central, Singapore 238896
2 Orchard Turn, #B4-56, ION Orchard, Singapore 238801
Phone Number:
6509 6838 (Orchard Central)
6636 6608 (ION Orchard)
Fu Lin Tofu Yuen
Fu Lin serves up its own take on yong tau foo – a Chinese dish that lets you choose an assortment of stuffed tofu, fish cakes and vegetables to be eaten in a clear broth or fried, alongside rice or noodles. What's special about Fu Lin's version is that its ingredients are freshly made with yellowtail fish, and are fried and drenched with a secret sauce minced meat and shiitake mushroom gravy. If you order noodles, they'll come soaked with the gravy too. You can enjoy this decadent dish while still getting your daily dose of veggies, and it'll only set you back by S$7.60!
Address:
127 Telok Ayer St, Singapore 068596
7 Temasek Blvd, #B1-139, Suntec City, Tower One, Singapore 038987
2 Jurong East Street 21, #01-47, IMM, Singapore 609601
721 East Coast Rd, Singapore 459070
Sushi Tei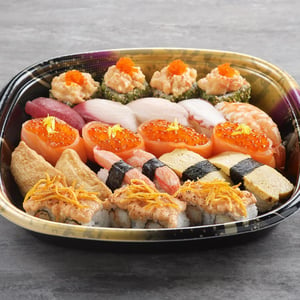 Sushi Tei serves up quality Japanese food at an affordable price range. If you're looking to get bang for your buck, we recommend the sushi sets that come with at least four types of sushi, and have prices starting from S$11.80. Besides the decent prices, you can be sure that you'll enjoy fresh and expertly prepared sushi served up by experienced chefs. It has outlets all over the island – 13 at last count – so you'll be able to easily get your sushi fix regardless of where you're at.
Restaurant Aisyah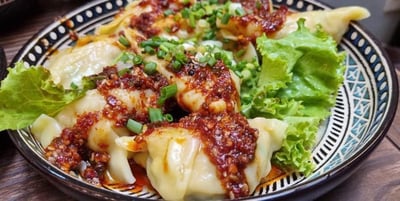 Restaurant Aisyah is a small restaurant that serves up halal Xinjiang cuisine, including some of the best dumplings in Singapore. The restaurant may seem unassuming from the outside, but don't let that fool you – the food is amazing!
The dumplings are made fresh every day and come with either beef, mutton or chicken fillings. You can choose to have them in soup, fried or served in a spicy sauce. Depending on the style in which they're prepared, eight dumplings will cost you between S$13.80 to S$15.80.
You'll also find a range of noodle and rice dishes to go along with the dumplings around the same price point. If you're looking for a halal eatery that's out of the ordinary, we recommend checking this out!
Address: 176 Telok Ayer Street, Singapore 068624
Phone Number: 93724321
Dosirak
If cheap, healthy and spicy are the boxes you want to tick, look no further than Dosirak. This restaurant specialises in Bibimbap, a Korean dish that pairs meat/tofu with rice topped with a generous and colourful array of vegetables. Of special note is the Kimchi Tofu at S$7.90 and the Spicy Chicken at S$8.90 – you can be sure that they'll be packed with flavour.
The accompanying sauces vary in spice level; go for the omma gochujang if you're looking for an intense level of heat.
Address: 6A Shenton Way, OUE Downtown Gallery, #01-44, Singapore 068807
Kim Dae Mun
Perfect for rainy days, kimchi soup and other homely Korean stews and dishes can be found for cheap at Kim Dae Mun, a spacious eatery located at Concorde Shopping Mall. You'll find prices that start around S$7, with many of the other offerings, including the rice sets with grilled meats, not going beyond S$10. These kinds of prices are rare in the area, so hop on down the next time you're in town and trying to stay on-budget!
Address: 100 Orchard Rd, #01-03A, Concorde Shopping Mall, Singapore 238840
Wanton Seng's Noodle Bar
Treat yourself to a bowl of contemporary wanton noodles that lovingly elevates the humble hawker dish to a gourmet meal. Each thoughtfully prepared bowl goes for a mere S$8.50 (for Char Siu Noods) or S$10.50 (for Twosome Noods that include char siu and roasted pork belly, or Mala Bak Chor Noods). Served in a hip setting in the trendy Ann Siang Hill enclave, this is a low-cost way to satisfy your hunger and delight your palate.
Address: 10 Ann Siang Hill, Singapore 069789
Sando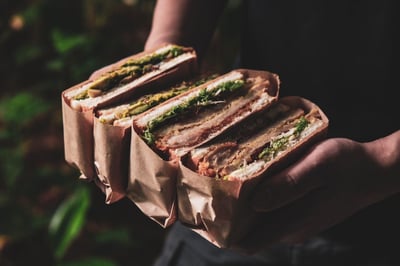 Sandwiches with a difference – that's what you'll find at Sando. Each sandwich is jam-packed with quality ingredients that include free range pork loin, duck fat confit onions, kombu mayo, and yuzu-pepper marinated grilled chicken, just to name a few. Artfully stacked and wrapped, you'll be surprised to find that these gourmet sandwiches go for as low as S$11.50, with the priciest one at S$15. Considering all that goes into these meticulously prepared sandwiches, we'd say that's a steal.
Address: 438C Alexandra Road, #01-04/04A, Singapore 119969
Phone Number: 9771 0388
Ah Loy Thai
With most dishes priced at around S$10 or under, Ah Loy Thai is hard to beat in terms of affordability and flavour. It offers a wide variety of authentic and delicious dishes for all budgets.
Signature dishes include its Phad Thai at S$9.90, Tomyum Seafood Soup at S$10.80, and Thai Garlic Pork at S$10.50. It also offers affordable bento sets for individuals and couples for takeaway.
All in all, Ah Loy Thai is a great place to go when looking for cheap eats in Singapore. Not only does it offer delicious meals at low prices, the restaurant's bustling ambience adds to the experience of dining there.
Address: 9 Tan Quee Lan St, #01-04, Singapore 188098
Phone Number: 8488 6528
---
Besides visiting affordable restaurants, maximise your savings through paying with credit cards that get you rewards. Apply using our comparison tool to reap even more benefits.
Read these next:
Things To Do In Singapore That Get You The Most Bang For Your Buck
6 Alternative Gym Memberships That Make Fitness Fun (2020)
Singapore Public Holidays and Long Weekends Cheat Sheet for Travel in 2022
6 A La Carte Buffets To Enjoy in Singapore (2022)
8 Cheap Korean BBQ Buffets In Singapore Starting At S$15 (2022)