Is the Citi Cash Back Card the best card to have in your wallet?
The Citi Cash Back Card offers one of the highest cashback rates for dining, Grab, groceries and petrol compared to other cards on the market. Coupled with a relatively low minimum monthly spend of $888, it's a well-rounded, multi-purpose card ideal for dining out, weekly supermarket shopping and Grab rides or filling up fuel if you drive.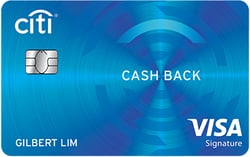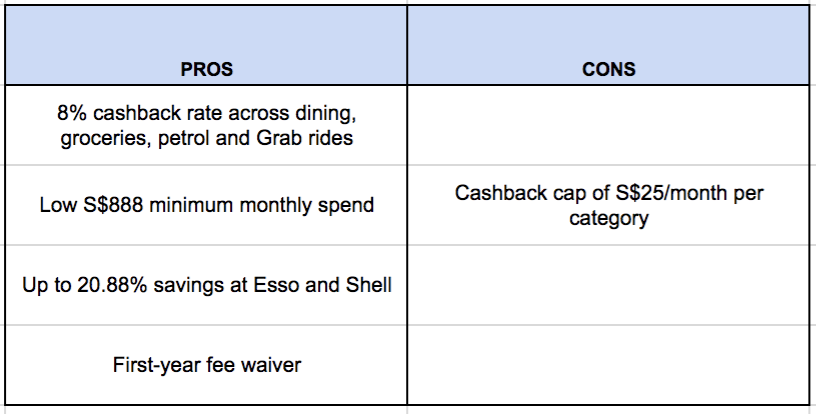 *Only on SingSaver platform, not via banks
8% on dining worldwide
With 8% cashback at restaurants, cafes, and bars worldwide, this reduces the hassle of finding the go-to card whenever you're dining out, even when you're overseas.
8% on groceries worldwide
The Citi Cash Back Card also offers 8% cashback on shopping at supermarkets and groceries worldwide. Unlike certain cards that only partner with specific supermarket chains, the Citi Cash Back Card gives you the flexibility to shop at all grocery stores and supermarkets and still enjoy the 8% cashback.
8% on petrol and Grab rides
Whether you own a car or Grab around, the Citi Cash Back Card also gives you 8% cashback on related spend. If you refuel your car at Esso or Shell, you enjoy further savings with up to 20.88% cash back.
Ongoing promotions
If you love ordering in or shopping for groceries online, your Citi Cash Back Card entitles you to enjoy cash discounts on selected merchants like Redmart and foodpanda (up to $20 off). In addition, you still earn the 8% cashback on your spend.
Other benefits
Hassle-free redemption:

Once you reach S$50 or more cash back each month, your cash back automatically gets credited to your statement in multiples of S$10.
Citibank Gourmet Pleasures:

Be spoilt for choice and discover great dining deals with 10-20% off the total bill at selected restaurants and bars, and return vouchers.
Free travel insurance:

Charge your travel tickets to your Citi Cash Back Card and

activate

your complimentary travel insurance before travelling.
Do note:
S$888 minimum monthly spend:

To enjoy the 8% cash back

, you need to spend a minimum of

S$888 every month.
Cashback cap of $25 per category:

If you do the math, that means that any spend above S$315 in each of the four categories (dining, groceries, Grab or fuel and online spend) will not be eligible for the 8% cash back, and will instead be at the base rate of 0.25%.

Therefore, pair this card with another if you spend more than $315 per month on any of the above categories.
Enjoy higher savings with Citi Cash Back Card
Fuss-free flat rate cashback cards may seem like the easier option, but you can significantly stretch your dollar and increase your savings with the Citi Cash Back Card as shown below. Assuming a monthly spend of $900 across dining, groceries, Grab and online spend: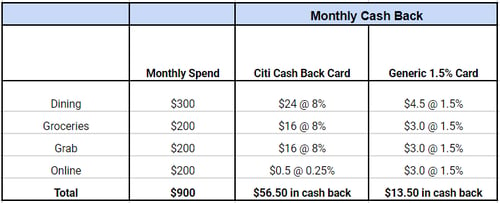 In this scenario, the Citi Cash Back Card gives you an extra $43 ($56.50 - $13.50) in cash back vs other generic cards in the market. The cash back is automatically redeemed and credited to your card the next month which you can then use to pay for your next cup of coffee or Grab ride as you wish.
Is the Citi Cash Back Card for you?
Overall, the Citi Cash Back Card is a great card for families, those who love to dine or either own a car or use Grab frequently. Compared to a flat cash back rate card, we would recommended this card if you're able to meet the minimum spend of $888 and spend across these four categories of not more than $315 per category.
$300 vouchers for new Citi cardholders
If you've yet to own a Citi credit card, SingSaver is also offering $300 in vouchers (Takashimaya, Grab or NTUC) as a welcome gift when you apply through SingSaver upon approval. Existing Citi customers are still entitled to receive $50 worth of NTUC vouchers upon sign-up at SingSaver.
Prefer a different credit card? Compare cashback credit cards in Singapore on SingSaver, a leading comparison platform that helps people save time and money when applying for financial products.
What to read next:
Cashback or Rewards Credit Cards: Which is Better?
6 Credit Cards That Give Free Access To Airport Lounges
Amex, Mastercard or Visa: Which is Better for Travel?
---
By Rohith Murthy
Rohith leads SingSaver, a financial comparison site aimed at helping consumers in Singapore save money and time by finding the right financial products.
---