SingSaver.com.sg presents Credit Awareness Month. Access your credit report for free* at Credit Bureau Singapore for the whole month of June!
Over the past few months, we've shown you many ways to boost your financial health. From saving an emergency fund to choosing the right credit card, you have all the information you need to make smart financial decisions.
But have you ever thought about how financially literate you might seem to banks and financial institutions? When was the last time you checked your credit report?
June is Credit Awareness Month
SingSaver.com.sg is partnering with Credit Bureau Singapore (CBS) to give you the financial equivalent of getting a medical check-up. For the whole month of June, CBS supports SingSaver.com.sg users in facilitating the redemption of their credit reports for FREE.
While Singaporeans understand the basics of money management, many fail to check a critical indicator of financial health: your credit score.
The better your credit score, the lower risk you will be considered by lenders, and the more likely they will accept your applications for mortgages and other forms of credit. However, if you have a low credit score, your application has a high chance of getting rejected.
Before you apply for a loan or credit card, it's a good idea to check your credit score. If you don't, and your application gets rejected – which then prompts you to make several other applications – this can have a further negative impact on your score.
Normally, checking your credit report at the CBS is priced at S$6.42 (inclusive of GST). But for the whole month of June, SingSaver.com.sg lets you access your credit report for FREE.
How to Get Your Free Credit Report
Step 1: Sign Up to Get Your Free Voucher

[caption id="attachment_5121" align="aligncenter" width="700"]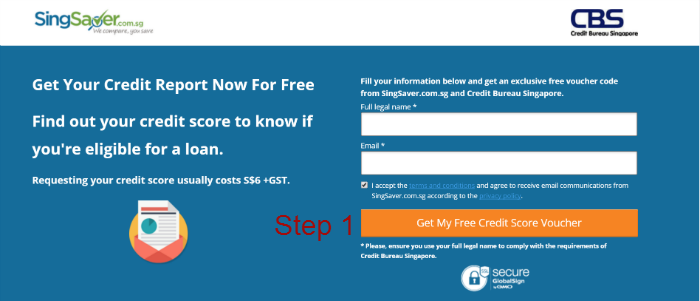 Register for the campaign here[/caption]

Register for the campaign here to claim the voucher for your free credit report. Ensure that you use your full legal name - the same one that is in the CBS's database.
Step 2: Click on to Credit Bureau Singapore's Website

[caption id="attachment_5122" align="aligncenter" width="700"]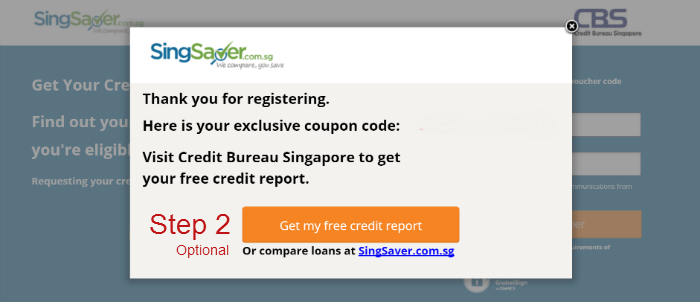 Copy your voucher code and click the orange button to go to the Credit Bureau Singapore website[/caption]

Upon successful registration, a small window will pop up with the voucher code (code not pictured). Copy and paste the voucher code on Notepad - you'll need this to claim your credit report.

You can click the orange button to use the voucher at the Credit Bureau Singapore website, or take a minute to compare loans at SingSaver.com.sg.

Note that you must follow the link indicated on the button to claim the free report, as going directly to the CBS website does not have the option to use the voucher.
Step 3: Log In Using Your SingPass ID

[caption id="attachment_5123" align="aligncenter" width="700"]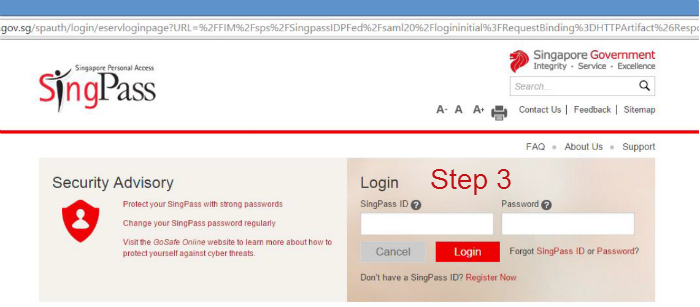 Log in using your SingPass ID[/caption]

Clicking on the orange button will bring you to the CBS website. To continue, you must log in with your SingPass ID.
Step 4: Fill In Your Personal Information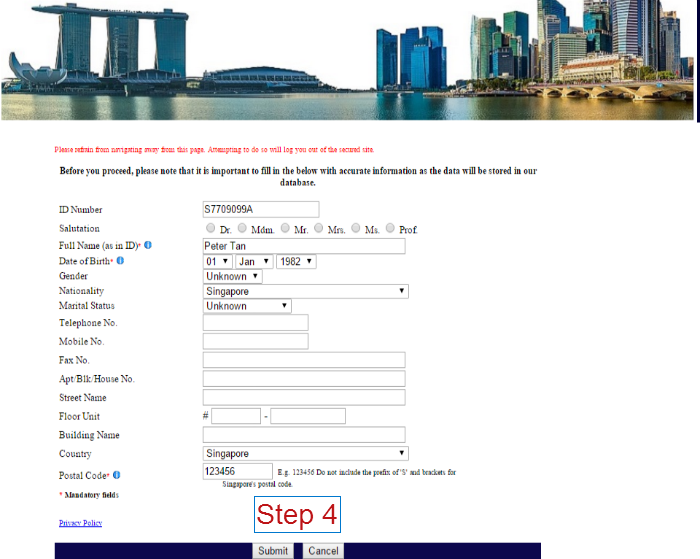 It's important to fill in your personal details as accurately as possible so the CBS can find your records.
Step 5: Enter the Voucher Code

[caption id="attachment_5125" align="aligncenter" width="700"]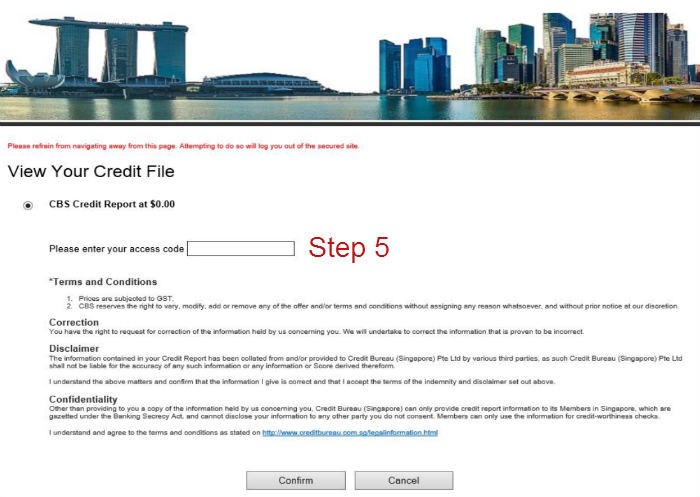 Enter your voucher code[/caption]

Finally, enter the voucher code from SingSaver.com.sg where it says "Please enter your access code."
Step 6: View Your Credit Report

[caption id="attachment_5126" align="aligncenter" width="700"]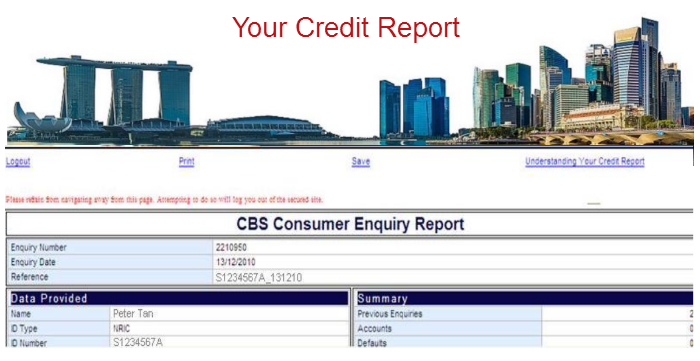 Take a look at your whole credit report[/caption]

Now you can view your credit report and evaluate your financial health.
Credit Awareness Education
Besides giving you free access to your credit report, we are also publishing a series of articles to help you understand the meaning of your credit score, what might have caused it, and how to improve your credit health.
View the whole library of Credit Awareness Month guides, or start with the following articles:
What is a Credit Rating, and Why Should Singaporeans Care?
7 Mistakes that Ruin Your Credit Score in Singapore
A Cheat Sheet to Getting the Highest Credit Score in Singapore
*Free credit reports available in limited quantities. SingSaver.com.sg and Credit Bureau Singapore have the right to discontinue this promotion without prior notice.