How to find Islamic investments in Singapore?
Use a shariah-compliant robo advisor or investing platform
One of the easiest ways to invest in halal instruments is to join an Islamic robo-advisor or online investing platform.
These platforms are overseen by a regulatory body to ensure only shariah-compliant stocks and businesses are offered to clients.
One such popular platform is Wahed, a global Islamic investing robo-adviser with over 150,000 clients. Through the Wahed app, you can choose an investing portfolio according to your risk appetite, fund your account and watch your money grow.
Refer to a shariah-compliant stock index
Those familiar with investing know that a stock index (such as the Straits Times Index) tracks the performance of an underlying selection of stocks selected to represent a corresponding sector or market.
For example, the Straits Times Index (STI) tracks the top 30 companies trading on the Singapore Stock Exchange.
In a similar fashion, there are indices that track only shariah-compliant stocks and shares, making them a handy reference to look for halal investments that also have a proven history of high performance.
For starters, try the FTSE SGX Shariah Index Series, which publishes indices on qualifying stocks in the Asia Pacific region, as well as in Singapore.
You can also search for indices that track shariah-compliant stocks in other markets around the world.
Once you've located the index you want, you can directly invest in the companies listed in them by buying their shares. Alternatively, you can also choose to invest in the indices themselves via an Exchange-Traded Fund (ETF), such as the Wahed FTSE USA Shariah ETF.
Also, you know, just enter 'shariah + ETF' or 'Islamic + ETF' in Google and see what comes up.
Look for waqf investment projects
Inherent in Islam is the practice of waqf, which refers to a religious endowment (or donation) for the purposes of improving or supporting the community via various projects, such as the construction of a mosque, or a school.
You can invest in such waqf projects, and earn a projected return - you can think of it loosely as crowdfunding for Islamic purposes.
To make sure your investment truly qualifies as a halal one, be sure to invest only through certified platforms. One such platform is the Malaysia-based Ethis.co that has offices in Indonesia and Oman. Closer to home, Warees.sg offer investment opportunities for real estate projects in Singapore.
Alternatively, if you do not wish to limit yourself to real estate projects with a waqf angle, you can also try investing in shariah-compliant REITs, some of which may be found in shariah-compliant stock indices (see previous section).
What returns can you expect from halal investments?
While Islamic investing has its unique features and requirements, it is not so removed from conventional investing such that a notable difference in returns can be observed. Halal investments do not restrict the types of investments you can invest in, only the underlying businesses.
For all intents and purposes, you can expect your returns to be on par with those enjoyed by those investing according to secular principles. There's no reason to believe that sticking to halal investments will disadvantage any one investor, all things being equal.
Instead, your results will depend on entirely personal factors, such as your risk appetite, the platform you choose, your ability to seek out solid investments and more.
And as with any other form of investing, always remember that investing carries a degree of risk. You should always do your own research, never invest more than you can afford to lose, and always seek professional advice before jumping in.
---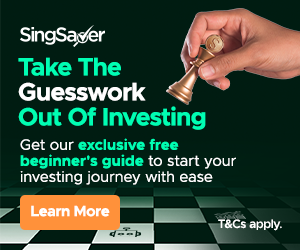 Start managing and saving money like a pro with SingSaver's weekly financial roundups! We dole out easy-to-follow money-saving tips, the latest financial trends and the hottest promotions every week, right into your inbox. This is one mailer you don't want to miss.
Sign up today to receive our exclusive free investing guide for beginners!
---
Read these next:
All The Hidden (And Not-So-Hidden Fees) To Know About When Investing In Stocks
8 Investment Books to Read to Change Your Financial Life
SingSaver's Investment Dictionary: Terms and Acronyms, Explained
Finding The Value In Value Investing: A Guide
Money Confessions: 9 Singaporeans Share Their Portfolio Asset Allocation