Ready to say "Konnichiwa" to the Land of the Rising Sun after two long years? Although solo and free-and-easy travel aren't permitted yet, Japan package tours are.
Prior to this news, travel into Japan was only permitted under special conditions like business trips or for a long-term stay. Moreover, the stay would have to be sponsored by a residing organisation within Japan itself.
Other entry exceptions into Japan included those who are spouses of Japanese citizens or permanent residents (PRs).
Nonetheless, visa applications were mandatory upon eligibility confirmation for all foreign parties with tourism visitation purposes strictly out of the cards.
However, all that will change starting from 10 June 2022.
Foreigners will be allowed to enter Japan on package tours as part of "test tourism" trials to monitor how well travel agencies handle tourists. Those who qualify are all travellers from Singapore with three recorded vaccination doses, as part of the "Blue group" of countries constituting the lowest-risk group.
So if you're gearing up for a Nippon trip this summer, autumn or winter, here's what you need to know for your Japanese excursion ahead.
Table of contents
Disclaimer: Updated as of 7 June 2022. COVID-19 travel restrictions and regulations are subject to change. Refer to the Embassy of Japan (Singapore) or Japan's Ministry of Health, Labour and Welfare for more updates. Proceed at your own discretion.
---
Entry requirements checklist for Japan 2022
From 1 June 2022, Japanese Prime Minister Kishida Fumio doubled Japan's overseas arrival limit to 20,000. The number of Japanese airports accepting international flights will likewise be increased.
Since Singapore falls under the "Blue group" category, presenting proof of a negative pre-departure polymerase chain reaction (PCR) test will exempt travellers from both on-arrival quarantine and a second PCR test.
In general, you'll want to double-check the following required documents before you embark on your flight:
Travel documents
Details
Approved visa application

Refer to the Embassy of Japan in Singapore for step-by-step instructions
Book an appointment at least two to four weeks prior to intended travel date

*[Not necessary but good to have]

Printed certificate of pre-departure PCR test (within 72 hours of flight departure)

Vaccination certificate

or


COVID-19 Vaccination Report*

PCR test to be conducted at MOH-approved clinics
SingPass is required for downloading and printing hard copy
Failure to present printed version of PDT certificate will be barred from entry (for non-blue group countries)*
COVID-19 Vaccination Report needs to be supplemented with a government-issued document with your NRIC/FIN and date of birth shown (e.g. IC)*

Written Pledge
Enforcement action will be taken against failure to do so
Questionnaire
Your e-mail address and phone number will be verified at the Quarantine Station
MySOS app

To disclose your health condition and location after entering Japan
Blue MySOS screen = all necessary information and documents have been submitted and reviewed

More information can be found on the official Embassy of Japan in Singapore or Japan's Ministry of Health, Labour and Welfare sites.
Overview: Japan Tour Packages to Book in 2022
With all the nitty-gritty out of the way, let's dive into the list of approved Singapore travel agencies to consider for your 2022 Japan travel.
Tour company & package
Validity of travel
Price
Contact information
Chan Brothers
8D7N Central Japan Tour
Sep 2022 to 31 Mar 2023
From S$4,088
(Promo: 50% off 2nd pax)
Address: 150 South Bridge Rd, #01-12, Fook Hai Building, S(058727)
Tel: +65 6212 9679
E-mail: asiatours@chanbrothers.com.sg
8D7N Central Japan Small Group Tour
Jul 2022 to 31 Mar 2023
From S$4,888
9D6N Kyushu Tour
Sep 2022 to 31 Mar 2023
From S$4,288
8D6N Kyushu Small Group Tour
Jul 2022 to 31 Mar 2023
From S$4,888
9D6N Hokkaido Tour
Sep 2022 to 31 Mar 2023
From S$3,988
(Promo: 50% off 2nd pax)
9D6N Hokkaido Autumn Tour
Oct to 15 Nov 2022
From S$4,688
9D6N Hokkaido Winter Fun Tour
15 Dec 2022 to 31 Mar 2023
From S$3,888
(Promo: Up to S$600 per couple)
9D6N Hokkaido Winter Fantasia Tour
1 Dec 2022 to 31 Mar 2023
From S$4,888
(Promo: 50% off 2nd pax)
8D6N Hokkaido Small Group Tour
Jul 2022 to 31 Mar 2023
From S$4,888
8D6N Tokyo & Niigata Sakura Tour
1 to 30 Apr 2023
From S$4,288
(Promo: 50% off 2nd pax)
Dynasty Travel
5D4N Rishiri Alpine Island Tour
Enquire here
Enquire here
Tel: +65 6532 3833 / 6338 4455
E-mail: group@dynastytravel.com.sg
9D8N Kansai Slow Luxury Tour
From S$9,280 per pax (excludes flight)
JTB Travel
9D6N Central Japan & Noto Island Tour
Jun 2022
From S$4,288
Address: 391 Orchard Rd, Takashimaya Shopping Center, Ngee Ann City, #03-11, S(238872)
Tel: +65 6595 0600
7D6N North Central Japan Blue Festival Tour
Jun 2022
From S$3,788
8D6N Hokkaido & North Central Japan Lavender Story Tour
2 dates:
13 & 20 Jul 2022
From S$4,488
(+ S$560 tax & fuel surcharge)
8D6N Hokkaido Autumn Melody Tour
2 dates:
4 & 10 Oct 2022
From S$4,488
(+ S$560 tax & fuel surcharge)
Michi & Co.
Glamping at the base of Mt. Fuji Package
Enquire here
Enquire here
Address: 12 Purvis St, #02-01 Suite B, S(188591)
Tel: +65 6970 3855
E-mail: info@michiandco.com
Ryokan by the Sea of Japan, Kyotango Package
Northern Japan: Hirosaki Castle, Mt. Hakkoda, Lake Towada Package
Hayama Kamakura Package
5D4N or 3D2N Hayama & Kamakura Package
Nam Ho Travel Service
8D6N Hokkaido Winter Fun + 3D2N Tokyo Free & Easy
Nov to Dec 2022
From S$3,888
(+S$330 tax)
Address: People's Park Complex, 1 Park Rd, #01-84D/E, S(059108)
Tel: +65 6221 8433
E-mail: sales_enquiries@namho.com.sg
9D7N Hakodate, Tohoku & Nikko Discovery Tour
Oct to Nov 2022
From S$4,188
(+S$330 tax)
New Shan Travel
6D5N Hokkaido Mini Tour
Ongoing
From S$1,688
Address: 6 Eu Tong Sen St, #07-06 SOHO 1, The Central, S(059817)
Tel: +65 6221 9333
E-mail: customerservice@newshan.com
Sino-America Tours
8D7N Best of Hokkaido Tour
1 Jun 2022 to 30 Jan 2023
Check rates here
Address: People's Park Complex, #04-62, 1 Park Rd People's Park Complex, S(059108)
Tel: +65 6535 2611
E-mail: outbound@satours.com.sg
8D7N Ohayo Tohoku Autumn Tour
1 Oct to 30 Nov 2022
Check rates here
8D7N Japan Golden Road Tour
1 Jun 2022 to 30 Mar 2023
Check rates here
8D7N Yokoso Central Japan
1 Jun to 15 Mar 2023
Check rates here
North Japan — Sapporo, Otaru, Furano, Niigata, Hirosaki, Hakodate, Tohoku, Nikko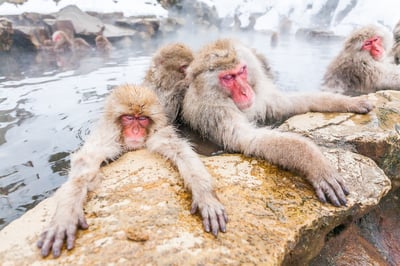 Available tour packages:
Head up to the northern peninsula of Japan and you'll arrive at the Hokkaido prefecture — home to invigorating ski towns, snowcapped viewpoints, and of course, the famous Sapporo and Asahi beers.
No trip to Hokkaido is complete without patronising a hot spring resort in Noboribetsu or better yet, enjoying a geothermal bath with a troop of wild Japanese macaque snow monkeys at the top of Jigokudani.
Immerse yourself in the heart of traditional Japanese culture and performance through a Geisha/Geigi dance at the Niigata Saito Villa before proceeding to a Japanese Sake brewing & tasting lesson at Imayotsukasa Sake Brewery.
Stroll through Hirayama-styled feudal fort castles in the archaic city of Hirosaki before ascending Mount Hakkoda, a relatively hidden and undiscovered snow paradise beloved by many ski enthusiasts. After conquering some heights, head over to the neighbouring Lake Towada to unwind and stretch your tired feet.
If all this sounds a bit too adventurous, Hitsujigaoka Observatory in Sapporo will suffice as a less challenging scale.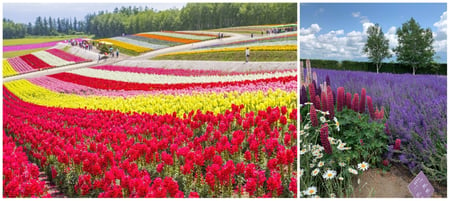 Even though Hokkaido is renowned for its wintry affairs, it's also idyllic and underrated during the warmer months. For instance, visit the premier Farm Tomita or Zeburu "Lavender" Hills between June to August for a resplendent display of flowers.

Come autumn, awe-inspiring landscapes like Kegon Falls and Daisetsuzan Kurodake Cablecar Ropeway come alive, surrounded by dashing shades of red, yellow and auburn.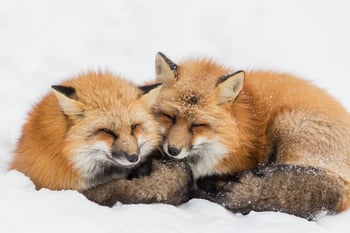 For a truly special experience, the Kita Kitsune Fox Farm and Miyagi Zao Fox Village are wildlife and rehabilitation sanctuaries for these tiny yet feisty animals — a rare opportunity to get up close and personal with such gorgeous creatures.
---
Related to this topic:
5 Beautiful Places in Japan You Didn't Know Existed
Which Credit Card is The Best Companion For VTL Travel?
Best Air MilesCredit Cards Singapore 2022

Central Japan — Tokyo, Kyoto, Osaka, Niigata, Fukushima, Hayama, Kamakura, Kanazawa, Mt. Fuji, Hayama, Kyotango, Noto Island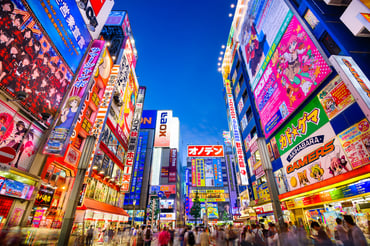 Available tour packages:
Bustling with equal parts metropolitan and nature, explore the wonders of the prefectures surrounding Central Japan including the likes of Tokyo and the regions of Kansai and Chubu.
Sap your wallet dry at famous shopping districts like Shinsaibashi Shopping Street, Gotemba Premium Outlets, and the streets of Shinjuku. Along the way, be sure to snap IG-worthy photos of iconic landmarks such as Osaka Castle, Kiyomizu-dera Temple, Arashiyama Bamboo Forest, Hitachi Seaside Park, Shirakawa-go village huts and so much more.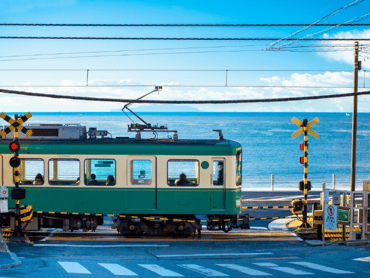 For more rustic and quainter areas, the coastal towns of Hayama and Kamakura are a welcomed respite for weary travellers. Here, you can ground yourself in nature while soaking in the sea breeze — enjoying the slower rhythms and pace of life in these picturesque municipalities.
On the opposite end of the coast, dip your toes in some hot springs right by the Sea of Japan in the humble fishing town of Kyotanga before feasting on a delectable Taiza Crab — a rare winter treat harvested by only five fishing boats.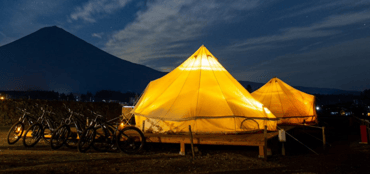 Another must-visit definitely has to be Mount Fuji, where it feels as though you've been transported to another ethereal realm as you glamp under the stars.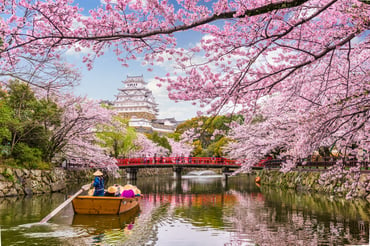 For cherry blossom and canola flower lovers, be sure to visit the Tsuruga Castle, Nicchusen Memorial, Akagi Nanmen Sakura Roads, and Fukushimagata Lagoon during the month of April 2023.
Chan Brothers' Sakura Tour offers Yamagata Sakura Train (20 to 30 April) and Tsuruuda River (Early April) experiences for you to trail along sakura-lined corridors.
Meanwhile, JTB Travel's Blue Festival Tour features a unique 30-minute cherry-picking activity that will be freshly ripened just in time for the summer season.
---
No shop-till-you-drop trip is considered successful unless you score some impressive rebates and savings on your overseas spending. Reel in overseas cashback with these cashback credit cards today.
South Japan — Fukuoka, Nagasaki, Oita, Kyushu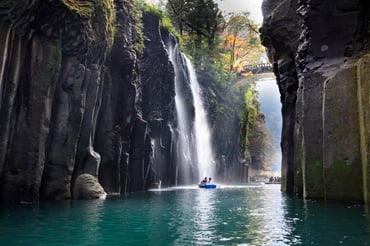 Available tour packages:
Continue your journey down to the tail end of Japan to unassuming towns tucked beneath rolling hills.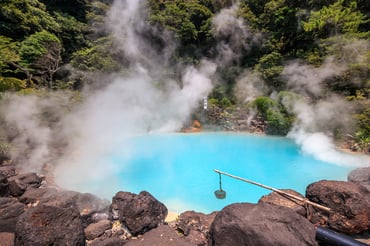 Indulge in foot baths at one of the hottest onsens (on our list), Umi Jigoku, that's aptly earned its nickname of "Sea Hell" given how much mist it emits from its cobalt blue waters. Just when you thought you've seen it all, Yufuin's Floral Village is an unexpected and peculiar little town mockup paying homage to European architecture.
Conversely, the Tosu Premium Outlets in Saga and the dazzling Canal City Hakata and Tenjin Underground Shopping Centre in Fukuoka are mega shopping havens to cram all your shopping duties in the final day.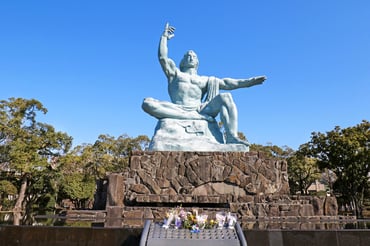 But don't forget to pay your respects at Nagasaki's Peace Park to remember the lives lost to atomic war atrocities.
---
Related to this topic:
Best Travel Insurance in Singapore (2022)
Best Covid-19 Travel Insurance Plans (2022)
Best Travel Insurance Plans and Promotions in Singapore (June 2022)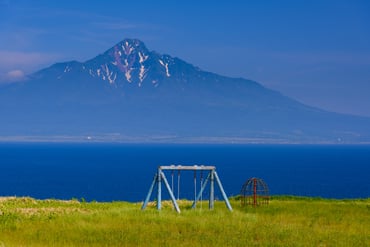 What makes this particular tour stand out from the rest is its focus on Rishiri and Rebun Islands, located offshore from Hokkaido's mainland. They're some of Japan's most underrated hideaways, almost like a well-kept secret.
Nevertheless, its serenity and distance away from civilisation definitely contribute to preserving its spectacular wildlife and nature. Formed off its namesake volcano-turned-snowmelt-mountain, Mount Rishiri, its epic topography comprises a thriving ocean ecosystem and lush, undisturbed fields too.
Similarly, Rebun is distinguished by its diverse species of native alpine flora that can't be found anywhere else in the world.
If you visit between June to August, you might be able to try your hands at ezo-bafun sea urchin and sea cucumber hunting as well as harvesting your own top-grade kombu (seaweed) with the local islanders.
Last but not least, the iconic red Ryujin-no-Iwa (Dragon God's Rock) shrine sitting peacefully atop rocky cliffs and crashing waves forms a charming juxtaposition. It exudes an otherworldly atmosphere that'll draw you in, leaving you feeling like a different person from whence you came.
Don't forget your travel insurance
It's time to heed the alluring call of Nippon by choosing the right tour package today! But before you go, make sure you're similarly protected by the right travel insurance for your trip.
Oftentimes, many people underestimate the importance of travel insurance. From flight delays, and baggage loss to personal accidents, anything could go wrong while overseas. The last thing you'd want is to be stuck in a foreign land with absolutely no travel coverage or protection.