To honour the Merdeka Generation, Singapore government announced an $8 billion package back in National Day Rally 2018 to help Singaporeans reduce medical bills as they age. If you're one and you haven't claimed it yet, here's what you might be missing out on.
For those of you born between 1950 to 1959, congratulations, you are eligible for the Merdeka Generation package. And this is what you need to know about its many advantages and how you can benefit from them.
Here's listing out the 5 top benefits of the Merdeka Generation Package:
1. PAssion Card top-up to spend on transport/healthy lifestyle activities at CC, ActiveSG
Every Merdeka Generation will get a one-off $100 top up into your PAssion Silver Card. This one-off top up is redeemable at selected community centres (CCs), MRT stations and Bus Interchange. The top-up program kicked off on 1st July 2019 and continues to run at selected CCs, MRTs and Bus Interchange. If a parent or a family member is planning to get the top-up, make sure they check the top up location here first.
The Merdeka Generation can use the $100 top-up just like your normal EZlink credit. On top of that, you can also use it at ActiveSG or Active Ageing programmes. With the top-up, you can either:
Use it on public transport like your normal EZlink
Pay for purchases at merchants that accept EZlink payment
Pay for entry to ActiveSG gym or swimming pool
Sign up for active ageing programmes (I Feel Young SG) for group exercise or social activities
2. More subsidies to cover GP, polyclinic visits
Having contributed to Singapore's growth in your prime, the Merdeka Generation deserves to be taken care of during the years of retirement. The government notes that one of the key challenges for the Merdeka Generation is the cost of healthcare. Thus, as part of the package, they will be able to receive outpatient care subsidies.
From November 2019 onwards, every Merdeka Generation member will be able to receive an additional 25% subsidy at polyclinics and Public Specialist Outpatient Clinics (Public SOCs). Besides these subsidies, they are also eligible for enhanced Community Health Assist Scheme (CHAS) subsidies at CHAS clinics. The enhanced CHAS subsidies will be applicable for:
Common illnesses (such as cold)
Chronic conditions (such as high blood pressure)
Dental procedures
Recommended health screening through Screen for Life
3. Earn incentives when you join CareShield Life
CareShield Life is a long-term care insurance that will go live in 2021. It is a national insurance scheme that is targeted at severe disability. CareShield Life will provide life payout for those who are unable to complete their 6 activities of daily living (ADLs). This is meant to help Singaporeans manage the cost of long-term care as we grow older.
The Merdeka Generation is entitled to a $4,000 incentive when you opt to join the CareShield Life scheme. With this, you could offset your CareShield Life premiums for the next couple of years.
4. MediSave top-ups in the next 5 years
As part of the Merdeka Generation package, you will also be entitled to $200 MediSave top-ups in the next 5 years. The top up starts from 2019 to 2023.
While $200 might not seem like a lot, there is a great way to enhance the value by using it to enhance your healthcare coverage. You can get more coverage by using your MediSave to pay for your health insurance premiums.
Here are some health insurance premiums you could consider:
MediShield Life
Integrated Shield Plan (i.e. Private Healthcare Insurance)
CareShield Life/ElderShield
5. Discount from your MediShield Life Premiums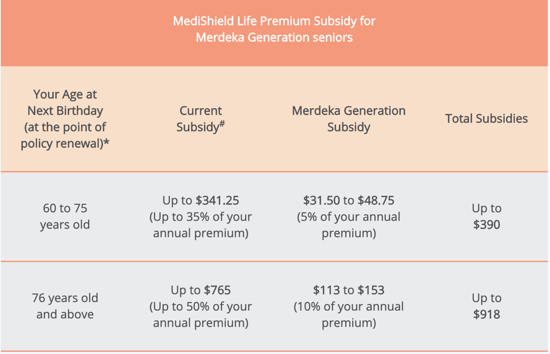 If you are eligible for the Merdeka Generation package, here's one that you should definitely rejoice: additional 5% subsidy on top of your current existing subsidy. What's more, the additional subsidy will increase to 10% after you turn 75.
The discount from MediShield Life premiums help you cope with the rising cost of medical care as you age. It will alleviate a huge part of your worry of not having enough health insurance coverage during your retirement years.
However, it is still important for you to have a comprehensive health insurance coverage to protect yourself against large hospital bills. You might even want to consider enhancing your MediShield Life with private health insurance (Integrated Shield Plan) if you haven't already done so.
Read these next:
Singapore-based Author and Financial Analyst Retired At 33… Here's How He Did It
'Want To Be Financially Free? Start Planning For Retirement As Soon As You Start Work'
Will The New CPF Retirement Sum Scheme Changes Affect You?
Have a More Comfortable Retirement Through Tax Optimisation: SRS