Ever since the Circuit Breaker started on 7 April, Singaporeans have struggled with the loss of things they'd previously taken for granted, like heading to a mall, dining in a restaurant, or hitting the gym.
Thankfully, there's some light at the end of the tunnel. Come 19 June, Phase 2 will begin, which means the loosening of restrictions on economic and social activities. Dining-in will once again be allowed, exercise facilities can reopen, and small-scale gatherings can be held.
For those of us holding credit cards, Phase 2 also means an opportunity to resume using some of their benefits. Whether it's dining or recreation, here are some of the benefits you can use from Phase 2.
American Express: Love Dining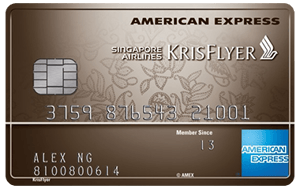 AMEX Platinum Credit Card, Platinum Reserve and Platinum Charge cardholders will be able to make full use of their Love Dining and Chillax benefits again.
This allows them to enjoy up to 50% off when dining at selected restaurants and hotels around Singapore:
American Express Restaurant Dining Promotion
Atrium Restaurant
Burlamacco Ristorante
Element
Escape Restaurant & Lounge
FYR
Harry's
La Nonna
Lawry's
Le Fusion
Mad for Garlic
Masons
Napoleon Food & Wine Bar

Paulaner Brauhaus
Peach Garden (OCBC Centre)
Praelum Wine Bistro
Sen of Japan
Si Chuan Dou Hua Restaurant
Sky 22
Spizza
The Song of India
TWG Tea
Wooloomooloo Steakhouse
Xin Cuisine Chinese Restaurant
American Express Hotel Dining Promotion
Fairmont Singapore
Marriott Singapore Tang Plaza
St Regis Singapore
Swissotel Merchant Court
Swissotel The Stamford
The Capitol Kempinski Hotel
W Singapore
The dining discount follows the following structure:
2 pax: 50% off
3 pax: 35% off
4 pax: 25% off
5-20 pax: 20% off
Dining alone: 15% off
As you can see, the best deal is for couples — a good excuse to reconnect with your significant other that you've not been able to meet for a while.
The Chillax program allows cardholders to enjoy 1-for-1 drinks at selected bars. Although bars are not allowed to open during Phase 2, bars which are part of hotels will be allowed to operate (e.g Anti:dote, Conrad Lobby Lounge).
Chillax Partners
Ah Sam Cold Drink Stall
Anti:Dote
Bar on 5
Chuan @ The Sixtieth
Conrad Lobby Lounge
Gem Bar
Horse's Mouth Bar
Smoke & Mirrors
The Auld Alliance
The Bar at 15 Stamford
The Secret Mermaid
The World is Flat
Wanton Seng's Noodle Bar
HSBC: The Entertainer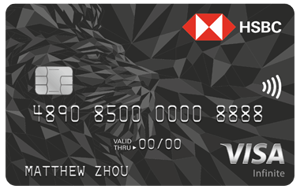 All HSBC credit card holders can look forward to using their complimentary Entertainer benefit once more. This app features more than 1,000 1-for-1 offers, including dining, entertainment, leisure, wellness and travel.
The range of deals you can access depends on the tier of your HSBC card. HSBC Visa Infinite and Premier Mastercard members can access both standard and premium Entertainer offers, while enjoying a wider variety of merchants in Singapore.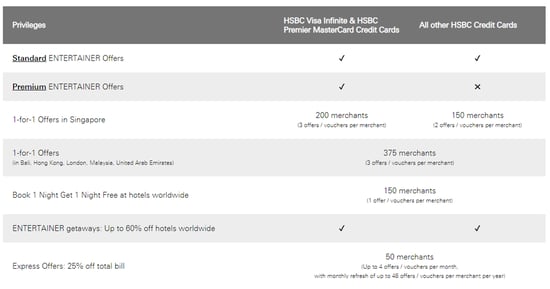 Although all dining offers will certainly be available during Phase 2, there's still a blanket ban on indoor and outdoor attractions. This means you won't be able to use 1-for-1 offers at escape rooms, trampoline parks or arcades. On the bright side, spas are allowed to reopen, allowing you to use the handful of offers available.
Maybank: Golfing privileges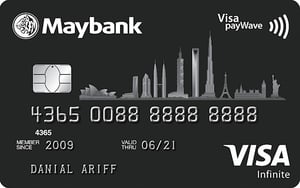 The commencement of Phase 2 means that Maybank Visa Infinite or Maybank World Mastercard cardholders will now be able to take to the golf course once more. Provided they spend at least $1,000 in the previous calendar month, they'll be entitled to complimentary greens fees at the following golf courses in Singapore:
Orchid Country Club
Keppel Club
Sembawang Country Club
Warren Golf & Country Club
What's particularly noteworthy about this benefit is that unlike the other 'complimentary' golf rounds offered by other cards (e.g. AMEX Platinum), it does not require the cardholder to be accompanied by a paying guest.
Should they wish to bring a guest, said guest will enjoy a 10% discount on walk-in rates.
Standard Chartered: 50% off Fullerton dining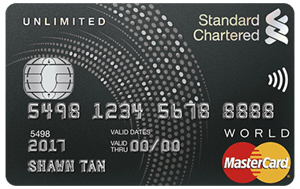 Standard Chartered X Card or Visa Infinite cardholders will be able to enjoy up to 50% off a la carte dining and selected buffets (when they reopen) at The Fullerton Hotel Singapore and The Fullerton Bay Hotel Singapore.
Eligible restaurants include:
The Fullerton Hotel Singapore
The Fullerton Bay Hotel Singapore
Jade
Town Restaurant
The Courtyard
La Brasserie
The Landing Point
Lantern
This dining discount is available for up to four diners:
2 pax: 50% off
3 pax: 33% off
4 pax: 25% off
Unlike American Express Love Dining, there is no discount for groups of 5 and above, or for single diners.
UOB: 50% off Grand Hyatt dining and Gourmet Collection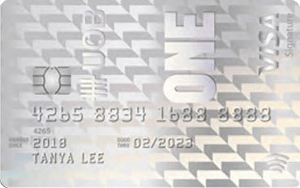 All UOB Visa Infinite cardholders (UOB Reserve, UOB Privilege Banking Card, UOB Visa Infinite, UOB Visa Infinite Metal Card) can enjoy up to 50% off dining at Pete's Place, Oasis and StraitsKitchen at the Grand Hyatt Singapore.
This applies to weekday lunches only, and follows the following tier structure:
2 pax: 50% off
3 pax: 33% off
4 pax: 25% off
5 pax: 20% off
6 pax or more: 15% off
UOB Visa Infinite Metal Card members also enjoy a complimentary Gourmet Collection membership, which gives them a 25% discount on their bill at selected IHG restaurants in Singapore.
Intercontinental Singapore
Crowne Plaza Changi Airport
Hotel Indigo Singapore Katong
Holiday Inn Singapore Orchard City Centre
Holiday Inn Express Clarke Quay
Holiday Inn Express Katong
Holiday Inn Express Orchard Road
This benefit only applies to dining in, but is no longer an issue with the start of Phase 2.
Conclusion
Phase 2 allows cardholders to start enjoying some of their dining and lifestyle benefits once more, a welcome respite from the monastic existence of the past few months.
There are still plenty of travel benefits like airport lounge and limo transfers which cardholders can't use, but this nonetheless represents a big step forward compared to where we were before.
As Phase 2 progresses and infection rates (hopefully) remain low, we should expect to see more banks adding local attraction benefits and promotions.
Read these next:
Credit Cards With The Best Dining Perks
Best Value Meals Under $10 At Fast Food Restaurants In Singapore
Latest Foodpanda Promo Codes in Singapore
Should You Buy Airline Or Hotel Travel Credits Amid COVID-19?
4 Types Of Credit Cards With Lifetime Annual Fee Waivers
---
---