Building your savings can be a chore if you're using the wrong deposit scheme. With POSB SAYE, you can rest easy knowing there's a 'gift' that rewards you for your patience.
Start saving like a pro with the POSB Save As Your Earn (SAYE) account – that is, if you're an existing POSB/DBS member. Account holders can earn an additional interest rate of 2% in 'cash gift interest' when you link your savings account to the SAYE account. There's only one catch: you can't make any withdrawals for the first two years without forfeiting that sweet bonus interest.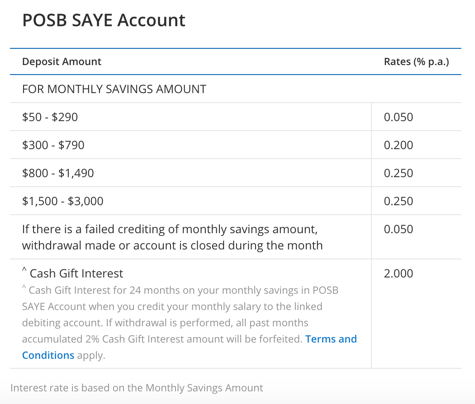 Source: POSB
How POSB SAYE works
You'll be happy to know that this deposit scheme does most of the heavy lifting for you in order to fully enjoy the 2% p.a. interest on your monthly savings in addition to the 0.05% base rate. A fixed amount of money will need to be credited from your salary in your main account to this linked SAYE account at a fixed date every month. This amount ranges anywhere from $50 to $3,000.
| | |
| --- | --- |
| Pros | Cons |
| Grow savings easily | No withdrawals |
| Beginner friendly | Fixed monthly deposits last two years |
| No minimum salary requirement | Must deposit your salary in an DBS/POSB account |
Why should you choose POSB SAYE?
#1: Accumulate savings (with interest) passively
If you have the tendency to drain your salary in order to snag the latest must-have tech gadget, SAYE is the answer to your woes. The repercussions are enough to incentivise you to keep a wide berth between you and your savings. Any withdrawals made within the first two years would result in losing out on an otherwise achievable bonus interest rate. Cultivating healthy saving habits and building a rainy day fund all in one go – what's not to love about that?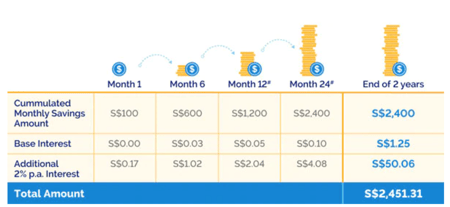 Source: POSB
#2: It's easy to achieve the bonus interest rate
The beauty lies in its simplicity as there's no bells and whistles to this savings plan. All you need to do is credit your salary into a DBS/POSB account, allocate a set amount to add to your savings and come back to it in two years. Even those with the tendency to touch their savings can't deny that this is relatively temptation-proof.
Based on the above illustration, monthly $100 contributions would accumulate to $50.06 in additional 2% p.a. interest after two years (not including base interest). Think of how much more you could collect in bonus interest if you allocate a higher amount per month.
#3: Set yourself up for success
Folks new to saving or are just starting out with their first jobs would appreciate the flexibility SAYE brings to its account holders. You're allowed to decide on your savings contribution every month (from $50 to $3,000) as well as your desired day of the month (from 1st to 25th) when you want this amount to be credited.
Unlike endowment plans, this allows you to easily tailor the plan to align with your financial needs, without having to worry about locking away a sizable chunk of your money that may restrict your everyday spending.
Eligibility criteria
At least 16 years old
Must be an existing POSB/DBS account holder
No minimum salary requirement
How to apply?
You'd need these documents to open an SAYE account:
Singaporeans/Permanent Residents: Front and back of NRIC
Latest copy of bank/credit card statement or utility/telecommunication bill
Read these next:
DBS Multiplier Is The Most Pandemic-proof Savings Account Yet. Here's Why.
How Much Savings Should I Have At 35 In Singapore?
Best Savings Accounts in Singapore to Park Your Money (2020)
Loyal DBS/POSB Customers: Which Credit Card Should You Add To Your Wallet?
POSB Everyday Card Review: Will This Be Your Favourite Card?