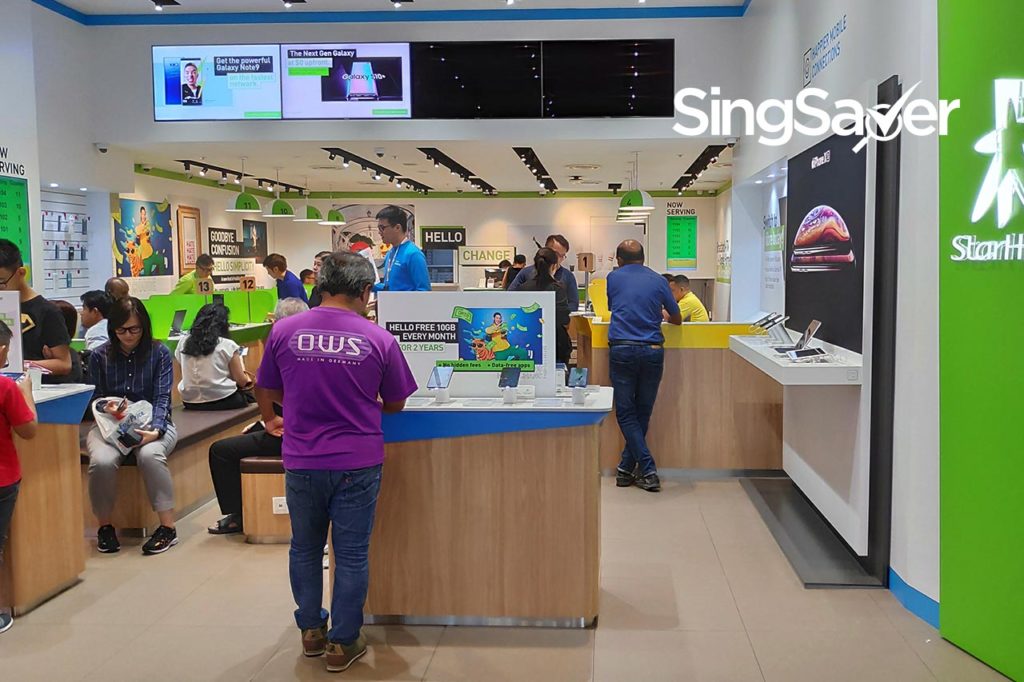 Starhub stopped its cable TV service as of 30 September 2019, marking the end of cable TV in Singapore. You thus have two choices for a fibre TV package plan: Starhub or Singtel.
Existing cable TV customers would have been reminded -- several times over by now -- to switch to StarHub's fibre TV service in order to continue enjoying their favourite TV programmes. The cable TV termination will see StarHub join Singtel as the only two providers of fibre TV services in Singapore.
Why move from cable to fibre? Because fibre networks allow for faster internet surfing speeds as well as higher quality TV services with better interactivity, higher definition and smarter features. Going forward, instead of having one cable point for TV and a separate point for your broadband internet, everything will go through a single fibre network.
Below, we break down the differences between StarHub and Singtel's fibre TV bundles to help you choose the fibre TV package.
What StarHub cable TV subscribers need to know
If you're currently still subscribed to StarHub's cable TV, take note of the following.
When is the StarHub cable TV service ending and what does it mean?
StarHub's cable TV service ended on 30 September 2019, so we're no longer be able to watch TV programmes on StarHub TV, or free-to-air-channels. We also have no more Internet connection (which means no more video streaming, music streaming, or web surfing), and are also not able to make or receive calls.
How do I know if I have to make the switch to fibre?
You will need to make the switch if:
You have a coaxial TV cable connected to your TV set from a wall-mounted box named 'SCV'
You have a cable modem connected to PCs or routers for Internet access
The serial number on the front lower right corner of your set-top box is not GX-SH435EH or GX-SH530IP
You have one of the following broadband cable modems: D-Link: DCM604, DCM712 or DCM3012G, CISCO: DPC3925 or Linksys: WCG200 or SBG1000
How do I make the switch to fibre?
Making the switch is easy enough. Call StarHub at 1800-829-9918 or visit any StarHub shop and request for assistance. They will guide you step-by-step through the process.
How much do I have to pay to make the switch?

On their website, StarHub states it will upgrade your service at no additional cost to your current subscription plan. However, you will require:
Fibre TV set-top box for TV service
Router for Broadband connection and Wi-Fi
Optical Network Terminal (ONT) for Broadband and TV or Voice-enabled Optical Network Terminal (VeONT) for Broadband, TV and Digital Voice.
It is best to speak with a StarHub representative to determine what fees, if any, are payable.
Singtel vs StarHub Fibre TV Plans
Features
Singtel TV
Starhub Entertainment
Monthly subscription
S$16.90 to S$99.90Add-ons from S$5.90
S$19.90 to $49.90S$17.90 for additional Pass*Add-ons from S$1
Total channels
155
186
Languages
English, Chinese, Malay Korean, Tamil, Filippino, Japanese, French
English, Chinese, Korean, Japanese, Malay, Tamil, Fillippino, French, Cantonese, Hindi, Russian
Type of programs
Entertainment, Kids, Lifestyle and Music, Food and Leisure, Crime and History, Movies, World News, World Sports
*Passes: English Entertainment, Asian Entertainment, Movies, Sports, Malay Entertainment, Indian Entertainment, Filippino
Rental set-top box(per month)
First: S$4.90Recording-capable: S$12.90Additional: S$14.90
First: Free
Various charges for additional sets, depending on model
Contract lock-in period
12 months
12 or 24 months
Singtel TV: Suitable for a wide range of budgets

Singtel TV operates like a traditional pay TV model. It offers a range of packages to choose from, with corresponding price points. Almost every permutation is on offer. Generally, the more channels you want, the more you should be prepared to pay.
The different bundles are grouped according to Packs, summarised in the following table:
| | | | |
| --- | --- | --- | --- |
| Name | No. of Packs | Price Range | Choose this for |
| Starter Packs | 14 | S$16.90 to s$64.90 | Selection of popular channels, grouped by family entertainment or language-specific channels. Cricket and Barclays Premier League soccer included in this tier. |
| Trio Packs | 7 | S$52.90 to S$60.90 | Family entertainment bundles combining Hollywood blockbusters with English, Chinese, Malay, Hindi, Filippino and sports. |
| Value Packs | 5 | S$69.90 to S$79.90 | Comprehensive selection of popular channels and blockbusters with soccer. |
| Ultimate Packs | 5 | S$89.90 to S$90.90 | Everything and the kitchen sink. Get this if you have extreme pay TV FOMO. |
| Add-on Packs | 9 | S$0.90 to S$68.90 | Granular bundles used to customise your Starter, Trip or Value packs. |
StarHub Entertainment: Focused bundles with the freedom to switch anytime
In comparison to Singtel's sprawling catalog, StarHub offers a simpler fibre TV plan. Although the total number of channels is on par, consumers need only choose from one of seven categories (aka Entertainment Passes), making choosing a package less confusing.
StarHub caters to even the most fickle-minded TV watchers. Changed your mind? Fret not: simply stop or subscribe to new "Passes" on your TV with a few simple taps on your TV remote control. You don't even need to call the StarHub hotline, and the new channels start showing almost immediately.
The pricing plan is equally simple, with a fixed monthly (12 or 24 months) or no contract price for each of the Entertainment Passes you choose. The Variety Pass is for an even lower price, making it a great option for those who don't want to spend too much just to have something to watch on TV.
Here's a closer look at StarHub's fibre TV plan.
| | |
| --- | --- |
| Starhub Entertainment Pass | Monthly Price |
| English Entertainment | S$49.90 (no contract)/S$39.90 (12 months)/S$29.90 (24 months) |
| Asian Entertainment | |
| Movies | |
| Sports | |
| Malay Entertainment | |
| Indian Entertainment | |
| Filipino Entertainment | |
| Variety | S$19.90 |
| Additional Pass | S$17.90 |
| Add-on Channels | From S$1 |
Which Pay TV package should you choose?
Ultimately, the choice to go with either Singtel or StarHub boils down to your personal TV viewing habits, and how much you are willing to pay.
If you're a TV addict, Singtel's meaty menu is probably more to your taste. However, know that there's a good chance you'll be paying more, especially if you end up subscribing to too many channels.
On the other hand, if you don't have time to watch much TV, StarHub's cleanly designed catalogue of popular plans will be enough to satisfy and, for a lower monthly bill too.
Bundling fibre TV and broadband together
As mentioned earlier, another major benefit of having everything go through a single fibre network is that both Singtel and StarHub offer fibre TV and broadband bundles, consolidated in a single bill. This makes tracking your household expenses easier.
If you're interested in getting a bundle Pay TV and Internet bundle, but not sure whether to go with Singtel or StarHub, use the following comparison table to help you choose.
Comparison of fibre broadband + Pay TV bundles
Features
Singtel
StarHub
Contract duration
24 months
24 months
Fibre broadband speed
1 Gbps
1 Gbps
Pay TV
Choose 1 Pack
Choose 1 TV+ Pass
Monthly charges
Price of Pack + Price of Broadband plan
(S$21.90 to S$99.90) + S$49.90
Starting from S$64.90/month
Current promotion
Free 3 months' 1 Gbps fibre broadband plan
Free 3 months' Starter or Trio Pack
Free 6 months' HD DVR Set-top Box
Free 6 months Singtel TV GO
Waiver of activation, installation and registration fees
2 free units of StarHub Smart WiFi (worth S$398) for new sign-ups
Add on a 2nd TV+ Pass to enjoy Disney+ for free until 22 Feb 2023Free 3 months' Amazon Prime membership
Waiver of service activation and installation fees
StarHub offers the cheapest fibre TV + broadband bundle
If you're primarily concerned with getting a TV and Internet home bundle and are not too picky about the actual channels you receive, then StarHub would be the best choice for you.
With StarHub's HomeHub Plus at $64.90/month, you can get a 1 Gbps fibre connection, along with the TV+ Pass of your choice. In addition, when you sign up for a StarHub Entertainment Pass or HomeHub Plus plans, you also receive free StarHub TV Go which enables you to watch your subscribed channels on the move (StarHub mobile postpaid customers can stream content at no data charge).
If, however, you prefer Singtel's menu of content, do note that under the bundle, you are only allowed to pick from 20 packs (5 each from the Starter, Trio, Value and Ultimate groupings). The whole catalogue of 44 Packs is only available when you choose to sign up a standalone Pay TV package.
Read these next:
Is Charging Your Omnidesks & Secretlab Chairs To Your Singtel Bill A Good Idea?
Best SIM-Only Mobile Plans For Light, Moderate, And Heavy Data Users
5 Best Home Fibre Broadband Plan In Singapore
How To Design A Smart Home For Less Than $1,000
Best Video Streaming Services in 2021: Netflix, Amazon, HBO, Disney+ and Viu