Discover the possibilities behind the Standard Chartered Journey Credit Card, the ultimate
passport to your next free flight out of here!
Recently rebranded from the Standard Chartered Visa Infinite X Card, the SC Journey Credit Card is perfect for those who love exploring the world. Earning you up to 3 miles per dollar for your spend and letting you accumulate rewards points that do not expire so that you can redeem credit card miles for your dream travel vacation.
Besides a new look, the Journey Credit Card boasts an impressive range of benefits that can take you on your next journey. Get ready to learn how to utilise this card to save for your next trip!


Table of contents
---
Benefits of the Standard Chartered Journey Credit Card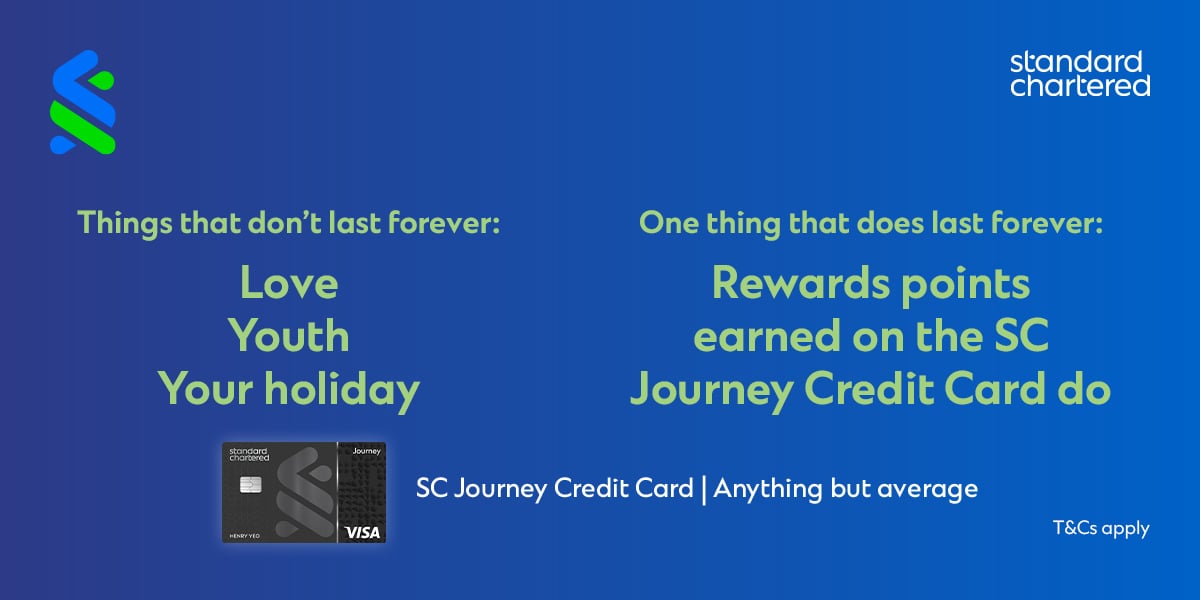 Bonus miles*: Earn 3 miles per S$1 (3 mpd) spent online on rides, food deliveries and groceries (capped at S$1,000 per statement month)
Foreign spend: Earn 2 miles per S$1 spend (2 mpd)
Local spend: Earn 1.2 miles per S$1 spend (1.2 mpd)
Annual income requirement: S$30,000 (Singaporeans/PRs), S$60,000 (Foreigners)
Annual fee: S$194.40 (First year waived)
*Bonus miles can only be earned on online transactions, namely, transportation, grocery, and food delivery merchants. Be sure to check for the specific MCC here.

With a 1.2mpd and 2mpd earn rate for local and foreign spend, the SC Journey Credit Card is comparable to other miles cards in the market. However, what sets the Standard Chartered Journey Credit Card apart from the rest is the bonus earn rate which allows you to unlock a higher earn rate of 3mpd on everyday spending categories that makes it easier for you to earn miles.

Your rewards points do not expire either! This makes SC Journey Credit Card the perfect card to accumulate rewards points toward your next getaway!

Besides air miles, you can also convert your Reward Points to points with hotel partners under the Standard Chartered 360° Rewards Programme. A transfer fee of S$27 (including GST) is applicable.
---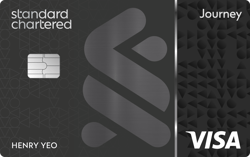 ---
Why Standard Chartered Journey Credit Card?
Now that you understand the basic mechanics of the Journey Credit Card, here's why the card truly stands out. Remember, these rewards are accurate at the time of writing, so if you are looking for a sign to get the SC Journey Credit Card, here it is!


45,000 miles welcome gift
Standard Chartered is offering a welcome gift of up to 45,000 miles for new SC Journey Credit Card customers to sweeten the deal.
Do note that the 45,000 miles are split as follows:
35,000 miles: With minimum spend of S$3,000 within 2 months of card approval date
10,000 miles: Pay the annual fee of S$194.40 (Option to pay the annual fee when applying for the card or to choose the annual fee waiver)
No foreign transaction fee
Whether you are indulging in some shopping while on holiday or spending online in a foreign currency, the SC Journey Credit Card offers a 3.5% cashback on all foreign currency transactions for November and December – which will effortlessly cover any foreign exchange fees that might have come your way during your shopping spree.

Given that the zero foreign transaction fee kicks in only for November and December, be sure to hold back on your overseas purchases until November rolls around. The SC Journey Credit Card will truly be your best friend in foreign spending, perfect for holiday shopping.
Bonus miles on daily spends
The SC Journey Credit Card lets you earn miles faster on three everyday categories – rides, food delivery, and groceries – allowing you to satisfy your wanderlust more quickly.

Every time you order groceries online, hail a ride or order supper from food delivery apps, you'll easily hit the 3mpd bonus earn rate with the Journey Credit Card. Remember, there is a spending cap of S$1,000 per month, so if your monthly bill in these categories exceeds the cap, you'll earn the basic 1.2mpd.

Wide selection of traveller's benefits
Much to the traveller's delight, the SC Journey Credit Card unlocks several perks geared towards jet-setters. From discounted Grab rides to discounts on hotel stays, here's what the card can offer you:

S$10 off Grab ride to-or-fro Changi Airport

45% off all single-trip plans with MSIG TravelEasy insurance

18% off Agoda accommodation from 1 Jul to 31 August 2023

20% off Expedia accommodation from 1 Jul to 31 August 2023

20% off Scoot flights from 7 to 12 August 2023
That's not all! With the SC Journey Credit Card, you will also receive two complimentary visits to Priority Pass lounges each year. That's over 1,000 airport lounges worldwide! Talk about travelling in style!

You can also travel with peace of mind with the SC Journey Credit Card, as it offers up to S$500,000 complimentary travel insurance coverage when your travel tickets are charged to the card. Insured by Allianz Travel, cardholders can expect the following coverage benefits:

Up to S$500,000 for death and/or permanent total disability

Up to S$50,000 for medical expenses and S$500 for emergency dental treatment


Up to S$100,000 for emergency medical assistance, evacuation, and repatriation

Up to S$1,000 for baggage delay (S$200 per 6 consecutive hours)

Up to S$5,000 for baggage loss (S$1,000 per article)

---
How can the Standard Chartered Journey Card be used for a free flight to Korea?
I'll admit, playing the miles game is certainly not easy and a fair amount of strategising is required to maximise your miles rewards card. Thankfully, here's what you can do to get that free flight to Korea.


Simply sign up!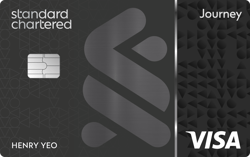 With up to 45,000 miles welcome gift, it has one of the highest offerings in the market right now. It is a no-brainer way to earn miles quickly.

To earn 10,000 miles, you must pay the card's annual, which means the first-year annual fee waiver will not apply to you. That also means that at the point of application, you must pick the option 'annual fee applies' to earn 10,000 miles. The welcome gift will be credited within 60 days of card activation.

To earn 35,000 miles, charge a minimum of S$3,000 to your card within 2 months of your card approval date.

You can earn a whopping 45,000 miles by fulfilling the welcome gift criteria. That in itself is your ticket out of here.


Use this card for all your daily expenses
Using the SC Journey Credit Card on your daily expenses is an excellent way to accumulate miles quickly.
Suppose you spend S$400 monthly on the bonus categories (3 mpd) and another S$400 on local spend (1.2mpd). That's equivalent to 1,680 miles monthly or 20,160 miles yearly! Considering our reliance on ride-hailing and food-delivery services, achieving this shouldn't be too difficult.
So if you had kept your initial welcome gift of 45,000 miles, that, coupled with what you've earned over the year, would put you at 65,160 miles – enough for a single-round trip on Economy Class to Seoul, Korea!
Of course, this is a perfect scenario, but it doesn't hurt to be rewarded each time you use your card.


BONUS: Standard Chartered x NATAS Travel Fair Promotion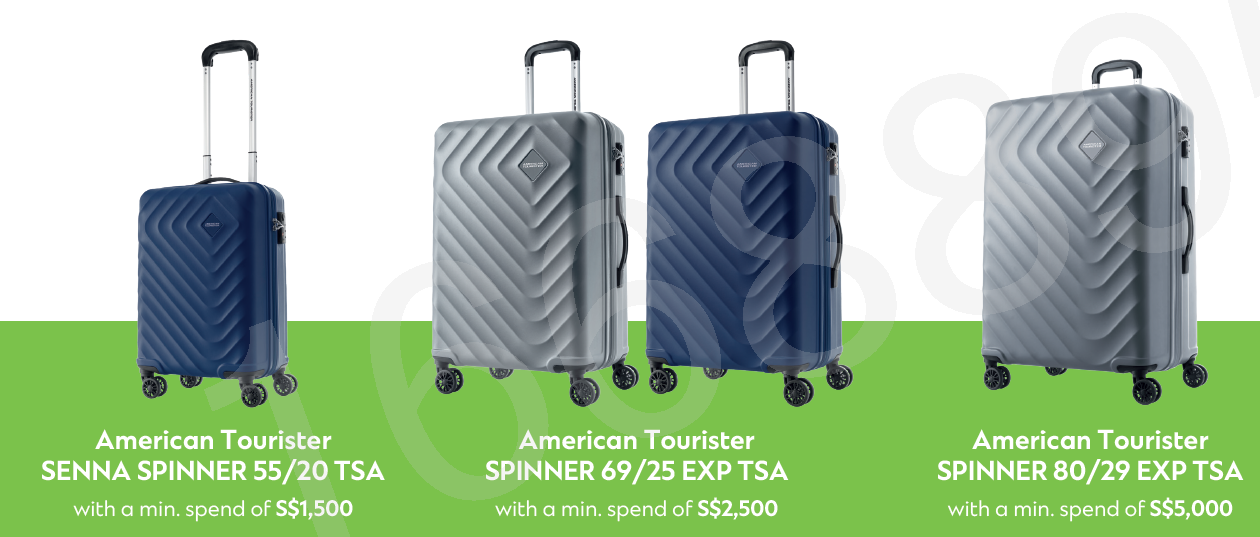 Travel fairs are the perfect opportunity for you to not only snag the best price for your trip but also to earn miles quickly!

Check out the exclusive Standard Chartered promotion at the upcoming NATAS Travel Fair 2023, held at the Singapore EXPO from 11 to 13 August 2023.
With your new SC Journey Credit Card, you can walk away with a complimentary American Tourister Luggage. All you have to do is charge S$1,500 to your SC Journey Credit Card or any Standard Chartered Credit Card, and you will receive your brand-new luggage! T&Cs apply.


---
Spend your way to your next getaway
Remember, while you will be rewarded for spending on your SC Journey Credit Card, you should always spend within your means. Don't get caught up in the miles game that you lose track of your financial standing!

Read these next:
Standard Chartered Journey Credit Card Review
Best Standard Chartered Credit Cards in Singapore
Standard Chartered Credit Card Deals in Singapore