Other than being the club sponsor of defending champs Liverpool F.C., Standard Chartered is also known for its can't-miss credit card benefits.
Standard Chartered credit cards are jam-packed with benefits and have featured prominently in many a wallet. In spite of their somewhat niche positioning, Standard Chartered bank possesses very attractive credit cards that appeal to the general consumer.
Here is a summary of the best Standard Chartered credit cards in Singapore.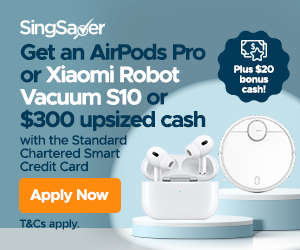 SingSaver Exclusive Offer: Get a pair of Apple AirPods Pro Gen 2 (worth S$362.35) or a Xiaomi Robot Vacuum S10 (worth S$379) or S$300 upsized cash via PayNow when you activate and make a min. spend of S$500 within 30 days of card approval. Valid till 11 June 2023. T&Cs apply.

Plus, get additional $20 Bonus Cash when you put your card-on-file and spend at least $20 on select merchants within 30 days of Card approval.
---
Best Standard Chartered Credit Cards in Singapore
Best for
Credit card
Key benefits

Cashback

Standard Chartered Unlimited Cashback

Unlimited 1.5% cashback with no min spend

Dining and travel

Standard Chartered Rewards+

S$1 = 1.45 miles (local)/2.9 miles (overseas)

High income earners

Standard Chartered Visa Infinite

6X airport lounge pass a year




1-for-1 Dining privileges

Everyday Spend

Standard Chartered Journey

S$1 = 1.2 miles (local)/2 miles (overseas)/ 3 miles (local online transactions)
---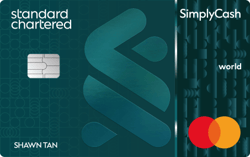 SingSaver Exclusive Offer: Receive S$50 via PayNow upon card approval for new cardholders only. Valid till 4 June 2023. T&Cs apply.
If you like the idea of unlimited cashback with no minimum spend, the Standard Chartered Simply Cash Card is for you.
The card offers a 1.5% cashback on all spends, leaving you with the convenience of not having to track spending categories. Together with the no minimum spend feature, you won't have to contend with cashback caps too.
Having no conditions attached might sound like a dream come true, and it might just be; the Standard Chartered Simply Cash is perfect for timing big-ticket purchases. Let's say you're racking up about $15,000 in home furnishings and appliances for a new home, you could be looking at $225 in cashback.
Under Standard Chartered's signature The Good Life® program, you'll get access to 1-for-1 dining privileges at top dining destinations (promos on online food deliveries included too!), as well as exclusive deals across other categories such as online shopping and wellness.
If you apply for the card online using MyInfo, you'll get an instant digital credit card that you could start using immediately. Other fringe benefits include the SC EasyBill (earn cashback, reward points or bonus interest on selected bill payments), 0% fund transfers and 0% instalment plans.
While the Standard Chartered Simply Cash is a star for its everyday usability, this is probably not the best option for low budget spenders or those who spend selectively in a certain category.
---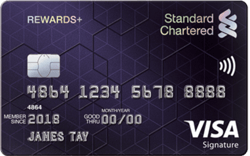 If you are looking to start saving up to prepare for the opening up of leisure travel in 2021, the Standard Chartered Rewards+ Card may be for you.
With no minimum spend required, enjoy 5X rewards points (1.45 miles per dollar) on dining. Similarly, you have a whole host of dining deals to redeem at popular restaurants, under The Good Life® program. That includes cashback on orders made via online delivery platforms.
While you are travelling, you can earn 10X rewards points (2.9 miles per dollar) for foreign currency spends on retail, dining and travel. Other key benefits include 1-for-1 Platinum Movie Suites Tickets at Cathay Cineplexes' and up to 50% off à-la-carte dining at The Fullerton Hotel and The Fullerton Bay Hotel Singapore.
While it's a great rewards card with few restrictions, there are more suitable credit cards out there if you're spending a lot of time (and money) on online shopping or everyday necessities like groceries and transport. If you're not the kind to drop good money on foodie finds or travel, this card might not be that much of a plus for you.
---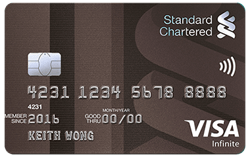 If your lifestyle involves rolling into a new city every month (whether for work or play), and earn more than $150,000 a year, consider the Standard Chartered Visa Infinite Card.
You'll start your Visa Infinite journey with a bang; receive 35,000 bonus welcome miles or cash in on the option to redeem an Economy Saver Return Ticket to Bali, Hong Kong or Taiwan. Escape crowded airport terminals with six complimentary passes to airport lounges yearly and be able to travel with peace of mind, thanks to complimentary travel insurance coverage of up to $1,000,000.
The miles per dollar earn rates are also not too shabby: 1.4 miles per dollar on local spends, and 3 miles per dollar on overseas spends. 1-for-1 dining privileges at selected restaurants with The Good Life® also apply.
If this sounds like a party to you, wait till you hear about the round-the-clock Visa Infinite concierge service. It promises to fulfill any lifestyle needs you might have — just make a call and they'll make it happen. Be prepared to fork out an annual fee of $588.50 to enjoy the full benefits of the card.
---
Best for everyday spend: Standard Chartered Journey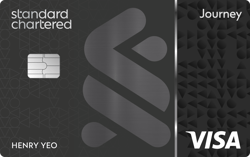 Standard Chartered Journey Card Welcome Gift: Receive up to 45,000 miles when you apply and meet the minimum spend criteria on your card. Valid till 30 June 2023. T&Cs apply.
If your idea of a great time is hopping on planes, then the Standard Chartered Journey Card is the card for you. Formerly known as the Standard Chartered X Card, it has been rebranded as the Standard Chartered Journey Card and accompanied by some awesome new perks.
Similar to the X Card, the Journey Card will continue to earn an unlimited 1.2 miles per dollar for local spending and 2 miles per dollar for overseas spending. Plus, you will still receive two Priority Pass lounge visits per year. As part of the rebranding, the Journey Card now rewards you with bonus miles of 3 miles per dollar spent on selected online transactions, including transportation, grocery, and food delivery merchants.
In case you need more convincing, they are handing out up to 45,000 miles as a welcome gift. So if you have been looking for a sign to book that flight – here it is. There's nothing quite like using your spending power to pave the way for your next vacation!
---
Read these next:
Standard Chartered Unlimited Card Review: Fuss-Free Cashback Card
Best Online Shopping Credit Cards in Singapore
Best Credit Cards for Paying Utility Bills in Singapore
Cashback vs Miles vs Rewards: Which Is The Best Type Of Credit Card For You?
Credit Card Welcome Offer: A Comparison of The Best Gifts