Standard Chartered Bank launches its new Visa Infinite credit card, the "X Card". We break down its pros and cons.
<UPDATE 1 Aug> The 100,000 bonus sign-up miles promotion initially being offered for Standard Chartered Bank's new Visa Infinite X Card has now been lowered to 60,000 miles.
The application deadline for the original offer of 100,000 miles was 31 August. That was cut short to 31 July, within just 5 days of the big launch. Starting 1 August, successful applicants will only receive up to 60,000 air miles as a bonus sign-up offer.
SCB's X Card application page has been updated with the following: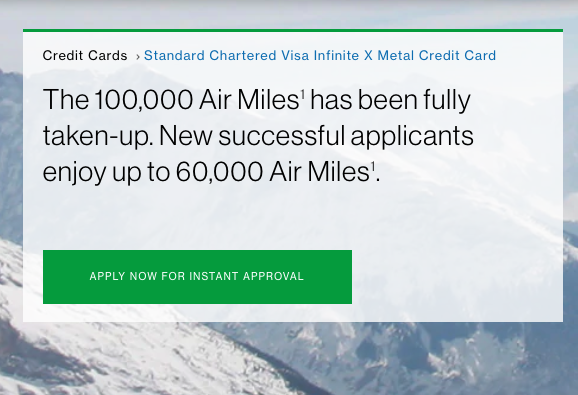 Targeted at "affluent millennials who love to travel", it now SCB has cut the original bonus sign-up miles by 40% (from 100,000 miles to 60,000 miles), which makes it a much less attractive offer. An analysis by SingSaver contributor, The MileLion, positions the application rollout -- and now revised offer -- of the X Card could have been much better managed.
That aside, let's break down the pros and cons of the X Card.
PROS
100,000 60,000 bonus sign-up miles: This is still by far its biggest perk. The new Visa Infinite X Card comes with an annual fee of $695.50, but cardholders who pay the annual fee will instantly receive 30,000 miles.
The new cardholder can further receive another 70,000 30,000 miles with a minimum spend of $6,000 within the first 60 days (no later than 31 October 2019).
Low annual income requirement for premium segment: The SCB X Card, which is made of metal, is targeted at "affluent millennials" with an S$80,000 annual income requirement for Singapore citizens and PRs. This is a previously underserved segment because entry-level credit cards start with a $30,000 annual income criteria. The next category of premium air miles cards then generally starts at the $120,000 annual income benchmark.
Points never expire: Points earned through the card's 360° Rewards Points program do not expire, so it only makes sense to convert them to miles when you are planning for an upcoming trip. You can convert your points to miles in a minimum block of 2,500 points (1,000 miles). Each points-to-miles conversion costs S$26.75.
Cashback flexibility: For those not into the miles game, the SCB X Card allows you to earn the equivalent of 1.2% cashback on local spend or 2% cashback on foreign spend. Cardholders can also redeem points earned under its 360° Rewards Points program for Travel Credits to be redeemed under its travel rewards catalogue. More here.
Additional 100,000 bonus miles for Priority Banking top-up: If you happen to have a spare $300,000 lying around, cardholders stand to receive another 100,000 bonus miles if they park that as fresh funds under SCB's Priority Banking. More here.
CONS
Annual fee of $695.50: At this level, the SCB X Card is going to be benchmarked with other premium cards with similar annual fees like the HSBC Visa Infinite and Citi Prestige. It would have to offer huge value beyond the initial 100,000 miles sign-up bonus for cardholders to hold on to this card for the second year.
Low miles per dollar earn rate: The card comes with a 1.2 miles per dollar earn rate for local spend and 2 miles per dollar for overseas spend (through its 360° Rewards Points program). As a comparison, even a general spending card like Bank of China's Elite World Mastercard (1.5 miles per dollar local spend, 3 mpd for foreign spend) and UOB PRVI Miles (1.4 mpd local spend, 2.4 mpd foreign spend) easily tops this rate.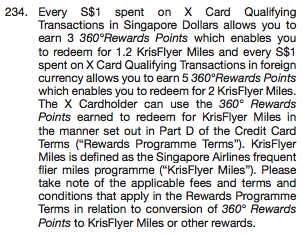 Pair of complimentary Priority Pass lounges: The new Visa Infinite X card comes with two complimentary Priority Pass lounge passes. For a card with an annual fee of $695.50, there's much left to be desired. As a comparison, the HSBC Visa Infinite as well as Citi Prestige -- targeted at the S$120,000 annual income segment -- both come with unlimited Priority Pass lounge access, and both come with lower annual fees as well.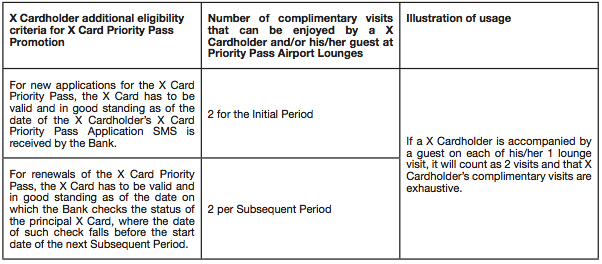 Conclusion
It's hard to see beyond the immediate 100,000 bonus sign-up miles as the primary (and only?) incentive for applying for this card. With an annual fee of $695.50, cardholders may baulk at holding this card for a second year.
Related articles:
'I Have 19 Credit Cards But There's Just Three I Would Recommend'
The New KrisFlyer UOB Credit Card: The Good, The Bad and the Ugly
OCBC FRANK Credit Card: The Perfect Card for Millennials?
Why Citi PremierMiles Visa May Be the Most Useful Miles Card in Singapore
Standard Chartered Unlimited Card Review: Fuss-free Cash Back Card
5 Things To Love About the New OCBC 365 Credit Card