Standard Chartered Bank rebrands its Visa Infinite X Card, giving it a fresh coat of paint along with a whole load of new perks and features to look forward to.
Previously rewarding cardholders with up to 1.2 miles per S$1 on local spend and 2 miles per S$1 on foreign spend, the Standard Chartered Visa Infinite X Metal Card was launched under the premise of all the luxury and class of an "X factor" card. However, with its hefty annual fee, basic airport lounge access, and minimal card benefits, it quickly disappeared into the shadows of the credit card graveyard.
Not much was heard of it until now: the Standard Chartered Visa Infinite X Card has newly rebranded into the Standard Chartered Journey Card. The card has gotten rid of its (kind of iconic) "X" design in favour of a more classic Standard Chartered card face design and silhouette.
But of course, its appearance isn't all that changed. It's been upgraded with a whole slew of new card perks and features, along with sign-up miles bonuses. But are these swanky new changes enough to revive it into the spotlight? Let's take a look.


Table of contents

---
Overview: What the Standard Chartered Journey Credit Card can do for you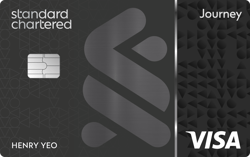 Standard Chartered Journey Card product summary:
Local spend: Earn 3X Rewards Points / 1.2 miles per S$1 spend (1.2 mpd)
Foreign spend: Earn 5X Rewards Points / 2 miles per S$1 spend (2 mpd)
Bonus miles*: Earn 7.5X Rewards Points / 3 miles per S$1 spend (3 mpd) on online transactions in transportation, grocery, and food delivery merchants (capped at S$1,000 per statement month)
Income requirement: S$30,000 (Singaporeans/PRs), S$60,000 (Foreigners)
Annual fee: S$194.40 (1st year waived)
Along with its refreshed look, the SCB Journey Card marks the transition away from its predecessor's Visa Infinite programme to join the Visa Signature programme.
That aside, let's break down its pros and cons.
Pros ✅
Cons ❌

First-year annual fee waived

Bonus Rewards Points/miles are capped at S$1,000 spend per statement month (or 4,500 Rewards Points)

Good for both overseas and local everyday spend

No bonus miles earned on partner travel site bookings (e.g. Kaligo, Expedia, Agoda)

Up to 45,000 bonus welcome miles upon sign-up

Bonus 45,000 welcome miles are earned conditionally:

10,000 miles: Pay annual fee of S$194.40
25,000 miles: Extra 5 mpd, capped at S$5,000 spend
10,000 miles: Min. S$5,000 spend in foreign currency


Up to S$500,000 travel insurance coverage

2 complimentary Priority Pass airport lounge access per year

No foreign transaction fee for transactions posted in Jun – Jul and Nov – Dec 2023

S$10 off Grab ride for Changi Airport transfers (capped at first 2,000 redemptions)

360º Rewards Points never expire

18% off Agoda accommodations, 20% off Expedia accommodations till 31 August

20% off Scoot flights from 7 to 12 August
*Eligible merchant categories (MCCs) include MCC 4111, 4121, 4411, 4789, 5411, 5462, 5499, 5921, 5811, 5812, and 5814.
---
Why should you choose the Standard Chartered Journey Credit Card?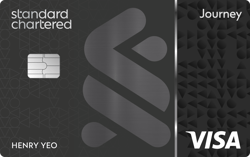 Pros ✅
#1: Up to 45,000 bonus welcome miles for new sign-ups
Targeted at young working Z-llennials with a strong wanderlust, the SCB Journey Card rewards new-to-SCB cardholders with up to 45,000 miles welcome bonus.
Comparatively, this is one of the better bonus miles sign-up offers when compared to its mile card peers like DBS Altitude and HSBC TravelOne. The DBS Altitude Card only rewards up to 37,000 bonus miles while the HSBC TravelOne Card only rewards up to 20,000 bonus miles.
💡Pro-tip: 45,000 miles is enough to redeem an Economy Saver Award Ticket for a return trip from Singapore to Perth via Singapore Airlines. You're welcome. 😉
---
#2: Great for both overseas and local everyday spend
But when you're not out venturing foreign lands, this card rewards well for local spend back here on home ground too.
Its 1.2 mpd rate for local spend and 2 mpd for foreign spend are pretty standard as far as it goes – with DBS Altitude (again) and Citi PremierMiles offering the same miles earn rates.
In our opinion, what really makes the SCB Journey Card stand out is its accelerated 3 mpd earn rate on local online transactions in everyday spend categories. These categories include eligible merchants under transportation, food delivery, groceries, and food stores.
Examples of such merchants are:
Bonus miles categories

Merchant examples

(MCC 4111, 4121, 4411, 4789)

Gojek, Cabcharge Asia, Tada, Ryde Technologies, Royal Caribbean Cruises, Easybook.com, etc.

Foodpanda, Deliveroo, McDonald's, KFC, Pizza Hut, Dominos Pizza, Chilli Api Catering, Qi Ji Catering, etc.

Groceries and food stores

(MCC 5411, 5462, 5499, 5921)

NTUC FairPrice Online, NTUC FairPrice app, Nespresso Singapore, etc.
This 3 mpd rate can be broken down into:
3 (Base) Rewards Points + 4.5 (Bonus) Rewards Points = 7.5 Rewards Points
This places SCB Journey almost on par with other rewards credit cards like HSBC Revolution, Citi Rewards, UOB Lady's series, DBS Woman's series, and UOB Preferred Platinum Visa – generally earning 4 mpd on similar everyday categories but differing in payment methods via online, mobile contactless, or physical card spend.
⚠️ Do note that the "Transportation" category does NOT include public transport via SimplyGo because only online transactions are permitted to earn bonus miles. Tapping onto buses and MRTs is only done by mobile contactless spend, so there's a difference.
Read more:
Best Online Shopping Credit Cards in Singapore (2023)
Best Credit Cards For Online Groceries (2023)
Best Credit Cards For Mobile Wallet Payments (2023)
Cashback vs Miles vs Rewards: Which is the Best Credit Card to Use?


---
#3: No foreign transaction fees (for a limited period)
Perhaps one of the most annoying aspects of travelling with a credit card is dealing with pesky foreign transaction (FCY) fees.
But to celebrate SCB Journey's rebranding, Standard Chartered will be withholding all FCY fees on overseas spend transacted and posted from June to July and November to December 2023.
This means that you can spend to your heart's content while on holiday without racking your brain over FCY fee calculations.
In general, FCY fees range between 2.95% to 3.5% – and this is notwithstanding the implicit 1% exchange rate charge from card issuers Mastercard, Visa, and AMEX yet. So any free pass on foreign transaction fees given by banks is a blessing much appreciated.
Read more:
Multi-Currency Card vs Credit Card vs Cash For Travelling Overseas
Should You Pay in SGD With Your Credit Card Abroad?


---
#4: Up to S$500,000 travel insurance coverage (+ discounts)
Miles credit cards offering complimentary travel insurance coverage are pretty standard nowadays, and the SCB Journey Card is no different.
Travel with peace of mind with up to S$500,000 complimentary travel insurance coverage when you charge your travel tickets to the card. Insured by Allianz Travel, cardholders can expect the following coverage benefits:
Up to S$1 million for death and/or permanent total disability
Up to S$50,000 for medical expenses and S$500 for emergency dental treatment
Up to S$100,000 for emergency medical assistance, evacuation, and repatriation
Up to S$1,000 for baggage delay (S$200 per 6 consecutive hours)
Up to S$5,000 for baggage loss (S$1,000 per article)
For more coverage details, please refer to their policy document here.
But besides the complimentary coverage, SCB Journey cardholders will also be entitled to 45% off single-trip plans with MSIG TravelEasy insurance. Applications are to be done through the SCBSL website. This promotion is only valid from 19 May 2023 to 30 June 2024. T&Cs apply.
Premiums start from S$34.10 for a 1-week journey in an ASEAN country.


---
Otherwise, you may also consider applying through our current SingSaver promotion for this travel insurance plan.
See also: Best Travel Insurance Plans and Promotions in Singapore
---
#5: Other airport perks
When travelling with a miles credit card, taking advantage of its airport perks is one of the best parts of the holiday experience.
When you are an SCB Journey cardholder, you'll be entitled to up to two complimentary Priority Pass lounge visits per year and S$10 off airport transfers from Changi Airport when you take a Grab (limited to first 2,000 redemptions only).
Access to Priority Pass lounges is usually a benefit reserved for higher tier credit cards like HSBC Visa Infinite and Citi Prestige; so getting this exclusive access for only S$30,000 minimum annual income isn't half-bad.
Although these aren't travel essentials, they definitely add privileged comfort that other regular airport-goers won't have access to, so that's always nice.


---
#6: 360° Rewards Points never expire
Points earned through the card's 360° Rewards Points program do not expire, so it only makes sense to convert them to miles when you are planning for an upcoming trip. You can convert your points to miles in a minimum block of 2,500 points (1,000 miles). Each points-to-miles conversion costs S$27.


---
Cons ❌
#1: No exclusive bonus miles on travel booking sites
These days, many miles credit cards reward extra miles for booking your flights and accommodation on various partnered travel sites like Agoda, Expedia, and Kaligo to name a few.
For instance, the Citi PremierMiles gives up to 10 mpd for Kaligo bookings and up to 7 mpd for Agoda bookings while DBS Altitude gives up to 10 mpd for Kaligo bookings and up to 8 mpd for Expedia bookings.
As you can see, these rates are highly enticing and it'd be remiss not to take advantage of such easily-earned bonus miles. Unfortunately, SCB Journey doesn't offer such a card perk.


---
#2: Need to meet conditions to earn bonus welcome miles
Although SCB Journey has been a solid entrant so far, another downside is the multiple conditions needed to earn its bonus 45,000 welcome miles.
As a new-to-SCB cardmember, you can choose to either pay or waive the annual fee. To earn the first 10,000 miles, you'll need to pay the S$194.40 annual fee. This is equivalent to 25,000 Rewards Points. You won't get this first set of welcome miles if you waive the first year's annual fee.
The next 25,000 miles are earned by spending on eligible transactions within 30 days of card approval. Your spend will earn you 12.5 Rewards Points per S$1 spend or in other words, 5 mpd. This boosted rate is capped at S$5,000 spend within this period.
Your 25,000 miles will be credited in the following manner:
| | |
| --- | --- |
| Journey Card approved in the month of: | Rewards Points credited by: |
| | |
| | |
| | |
| | |
| | |
Lastly, the final 10,000 bonus miles will be earned as 2 mpd on eligible transactions in foreign currency spend. This is reflected as 25,000 Rewards Points.
If you successfully hit all the spend requirements and eligibility, you'll receive a total of 112,500 Rewards Points worth 45,000 miles.
But do note this sign-up promotion is only valid until 30 September 2023. So you must sign up for the SCB Journey Card by then to participate in this welcome gift campaign.
You can find more details about this in their T&Cs.


---
What fees or charges should you look out for?
Effective interest rate: 26.9% p.a.
Cash advance fee: 6% per transaction or S$15 plus finance charges at 0.082% per day
Late payment fee: S$100
Minimum payment: S$50 or 1% of principal amount plus interest, fees, and charges, and overlimit amount if any
Foreign transaction fees: 2.5%
Annual fee: S$194.40
Transfer fees: S$27 (For KrisFlyer Miles, SC EasyRewards)
360° Rewards Points transfer fee: S$10 per 100,000 points transferred to nominee's credit card account
Supplementary cards: Free for up to 5 cards


Eligibility criteria
At least 21 years old
Minimum annual income for Singaporeans/PRs: S$30,000
Minimum annual income for Foreigners: S$60,000
---
How to apply?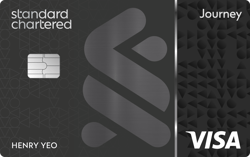 Click on the 'Apply Now' button on this page and complete the application form on the SingSaver site. You will need to prepare the following documents for the application process:
Front and back of NRIC/Passport/Employment Pass
Salaried employees: Past 6 months CPF statement (Singaporean/PR) or latest Income Tax Notice of Assessment and latest original computerised payslip
Self-employed: Copy of 2 years' worth of Income Tax Notice of Assessment (NOA) and latest original computerised payslip
---
Should you get the Standard Chartered Journey Credit Card?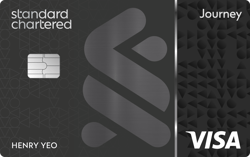 If you're planning a trip to Perth, Australia soon, signing up for the SCB Journey Card might just come in clutch with its 45,000 welcome miles gift. All in all, this card refresh seems to be a good step in the right direction.
With its accelerated 3 mpd rate on transport, food delivery, groceries, and food store, this miles card acts well as both an everyday spend and travel card.

Read these next:
Standard Chartered Unlimited Card Review: Fuss-free Cash Back Card
Best Standard Chartered Credit Cards in Singapore
Standard Chartered Credit Card Deals
Standard Chartered Priority Banking Review