---
Understanding business loans
Business loans are loans that cater to the needs of business owners in Singapore. They may be loosely classified into two groups: government-linked loans and private business loans.
Government-linked business loans are offered as part of a suite of enterprise-promoting financial assistance measures, and thus come with specific requirements surrounding shareholding and other factors. In return, the government offers 50% to 70% risk-sharing on the loan, which has a moderating effect on interest rates.
Private business loans are offered by banks and financial institutions, with the structure of the loan left to negotiation between borrower and lender. Thus, the interest rate, loan tenure and other terms and conditions for private business loans can vary, depending on the lender you approach.
The core difference from a personal loan is that a business loan requires an actual registered business to be eligible. This is because technically the loan is made out to the business entity, and not an individual borrower.
---
What is required for a business loan application?
Note that business loans require the business to have been in operation for a minimum of six months (some lenders require a longer minimum operational period).
Additionally, your lender will likely also require audited financial statements, Notice of Assessment or bank statements to be submitted during application.
And, as mentioned earlier, if you're applying for a government-linked loan – such as the SME Working Capital Loan – you will also need to fulfil a minimum of 30% local shareholding, have annual sales turnover below S$100 million or fewer than 200 employees, and the business should be registered and operating in Singapore.
Hence, there is some measure of preparation work that needs to be done before applying, and thus, planning ahead is essential.
---
How much can I borrow through a business loan?
Business loans offer a large range of loan quantums to suit as many borrowers as possible. You may find loans ranging from S$30,000 up to S$500,000 for the purposes of providing capital.
Other types of loans such as trade loans or fixed-asset loans can go up to several million dollars.
Business loans have varying loan tenures, and will differ according to the type of loan you apply for. Having said that, many business loans allow a repayment period of up to 5 years.
---
Understanding personal loans
Personal loans are general purpose loans designed for retail borrowers to meet individual financial or lifestyle needs. They are readily available at banks and financial institutions and do not come with restrictions on how they are used.
Standard Chartered CashOne Personal Loan Welcome Gift: Enjoy up to S$3,100 cashback when you apply for loan with a loan tenure of 3 to 5 years. Valid till 30 September 2023. T&Cs apply.
---
What is required for a personal loan application?
Anyone can apply for a personal loan. As long as the prerequisites are met, the loan will be granted.
This makes personal loans comparatively easier to get than business loans.
How much can I borrow through a personal loan?
Personal loans are pegged to your income. Specifically, you can borrow up to 4x your monthly income, or 10x if your annual income is S$120,000 or higher.
As such, personal loans may only be suitable for business owners who require a small amount of funds. They certainly can't match up to the lofty upper limits of business loans.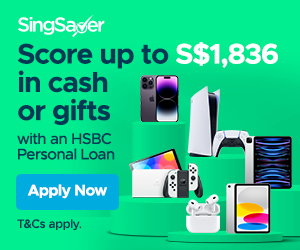 SingSaver Exclusive Promotion: Receive an Apple iPhone 14 Pro 256GB (worth S$1,836) or an Apple iPad Pro 11" WiFi 128GB (worth S$1,260.25) or an Apple iPad 10th Gen 64GB + AirPods Pro 2nd Gen Bundle (worth S$1,047.65) or a PlayStation® 5 Digital Edition (worth S$699) or a Nintendo Switch OLED (worth S$549) or S$50 cash via PayNow when you get approved for a loan of min. S$10,000 with tenure of 3 to 5 years. Valid till 1 October 2023. T&Cs apply.
---
Business loan or personal loan – which should you get?
Now that you understand the core differences between business loans and personal loans, you'll see that one of the major deciding factors regarding which one you should get is the stage your business is at.
This is, of course, due to business loans requiring a registered business that has been in operation for at least six months. So if you're just starting out, or have yet to register your business, your only option would be to get a personal loan.
The next important factor is the interest rates on the loan. In general, business loans have a lower cap on interest rates, which helps to limit your cost of borrowing. Do be aware, though, that business loans commonly have an annual fee attached, which increases the actual interest rate you are paying.
Personal loans, on the other hand, are advertised with eye-catching rates, as low as 3%. However, the loan interest rate offered to you will depend on several factors, including your income level, loan amount and credit history. You may end up with an interest rate that is well above that of a business loan, so it's important to weigh your options carefully.
Another crucial consideration is how much you can borrow. In personal loans, the amount you can borrow is pegged to your annual income. You can typically borrow up to 4x your monthly salary, and up to 10x if your annual income is at least S$120,000.
Meanwhile, business loans are not pegged to your personal annual income, and are instead offered on the merits and needs of your business. Hence, you may potentially borrow a larger sum through a business loan, than you would a personal loan.
In summary, if your business is old enough for a business loan, you should compare the loan amount and the interest rates between a business loan and a personal loan.
But don't forget to take loan tenure into account too; some business loans allow only up to 3 years to repay your loan, whereas you can apply for up to 7 years tenure with a personal loan from HSBC. However, five-year tenures are the most common for business and personal loans.
And if your business is not yet established or registered, and you're seeking funds to build your business, your sole option here would be a personal loan.
Of course, you can also tap into your savings, or bring on an early investor or two to help get your enterprise off the ground.
---
Read these next:
Guide to SME Grants and COVID-19 Measures to Support Businesses in Singapore
Best SME Business Loans in Singapore 2020
How Will COVID-19 Support Grant Help You Financially?
5 Key Reasons Why Successful SMEs Take Business Loans
The Difference Between Good And Bad Business Debt