The last few months of the year are upon us giving us the last long weekend before Christmas comes around.
Diwali, on October 27, is your chance to take that quick travel getaway.
To help you make the most of it, we've put together the ultimate 3D2N getaway to Bangkok to help you recharge with cheap food, great shopping and relaxing Thai massages.
But before we get started...
With people increasingly adopting cashless payment methods at home and abroad, the hassle of queuing up at the local money changer to exchange cash will soon be one item less on your pre-flight checklist. Most modern travellers love the ease that cashless payments allow when they're overseas. It's the new way to travel like a local.
Going cashless is also very convenient in Bangkok, given that Thailand has among the highest ATM withdrawal fees in the world. Each transaction costs on average THB200 (or S$9). Add to that the long wait in ATM queues to withdraw cash.
The good news is, with mobile cashless payments like Singtel Dash, you can avoid all of that. Think competitive and transparent forex rates, no exchange fees, and acceptance at over 1.6 million retailers – thanks to the VIA payment alliance. Singtel Dash lets you avoid the hassle of changing money before your trip or while you're overseas. We'll take a safe, fast and seamless payment experience over the worry of losing or running out of cash anyday! Plus the chance to earn 5% cashback on all overseas spends, and a slew of promotions and gifts to redeem at your favourite Bangkok stores – we'll take that too!
Here's how you could plan your 3 days of non-stop fun in Bangkok while staying stress-free about cash.
Day 1: Relax and take it easy
First things first. Make the BTS your BFF. With Bangkok's famous traffic jams, the best way to get around is via BTS: it's fast, convenient and super cheap. But fishing for loose Thai baht at those BTS gantries can get a tad irksome. So, avoid it and dash through rush hour queues with Singtel Dash. Pick your destination, select Thai QR (in blue), scan with Singtel Dash app and you are done. This is the only cashless way to pay as even credit cards aren't accepted at BTS stations.
Protip: Ride the BTS for free! Singtel Dash users will get 100% cashback on their BTS transactions, from 15 October till 31 December. T&Cs apply.
Kick off your trip with a rejuvenating a high-tea buffet. We recommend the Erawan Tea Room, known for its afternoon high-tea (2.30-6 pm), featuring classic Thai dishes. Take the BTS to Chitlom Station, then follow the skybridge straight to Erawan Mall. Take a quick tour of the world-famous Erawan Buddha Shrine, if you wish to pay your respects.
Next, take the BTS to the new Wat Mangkon station to get to Yaowarat, aka Bangkok's Chinatown. Think breezy walks and great Instagram shots, before tucking into the mind-boggling array of cheap street food and seafood.
It's time for some R&R before hitting the sack. We recommend Let's Relax Massage and Spa, an authentic Thai day spa chain, popular with travellers and locals alike. The winning combination of Siamese aesthetics and top-notch service is well worth a try. It's also so much easier to relax when you can pay without cash. All you need to do is look out for the KBank logo when paying with Dash.
The nearest Let's Relax branch from Yaowarat is at Mandarin Hotel Bangkok. Hop back on the BTS at Wat Mangkon station, and alight at Sam Yan station, two stops away. From there, your massage bliss is just a 4-minute stroll away.
Day 2: Shop like a local
After a quick breakfast, it's time to shop! Make your way to Siam BTS station to get to Siam Paragon, perhaps the most well-known shopping paradise this side of Southeast Asia. With the likes of Central World, MBK Centre and Central Embassy all within easy reach, you can get all your shopping done quickly. There's Naraya for quintessential Thai designs and classic prints on everything from backpacks to sling bags to handbags and mobile cases – great for accessorising. (Pro-tip: Spend at least THB300 at Naraya and pay with Singtel Dash to receive a *free pouch*).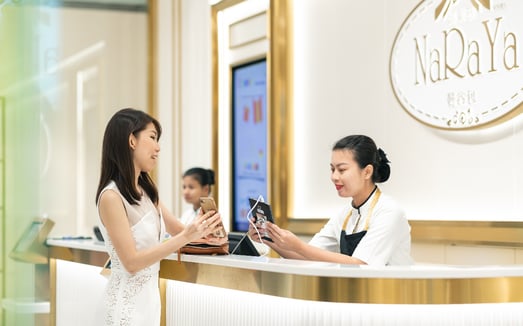 Make a quick trip to Thai Favourites (Central Food Hall, located in CentralWorld on level 7) where you'll find best-selling Thai produce, such as longan blossom honey, Thai tea and dried local fruit. Perfect for those holiday withdrawal symptoms when you're back in Singapore.
Another must-visit is BigC Supercenter or Tops, where you can stock up on popular Bangkok snacks including Taokae Noi seaweed, Koh Kae nuts, Calbee Jack potato chips and more. Look out for the Thai edition of Pocky flavours, such as the ever popular Choco-Banana and Tom Yum Goong. But the one flavour we still dream about is grilled prawn, which comes in extra slim sticks, but explodes with flavour.

At the counter, simply scan the QR code with Singtel Dash and you'll see the price of the item in Singapore dollars at the point of purchase. Plus, Dash earns you cashback while you shop (remember that cashback is capped at $5 per transaction, so keep your payments under $100 each time to maximise your savings).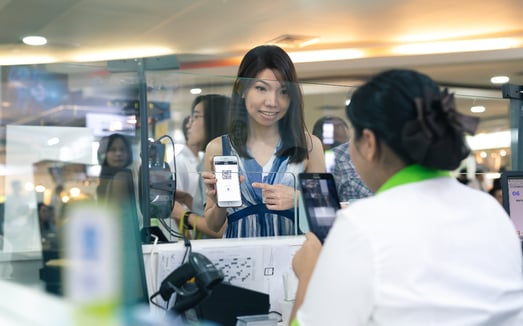 Save some stamina, for we're not done yet. After lunch, it's time for some bargain hunting at Chatuchak Weekend Market! Hop on the BTS and make your way to Mo Chit station for the easiest way to get to Chatuchak.
The massive market can be mesmerising, so just give in to your fancies and browse to your heart's content. With transparent foreign exchange rates, Singtel Dash shows your rates upfront as you pay. Also, you won't need to worry about carrying cash around the crowded market!
Day 3: End your trip on a sweet note
All too soon, it's the final leg of your Bangkok sojourn. For a change of pace, head to Terminal 21 Asok (Asok BTS station). Start in the lower ground floor. Use Dash to get your hands on your favourite cosmetics, toiletries and daily essentials on the cheap at Boots and/or Watson's – especially if you catch a sale. Look out for local Thai brands Lansley, Scentio, and of course THANN, which may very well give your expensive night cream a run for its money. Perfect as gifts for friends and colleagues too.
Afterwards, make your way up to the 4th floor for some delish lunch. Ponn Cafe and Kin Kao whip up excellent Thai food, while Bar B Q Plaza and the various Korean eateries offer value-for-money BBQ buffets – take your pick. Don't forget to save room for dessert.
One of the biggest breakouts in the city's food scene in recent years has got to be After You (1st Floor), a dessert and baked goods specialist that regularly sees long queues at its outlets. One bite of their kakigori and thick toasts, and you'll know the hype is absolutely justified. Make a quick payment with Dash, so you can focus fully on your dessert.
Singtel Dash conveniently lets you scan, pay, and keep on shopping with ease at all of these stores while earning you an easy 5% cashback. Leave your worries about carrying, losing, or returning home with foreign currency as you board that flight to Bangkok.
Get packing already!
---
Keen to try out Singtel Dash?
Apply for a mobile wallet today and enjoy the convenience and ease of use of paying with Singtel Dash locally and overseas to 1.6 million merchants, while earning up to 5% cashback on your overseas transactions*.

This article is written in collaboration with Singtel Dash.
*Terms and conditions apply. See more here.
Read these next:
What's A Hassle-free Way To Pay Overseas?
6 Credit Cards Which Give Free Access to Airport Lounges
Here's How to Redeem KrisFlyer Miles On Over 30 Partner Airlines
Travel Insurance: Does It Cover Redemption Bookings By Air Miles?