With security bond guarantees and 100% cancellation refund, FWD Maid Insurance helps manage the costs of hiring a maid.
Given the important role domestic helpers play in our homes, it's a given that employers should provide a reasonable amount of care and welfare to their maids. After all, the challenge of coming overseas to work and live in a foreign household is not easily conquered.
A comprehensive maid insurance plan that provides care to the domestic helper while also supporting the employer is an essential tool in building a happy, mutually beneficial relationship between maid and employer.
One such plan we found is the FWD Maid Insurance plan, which provides a wide range of healthcare benefits for maids, while also offering employers peace of mind with perks like security bond guarantees and 100% refund upon cancellation.
Let's dive in for a closer look.
---
Pros and cons of FWD Maid Insurance
| | |
| --- | --- |
| Pros | Cons |
| Covers wide range of maid care needs | Add-ons and higher-tier coverage are comparatively expensive |
| Option for at-home medical checkup; enables less disruption to home schedule | Some of the more attractive features are only available as add-ons |
| Helps save out-of-pocket costs such as providing daily cash benefits | Only available in 14 or 26-month plans |
| Covers pre-existing conditions if the maid has been in Singapore for more than 12 months | |
| 100% refund on cancellation within 3 months | |
| Provides Covid-19 coverage up to $25,000 | |
---
Key features of FWD Maid Insurance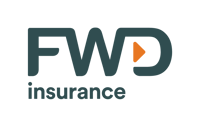 #1: Saves bond fees and other out-of-pocket costs
Hiring a maid can get pretty expensive, especially with the need to pay security bonds. Prospective employers might need to put up several thousand of dollars when hiring a maid.
FWD Maid Insurance provides direct payment of security bonds (up to S$5,000), which can be a huge help to cash-strapped households. If illness or injury occurs, the plan and add-ons also provide cash benefits for wages, medical checkups and replacement services, providing added relief to the household budget.
#2: Covers pre-existing conditions
FWD Maid Insurance touts itself as the first Singapore maid insurance plan that covers any pre-existing conditions your maid may have, but only if she has been in Singapore for more than 12 months. This unique benefit can allow employers to care for their maids without excessive financial strain.
#3: 100% refund in case of cancellation
This plan also offers a full refund if you cancel your plan within 3 months.
#4: Covid-19 Coverage
FWD Maid insurance provides COVID-19 coverage for all maids — both entering and returning to Singapore — as an optional rider for S$55. The coverage is up to S$25,000 for hospitalisation costs incurred by your helper if she is diagnosed with COVID-19 during the period of insurance.
---
Important exclusions to note
We have highlighted some of the more noteworthy exclusions regarding the FWD Maid Insurance plan here. For a full list of exclusions, be sure to refer to the policy documents.
Plan benefits will not be paid out in the event of:
Breach of work permit or work permit conditions
Willful participation in illegal or reckless acts or failure to take reasonable precautions to safeguard against illness or injury (such as making your maid stand on a stool to wash the outside windows)
Mental, psychological or psychiatric disorders
Suicide, attempted suicide or self-injury
Pregnancy, fertility issues and/or related complications and conditions
Sexually transmitted diseases
Intoxication by illegal or illicit substances
---
For whom is FWD Maid Insurance best for?
FWD Maid Insurance is a good plan for employers who wish to safeguard against most common maid issues and risks without paying a large sum in cash upfront.
The Essential plan includes a security bond of up to S$5,000, which widens the pool of available maids for employers. It also helps cash-strapped households afford other needs, such as basic amenities for the new helper.
Furthermore, with its 100% refund guarantee, FWD Maid Insurance is suited for employers who may need to cancel or change their plans at short notice.
---
Plan tiers, premiums and latest promotions
Below, we've summarised FWD Maid Insurance plan tiers for a quick and easy reference. The full details are available here.
This plan comes in three tiers, each offering higher benefit limits than the last. Additionally, there are also various add-ons for useful benefits, such as outpatient clinic visits.
However, opting for higher-tier plans and add-ons can inflate your maid insurance premium. Also, some add-ons (for example, home contents protection) seem comparatively expensive and do not provide equitable value.
When choosing your maid insurance plan, we recommend using the basic Essential tier and only going for essential add-ons to manage costs.
| | | |
| --- | --- | --- |
| Benefits for employer | Benefits for maid | Claim amount |
| Security bond plus (includes Letter of Guarantee to Ministry of Manpower) | N/A | S$5,000 |
| Outpatient expenses due to accident | N/A | S$1,000 to S$3,000 |
| Hospitalisation and surgical expenses (per year) | N/A | S$15,000 to S$25,000 |
| Ambulance fees | N/A | S$300 |
| Repatriation expenses | N/A | S$10,000 |
| Re-hiring expenses | N/A | S$300 to S$500 |
| Alternative helper allowance | N/A | Up to S$20/day, max 30 days |
| N/A | Covid-19 hospitalisation cost | S$25,000 |
| N/A | Funeral grant | S$2,000 |
| N/A | Personal accident (death or TPD) | S$60,000 |
| N/A | Liability to third party | S$3,000 to S$5,000 |
| N/A | Maid's personal belongings cover | S$300 to S$500 |
Optional add-ons
Claim amount
Outpatient medical expenses (up to S$30 per visit when employer pays first S$10)
S$300 to S$1,000
Half-yearly medical examination (mandatory requirement by MOM)
Up to 2 times for a 14 months policy
Up to 4 times for a 26 months policy
Performance bond for Philippines Embassy
S$7,000
Top up hospitalisation and surgical expenses (per year)
Additional claim from S$5,000 to S$25,000
---
How much does FWD Maid Insurance cost?
As mentioned above, FWD Maid Insurance's basic Essential plan is quite affordable but can quickly become pricey if you go for the higher tiers and include add-ons.
For a 26-month Essential plan for a maid from the Philippines, without add-ons, the premium for the plan is priced at S$410.67. Do note all prices include 8% GST.
To estimate yearly premiums for your own needs, head on over to FWD's handy online premium estimator.
---
What promotions are there for FWD Maid Insurance?
If you're going to sign up for a plan, don't miss the following promotions. Do note that relevant terms and conditions will apply:
---
How to claim
Should you need to make a claim under your policy, you may do so at FWD's personal claims page. Follow the online instructions to sign in and submit your claim.
If you need further explanation, you may refer to the step-by-step guides included on that page.
Alternatively, you may contact FWD via:
Email: contact.sg@fwd.com
Hotline: +65 6820 8888
---
Protected up to specified limits by SDIC.
Note: This is only product information provided. You may wish to seek advice from a qualified adviser before buying the product. If you choose not to seek advice from a qualified adviser, you should consider whether the product is suitable for you. Buying an insurance product that are not suitable for you may impact your ability to finance your future healthcare needs.
If you decide that the policy is not suitable after purchasing the policy, you may terminate the policy in accordance with the free-look provision, if any, and the insurer may recover from you any expense incurred by the insurer in underwriting the policy.
---
Read these next:
Find Out About Travel Insurance Providers Here: