Everyone knows the benefits of cashless payments, especially when it comes to travelling.
But, what if we told you there's a better way to make the most out of your cashless payments?
What's Singtel Dash?
Singtel Dash is your all-in-one everyday mobile wallet. Whether it is for your bus or MRT rides, grocery shopping, or meals at the hawker centres, simply scan to pay- without the need for cash or cards. There's no cost to signing up and the best part? You can also use your Singtel Dash wallet overseas!
Singtel Dash is part of the VIA network, which means you can also use it to make payments overseas seamlessly.
Look out for the VIA logo overseas to know where you can use Singtel Dash to make payments.
Specifically in Thailand, look out for either the VIA, Kbank, Thai QR or Prompt Pay logo. Merchants you can visit include BIG C, TOPS, Naraya, After You, Central World, Boots, Watsons and many more. You can even pay for your BTS rides with Singtel Dash!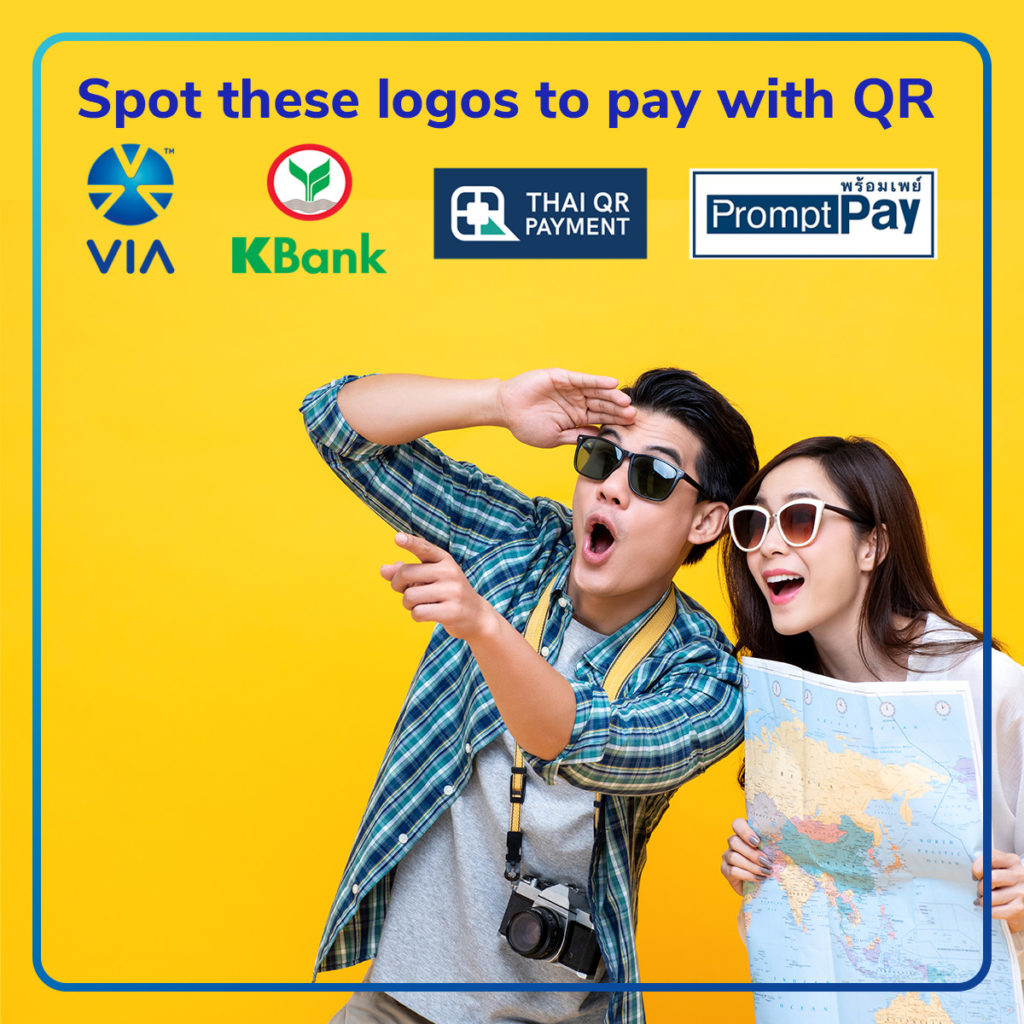 Currently, you can pay with Singtel Dash at 1.6 million over merchants in Thailand and Japan's Haneda Airport, and the network is continually expanding.
Benefits include:
Seamless payment overseas
The biggest upside to this mobile wallet is the cashless convenience it comes with. It can be topped up anytime, anywhere.
Gone are the days where you have to change foreign currency beforehand as Dash allows you to make purchases by directly deducting in your local currency (i.e. Singapore dollars) so you won't face the issue of ending up with leftover foreign currency.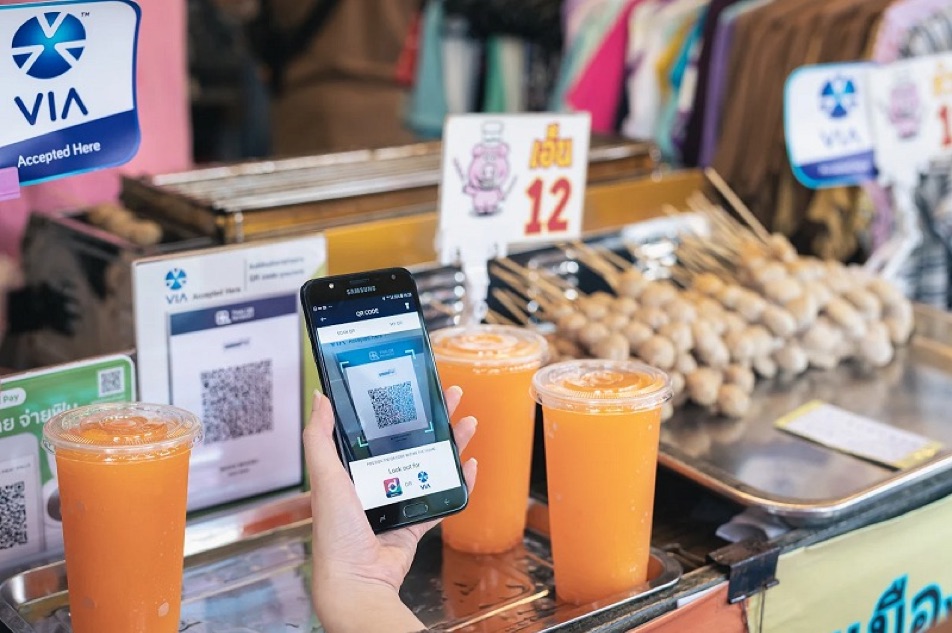 No transaction fees and attractive exchange rates
Singtel Dash maintains transparency in exchange rates. Consumers pay in local home currency, regardless of where their purchase is made.
Through Singtel Dash, you can see the currency rates upfront at the point of payment and know exactly how much you are paying in your home currency before going with the purchase.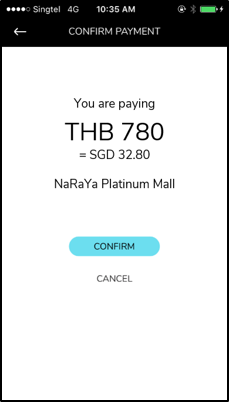 Overseas payments made on Singtel Dash have no added transaction fees as well. So you can save on those unnecessary fees and make the most of your purchase.
Safe and secure way to pay
The stored value in your Dash account is kept safe, and transactions are made securely. You're less likely to lose your cash and cards or have them pickpocketed or stolen. That's one less thing to worry about on your travels.
Let's compare each payment type: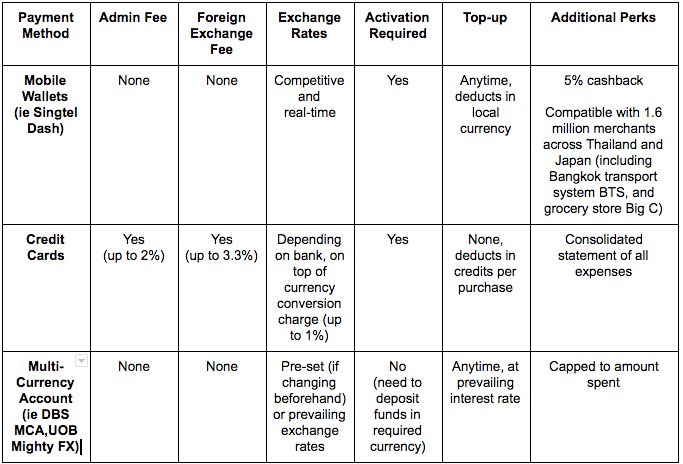 How are the other payment methods different?
Credit Card
Credit cards are perhaps the most commonly used cashless payment method when you're travelling overseas. You just need to activate your credit card for overseas use when you want to use it overseas.
Because you're using an existing credit card to make payments, you get to receive the rewards usually in the form of cashback or air miles.
If you use the right air miles card, you could earn miles at an accelerated rate due to special overseas spend rates or big holiday expenses for your accommodation, flights, and other recreational activities.
Read more: Credit Cards For Overseas Spending.
The thing is, using your credit card in foreign countries incurs a cost per transaction. These costs add up, especially if you're planning to shop, eat, make big shopping purchases, or have multiple smaller expenses. Examples of these charges include:
Read more: Foreign Exchange Fees and Transaction Fees When Using Your Credit Card Overseas.
Plus, credit cards aren't exactly accepted everywhere- places like Chatuchak Market in Bangkok don't accept card payments, but they do accept payments via Singtel Dash.
Multi-currency Account
An increasingly popular cashless payment method overseas is through a multi-currency account (MCA).
While these still make use of a credit card that is tied to your MCA, an MCA allows you to exchange a fixed amount of currency and store it in your bank ahead of your holiday. This helps you to keep to your budget, exchange your money at a favourable sum, and skip any unnecessary foreign exchange charges incurred per transaction.
The downside to a multi-currency account is the unused foreign cash you still hold on to at the end of a trip. These cash amounts in multiple currencies add up, and it's hard to use this cash again (you don't want to change it back to SGD again because you lose out twice on the foreign exchange rate) unless you are visiting that particular country again.
Additionally, exchanging money may be difficult or troublesome if you run out of foreign currency when you are overseas.
Enjoy convenience, and go mobile
Singtel Dash is a safe and secure cashless payment method that can be used overseas with no transaction fees.
Since this mobile wallet is compatible with both local and overseas merchants, you're probably able to head out just with your mobile phone–– an excellent option for the forgetful types who always leave their wallets behind.
Plus, the deal is made sweeter with an extra 5% cashback you earn on your purchases.
Read more: 5 Types of People Who Should Use E-Wallets
---
Keen to try out Singtel Dash?
Apply for a mobile wallet today and enjoy the convenience and ease of use of paying with Singtel Dash locally and overseas to 1.6 million merchants, while earning up to 5% cashback on your overseas transactions*.

This article is written in collaboration with Singtel Dash.
*Terms and conditions apply. See more here.
---
Read these next:
6 Credit Cards Which Give Free Access to Airport Lounges
Here's How to Redeem KrisFlyer Miles On Over 30 Partner Airlines
6 Ways to Turbocharge Your Travel Hacking Game
Travel Insurance: Does It Cover Redemption Bookings By Air Miles?