What does buying a car in Singapore really cost you?
To some Singaporeans, a car is a sign that they've "made it", which we think is silly. It's much better to have financial freedom and actually "make it", rather than buy a sign of it. That's like paying so much for a jewellery box, you can't afford to put a ring in it. Here's why you should reconsider your decision to buy a car.

1. It Affects Your Ability To Get A Home Loan
When you get a home loan, the maximum amount you can borrow is capped by the Total Debt Servicing Ratio (TDSR) framework. This means the monthly repayments on all your debts (home loan, car loan, education loans, and so forth) cannot exceed 60 per cent of your monthly income.
For example, if your total monthly income is S$4,000 per month, your total debt repayments cannot exceed S$2,400 per month.
Here's an example of how your car loan would impact that.
Say you take a loan of S$280,000, over 25 years at 2.6 per cent interest per annum, to buy your house. The monthly repayment would be S$1,270 per month.
Now on top of that, you have a few other debt obligations. You have a renovation loan, and a personal loan from your wedding, that require about S$500 a month in repayments.
So far, added to your home loan, you're still well within the TDSR limit of S$2,400. But now let's add a car loan. You borrow S$70,000 over seven years for the car, at 2.78 per cent per annum. This means a monthly repayment of around S$995.
The inclusion of the car loan would raise your monthly debt obligations to S$2,765 per month. This exceeds your TDSR, and your home loan would be rejected. That could mean paying a heftier down payment, or not getting the house you desire.
2. A Car Is A Liability
Unless you decide to become a full time Grab driver, your car isn't really an asset but a liability.
The value of a car can depreciate by as much as 60 per cent within the first year. By the time 10 years are up, a car is worth little more than its deregistration and scrap money.
On top of that, cars are not cash generating assets (unless, again, you're a full time Grab driver or something similar). Cars actually cost you money each month, in terms of insurance, road tax, petrol, parking, and more. This makes your car a liability, and probably the most expensive one you'll ever take on.

3. You Could Get A University Degree Instead
On average, university degrees in Singapore are around $11,250 per annum (with the exception of medicine, which is around $36,950).
Assuming the typical four-year degree costs S$45,000, this is still about half the price of the typical family car (around S$90,000). Now, also consider that the starting pay for fresh graduates is around S$3,360 per month, or S$40,320 per year.
A degree would more than pay for itself by the second year. A car, however, depreciates after the second year (see point 2). In fact, if you were to sell the car in the second year, you may not even get enough to pay off the remaining loan.
4. You Have To Pay Perennial Costs
You have to keep paying certain costs, such as your car insurance premiums, regardless of whether you're using the car.
Even if you haven't used the car for half a year, you're still paying for premiums, maintenance (yes, you need to maintain the car even if you don't drive it), taxes, and so forth. It's not like a gym subscription or magazine, which a you can easily "turn off", should you need to budget.
This is a big deal in times of financial crises. You'll almost certainly be forced to sell the car (at a loss as it depreciates), when times turn bad.
5. The Downpayment Is High, Due To Loan Curbs
Current loan curbs only permit you to borrow up to 60 or 70 per cent of the car's price (depending on engine capacity). This means a S$90,000 car will require a whopping down payment of S$27,000.
For comparison, the down payment on a five-room BTO flat (without subsidies and using an HDB loan) is around S$50,000.
It's financially imprudent to part with so much money at one go - this leaves you unprepared for situations such as losing your job, medical emergencies (even if you're well insured, someone in your family may not be), or having the money to take big steps like changing your career.
In addition, it deprives you of cash that you could invest for your future. If placed in your CPF Special Account (CPF SA), S$63,000 would grow to over S$161,000 over 25 years. That's better than putting it into a car, which just flushes the money down the drain.
6. Cars Aren't Really Necessary In Singapore
Singapore aims to make cars "obsolete" in 15 to 20 years. Well, not literally, but it does mean the island will be so well connected the cars are just not necessary.
Even today however, most places you need to go are accessible by public transport. Whether by train, bus, cab, or private hire car, it's unlikely that you're ever more than 90 away (and we're talking one end of the country to the other, such as Pasir Ris to Jurong).
Given the effort of driving, finding parking, amd navigating traffic, you may even find that you rather not drive; even if you have the car.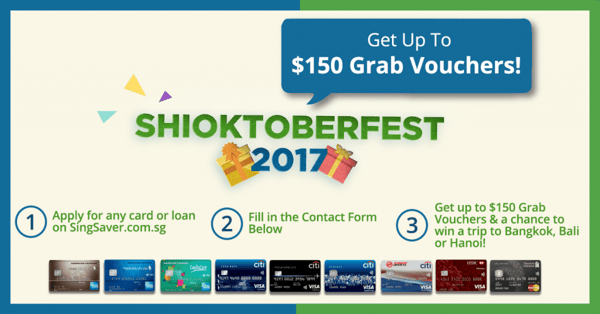 7. Using Grab Is Cheaper, And Just As Convenient
If you were to use Grab to go everywhere, it would still be cheaper than buying and maintaining a car, by about 10 per cent per month.
On top of saving you from important hassles (like finding and paying for parking), Grab also gives out frequent promo codes that make rides even cheaper.
With Grab providing similar advantages to car ownership, what's the point of blowing huge sums to buy one?
And if you're afraid that relying on Grab doesn't give you as much convenience, think again.
Shioktoberfest is back with the ultimate Grab giveaway. From now till 15 Nov, get up to S$150 Grab Vouchers when you compare and apply for the best credit cards and personal loans on SingSaver.com.sg. That's not all - we're also giving away 3 pairs of tickets to Bangkok, Bali or Hanoi. Apply and get rewarded today!
Read these next:
5 Things You Didn't Know About Shioktoberfest 2017

5 Small Money Habits That Put You Ahead of Your Peers

---
By Ryan Ong

Ryan has been writing about finance for the last 10 years. He also has his fingers in a lot of other pies, having written for publications such as Men's Health, Her World, Esquire, and Yahoo! Finance.
---