Another one bites the dust. AMEX True Cashback Card is rescinding its coveted 3% cashback welcome bonus for new card applicants after 15 August 2022. Is it still worth applying?
Originally, many credit cards constituted GrabPay top-ups as part of their eligible spending. Naturally, this spurred many new card applicants to capitalise on top-ups as one of their main methods to meet their welcome bonus eligible spending.
For example, American Express (AMEX) True Cashback Card welcomed new cardholders with a bonus 3% cashback on up to S$5,000 spent within their first six months of card approval, capped at S$150.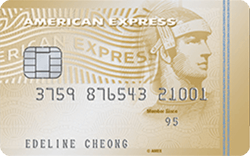 This was exciting news for many, considering that Grab has since become well-integrated into Singapore's e-commerce and consumer ecosystem via their GrabPay Wallet and function.
Simply top up your GrabPay Wallet balance with a credit card like AMEX True Cashback and ta-da! You'd be able to simultaneously earn cashback and GrabRewards points in the single top-up process. Double-dipping on rewards was never easier.
Unfortunately, however, this credit card is among one of the latest to be hit by Grab's new GrabRewards policy and AMEX's updated cashback exclusion.
New restrictions to AMEX's benefits on GrabPay top-up
If you haven't heard the news, AMEX True Cashback card is tightening its 3% welcome cashback bonus scheme to exclude GrabPay top-ups as eligible spending from 15 August 2022 onwards. Yes, you read that right.
Grab top-ups will no longer qualify for AMEX True Cashback's 3% welcome cashback bonus rate. Rather, it'll still qualify for the base 1.5% cashback rate.
To reiterate, the AMEX True Cashback welcome cashback bonus is applicable for up to the first S$5,000 spent within the first six months of card approval. Hence if you do the math, the maximum possible cashback earned under this welcome scheme is S$150. Once that limit is reached, the bonus cashback rate reverts to the regular 1.5% cashback.
Although 1.5% cashback might seem measly, don't be fooled. It's among one of the most popular cashback credit cards among Singaporeans — along with Citi Cash Back+, UOB Absolute Cashback and Standard Chartered Unlimited.
Such cashback cards allow users to enjoy cashback rates on all eligible spend with no minimum spend required or cashback cap imposed. It's basically unlimited and easy-to-earn cashback, and who doesn't love that?
But what about existing AMEX True Cashback cardholders? What if their card was approved before 15 August?
See also: AMEX True Cashback vs. Citi Cash Back+ vs. SCB Unlimited
Existing AMEX True Cashback cardholders remain unaffected
The exclusion only applies to new AMEX True Cashback Cards approved after 15 August 2022. New cardholders approved by 14 August 2022 will remain unaffected by the change.
This means that GrabPay top-ups funded by these new cards continue to be eligible for the 3% welcome cashback bonus as per usual. The cashback will only drop back down to 1.5% once the S$5,000 threshold is met within the first six months of card approval.
And also, this new exclusionary change doesn't apply to existing AMEX True Cashback cardholders with more than six months of ownership either. You'll simply continue to earn 1.5% cashback on GrabPay top-ups (or at least until the next downgrade or exclusion is announced).
Does AMEX True Cashback still reign supreme?
With the welcome benefit exclusion in effect, AMEX True Cashback will lose its Grab double-dipping privileges. Before the change, you could earn up to 3.8% rebate (3% cashback + up to 0.8% GrabRewards points*).
However now, the modified rate is up to 3.5% rebate (1.5% cashback + up to 1.2% GrabRewards points + extra 0.8% GrabRewards points**).
As a replacement, the UOB Absolute Cashback Card can be considered. Apart from its 1.7% cashback, no minimum spend and no cashback cap, it also has no spend exclusions. If you're starting to catch our drift, this means that the 1.7% cash rebate is applicable to your GrabPay Wallet top-up as well.
Therefore, the maximum rebate earned will be 3.7% rebate (1.7% cashback + up to 1.2% GrabRewards points + extra 0.8% GrabRewards points**). This is the closest top-up alternative to AMEX True Cashback's glory days.
---
Welcome Gift: Receive up to 44,800 miles when you apply and fulfill the respective min. spend requirements. T&Cs apply.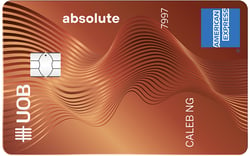 *Assuming Platinum membership tier is achieved
**If PayLater by Grab method is used
What else has changed to Grab in 2022?
From a consumer's perspective, banks and Grab have nerfed their perks tremendously in a number of ways that shift away from a mutually-beneficial relationship.

Source: Grab
#1: GrabPay top-ups no longer qualify for GrabRewards points
For starters, Grab removed the GrabRewards points rewarding system from GrabPay Wallet top-ups alone.
Previously, users were assimilated to the GrabPay Wallet function by rewarding top-ups with points. However, ever since GrabPay successfully became a mainstream payment gateway, this policy likewise changed.
"The way you spend has shifted, so must the way we reward you. That's why GrabPay Wallet or PayLater users will be able to get more points, while still enjoying the same tier benefits."
From 1 August 2022, users are no longer rewarded points for topping up their e-wallet. Instead, you now have to pay through either:
GrabPay Wallet (including GrabPay Card)
PayLater by Grab (postpaid & instalments*)
*Exclusions apply
Furthermore, the extent of GrabRewards points earned through the GrabPay Wallet and Card is based on membership tiers.
For every S$1 spent:
Regular tier: 0.6% points back
Silver tier: 0.6% points back
Gold tier: 0.9% points back
Platinum tier: 1.2% points back
Meanwhile, PayLater by Grab users stand to earn an additional 0.8% points back on selected categories under the GrabPay Card Accelerator programme.
In essence, the maximum possible GrabRewards points earned by a user is 2% points back if they use their GrabWallet and opt for PayLater by Grab method.
💡 For reference, 1,000 GrabRewards points = S$2.
#2: Debit & credit card payments no longer qualify for GrabRewards points either
This is another tough cookie to swallow. Prior to the nerf, users could still earn GrabRewards points through certain debit and credit card payments. Unfortunately under the new system, cards are discriminated against and such transactions are no longer eligible for earning GrabRewards points.
To continue earning points, you'll have to top up and pay with your GrabPay Wallet, GrabPay Card or PayLater by Grab.
#3: GrabPay top-ups are excluded from multiple banks' eligible MCC category
On a similar note, Grab restructuring their GrabRewards policy is not the only one to blame. Banks aren't so innocent either. To date, multiple banks have reclassified Grab top-ups out of their list of eligible Merchant Category Code (MCC).
Essentially, these banks have excluded GrabWallet top-ups from their credit card cashback, miles or rewards benefits. Examples of affected credit cards include Standard Chartered Unlimited and Citi Rewards Visa.
See also: Goodbye GrabPay: Which Credit Cards Are Most Affected?
📝 Note: GrabPay Wallet balances topped up with credit cards are not permitted for fund transfers across bank accounts. Only debit top-up balances can be transferred.
Standard Chartered Unlimited's cashback mechanics are similar to the aforementioned fuss-free cashback cards where cardholders are rewarded with 1.5% cashback with no minimum spend or cashback cap. Unfortunately, it too was not safe from the Grab top-up exclusions because Mastercard (as a payment facility) reclassified them as "MCC 6051 — Stored Value Load" transactions in December 2019.
This was a similar predicament for Citi Rewards Visa. Effective from 17 July 2020, Visa (as a payment facility) also redesignated Grab top-ups as "MCC 6051 — Quasi Cash Transactions". Before then, cardholders could earn 4 miles per dollar (mpd) on the first S$1,000 of GrabPay top-ups per statement month.
Apart from the MCC name variations, they all refer to the same thing at the end of the day. A lot of credit cards don't entertain GrabPay top-ups as eligible spending now thanks to these MCC exclusions.
But that isn't to say that these cards are completely obsolete on Grab's platform.
You can still use them to facilitate various Grab transactions such as GrabRides, GrabFood and others. When paying via credit card, your Standard Chartered Unlimited can still give you 1.5% cashback and your Citi Rewards can still give you 4mpd per GrabRide. The only setback is that no GrabRewards points will be awarded in the process.
What other credit cards are good to pay for Grab services?
UOB Absolute Cashback
As mentioned, it's one of the rare surviving cashback credit cards still qualifying mobile wallet top-ups as an eligible category. It'll be remiss not to supplement your GrabPay Wallet with the UOB Absolute Cashback Card!
Requiring no minimum spend, no cashback cap, and no spend exclusions, the UOB Absolute Cashback is a go-to for loyal GrabPay customers.
In case you forgot, the 1.7% cashback can be stacked with the 2% maximum GrabRewards points earned as a Platinum Grab member using Grab's PayLater function --- totalling up to 3.7% in rebates.
In our opinion, that rebate is as good as it gets at the moment. So, we encourage you to take advantage of double-dipping rewards this way before it's too late!
---
Welcome Gift: Receive up to 44,800 miles when you apply and fulfill the respective min. spend requirements. T&Cs apply.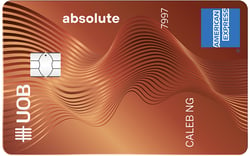 💡 Pro-tip: Many insurance and utility providers don't accept AMEX for payment. To bypass that, top up your GrabPay Mastercard with the UOB Absolute Cashback to earn both cashback and GrabPay Reward points with transactions.
UOB One
UOB One is another potential consideration. Known for its generous cashback, cardholders can earn up to 10% cashback on daily spend inclusive of Grab expenses (not top-ups). If we do the math, you could earn an easy S$2 rebate from your S$20 daily Grab commute to office alone.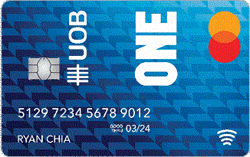 Of course, another attractive feature of the UOB One card is its obvious affiliation to the UOB One Account. After all, one of the account's requirements is to spend a minimum of S$500 monthly on an eligible UOB credit or debit card.
See also: Best Savings Accounts in Singapore to Park Your Money (August 2022)
Maybank Horizon Visa Signature
But apart from cashback, what about mileage lovers? Well, the Maybank Horizon Visa Signature card is an excellent contender. Cardholders can earn up to 3.2mpd* for public transport charges including Grab rides across Singapore.
So doing the math again, your S$20 ride could easily earn you 64 miles in one sitting. When it comes to mile accumulation, patience is a virtue; but also, charging everyday expenditures such as transportation is an effective way to rack up mileage quickly and almost, effortlessly.
*3.2 miles are only applicable if redeemed on TREATS SG app.
---
Welcome Gift: Receive a Samsonite Harts 68/25 Spinner (worth S$500) when you apply for both a credit card & a CreditAble account and make a min. spend of S$300 per month for 2 consecutive months. Valid for the first 4,500 applicants. The remaining applicants will score S$100 cashback instead. T&Cs apply.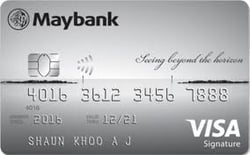 AMEX Singapore Airlines KrisFlyer/KrisFlyer Ascend
Another speciality miles card pertaining to Grab would be the AMEX Singapore Airlines Krisflyer or KrisFlyer Ascend card. Cardholders can either earn 3.1mpd or 3.2mpd respectively on Grab transactions, capped at S$200 per calendar month.
Once again, you can either earn 62 or 64 miles for a S$20 Grab ride depending on your chosen SIA KrisFlyer card. In turn, these miles will be valuable in redeeming flight upgrades, accommodation discounts, airport lounge access and more during your next air travel.
Singapore Airlines KrisFlyer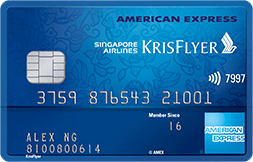 SingSaver Exclusive Offer: Receive 21,500 KrisFlyer Miles (worth a return trip to Bali on SIA Economy) when you make a min. spend of S$1,000 and annual fee payment within the first month of card approval. Valid till 28 February 2023. T&Cs apply.
Singapore Airlines KrisFlyer Ascend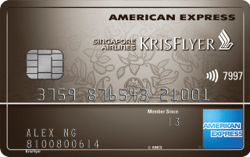 Read these next:
Credit Card Promotions: Exclusive on SingSaver (August 2022)
Best Air Miles Credit Cards in Singapore (2022)
Best Cashback Credit Cards in Singapore (2022)
Best Rewards Credit Cards in Singapore (2022)
Best Credit Cards For S$600 Monthly Spend (2022)