You now have an easier time upgrading yourself to KrisFlyer Elite Gold status, among other AMEX credit card changes.
If you're an American Express Singapore Airlines KrisFlyer co-branded cardmember, there are a few things you should know as we kick off 2021.
AMEX has been busy behind the scenes, introducing new T&Cs, fast track offers and miles purchase promotions. These can affect your optimal miles strategy, as well as how you allocate your spending over the months to come.
#1 No more miles or points for utilities payments
If you've been chucking utility bill payments on an American Express card, you'll want to reconsider. Effective 12 February 2021, AMEX no longer awards Membership Rewards points, KrisFlyer miles or STAR$ for any utilities transactions.
To compensate for this, AMEX has launched a limited-time offer that rewards cardmembers S$2 back on every minimum spend of S$40 in a single SP Utilities bill payment transaction, up to 12 times. In theory, this is a 5% rebate, but of course that's contingent on you spending S$40 on the dot.
Registration is required for this offer through the American Express app or online banking portal, and must be utilized by 31 December 2021.
If you're using an Open Electricity Market (OEM) retailer, AMEX has stated that offers for other utilities merchants will be launched at 'a later date', so keep an eye on your inbox.
This development means that Maybank, Standard Chartered, and UOB are the last three banks offering rewards for utilities bill payments – something I'm not convinced will last through 2021!
Sidenote: It's interesting that utilities have not been added to the exclusion list for the AMEX True Cashback Card. This is unlikely to be an oversight, because the True Cashback Card has been known to play by a different set of rules. It still offers 1.5% cashback on GrabPay top-ups and insurance payments, for example.
#2 AMEX Singapore Airlines KrisFlyer Ascend Credit Card fast track offer

As an evergreen product benefit, American Express KrisFlyer Ascend cardmembers who spend at least S$15,000 in 12 months on Singapore Airlines tickets will get an instant upgrade to KrisFlyer Elite Gold status, bypassing the usual 50,000 elite miles requirement.
Thanks to COVID-19, no one's really buying Singapore Airlines tickets right now. From 28 January to 28 February 2021, American Express is offering an alternative route: AMEX Singapore Airlines KrisFlyer Ascend credit cardmembers who spend at least S$5,000 on their card (of which at least S$300 is with singaporeair.com, flyscoot.com or KrisShop) will receive an instant upgrade to KrisFlyer Elite Gold, plus 3,000 bonus KrisFlyer miles.
While S$5,000 isn't a small amount to spend in a month, it's significantly less than the usual requirement, and only S$300 needs to be with the Singapore Airlines Group. For those who don't fly enough to earn elite status, this could be your best-ever opportunity to obtain it.
KrisFlyer Elite Gold benefits include:
Priority check-in and boarding
Priority luggage tags and extra luggage allowance
Lounge access, even when in Economy Class
Higher priority on the waitlist for awards
Complimentary seat selection privileges on Singapore Airlines
Waived or discounted service fees
Do note that the S$5,000 spending includes all retail spend except American Express' usual rewards exclusion categories. The full list can be found here, but the key ones to note are:
GrabPay top-ups
Insurance premiums
SPC transactions
Utilities (from 12 Feb 2021)
Cardmembers who meet the minimum spend will have their KrisFlyer account upgraded to Elite Gold and the 3,000 bonus miles credited within 8 to 10 weeks after 28 February 2021. Status earned through this route is valid for 12 months from the date of upgrade, and subsequent requalification will require earning the usual 50,000 elite miles in a 12-month period.
However, given all that's going on at the moment, it's possible that Singapore Airlines might grant another complimentary status extension if COVID-19 still rules out all travel by the time your expiry rolls around.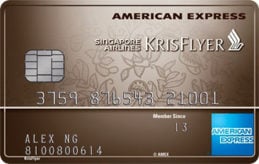 #3 Buy KrisFlyer miles at 1.48 cents each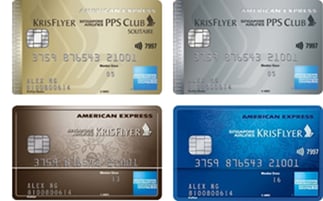 American Express has also launched a special miles purchase offer for all AMEX Singapore Airlines KrisFlyer co-branded cardmembers.
Eligible cardmembers will have received an eDM or SMS with registration instructions. Once registered, they'll need to spend S$500 by 31 March 2021. After this, they can pay a one-time fee of S$738 to S$3,687 and purchase 50,000 to 250,000 KrisFlyer miles, or a cost of 1.48 cents per mile.
Pay S$738, get 50,000 miles
Pay S$1,622, get 110,000 miles
Pay S$3,687, get 250,000 miles (only available for AMEX Solitaire PPS Card and AMEX PPS Card)
Miles purchased through this promotion will be directly deposited into your KrisFlyer account by 31 July 2021.
Is 1.48 cents per mile a 'good price' for miles purchase? It depends on how much you value a mile. For me, the maximum price I'd pay is 1.8 cents each, but that was before COVID-19 shut down the airline industry.
As it stands, I'd say that 1.5 cents would be my upper threshold for purchasing, although it boils down to individual plans and preferences. For example, someone planning to redeem a Business Class trip to Japan (94,000 miles round-trip) might find this attractive, in the sense that they'd only be paying S$1,391 (plus some airport taxes) for the ticket, a steep discount compared to the usual S$4,500 or so price.
However, someone who normally redeems Economy Class may not find the same itinerary appealing (50,000 miles round-trip), because he/she would be paying S$740 (plus some airport taxes) – it isn't too different from the cost of a Economy Class ticket bought with cash.
It should also be noted that there may be lower priced options. Citi PremierMiles cardmembers can buy miles from as low as 0.56 cents each through Citi PayAll's limited time promotion, although it's capped at 36,000 miles and requires you to have bills to pay. We're also likely to see income tax payment promotions from services like CardUp pop up later in the year, which typically offer prices of about 1.1 to 1.4 cents per mile.
A better question might be whether you're comfortable buying miles with all the uncertainty surrounding travel. While I have no concerns about Singapore Airlines' survival, it's less clear when leisure travel will be allowed to resume.
Until then, you're essentially holding an instrument that doesn't earn any interest, and that's the opportunity cost you'll need to factor in. For anyone who's currently cash strapped, buying miles probably shouldn't be high on your priorities list.
Conclusion
These are the key updates that American Express KrisFlyer cobrand cardholders should know for the year ahead. I'd certainly give the fast track offer some consideration, assuming you have a big-ticket purchase coming up. As for buying miles- that might make sense for some, but you'll need to do the math and carefully consider whether you're willing to wait out the current pandemic.


Read these next:
Amex KrisFlyer Credit Card Review: Entry-Level Card For All Miles Beginners
American Express Singapore Airlines KrisFlyer Ascend Review: A Hint Of Luxury For Miles-chasers
Best American Express Credit Cards In Singapore (2021)
American Express True Cashback Card Review (2021): 1.5% Cashback On Just About Everything
6 Credit Cards Which Give Free Access to Airport Lounges