Want to maximise your cashback to the fullest? We've sorted through the best credit card and shopping app combinations and deals to get you more bang for your buck.
Everyone loves some good, old-fashioned cashback, right? However nowadays, simply relying on rebates from credit cards alone isn't enough. People are getting more innovative with various combinations of credit cards, voucher-stacking, and timely purchases to squeeze every last cashback penny out of their spending.
And who could blame them? With core inflation currently at 4.4% and rising, the bulk of us is feeling the repercussions of this tight economical squeeze. Goods and services are pricier, causing our cost of living to consequently hike up too. In response to this, DBS/POSB and UOB recently raised the interest rates for their high-yield savings accounts, DBS Multiplier and UOB One, by up to 3.5% and 3% p.a. respectively — a silver lining amidst a looming, dark recession cloud ahead.
Read more: 4 Reasons Why DBS Multiplier is a Competitive Savings Account
So if you want to be more financially savvy or thrifty with your expenditure habits, now's the time. Read on to explore the possible corners to cut in order to reap greater cashback rebates with your credit cards, shopping apps and more.
Tip #1: Consolidate your credit cards into Instarem Amaze
Instarem's Amaze card allows you to link up to five Mastercard debit or credit cards (or top up the Amaze wallet through Visa), consolidating your cards' perks into one convenient card. Prior to its mechanic devaluation, users could obtain 0.5% cashback on all eligible purchases after hitting the minimum local spend.
Unfortunately now, Amaze is replacing its direct cashback policy with indirect cashback redeemed through InstaPoints, Instarem's Rewards Program. The caveat is that InstaPoints can only be earned through foreign currency transactions where the minimum spend amount required is S$10. As the cherry on top, the cashback redemption rate is fixed starting from 2,000 InstaPoints (S$20).
In its nascency, Instarem Amaze made amazing cashback promises and benefits to us consumers but this has all changed since their policies changed to nerf these perks. One of the card's redeeming qualities left is the absence of FCY transaction fees, which is great for miles cards — especially those earning you 4mpd like Citi Rewards or UOB Lady's Cards.
Nevertheless, it's still fairly useful for those with multiple Mastercards in their wallet, make frequent foreign transactions, or travel a lot.
Read more: Best Rewards Credit Cards in Singapore (2022)
SingSaver Exclusive Offer:
For Citi PremierMiles Card: Receive an Apple iPad 9th Gen 10.2 Wifi 64GB (worth S$503.65) or Nintendo Switch OLED (worth S$549) or S$400 CapitaVouchers or S$300 cash via PayNow upon activating and spending (min. S$500 spend) within 30 days of card approval. Valid till 15 June 2023. T&Cs apply.
For Citi Cashback+ Card, Citi Cashback Card and Citi Rewards Card: Receive a Hinomi H1 Pro Ergonomic Office Chair (worth S$599) or Nintendo Switch OLED (worth S$549) or S$400 CapitaVoucher or S$300 cash via PayNow upon activating and spending (min. S$500 spend) within 30 days of card approval. Valid till 15 June 2023. T&Cs apply.
Plus, enjoy up to 2% cashback on all qualifying spend and up to S$450 cash when you apply for the Citi Cash Back+ card and join Citi Plus. T&Cs apply.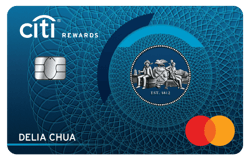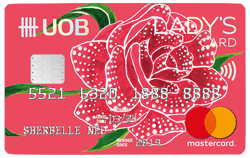 Tip #2: Use iChangi app or Kris+ app to accumulate point or miles rebates respectively
For our easties and frequent flyers (or anyone who just loves visiting Changi Airport), we recommend you download the iChangi and/or Kris+ apps if you haven't already. Primarily functioning as rewards apps, these apps are free to download for users to rack up points and score rewards on everyday spend.
iChangi app
iChangi users can sign up for a free Changi Rewards membership to receive an e-Card. Flash this e-Card during your Changi purchases to collect points over time and redeem exclusive e-Voucher offers.
Kris+ app
Meanwhile, for the Kris+ app, users get to enjoy all things Singapore Airlines (SIA) by gaining access to more deals, privileges, rebates, and rewards overall. Member privileges accorded to Kris+ members include 1-for-1 meals, shopping discounts, as well as a catalogue of deals and limited-time offers such as S$1 pastries, 80% off massages and others.
Completing top-ups and transactions will also qualify users for lucky draws, challenge prizes and other exciting promotion rewards.
That's not all. Stand to earn up to 6% miles rebates for every local dollar spent on eligible merchants. Yes, this is in addition to the miles rebate earned by whichever miles credit card is tagged to Apple Pay or Google Pay for purchases.
Hence with a little Kris+ miles credit card strategy, every spending will contribute toward your next SIA cabin upgrade or accommodation deal overseas.
Best of all, unlike iChangi, Kris+ is not restricted to Changi Airport itself. Rather, it boasts an impressive 1,000 partner outlets islandwide to meet all your dining, retail, relaxation, and entertainment needs.
Read more: 6 Credit Cards Which Give Free Access to Airport Lounges
---
Tip #3: Pay merchants (online or offline) using the ShopBack or Fave app to earn cashback
While obtaining rewards through points accumulation is decent, earning actual cashback without having to undergo any point redemption is *chef's kiss*. Apps like ShopBack and Fave offer exactly that.
Depending on the nature of transactions, Fave's cashback comes in three forms: normal cashback, e-cashback and partner cashback. Normal cashback is automatically used to offset future Fave transactions made with FavePay, Fave deals or eCards.
Meanwhile, users are granted more agency in deciding when to use e-cashback or partner cashback. E-cashback is primarily used to offset your next Fave deal or eCard purchase whereas partner cashback can be used to offset your next visit to the same vendor.
As for ShopBack, your cashback balance isn't primarily tied to any vendor but is instead, recorded as general cashback at your disposal.
💡 Pro-tip: Connect your GrabPay Wallet to both apps as your preferred linked payment method if you consistently rely on GrabPay. Otherwise, linking your debit/credit card with your preferred cashback or mileage would be better.
If you ask us, we see more partner merchants accepting ShopBack than Fave Pay since ShopBack's QR code stickers appear more prevalently across merchants in general. The latter is more #supportlocalcommunity-centric which might explain why we see Fave's QR code stickers less often. Or at least, that's in our experience.
Both apps are good-to-haves in your phone's catalogue regardless! I myself have both apps.
Tip #4: Don't underestimate the discounted rates offered by eCards and e-Vouchers
On ShopBack, there are tons of discounted vouchers from your favourite brands like Shein, Uniqlo, GrabFood, Foodpanda, Zenyum and more. Meanwhile, on Fave, there are constant exciting flash sales up for grabs along with eCards from brands like Lovet, WELCIA-BHG, Teo Heng KTV and more.
The biggest perk of the e-Vouchers or eCards on each app is the various price tiers offered.
Brand
Price tiers & cashback
Teo Heng
S$47 (U.P. S$50)
S$3 saved
S$92 (U.P. S$100)
S$8 saved
S$180 (U.P. S$200)
S$20 saved
Uniqlo
S$19 (U.P. S$20)
S$1 saved
S$47.50 (U.P. S$50)
S$2.50 saved
S$76 (U.P. S$80)
S$4 saved
S$100 (U.P. S$95)
S$5 saved
For example, you can get either a S$50, S$100, or S$200 Teo Heng eCard on Fave for S$47, S$92, and S$180 respectively. Thus, you'll be rewarded with S$3, S$8, or S$20 discount depending on your chosen tier.
Similarly, you can get either a S$20, S$50, S$80, or S$100 Uniqlo e-Voucher on ShopBack for S$19, S$47.50, S$76, or S$95. This effectively rewards you with S$1, S$2.50, S$4, or S$5 discount too.
Therefore, do perform a general search for the eligible brands offered in these two apps to ensure you don't miss out on spectacular savings with their eCards or e-Vouchers.
💡 Pro-tip: ShopBack rewards users with an extra 5% cashback when purchasing their e-Vouchers using GrabPay.
Tip #5: Stack deals before paying through GrabPay e-wallet to collate more GrabRewards points
Speaking of cashback, did you know that Grab's Rewards ecosystem has introduced a similar concept too? Since 1 August 2022, Grab has introduced a rebates mechanic into GrabRewards Points by allowing users to earn up to 2% back in points when paying using the Grab Wallet via GrabPay or PayLater.

Source: Grab
Ever since Grab pushed Uber out of Singapore's personal vehicle hire scene, it has monopolised and become the one of the biggest influences in our e-commerce space. Like any other fintech company, Grab has intensively promoted its e-wallet and payment gateways to users as much as possible.
Now, Grab is leveraging on their own iteration of 'cashback rebates' by emphasising their membership tiers as a determinant for the percentage of point rebates earned.
A normal Grab user earns 0.6% points back on eligible GrabPay wallet and PayLater transactions while Platinum users enjoy a maximum rate of 1.2% points back.
The additional 0.8% point back is awarded to certain categories under GrabPay Card's Accelerator programme only. This potentially further incentivises users to sign up for a GrabPay Card to unlock the fullest array of GrabRewards points possible.
After racking up enough points, users can unlock plenty of discounts and deals across categories like shopping, travel, experiences and more.
💡 Pro-tip: Stack your favourite vendor's e-Coupons or vouchers bought from ShopBack or Fave together with Grab's deals. You can score some serious discounts and rebates through this tried-and-tested method! You just have to be diligent enough to search for these promos.
Tip #6: Prioritise credit card mechanics based on cashback categories
Moving on to credit cards, it seems as though owning one is part and parcel of the adulting process. And arguably one of the most important aspects of credit cards to understand is the various mechanics in place.
There are three broad types of credit cards: cashback, mileage, and rewards. Finding the suitable one for you, therefore, relies on your expenditure habits.
If you prefer receiving cashback to offset your monthly credit card bills, cashback is the way to go. Alternatively, if you prefer accumulating miles to contribute towards a more luxurious travel experience, miles credit cards would be your best bet. Otherwise, if choosing rewards is important to you, a rewards card will suffice.
Read more: Best Adult Credit Cards For Young Adults in Singapore (2022)
Hence, for those opting for a cashback card, ensure you have a rough understanding of the eligible cashback categories.
The UOB EVOL card features 8% cashback for online and mobile contactless transactions and 0.3% cashback for all other spend. At least S$600 must be spent monthly in order to qualify for cashback. Online spend refers to all purchases made via the internet while mobile contactless refers to all in-store contactless spend made via Apple Pay, Samsung Pay, Google Pay, Fitbit Pay, etc.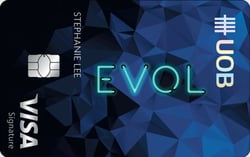 On the other hand, the UOB One card features up to 10% cashback on SimplyGo commutes, Shopee, Dairy Farm International, Grab, UOB Travel and others, when the minimum spend (S$500, S$1,000 or S$2,000), is met.
Apart from the obvious higher cashback, you can see that UOB One rewards cardholders for shopping with Grab and Shopee. Thus, avid users of Shopee and Grab will stand to gain more benefits by using UOB One to pay instead.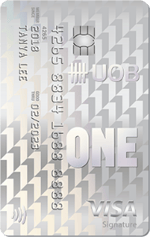 That said, each credit card comes with their own list of transaction exclusions. So to check, always refer to the Merchant Category Codes (MCC) found in each card's T&Cs.
Tip #7: Alternate between cashback cards once cashback cap is hit
Along the tangent of credit card categories, also take note of each credit card's cashback caps according to categories.
Based on the UOB EVOL and UOB One examples, UOB EVOL's cashback is capped at S$20 monthly for online spend, mobile contactless spend and all other spend each. That means, the maximum cashback you can earn across all spend types is S$60 every month.
UOB One offers a higher quarterly cashback cap of S$50, S$100, or S$200 based on the minimum monthly spend of S$500, S$1,000 or S$2,000 monthly. Moreover, these spending must comprise a minimum of 5 purchases per month for three consecutive months on qualifying quarters.
Thus, a good cashback strategy would be to alternate between your respective cashback cards to maximise the cashback amount earned every month. Once you hit the cap for one spend category, whip out another card offering rebates in the same spend category to accumulate more savings.
Tip #8: Capitalise on "double-points" hours and flash cashback vouchers
Don't forget to take advantage of "double-point" hours and flash cashback vouchers too. Sites like Shopee and Lazada are notorious for these, constantly going neck and neck as to who can attract more consumers with their attractive timed sales and vouchers. Especially with the constant monthly campaigns (e.g. 7.7, 8.8 sales), such marketing tactics are just fuelling extreme consumerism.
But we digress. We, too, fall victim to these flashy sales and can't help but feel compelled to participate in such enticing sales. So if you're really itching to shop or actually do need to buy something, you might as well leverage these marketing gimmicks to maximise your cashback and discounts.
---
Related to this topic:
Shopee Promo Codes & Credit Card Discounts (August 2022)
8 Ways to Get the Most Shopee Cashback, Vouchers & Discounts
---
Looking for a new cashback credit card to sign up for? The American Express True Cashback card might just be your new addition. Offering a humble 1.5% cashback rate, there's no minimum spend nor cashback cap to worry about. This makes it an extremely convenient and fuss-free cashback card to direct your spending towards.
What's more, Shop Small by American Express is making a comeback for its third instalment where all AMEX cardmembers can receive S$3 cashback for every S$10 spent at over 3,500 participating small and local businesses in Singapore until 31 August 2022. You'll essentially gain about S$3.15 for each S$10 transaction.
Still not convinced? Maybe our AMEX True Cashback Card Review could sort your queries and change your mind.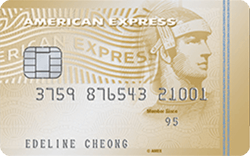 Read these next:
Credit Card Promotions: Exclusive on SingSaver (August 2022)
Can Cashback Credit Cards Help Curb Inflation in Singapore?
5 Credit Cards That'll Save You The Most Money in 2022
AMEX True Cashback vs. Citi Cash Back+ vs. SCB Unlimited Comparison Review (2022)