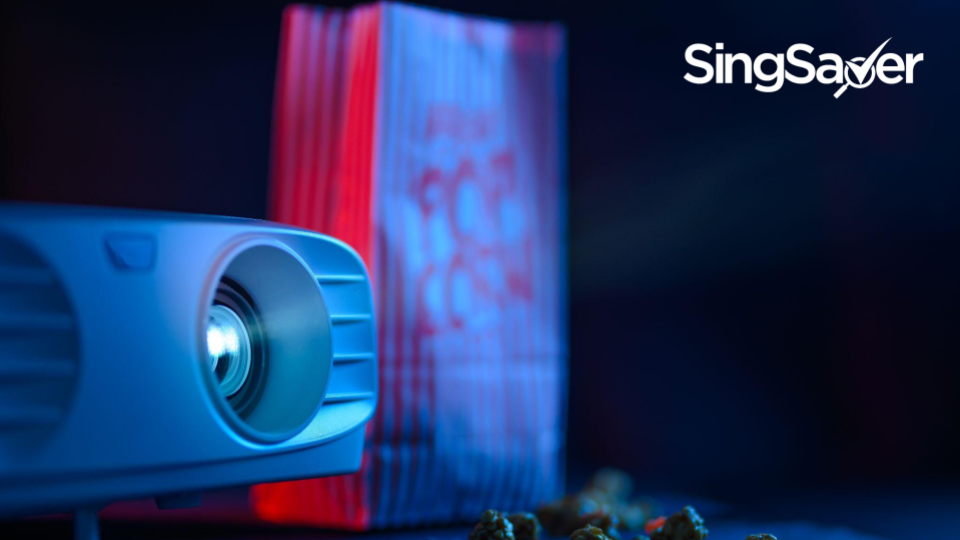 Bring the cinematic experience to your living room with these high-tech home projectors.
---
Every spending situation is unique. SingSaver assembles the 'Best For' list, so you can decide what's best for you.
---
As COVID-19 continues to keep us stuck indoors, some of us have started to realise the importance of building a cosy home. To that end, having a home theatre where you can enjoy a nice movie evening with your other half or family is now a thing.
With home projectors becoming more affordable, you can now actualise your ideal cosy dream home with a home theatre.
Home Projectors vs Cinema: cost and experience
A home cinema goes beyond bringing the cinema experience into your living room.
While the setup cost might put a small dent in your account, there is still cost saving involved when you compare that to watching movies in a cinema.
For example, a movie ticket can cost up to S$13.50 for the weekend. You might even end up spending up to S$42 for a Gold Class ticket at Golden Village. Plus, the cost of snacks from the cinemas is usually heavily marked up compared to what you get at grocery stores.
| | | |
| --- | --- | --- |
| | Home Projector | Cinema |
| Setup Cost | Up to S$600 | - |
| Streaming / Movie | Subscription plan: Up to S$20 per month (Netflix, Disney+) | Up to S$42 per movie |
| Snacks | Up to S$10 per session | Up to S$20 per movie |
| Total cost for a year | Assuming one movie per week: S$1,320 | Assuming one movie per week: S$3,640 |
One might argue that the purpose of going to a cinema is to watch the latest movies during their theatrical release.
The visual and audio experience at the cinema may also be a notch above what you get from a home theatre setup.
But if you are leaning towards a more cost-saving, slightly less indulgent cinematic experience, let us get you started with some of the best projectors that cater to a wide budget range.
Tips To Setup Your Home Theatre
For those planning to install your home theatre, here are some tips to take note of so that you can enhance your viewing experience.
Where To Place/Mount Your Home Projector?
Mounting or placing your home projector on a table is both a science and an art. Mounting requires more effort and planning in advance. Just imagine the kind of cables you need to line up in advance, especially if your home projector doesn't come with WiFi function. But mounting it now means that you need less maintenance in the long run.
If you choose to place it on a small table instead, it becomes a challenge especially if your room is small. Plus, there's also a chance that someone might kick your table while walking and disturb your ideal projector-to-wall/screen distance. That said, putting it on a small table does give you more flexibility to move it around or even bring it to a friend's place.
What's The Ideal Distance From Projector To Wall/Screen?
Home projector placement is an important decision that can make or break your home theatre. Place it too near and your screen becomes too small. Place it too far and your projection becomes pixelated.
To calculate the ideal distance, simply take the throw distance and multiply that by the horizontal (not diagonal) length of your screen. That would be the best spot to place or mount your home projector.
Which Screen/Wall To Project On?
For optimal viewing experience, you should always try to project it on a projection screen. That's because these screens have optical coatings that enhance their reflective property so that your projection looks good. Regular walls don't have that coating.
If you want to screen it on a wall, make sure that your wall is white (ideally) or light-coloured. Dark-coloured walls absorb light particles and reduce the reflection from your projector.
Best Projectors Across All Budgets To Stream Your Movies At Home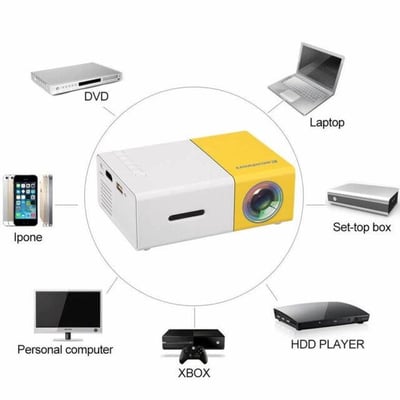 Price: S$55 (Usual price S$99)
Technical specs:
Lumen: 400 - 600
Throw ratio: 1.4
Screen resolution: 240p
If budget is your main concern, then YG300 will dispel it. At just S$55, you can get a home theatre experience.
Its small size makes it portable enough to bring it to your friend's place to turn their home into another home theatre. The only thing that you need to take note of? Make sure you have a sizeable white wall and some space to let the projector work its magic.
However, one drawback is the low resolution, which can affect your viewing experience. But if you are not particular about your screen size, then you can enjoy your movie or TV series on a smaller projected screen instead.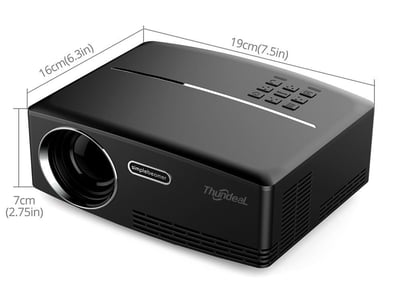 Price: From S$100 (Usual price S$299)
Technical specs:
Lumen: 1800
Throw ratio: 1.38
Screen resolution: 480p. Full HD
VisualGreat GP80 is a no-frills home projector that brings the cinematic experience to you at a low price. At just S$100, it is one of the most competitively priced projectors in the market.
The best feature of all is its size: at barely half of a 15-inch laptop, the VisualGreat GP80 is highly portable.
The projector also comes with multiple options to connect your media player, including a USB input, VGA and HDMI. You can also go the wireless route with a Wi-Fi connection, though that version will cost S$159.
However, discerning viewers might take issue with its 480p resolution, which becomes a sore point when you push the projector to its maximum 100-inch projection size. At this screen size, you will be treated with a low-resolution, pixelated viewing, which makes it far from being the cinematic experience you were hoping to enjoy at home.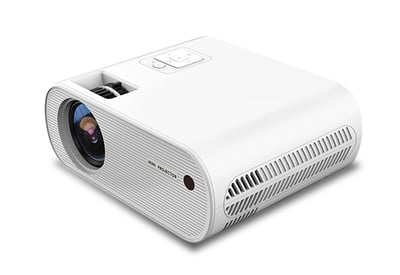 Price: S$147.65 (Usual price S$279.90)
Technical specs:
Lumen: 3000 (or 150 ANSI)
Throw ratio: 1.4
Screen resolution: 720p. Full HD 4K
With higher lumen and screen resolution, the Mirval C10 is an upgrade from budget home projectors. At S$146.65, it's still a relatively good buy, but there are also some caveats that come with it.
Compared to the home projectors above, the Mirval C10 comes with a wireless function which supports screen mirroring from your Android or iOS device without the use of cables.
However, it does not support Samsung phones or Netflix mirroring, the latter due to copyright issues.
To watch Netflix, you can either connect your laptop or upgrade to the Mirval Y5a which comes with a built-in Android TV with pre-installed YouTube and Netflix.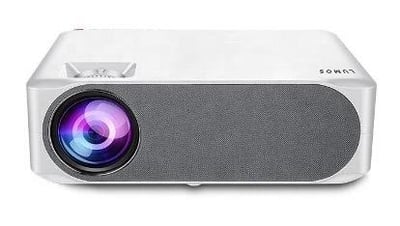 Price: S$299 (Usual price S$649)
Technical specs:
Lumen: 6000
Throw ratio: 1.35
Screen resolution: 1080p
The Lumos Auro Home Cinema Projector is the product of a Singapore startup that specialises in home cinema projectors at affordable prices. The brand wouldn't be unfamiliar for most buyers in Singapore given that their ads have been widely seen on YouTube recently.
Marketing aside, the brand does provide great value for money. At just S$299, you get a Full HD projector with great technical specs such as a short throw ratio and high lumen.
The brand does pre-orders and sells by batches, so if you miss the upcoming batch, you will have to wait 1 to 2 months for the next one.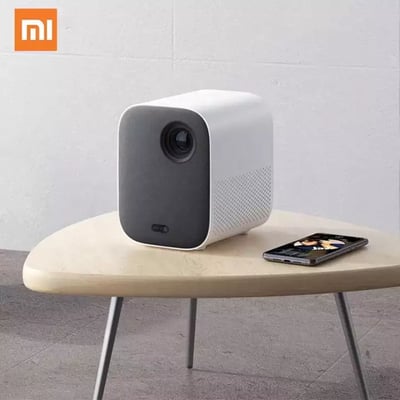 Price: S$565 (Usual price: S$799)
Technical specs:
Lumen: 500 ANSI
Throw ratio: 1.2
Screen resolution: 1080p. Full HD 4K
Xiaomi is a household brand known for being value-for-money. While Xiaomi's claim to fame is its mobile phone technology, it has expanded its range to include smart home devices such as vacuum cleaners, smart TVs and home projectors.
The Xiaomi Mijia smart projector is another value-for-money product that allows you to create your own cosy space to Netflix. If you are looking for an entry level projector, this is one to consider.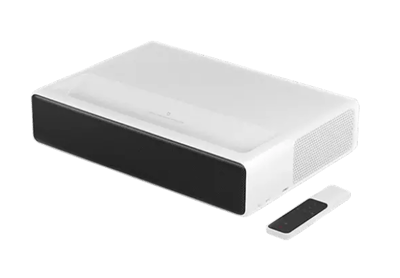 Price: S$1,639
Technical specs:
Lumen: 1500
Throw ratio: 0.233
Screen resolution: 1080p. Full HD 4K
If space is a constraint for you, then you might want to consider a laser projector instead of a lamp projector. The Xiaomi Mi Laser Projector 150 is one laser projector that works for smaller spaces.
Not only do laser projectors typically come with shorter throw distance, they also provide a wider range of colours and sharper contrast than lamp projectors. They also require less maintenance than lamp projectors that require regular changing of lamps.
However, laser projectors typically come at a higher price than lamp projectors.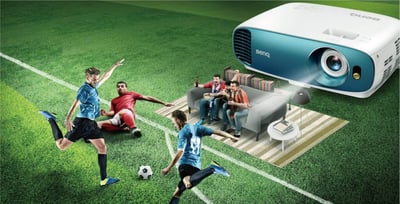 Price: S$2,099
Technical specs:
Lumen: 3000 ANSI
Throw ratio: 1.5 to 1.65
Screen resolution: 2160p. Full HD 4K
Let's be honest: the BenQ TK800M 4K UHD HDR Home Entertainment Projector is not the most budget-friendly option in the market. At S$2,099, you can buy all the other 4 projectors on this list and still have cash to spare. But that's about the only drawback you will find with this projector.
With a 4K High Dynamic Range (HDR) 10 image, you can watch almost anything on this projector and feel like you are in a cinema. For sports fans, the viewing experience gets even better. There's a dedicated sports mode that makes you feel as though you are in the stadium itself when you watch live games.
Want to make your home projector more affordable? Simple: use a cashback credit card.
Don't have one yet? Then use our credit card comparison tool to find the best credit card within minutes, and you could even get rewarded with cash and prizes*.
*Rewards may change at any time. Terms and conditions apply.
Read these next:
7 Best Desktop Gaming PCs For Work Under $3,000
Best Wireless Earbuds for all Budgets in 2021
Phase 3: Your Guide To Important Numbers And Safe Distancing Rules
Buy Now, Pay Later vs Credit Cards: Which One's More Dangerous?
Buying An Electric Car In Singapore: A Complete Guide