For lifestyle/arts & crafts/music creators
Conversely, for lifestyle, arts & crafts, music, and other miscellaneous categories of streamers, your priority would be more so on a reliable camera for filming, microphone, and LED lights or green screens to liven up your stream background.
1. Camera & microphone
Never underestimate the quality of a good camera. A camera with decent specs can elevate your content, make it more visually appealing, and in turn, potentially increase viewership too.
When browsing for a camera for livestreaming, your main focus should be on video resolution and framerate. Resolution affects the footage's quality and a fast framerate gives you smooth, unfragmented footage.
For musicians on Twitch, a quality microphone would be one of their bigger investments since you'd want your voice and instrument to translate well over stream. To facilitate that, the Shure SM7B is a legendary professional microphone by Shure, popular among vocalists and even ASMR streamers.
Notable streamers who use this mic model include Shroud, Tfue, and Sodapoppin.


Basic camera for livestreaming: Sony Alpha A5100 (S$366.90)
Excellent mic for music and vocalists: Shure SM7B (S$429.29)
2. LED lighting panels & green screens
This point is pretty self-explanatory because who doesn't like aesthetic backgrounds right? But perhaps, casual streamers in the lifestyle, arts, and music categories would prioritise this more than gamers.
And since many streamers like to film at night in the dark confines of their enclosed rooms, good LED lights to brighten up the space (and their face) definitely come in clutch.
For example, the Nanoleaf Shapes Mini Triangles Light Panels are famous among the Youtube and Twitch communities alike. Compared to regular LED lights, these panels give creators more bandwidth in creatively arranging them into aesthetic formations in their backdrops.
Oh, and a green screen helps with creating meme content too.

Basic LED lights: Selens 26-cm LED Ring Light (S$15)
Aesthetic LED light panels: Nanoleaf Shapes Mini Triangles Light Panel (10 pcs)Nanoleaf Shapes Mini Triangles Light Panel (10 pcs) ($169)
Basic green screen: Selens Portable Green Screen (S$47)
---
When purchasing your equipment, why not rack up some sweet mileage while you're at it? Who knows, if your Twitch career takes off, you might find yourself jet-setting across the world to attend Twitchcon, Vidcon, and other amazing creator conventions!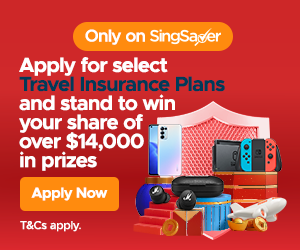 SingSaver Exclusive Travel Insurance Offer: All successful applicants of any MSIG, TIQ, Starr & Allianz Travel Insurance products will score up to 2x entry in our SingSaver CNY Grand Lucky Draw. Stand to win your share of over S$14,000 worth of exciting prizes! Valid till 31 January 2023. T&Cs apply.
Compare and purchase your travel insurance through SingSaver to get the best deals and discounts for your preferred coverage!

How much can Twitch streamers earn in Singapore?
According to an unfortunate breach in Twitch's database back in October 2021, some light was shed on the earnings of our local streamers. This hack revealed the highest earnings from Twitch streamers between a period of two years — 2019 to 2021.
Some of Singapore's top Twitch streamers earned more than S$100,000 in just two years. This passion-turned-lucrative alternative career might just be the mid-career pivot that some of you are looking for.
Read more:
I'm a Tech Executive by Day, and Run a 7-Figure F&B Business by Night
Highest Paying Jobs in Singapore 2022
How to Turn Your Hobby Into a Career (Without Losing the Passion For it)
Here were the top three earnings of Twitch streamers in Singapore between 2019 and 2021:
Twitch streamer

Content type

Salary earned

Kiaraakitty
(#1,645 worldwide)

Lifestyle, mature content

S$166,565

Arthars
(#2,738 worldwide)

FFXIV Online

S$105,394

SupercatKei
(#3,457 worldwide)

Gaming, music & singing, lifestyle

S$63,424
Essentially, the average expected annual salary of a Twitch streamer in Singapore can go up to as much as S$43,000 per year.
In terms of being your own boss, that's pretty worth it if you ask us.
All of this goes to show that it is possible to earn (an above-average) salary while pursuing a non-traditional career in digital media.
In fact, this new form of content creation has only truly emerged in the last decade or so with the advancement and accessibility of all these livestreaming technology and equipment.
And our local livestreaming community has begun to make a mark in the Twitch community, proving that it's feasible to build a flourishing career despite not having a standard 9-to-5 corporate job.

Do you have what it takes to become a Twitch streamer?
It's a common misconception that your streaming equipment needs to be pricey and top-tier in order to perform well. Besides the basic equipment, any accessories or additional electronics are optional.
In reality, it's really the content creator that carries the heart and soul of the stream. So if you have a passion for content creation – be it gaming, lifestyle, music or others – and connecting with others, why not give Twitch a try?
After all, creating a sustainable livelihood and establishing a local (and even international) following is no longer a farfetched dream.
---
Help yourself to better financial shape in the new norm, with SingSaver's all-new Ultimate Savings Guide! Got your free copy yet?
Read these next:
Here are 7 Stable Jobs That Pay Surprisingly Well in Singapore 2022
How to Talk Money When Talking About Career Aspirations
Average Salary For New Jobs That Only Existed in the Last Decade
Does Your First Job Matter That Much?