Credit card benefits in Singapore let you enjoy savings, perks and privileges, but these are just the tip of the iceberg. Here are all the ways credit cards can benefit you, and what to look out for when applying for one.
Credit cards are one of the most widely used and popular financial tools of our time. They provide instant access to funds, greater safety and ease of use, as well as a slew of perks and privileges exclusive to cardholders.
But perhaps best of all, you can avail yourself of various credit card benefits that reward you when spending – with rewards points, cashback or air miles – ultimately helping you save money.
Clearly, credit cards can be immensely beneficial, but only if you use them the right way. Let's take an in-depth look at why you should own a credit card in Singapore, their benefits and potential downsides, and what to look for when choosing one.


Table of contents
---
7 credit card benefits you shouldn't miss out on
#1: Instant access to funds and more spending power
A credit card comes with a credit limit, which denotes how much you can charge to the card. You are free to use this limit at any time or in any way you choose.
Thus, obtaining a credit card gives you greater spending power and greater financial flexibility with instant access to extra funds via your credit limit.


---
#2: Greater security and fraud protection
Paying for big-ticket items with fistfuls of cash is not only impractical, but it will also expose you to unwanted attention from unsavoury characters. A much easier (and more discreet) way is to simply pay with a credit card.
Credit cards are easier to carry around, as they fit snugly in your pocket, wallet or purse. If stolen or lost, you can immediately deactivate them using your mobile banking app (or a quick phone call to your bank), preventing thieves from going on a shopping spree at your expense.
Another advantage of credit cards is fraud protection. Did you know that you can initiate a chargeback on unauthorised or unfulfilled transactions? Doing so will cause the suspicious transaction to be reversed once your bank ascertains the truth of the matter.


See also: 18 Best Credit Cards For Big-Ticket Purchases
---
#3: Convenience and flexibility while travelling
Another benefit of a credit card is convenience and flexibility during an overseas trip. One example is paying the deposit when checking in to your hotel. The deposit for your stay is collected on a per-night basis, so it can quickly add up.
Instead of handing over your foreign currency notes at the reception desk, present a credit card to them. The hotel can hold a charge on your card for the required deposit amount, and release the charge when you check out (assuming you didn't incur any additional expenses).
Travel credit cards are also the ideal way to pay for all sorts of expenses during a trip – unexpected or otherwise. Pay for overweight luggage charges at the airport, for ride-hailing and food delivery services, or an impromptu extension to your vacation. One more tip is to keep a dedicated travel credit card that can provide emergency cash withdrawal via an ATM; this will come in handy to tide you over in a pinch.
---
#4: Complimentary travel insurance and airport lounge access
One of the most useful credit card benefits is complimentary travel insurance that covers against events such as accidental death or injury, lost luggage or other common travel risks.
Note that the scope and level of coverage vary, and such travel insurance plans may not be adequate for every traveller. Nonetheless, the complimentary travel insurance offered by your credit card can be paired with a standalone travel plan for wider coverage. They may also be sufficient on their own for certain types of trips.
Especially with travel credit cards, you can enjoy free access to airport lounges. Instead of nodding off in the departure hall, head for a lounge to chill out (or catch up on emails) with free refreshments and magazines. Some lounges also offer amenities such as shower rooms and napping pods, making your trip that much more enjoyable.
An example of a credit card with both complimentary travel insurance and airport lounge access would be the co-branded AMEX Singapore Airlines KrisFlyer Credit Card and AMEX Singapore Airlines KrisFlyer Ascend Credit Card.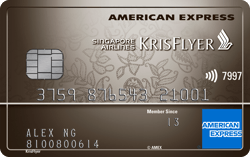 See also: Cheap & Free Ways to Get Into Changi Airport Lounges
---
#5: Enjoy rewards every time you spend
Credit cards are undeniably great for travellers, but they are also highly beneficial for everyday use. This is because credit cards reward you each time you spend on your card.
You can earn rewards points, air miles or cashback – just for using your credit card to pay for stuff.
Reward points are perhaps the most flexible of the three, as you can redeem them for a variety of vouchers, perks and offers that are provided by your bank. You can also convert reward points into cash credit to pay your credit card balance.
Air miles are mainly used to redeem flight tickets and seat upgrades, which is a highly gratifying way to elevate your hard-won holiday. You can also use air miles to redeem hotel rooms, car rentals, shopping credits on affiliated e-commerce sites and other perks.
As for credit cards that give you cashback, such cards essentially offset your spending and give you instant savings. You can choose between credit cards that offer lower cashback on a wider range of transactions, or higher cashback on specific spending categories, such as dining or shopping.
Some of our favourite credit cards for dining include Citi Cash Back, Maybank Family & Friends, and OCBC 365.
Meanwhile, shopping credit cards like OCBC Titanium Rewards, DBS Woman's/Woman's World, UOB Lady's/Lady's Solitaire, and Citi Rewards are top choices for retail therapy!
---
#6: Cardholder perks and privileges
Beyond credit card reward points, cashback and air miles, there is also an array of perks and privileges that cardholders can enjoy.
These range from lifestyle perks like dining and hotel discounts to special offers with selected partner merchants, and phone concierge services for assistance when overseas or during an emergency.
Examples of credit cards with 24/7 concierge services would include Visa Infinite cards like HSBC Visa Infinite, CIMB Visa Infinite, Standard Chartered Visa Infinite as well as other metal credit cards.
---
#7: Improving cashflow and financial control
Another benefit of having a credit card is that you can use it to better control your finances. Yes, really!
Between reward points, cashback and air miles, plus your cardholder privileges, credit card rewards help you attain some impressive savings over time. But more than that, your credit card comes with features that can help you keep track of your finances.
Credit cards can now be easily managed using digital banking apps, allowing you to instantly see how much you've spent at any time. You can also set spending limits if you're trying to cut down on a certain expense, such as coffee or dining out.
Alternatively, use your credit cards to bridge a gap in cash flow.
Let's say your bills are due but payday is still a few days away. You can use a credit card to pay your bills and other essential expenses first, then pay off your credit card balance when you receive your salary. This way, you don't have to incur penalty fees for late payments.


---
3 potential downsides to owning credit cards
There is no doubt that credit card rewards are highly useful and offer many advantages. However, they do come with some potential drawbacks which cardholders should be aware of.


High-interest charges if not paid on time
The biggest drawback of credit cards is the high interest that is charged on outstanding balances. This, combined with the customary late payment charge, can quickly cause your credit card balance to snowball out of control.
Credit cards give you an interest-free period to repay your balance, commonly 22 days or so. This interest-free period starts from the day your credit card statement is issued. As long as you pay off your balance during the interest-free period, you will not incur any interest charges, nor late fee, for that matter.
Once the interest-free period has passed, any amount still outstanding will be charged interest. You will also incur a late charge, since your account is now overdue. This cycle continues until your credit card balance is paid off in full.
Because interest is charged on a compounding basis, you can see how carrying a credit balance is a bad idea. Even a small amount can grow beyond your ability to manage, if you continue to use your card recklessly.
Hence, before getting a credit card, ask yourself if you will be disciplined enough to pay off your credit card balance in full every month. This means strictly not spending beyond your means, and never giving in to the temptation to "spend first, and pay it off later".


See also: 4 Ways to Pay Off Credit Card Debt in Singapore
---
High foreign exchange rates
Credit cards are a handy option when making foreign currency transactions, but the convenience comes at a price – literally.
Paying in another currency will incur a foreign exchange fee, which is made up of a bank forex charge, and conversion fees charged by the payment network (Visa, Mastercard, AMEX etc). This figure typically ranges between 3.25% to 3.5%.
As you can imagine, this causes your foreign currency transactions to cost more. But there are ways to circumvent them.
One way is to link your credit card to a multi-currency account, and pay using the relevant foreign currency you've deposited beforehand. Another is to always choose to pay in the currency of your host country – this will allow you to sidestep costly Dynamic Currency Conversion fees.


See also: Pros and Cons of Multi-Currency Savings Accounts
---
High annual fees
All credit cards come with annual fees, ranging from relatively modest to eye-openingly high.
In Singapore, you can expect mass-market credit cards to cost almost S$200 per year in annual fees. Credit cards aimed at younger consumers may come with a lower fee, around S$100 per year.
Elite-level credit cards (those that require a 6-figure annual salary and are available via invitation only) often carry annual fees in the thousand-dollar range.
As you can see, credit card annual fees can be quite high. But the good thing is, most card issuers offer ways to offset the fees, with some even offering lifetime waivers.
Because they are automatically added to your statement, credit card annual fees can take you by surprise. It is best to take note of the annual fee your credit card carries, and to plan for it accordingly.
💡Pro-tip: CIMB credit cards and the HSBC Revolution Card don't charge any annual fees at all. Meanwhile, the UOB EVOL Card waives annual fees with a minimum of 3 eligible transactions each month within the year.
---
What Should You Look For in a Credit Card?
Choosing a credit card is a major financial decision, but doing your due diligence will prove rewarding. Be sure to look out for the following when deciding which one to apply for.


Credit card interest rates, late fees and APR
As mentioned earlier, carrying a balance on your credit card will incur interest charges. While you should strive never to carry a balance, you should still check the interest rate on your credit card.
This will be helpful should you find yourself needing to carry a balance, so you can make a rough estimation of how much interest you will incur – and budget accordingly. Also, you'll need to add the late fee, so you'll need to find out what that is as well.
You may also want to work out the Annual Percentage Rate (APR), which is the annual cost of using your credit card; this value will change depending on the charges you incur.


Eligibility criteria
Before applying, look up the eligibility criteria to ensure you're an eligible candidate. This shouldn't be too difficult, as most banks display their eligibility criteria clearly on the application page.
In general, for mass market credit cards, Singaporeans will need a minimum annual income of S$30,000, while foreigners may need a higher amount. Applicants should also be 21 years to 70 years old.


Credit card promotions
The reason why you may be thinking of applying for a credit card in the first place is the gifts and promotions being offered.
Indeed, credit cards are regularly marketed via various promotions that often come with attractive gifts and sign-up offers, ranging from travel luggage to bonus reward points and extra air miles.
Keeping track of all the various ongoing credit card promotions can be tedious, but we've got the solution for you. Simply bookmark our credit card promotions page, and check back regularly for all the awesome offers we have. You can also sign up for our newsletter to get first dibs on the latest promotions!


---
When should you

not

get a credit card?
As discussed throughout this article, credit cards can be highly advantageous, However, they also require a degree of management. In fact, credit cards may not be a suitable financial tool under certain circumstances, such as:
If you are unable to pay off your credit balance in full every month. This will incur interest charges and late fees, causing you to sink deeper into debt.
If you tend to spend more than you can afford. Consider lowering your credit limit to a suitable amount, or switch to a debit card instead.
If you have a bad credit score. Continuing to use a credit card can further damage a low credit score if you miss payments or fail to clear your balance. You may also be subject to higher interest rates by your bank, putting you at a further disadvantage.
---
Finding the best financial solution for you
Given the wide range of features, rewards and types of credit cards available today, choosing a suitable credit card can be a mind-boggling affair. One-size-fits-all certainly does not apply here.
We think that's a good thing! Credit cards have evolved to best cater to consumer preferences and needs, which makes it even more likely for you to find a credit card (or several) that fits what you're looking for.
So go on and head over to our credit cards promotions page where we've collected the best credit card deals. We've also summarised the main features and rewards of each card, so you can more easily compare them for yourself.