---
Every spending situation is unique. SingSaver assembles the 'Best For' list, so you can decide what's best for you.
---
If you're a foodie that's leaving the comforts of your home to try the hottest restaurant in town, here are the credit cards you should have in your wallet.
If there's one thing Singaporeans love more than good food, it's good food deals. Whether you're heading out for a candlelight dinner, chowing down chilli crab at an all-you-can-eat seafood buffet, or chilling out at a trendy café, the right dining credit card is an indispensable dining companion, aside from your plus one(s).
These credit cards provide the best value for their very respectable cashback, discounts and exclusive privileges.
Best for overall dining & food delivery: OCBC 365
Best for weekend dining: UOB EVOL
Best for 1-for-1 deals: HSBC Visa Platinum
Best for fine dining: American Express Platinum Card
Best for multi purpose foodie needs: Citi Cash Back Card
Best for fee waiver: CIMB World Mastercard
Best for accumulating miles: KrisFlyer UOB Credit Card
Best Credit Card for Dining

Best For
Credit card
Dining Benefits
Min monthly spend
Monthly cap
Overall dining & food deliveries
OCBC 365
6% cashback on dining (including online delivery)
S$800
S$80
Best for mobile contactless payment
UOB EVOL
8%
S$600
S$60
1-for-1 Dining Deals
HSBC Visa Platinum
Complimentary ENTERTAINER access
5% cashback
S$600
S$80
Fine dining
American Express Platinum Card
Up to 50% at selected restaurants
None
None
Multi-purpose foodie needs
Citi Cash Back Card
6% cashback on dining, 8% cashback on groceries
S$800
S$80 combined (not by category)
Best for unlimited cashback with min. spend
CIMB World MasterCard
2% cashback on Wine and Dine category
S$1,000
Unlimited
Best for accumulating miles
KrisFlyer UOB Credit Card
3 miles per dollar (local/overseas)
None
None
Best for both dining and food delivery: OCBC 365
Perfect for: Those who love food as much as they do online shopping and travel.
The OCBC 365 Credit Card offers 6% cashback on local and overseas dining, including online food delivery at the likes of Deliveroo and foodpanda. The icing on the cake is that it offers a slightly higher than average cashback cap of S$80 per month, assuming you spend at least $800 per calendar month.
Besides the 6% cashback on all-day local and overseas dining, you'll get to enjoy an array of cashback privileges on other spending categories; cardmembers can reap 3% on groceries (online & in-store), online travel bookings, private hire rides and recurring telco and electricity bills.

Own a car? You'll be glad to hear that you will get 5% cashback on fuel spend at all petrol service stations. Definitely consider pumping at Caltex and Esso — you get to enjoy up to 22.1% fuel savings at Caltex and up to 20.2% fuel savings at Esso.
OCBC 365 credit card really is a great everyday card that happens to also reward you handsomely for your gastronomic indulgences — all 365 days a year.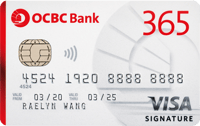 Best for mobile contactless payment: UOB EVOL
Perfect for: Those that love to pay with their mobile phones
The UOB EVOL credit card offers 8% cashback on mobile contactless spend via Apple Pay, Google Pay, Samsung Pay or Fitbit Pay. For the online shoppers, you also enjoy 8% on all online shopping spend — this includes dining, entertainment and Grab spend.
It boasts a low qualifying monthly spend at S$600 per statement month compared to other cashback peers. It also offers a decent cashback cap of S$60 per statement month (S$20 on online spend, S$20 on mobile contactless spend and S$20 on all other spend).
With the UOB EVOL card, you'll also enjoy over 1,000 deals from fashion to dining. The physical card is also sustainably made, being Southeast Asia's first bio-sourced card.
The best part? There is no annual fee charged as long as you make three purchases per month, for 12 months, before your next annual fee date.
Welcome Gift: Receive up to 44,800 miles when you apply and fulfill the respective min. spend requirements. T&Cs apply.
Best for 1-for-1 dining deals: HSBC Visa Platinum
Perfect for: Anyone from those who eat to live to those who live to eat.
If you're not careful, food spending can quickly add up, especially in Singapore's foodie paradise. Arguably the best part about the HSBC Visa Platinum credit card is its complimentary ENTERTAINER with HSBC app access, where you enter a world of 1-for-1 redeemable deals across a carefully curated list of restaurants. The sweetener is that as you redeem these deals and pay practically half of what you would've for the bill, you're also getting 5% cash rebates out of it.
General spending on F&B earns you 5% cash rebates, the only exception being hotel dining. The 5% cash rebate rate also applies to groceries and petrol.
The minimum qualifying spend is to keep up S$600 per month for three consecutive months — that's right, cash rebates are tabulated quarterly, and they are capped at S$250 each calendar quarter.
Welcome Gift: Receive a Samsonite Prestige 69cm Spinner Exp with built-in scale (worth S$670) or S$200 cash back when you make a min. spend of S$500 by the end of the following calendar month from the card account opening date. Valid till 30 April 2023. T&Cs apply.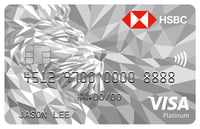 Best for fine dining deals: American Express Platinum Card
Perfect for: Those who appreciate the finer things in life and have no time for expense tracking.
The AMEX Platinum Card is the creme de la creme of credit cards if fine dining is the only kind of dining you fancy. Other than that, it would come in very handy if you need to entertain overseas visitors, clients, staff, or even loved ones but don't want to break the bank, thanks to 50% dining privileges at a handpicked selection of popular establishments under its Love Dining @ Hotels and Love Dining @ Restaurants programmes.
Also, you'll enjoy complimentary drinks at over a dozen fashionable bars in Singapore. Then, recover from your food coma with spa vouchers and discounts at selected spa services, as well as complimentary cocktails at the likes of Anti:Dote and Horse's Mouth Bar, under the Chillax! by American Express Platinum programme.
The best part is there's no qualifying minimum spend so you won't have to keep track of anything. However, you do need to earn an annual income of S$80,000 or more to be eligible for the card.
Privileges aside, the card only offers a low 0.6% cashback on dining and other spending so if you prefer benefits in the form of cold hard cash, this might not be the card for you.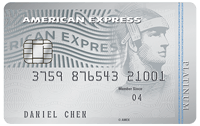 Best for multi-purpose foodie needs: Citi Cash Back
Perfect for: Foodies who love driving out to discover new eateries
The Citi Cash Back Card is a great multi-purpose card offering cashback options across different spend categories. First and foremost, its headlining cashback benefit is the high 6% you get on dining bills at cafes, restaurants and bars, in both Singapore and overseas.
Citibank credit cards, including this Cash Back Card, is also known to dangle promos on online food deliveries frequently, so keep a lookout if ordering in has become somewhat of a habit.
Dining aside, your grocery bills from NTUC and Cold Storage enjoy an even higher cashback rate of 8%. Car owners who often drive the family out for grub should take advantage of the up to 20.88% savings at Esso and Shell stations.
The downside is having to spend S$800 per month to enjoy the bonus cashback. While there is a cashback cap, this applies not just to a single category, but rather as an S$80 combined cashback cap.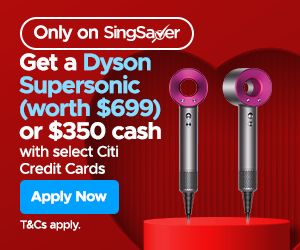 SingSaver Exclusive Offer: Receive a Dyson Supersonic (worth S$699) or a Nintendo Switch OLED (worth S$549) or an Apple AirPods Pro 2nd Gen + MagSafe Charger bundle (worth S$421.90) or S$350 cash via PayNow when you make a min. spend of S$500 within 30 days of card approval. Valid till 14 February 2023. T&Cs apply.

Plus, enjoy up to 2% cashback on all qualifying spend and up to S$756 worth of exciting gifts when you apply for the Citi Cash Back+ card and join Citi Plus. T&Cs apply.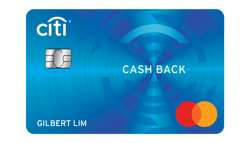 Best for unlimited cashback with min. spend: CIMB World MasterCard
Perfect for: Foodies who want a versatile card that can earn unlimited cashback on their meals and more
The CIMB World MasterCard is a no-nonsense cashback card that helps you earn returns on dining expenses. It offers a modest 2% cashback for wine and dine — including online food delivery — with no cap, if you can hit the minimum spend of S$1,000 within the statement month.

Besides dining, you will also get 2% cashback on the following categories:
Movies and Digital Entertainment
Taxi and Automobile
Luxury Goods
If you aren't able to hit the S$1,000 minimum spend, you'll earn unlimited 1% cashback on the above-mentioned categories instead.
All other types of spending will earn 1% cashback, so long as you manage to make a minimum spend of S$500 within the statement month. The cherry on top is the card's annual fees are waived for life.
Cashback aside, you'll also get to enjoy 50% off green fees at 42 prestigious golf courses across Southeast Asia.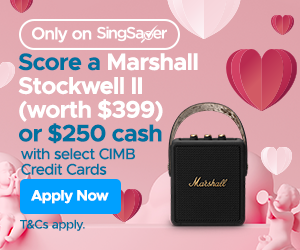 SingSaver Exclusive Offer: Receive an Marshall Stockwell II (worth S$399) or S$250 cash when you make a min. spend of S$988 within 60-days of card approval. Valid till 28 February 2023. T&Cs apply.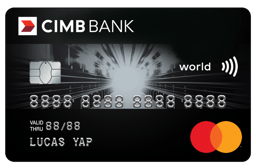 Best for miles accumulation: KrisFlyer UOB
Perfect for: Foodies who like the idea of eating their way to a free flight redemption.
The KrisFlyer UOB credit card earns you 3 miles per dollar on both local and overseas spends, on areas such as dining, food delivery, online shopping and travel and transport. If you're wondering about possible exclusions, qualifying dining charges include everything made at restaurants, bars and fast food outlets, whereas online food deliveries include GrabFood and foodpanda.
There's no minimum qualifying spend or cashback cap, but the 3 KrisFlyer miles per dollar earn rate only applies provided that you spend at least S$300 on SIA-related purchases annually. Because of its relatively high mile per dollar conversion rate, the KrisFlyer UOB credit card is definitely for those who are already dining out regularly and want to chalk up miles along the way, and then jetsetting to foreign lands to continue the indulgence (when travel becomes possible).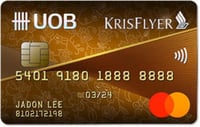 Read these next:
Money-Saving Food Hacks For The 'Scrooge' In You
The Real Cost: Does Making Your Own Lunch Save You Money?
Burpple vs Entertainer vs Chope – Which Offers the Best Dining Deals?
Food Delivery Promo Codes 2021: GrabFood, Deliveroo, Foodpanda, WhyQ
Best Value Meals Under $10 At Fast Food Restaurants In Singapore