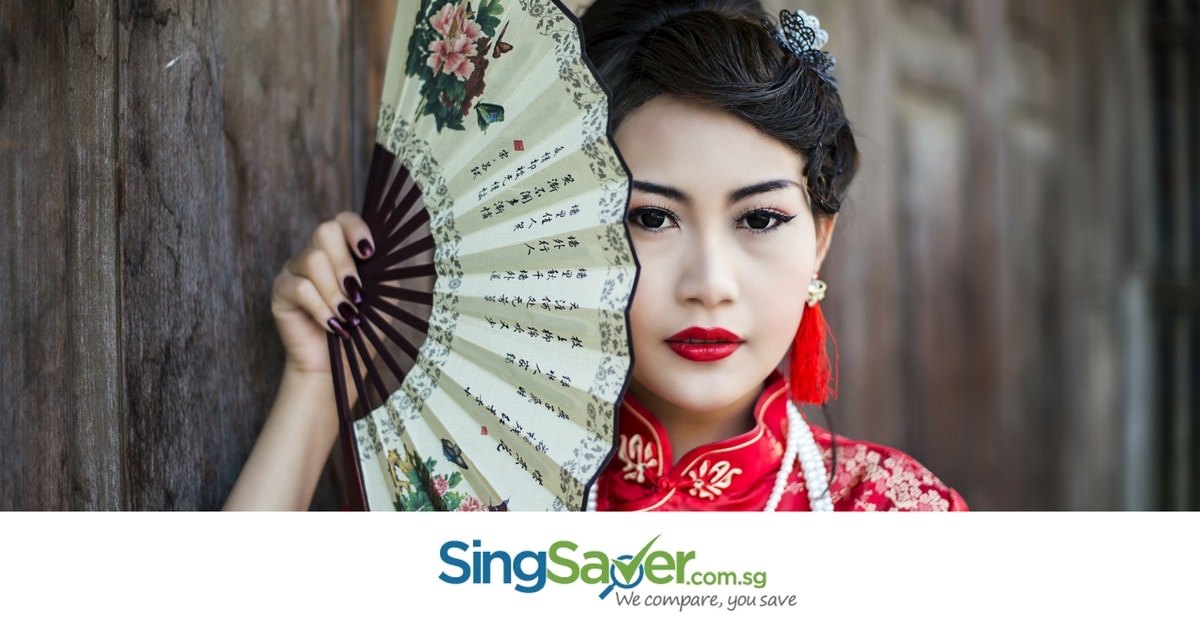 What better way to ring in the Year of the Rooster than with these sweet deals for Chinese New Year dresses in Singapore?
Yes, yes, we know, some of you have yet to get started on buying the perfect gift for Christmas. How could you even begin to think about Chinese New Year, which is not until 28 January? Well, dear readers, the mark of a financially savvy person is one who plans ahead and makes the most of the unbeatable year-end sales that surround us as we speak. Now is the time to plan your wardrobe for at least the next six months.
While you have your bonus and the best shopping credit cards, hit the sales now and find great deals for Chinese New Year dresses in Singapore. Here are six shopping havens where you can do exactly that.
Zalora
On 12 to 15 December, Zalora will be having their big 12.12 sale. Participating brands for women include Zalora, Cotton On, Aldo, Melissa, Something Borrowed and Dorothy Perkins, while Nike, Topman, Rayban, Superdry and Herschel will be slashing prices for men.
The sale may be officially on come December 12, but Zalora is already giving us a pretty generous preview of what to expect. In fact, they're encouraging you to put all your favourites in your wish list, so that when D-Day arrives, you're but one click away from scoring some amazing pieces at a bargain. Besides attractive discounts, there's also a scratch-and-win game you can get into right now.
Prizes include a S$1,000 Zalora shopping spree, S$50 Jetstar voucher and more from Sasa, Comfort Taxi and UberEATS. Winners will be announced on Dec 16. And if you simply can't wait a few more days, click on Zalora Outlet where you'll enjoy up to 80% off Zalora and an exclusive Steve Madden sale. How's that for an appetiser?
Let's not forget that Citibank credit card users enjoy an extra 15% off when you have S$100 worth of goodies in your cart. Simply use the code CITISHOP when you check out. If you have the Citi Rewards Visa Card, even better – you get an extra 20% off and 10X rewards when you spend at least S$120. Use the code MERRYCITI20 to score your savings.
Lazada
If you're not particularly brand conscious and just really want to snag a good bargain — or 10, Lazada is the place to shop. Like Zalora, it's all set to launch its version of the 12.12 Online Fever sale with clothes and accessories going at ridiculously low prices.
We are talking about less-than-S$10 dresses and even watches. We're sure more will be unveiled come December 12. So stay tuned.
While you wait, play a game of Spin To Win. Up to S$100 worth of shopping vouchers can be won. They are limited to one per day, and are redeemable from December 12 to 14.
Make sure to use these Lazada credit card promotions to save even more on your purchase – especially if it's your first order.
Pomelo
There isn't an epic sale going on in Pomelo right now — just a mini section of last season stuff. But if you diligently comb through all 223 sale items, you might find a gem here and there you can flaunt over CNY.
Besides, Pomelo's prices are already pretty affordable even sans discounts. And if you're a seasoned and budget-conscious shopper, you'd already know to shop through cashback sites such as Shopback to get the discount that the shop is not offering you.
Thread Theory
Another popular destination among millennials, Thread Theory has on-trend styles just like Pomelo. We are also seeing some sort of clearance sale going on here with prices reaching as low as S$6 for a skirt and S$9.90 for a pair of heels.
Adding this dress, this dress and this dress to bag. See? There's no need to spend your ang pows in advance just so you can dress to kill in the company of nosey relatives.
The Outnet
What: Free Shipping until December 26 (Enter code "HEYSHIPPY" at checkout)
If you are in the market for something a bit more sophisticated and adult, perhaps something that could become a staple through the year instead of a one-time impulse purchase (you know we frown upon that kind of shopping! Tsk Tsk), The Outnet never disappoints, treating us to designer fashion often more than 50% lower than the retail price (discounts went through the roof at almost 90% off at their recent clearance sale).
Again, shop through a cashback site like Shopback to get something like 4% of your purchases back. Some good buys we spotted for Chinese New Year include a smiley Anya Hindmarch bag (in red, of course) and red adidas x Rita Ora Stan Smiths.
Zara
When all else fails, we'll always have Zara. Right? We spied a few items on sale that are CNY appropriate. By that we mean your grandma isn't going to give you the evil eye. Hurry and get these before someone else beats you to them.
Don't own a credit card yet? You can use SingSaver.com.sg to find a shopping rebate credit card and save money on your new CNY wardrobe.
Read This Next:
How to Buy the Perfect Gift for Anyone, According to Science
What the Price of Your Christmas Gift Says About Your Relationship

---

By Alexa Fang
Alexa is a pop-culture vulture. She lives to read, write and travel, and decided long ago that life is stranger than fiction. When she's having croissant, she thinks in French. "31 Rue Cambon" is her favourite address, and she believes that money one enjoyed spending is never money wasted.
---