Invite better luck and fortune this Chinese New Year by depositing money into your savings account on 3 or 4 February 2021.
Chinese New Year is a time when feasting, traditions and superstitions take centerstage, and Li Chun is one of the many traditions that Singaporeans have adopted over the years. Remember the unending queues at ATM depositing machines or banks on a seemingly random day during CNY last year and the year before? Yes, that's Li Chun (立春).
The act of depositing money into your bank account on Li Chun symbolises steady income throughout the year. So, if you're hoping for some luck and fortune in 2021 (because 2020 was such a bummer), head to the bank and deposit some money into your savings account during these auspicious times.
Auspicious Li Chun timings for 2021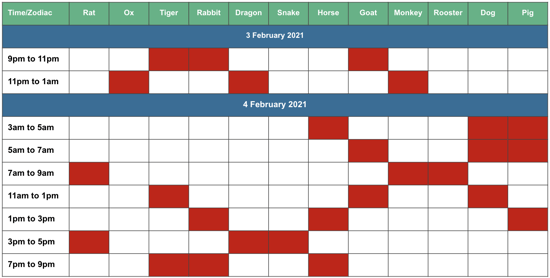 This year, Li Chun starts at 9pm on 3 February and lasts till 9pm on 4 February. Regardless of your Chinese zodiac sign, the most auspicious period to deposit money is considered to be 4 February, between 9am to 11am (except for Rat, Ox, Snake and Rooster). That said, the most inauspicious periods to deposit money also fall on 4 February, mainly between 1am to 3am and 5pm to 7pm.
Apart from just depositing money into your account on Li Chun, it is said that (with some patience and nimble fingers) eggs are able to stand upright on a flat surface. Many believe that this is because the change in the sun and moon's alignment on this day changes the gravitational force around us. Have you given this a try yet?
Additionally, if you're still deciding on what to wear and specifically what colours to wear when visiting relatives during Chinese New Year, here's a list of lucky colours based on your Chinese Zodiac:
Rat: Blue, black, white and gold
Ox: Blue and black
Tiger: Yellow, brown, red and orange
Rabbit: Green, yellow and brown
Dragon: Green, white and gold
Snake: Red, orange, white and gold
Horse: Green, yellow and brown
Goat: Red and orange
Monkey: Blue, black, yellow and brown
Rooster: White, gold, yellow and brown
Dog: Green, red and orange
Pig: Blue, black and green
While we are speaking about depositing and saving money, if you are looking to grow your money that you have saved up, here's a comparison tool to find the best savings account to fit your lifestyle.
Read these next:
CNY Ang Bao Rates and Rules No One Tells You About
10 Dim Sum Promotions And Deals
6 Alternative Gym Memberships That Make Fitness Fun
Phase 3: Activities For Groups Of 8 In Under $25 Per Person
SingapoRediscovers Vouchers: Spend Your $100 On These Hotels, Ranked By Star Ratings