South Korea's Lotte Duty Free is set to take over DFS Group – Changi Airport's biggest and oldest tenant -- when its current lease expires in June 2020.

Korean conglomerate Lotte Duty Free has won the tender to replace Duty Free Singapore's liquor and tobacco stores at Changi Airport, reported The Straits Times.
The new contract -- the first time that a new operator is being awarded the category -- will kick from June 9, 2020 and will last six years, until 2026.
All of Lotte's stores will also include experiential activities, such as personalised products like customised whisky-blending.
Changi Airport Group's executive vice-president (commercial) Lim Peck Hoon said of the winning bid: "Lotte put forth the strongest and most compelling proposal overall."
DFS currently manages 18 liquor and tobacco stores at Changi, occupying more than 8,000 sq m of retail space across the four terminals of Changi Airport.
DFS makes way from June 2020
DFS did not take part in the most recent alcohol and tobacco concession tender which closed in August. An estimated 500 staff are expected to be impacted as the 38-year-old tenancy agreement ends next June.
In a statement issued to media, DFS group chairman and chief executive officer Ed Brennan said: "After careful consideration, DFS has decided not to bid to retain the liquor and tobacco concession operations at Changi Airport.
"Our decision not to bid was based on our unique understanding of the business environment as the current operator of this concession at Changi.
"Specifically, changing regulations concerning the sale of liquor and tobacco, against a global context of geopolitical uncertainty, meant that staying in Changi was not a financially viable option."
According to industry publication Moodie Davitt Report, three industry heavyweights, Lotte Duty Free and The Shilla Duty Free of South Korea and Gebr Heinemann of Germany were the front-runners to replace DFS when the liquor and tobacco tender closed in August.
The report estimates DFS Changi generated around S$590 million (US$430 million) in sales last year, around US$400 million of that in departures, the balance from arrivals duty free.
Spirits represented around 61% of departures sales, tobacco 32% and wines & Champagne about 7%.
In arrivals, spirits accounted for about 74%, the balance coming from wines & Champagne.
Cost of entry
The Changi Airport liquor & tobacco concession is a coveted prize in one of the world's top airports but the cost of entry does not come cheap.
The same report said apart from a S$28 million (US$20.5 million) initial deposit (and related bank guarantees) and a monthly basic rental, bidders had to table a 'Base Offer' for 'Monthly Additional Rental'. This varies by category as follows:

• Spirits: No less than 46%
• Wines and Champagnes: No less than 35%
• Tobacco: No less than 40%
The retailer must pay either those amounts OR
• A minimum monthly guarantee per passenger of S$4.15 (US$3.04) based on total traffic movements for terminals 1, 2, 3 and 4 for the relevant month.
Tenderers must propose a step-up in Monthly Additional Rental for each year of the concession.
DFS Singapore will maintain downtown operations at T Galleria by DFS on Scotts Road as well as its Singapore Cruise Centre business.
Huge tax savings on wine and spirits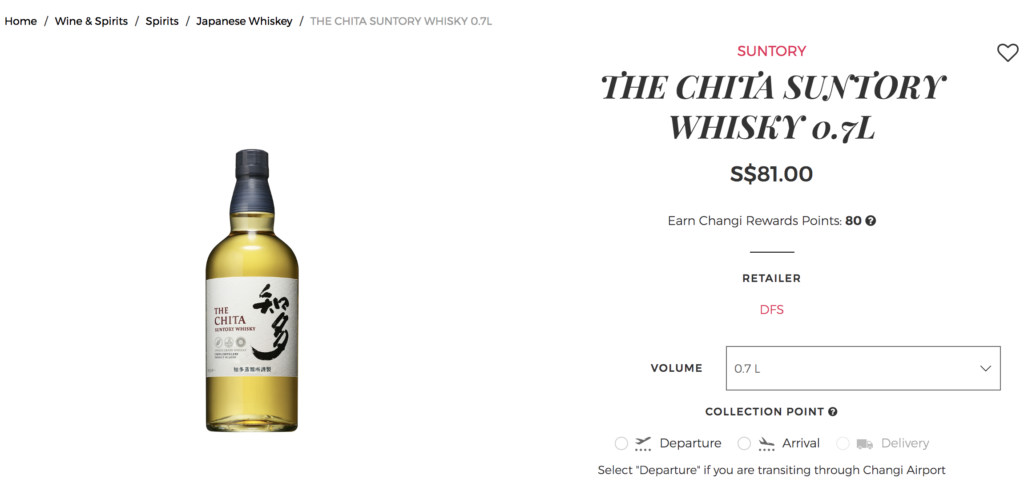 Below, we compared the prices of a random selection of spirits and wines on Lazada and the iShopChangi website (sold by DFS Group). Cost savings were between 17% cheaper for a Chita Suntory Whiskey through DFS all the way to 183% cheaper for an Absolut Vodka Citron.
| | | | |
| --- | --- | --- | --- |
| | DFS Singapore | Lazada | Cost savings |
| Absolut Vodka Citron (1 litre) | $28.20 | $80 | 183% |
| Cloudy Bay Sauvignon Blanc (750ml) | $35 | $45.24 | 29% |
| Chita Suntory Whisky (700ml) | $81 | $95 | 17% |
In case you're wondering, one of the reasons why shopping for wines and spirits at DFS is so much cheaper is because, for a start, everything is 7 per cent cheaper, thanks to GST savings. Another reason why prices are considerably lower at DFS Changi is because of the heavy excise duty imposed on various types of alcohol sold in the city. For example, an excise duty of $60 per litre is imposed on beer, while for heavier spirits like whisky, the excise duty goes up to $88 per litre.
Read these next:
vPost v comGateway v ezbuy v Buyandship Singapore: Cheapest Shipping From US to Singapore
Lazada Promo Codes 2019 (and How To Save Even More on Online Shopping)
What Are The Best Ways To Pay For Big-Ticket Items in Singapore?
Which Online Grocery in Singapore Delivers the Biggest Savings?
Best 6 Credit Cards For Overseas Spending